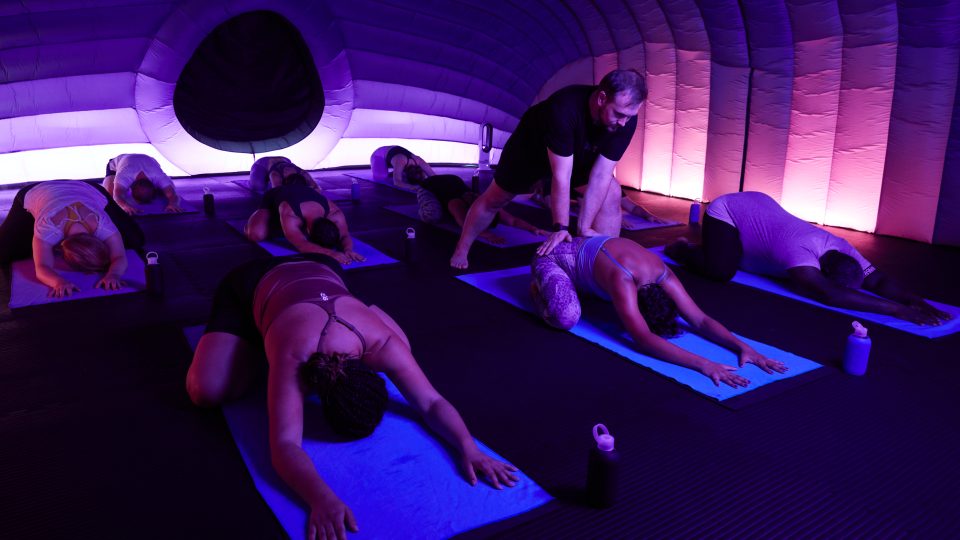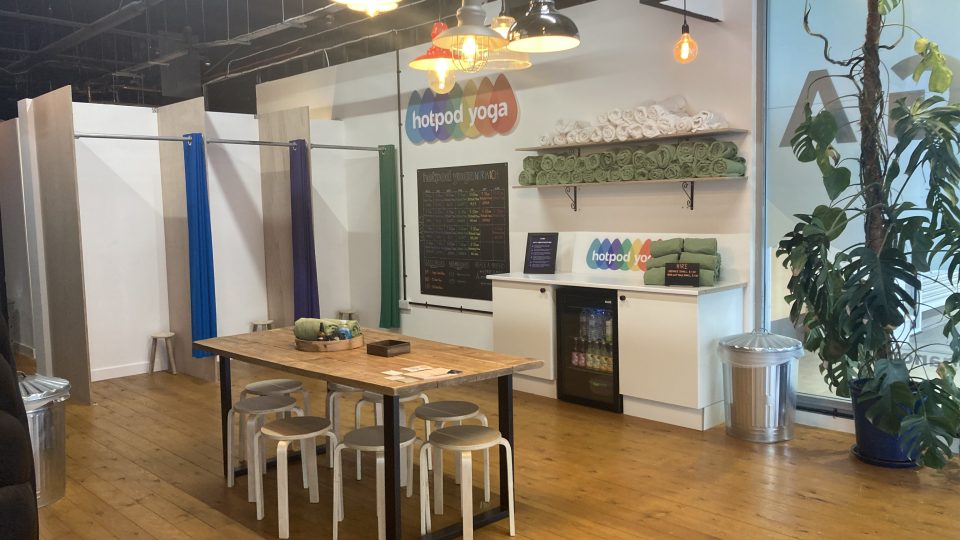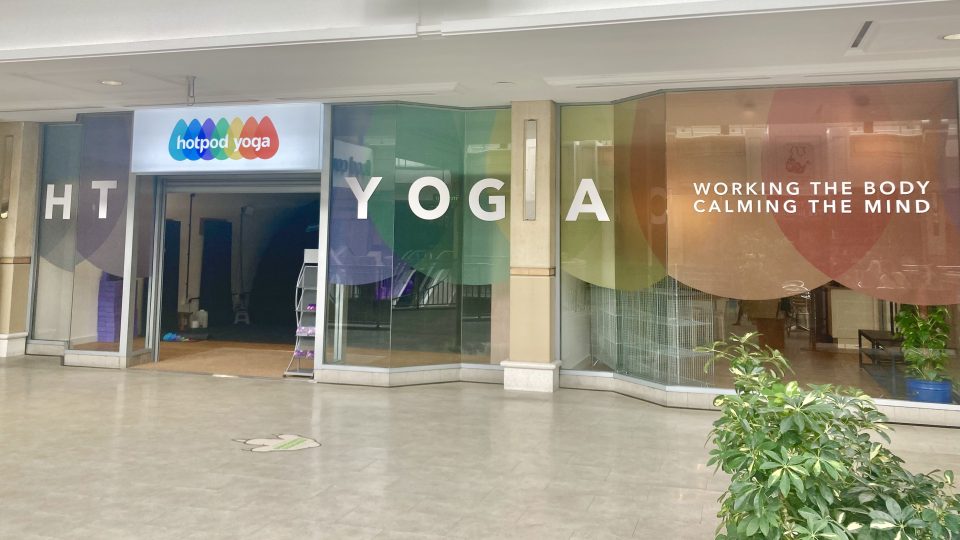 about the studio
Hotpod Yoga is based in the heart of Norwich in the evolving Castle Quarter. Feel the worries of your day melt away as the urban-chill beats, sizzling temperatures and rhythmic linking of postures transports you to a flow like state. The pod offers an unparalleled experience that embraces the traditions of yoga, with a modern twist that fires up all your senses. We're open 7 days a week with a varied timetable so that even the busiest person can fit some much needed yoga into their life! After a sweaty session help yourself to our facilities including showers and hair dryers before enjoying a day of shopping, wining and dining in the city. Castle Quarter has security 24/7 with indoor parking so you can step straight from your car into the pod without fearing the British weather.
Signature Inflatable Studio
Vinyasa flow
37 degrees
All levels welcome
find

us

Level 2, 94 Castle Quarter, Norwich, Norfolk, NR1 3DD, GB
Kelly
Studio Owner of HPY Norwich, Kelly had tried yoga over the years but nothing seemed to stick until she discovered Hotpod Yoga 4 years ago. After that she was hooked. So much so that she decided to open her own studio! After 7 years of working in HR in London, she left her role, underwent her 200 YTT and began looking for the perfect location for Hotpod Yoga Norwich.
Kelly fell in love with how yoga helps you switch off from the outside world, builds strength and awareness in your body as well as a sense of achievement and confidence it brings both on and off the mat.⁠ Kelly's classes are suitable for all levels, light-hearted and fun. You'll be sure to come away with a smile.
Millie
It was when Millie's career in dance and musical theatre led her to live in Mexico, that she discovered her love of yoga.
After travelling in many different countries, she moved back to the UK to have her daughter, and to pursue her new career as a yoga teacher. She trained in London to become a Vinyasa Flow teacher, and has been practicing and teaching yoga for the last 10 years. – From yoga and mindfulness for children, to running her own classes and teaching in gyms and on paddle boards!
Millie aims to provide a relaxed and friendly atmosphere, giving you the space to explore and be yourself.
Hollieann
Hollieann's journey in fitness, cognitive behavioural therapy and self discovery was all sparked by one conversation from a coach asking 'how are you really? Let me help you.' For the first time she felt seen. This has shaped her approach to teaching both in and out of yoga, and it's her aspiration to be that voice for many others.
Hollieann wants movement, release and strength be the foundation to each of your practices together. Whether you are brand new to exercise, an older adult, post natal or recovering from injuries Hollieann will be there to guide you. With a strong back ground in Muay Thai and Personal Training, Hollieann has over 12 years experience and underwent her 200 YTT in 2021. She now strives for a holistic approach to create a stronger, healthier and happier you.
Liz
Liz is a yoga teacher, writer and holistic masseuse. She specialises in embodied, creative Vinyasa flow. Coming from a non-athletic background, yoga acted as her gateway into a forever love of movement and all of its possibilities. She aims to inspire this same sense of wonder and curiosity in her students with her playful, intuitive teaching. What she shares and creates is made with love, but also from the desire to empower her students and encourage their growth – both individually and as a collective. With Liz, you can expect to move with intention and with joy, while embracing the challenge of working things out rather than getting them right. Above all, Liz aims to offer her students the opportunity to truly be here now.
Halima
Halima has been a student of yoga for nearly a decade. In 2021, Halima trained on the Greek island of Amorgos where she gained her Hatha and Vinyasa teaching qualifications and fell in love with the philosophy of yoga ?
Halima's classes foster a warm and inclusive environment where everyone is welcome. She believes that yoga is for everybody and every body, offering variations to suit all levels of yoga practice.
Abby
Abby has been teaching yoga for 21 years and practising for much longer. Her background is in contemporary dance and Ashtanga vinyasa yoga. She has been training and mentoring yoga teachers since 2008 and is the author of a PhD investigating the connections between dance education and yoga.
Her aim when teaching is to demystify the practice and make it relevant for modern busy lifestyles. Her teaching style is friendly and inclusive and her years of experience on the mat make her the perfect guide for beginners and experienced yogi's alike.
Elliott
Elliott has been practicing yoga for 4 and a half years with a strong dedicated morning practice lasting from 2 to 3 hours a day. He completed his 200hr yoga teach training with Dylan Werner, an amazing advanced yoga practitioner. He's always loved movement; from playing American football or going to the gym but also gets distracted by modern technology. After completing his degree in Games Design and after endless hours of sitting he turned to yoga. He found this was a great way to reconnect with himself.
Elliott teaches a challenging Vinyasa class which can be for anyone. He believes that challenging ourselves everyday only makes us grow yet also allows us to stay present. The way the world is currently, with everything changing rapidly and with so many distractions, it's hard to find the time to give to ourselves. Elliott hopes to share his journey and practice with you.
Let's reconnect before we disconnect.
Mandy
Mandy is a certificated Yoga instructor, she qualified in 2014 after a 200-hour teacher training at Younique Yoga in London. After this, she practiced and studied at the Pattabhi Jois Institute in Mysore, India. Since then she also qualified in 45h Yin Yoga and 30h Sculpt teacher training both at Sadhana Yoga in London. In 2021, she completed an MBSR programme for Health and Social Care Professionals at the Royal Institute of Mindfulness.
Mandy's background is in sales and advertising. She became a full-time Yoga teacher to find balance, ease and focus in her life. Coming from a highly pressured, stressful and deadline-driven environment, she is passionate about helping others by sharing the tools and knowledge she learned from her training and experience in yoga and mindfulness.
Mandy believes there is another way to thrive in the modern world. In 2020 she decided to set up Another Way Wellbeing. A bespoke company offering wellness events, retreats and workplace wellbeing.
Sophia
Sophia has been practicing Yoga for over 12 years, she completed her 200hr in Hatha at Anahata Yoga School, Hong Kong in 2015, and started conducting free classes in the parks of Hong Kong, turning up with her speaker and her mat. This led to teaching at Yoga studios and events, teaming up with a community of Yoga and music lovers to collaborate at festivals and wellness events. Founded in 2018, Sophia ran weekly DJ Yoga classes at Mihn Club in Sheung Wan. Sophia studied her 300hr advanced Hatha and Ashtanga course in India in 2019. She believes in the transformative effect of a Yoga practice, the science and techniques of Yoga helped her to find a healthy balance again after some challenging years. Now living back in the UK and teaching in London and Norwich. Bringing lots of energy and empathy to her students' lives she believes practicing should be about joy, play and acceptance.
Alex
Alex Has been teaching Yoga for 9 years, her journey started in a gym environment, so her practice and style of teaching developed with fitness, functional movement and strength in mind. Over the years, with nearly 500 hours of yoga training under her belt, Alex has developed a style of yoga that blends yoga with everyday life. Not only do we focus on increasing our range of movement, but we work on stability and strength too. This then pairs with the mental side of yoga too, Alex encourages the use of the Yoga Sutras and meditation into both our yoga practice but also off the mat.
the founders
Kelly & Devon
Kelly and Devon wanted to escape the 9-5 office job and to make a positive difference to people's lives. In 2019 they discovered Hotpod Yoga and fell in love with how amazing it made them feel after an exhausting commute. Their shoulders felt less tense and minds calmer and they realised that there was more to look forward to on a Monday night than being one step closer to the weekend! The pandemic was an opportunity for reflection and after nights of brainstorming they soon discovered Hotpod was a franchise. There was no doubt in their minds what they had to do. Kelly suggested that the perfect new home for the pod would be Devon's hometown - Norwich, with its down-to-earth vibe, creativity and diversity of culture. Kelly and Devon open their doors to the people of Norfolk and hope they fall as much in love with the Pod as they have. The studio offers a dynamic Vinyasa Flow with a variety of Teachers suitable for all levels. Come join us today, get your flow on and see if you can handle the heat!