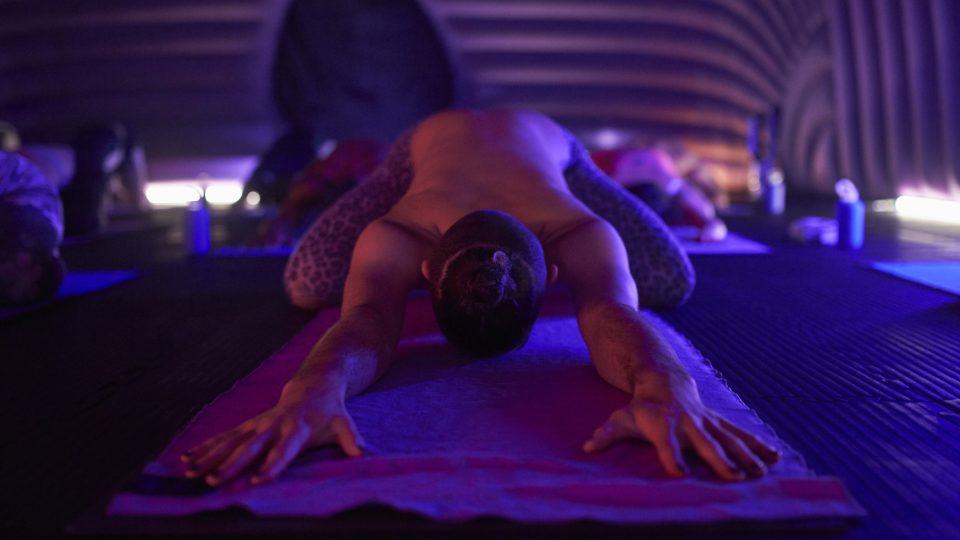 We're Europe's largest yoga business. Since 2013, over 100,000 people have immersed themselves in a Hotpod class at one of our 50+ locations around the world. You'll stretch further, breathe deeper, sweat harder and melt fully into the Hotpod experience – a balanced flow of active and passive postures, working the body and calming the mind in equal measure. For class times and more, take a look at the schedule above, then book your spot.
Changing

Mats

Parking

Showers
Signature Inflatable Studio
Vinyasa flow
37 degrees
All levels welcome
find

us

Silksworth Community Pool, Tennis and Wellness Centre, Silksworth Lane, Sunderland, Tyne and Wear, SR3 1PD, GB
Rachael Robson-Jones
Having practiced yoga across the world for over 10 years, Rachael qualified as a yoga teacher in 2020, excited to share all the beautiful benefits she gets from yoga.
The environment and heat of hotpod yoga is a unique experience that feeds into Rachaels goals as a teacher- from encouraging everyone to take step away from the outside world, to work on their body and mind, and observe the wonders it can do for the spirit.
Rachel Greener
Rachel is trained in vinyasa flow and loves to help people find calm through yoga. She's also a registered nurse so has a particular interest in promoting health and wellbeing. "I love creating classes to release stress and tension to calm the mind and to build strength to connect with the body."
Helen Terente
Helen has been practicing yoga for over 20 years and is trained in both Hatha and Yin styles of yoga. Originally drawn to the physical aspects of yoga, Helen's passion has evolved to include more of the emotional and spiritual side of the practice.
"I want to share my knowledge, to help people relax and feel good about themselves. After all, we all deserve some 'me' time!"
Clare Gray
Clare fell in love with yoga when she started attending Hotpod Yoga Sunderland soon after it opened in 2019, taking the leap to train as a yoga teacher soon afterward. Clare trained in Hatha yoga and her main passion is for vinyasa flow. With a background in Crossfit and lifting heavy weights, she believes that yoga is for absolutely everybody and can help people in functional everyday movement and wellbeing.
Grace Johnson
Grace first began practicing Yoga in 2013, as a way to ease injuries & stress she was beginning to struggle with. Whilst originally the practice started out as a physical challenge, it wasn't long before the overall benefits of the practice began to impact not only her physical wellbeing, but also her mental health for the better, and is something that she really believes can benefit everyone, in some way.
After completing her first 200Hr teacher training in 2017, and 300Hr in 2019, Grace now teaches full time, favouring an upbeat vinyasa style, creating a playful, flowing sequence for her classes, connecting strength and softness, which simultaneously leave you feeling soothed and empowered.
Rachel Garnham
Rachel's background is in Contemporary Dance and in 2013, she completed her 200 hour Yoga teacher training and later in 2015, her 500-hour Advanced Yoga Teacher training from the Himalayan Yoga Institute. Rachel is also certified in pregnancy, post-natal, baby yoga, and massage.
After 8 years spent in London studying and working as a fitness professional, Rachel returned to the Northeast to become a very lucky Mama to her beautiful daughter, Luna in June 2018
Natalie Lyon
Natalie's background is based in fitness and dance, loving physicality and movement as a way to express and release.
"Yoga gives so many physical, mental and spiritual benefits, it balances both mind and body. After completing my 200 hr YTT in India, I'm excited to share my love of yoga at Hotpod Yoga Sunderland!"
Louise Edwards
Louise is a passionate and energetic Vinyasa Flow Teacher with a love of creating flows, teaching, and sharing her love for yoga. She also absolutely loves practicing and teaching in the heat of the pod.
"Yoga 100% changed my life for the better and since I completed my 200 hour Teacher Training in 2017 I haven't looked back."
Kim Wells
Kim has been involved in the fitness industry for over 30 years, both as an instructor and as a lecturer for fitness qualifications. She has a passion for teaching Yoga and and believes everyone can benefit from time spent on the mat
Shelley Noble
Shelley discovered yoga many years ago and felt amazing after every session and she believes that yoga has the ability to change your life! Shelley's classes involve moving with the breath, working every muscle and helping to calm the mind. "Yoga is everything you need, you will leave feel strong physically and mentally, stretched and super sweaty. So excited to share the Hotpod Yoga love "
the founder
Elaine Smith
Elaine grew up in Sunderland and has lived in the area for most of her life. Discovering Hotpod Yoga in Newcastle back in 2017, she really felt as if she had found her yoga home, loving the combination of the heat, accessible classes and a friendly vibe. This resulted in her training as a yoga teacher with Hotpod Yoga, in London back in 2018, and inspired her to open her own pod in her home city. Elaine has been teaching at Hotpod Yoga Newcastle for the past year and has seen first hand the massive difference it makes to people lives, and wants to extend this around the North East of England to everyone that comes to the Hotpod Yoga Sunderland studio.