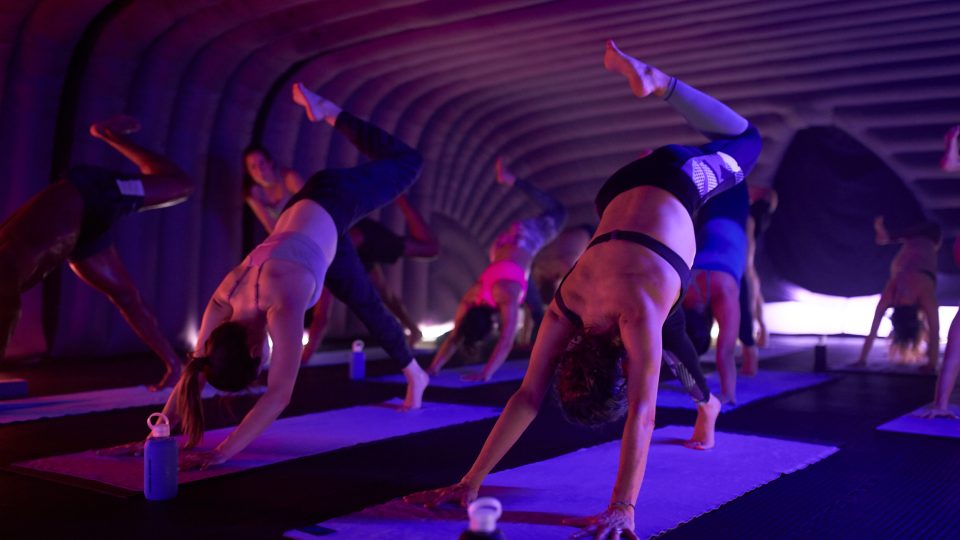 We're Europe's largest yoga business. Since 2013, over 100,000 people have immersed themselves in a Hotpod class at one of our 50+ locations around the world. Join us at our  studio for yoga in its most potent form. You'll stretch further, breathe deeper, sweat harder and melt fully into the Hotpod experience – a balanced flow of active and passive postures, working the body and calming the mind in equal measure. For class times and more, take a look at the schedule above, then book your spot.
Signature Inflatable Studio
Vinyasa flow
37 degrees
All levels welcome
find

us

Unit F, Livingstone Way, Taunton, Somerset, TA2 6BD, GB
Andrea
I've been a yoga student for 20 years and recently graduated from my Teacher Training to become qualified Vinyasa and Ashtanga Yoga Teacher. I found Hotpod when I sustained an injury on my leg and used the classes as a way of building strength and keep my body moving. I loved it so much that I decided to become a teacher. I hope to bring a relax and calming atmosphere in my classes so that everyone can come away feeling good about themselves.
Bex
Bex has been practicing and enjoying yoga for the last 10 years and recently graduated to teach hatha and restorative yoga with Bristol School of Yoga. She really values calm and rest and is very in touch with the impacts that our busy modern lives have on us and our health – going on her own personal journey of exploring how to bring about more calm and rest into her own life, which she now wants to share with others.
Bex describes her yoga as slow and supportive feel-good movement, offering students an opportunity to explore their bodies and minds to hopefully create physical and mental strength, stability and flexibility. In Bex's nurturing flow you can expect simple, breath-led movement – very accessible for beginners and people who are new to yoga, but also those needing a moment to restore and re-balance.
Naomi
Naomi became a certified Yoga Teacher in 2016 and since then has been teaching classes and running retreat centres across the world. Naomi started Yoga to improve her flexibility but soon discovered the powerful benefits of Yoga, and now enjoys helping others find their own Yoga journey.
Naomi creates a welcoming, down-to-earth atmosphere where you can enjoy Yoga no matter your experience level. Her teaching style is all about balance; she will guide you through a blend of strength and flexibility as well as helping you to find deep calm alongside moments of lighter energy and play.
Lena
Changing scenery from busy city life to Somerset's lush green pastures altered Lena's perspective on life and that's when yoga found a place. Having benefitted from many years of yoga she realised how much she would like to share this amazing philosphy with others, and so completed her yoga teacher training. Yoga truly is for everyone, that's why Lena enjoys teaching people with injuries and complete beginners to help improve quality of their life. She also teaches advanced classes to people who would like to deepen their practice and find new routes on their yoga path. There is a place on the mat for everyone whether it is for health benefits, physical improvements in flexibility and tone, mindfulness or spiritual depth. Mind and body are integrated in the overall holistic nature of yoga practice, enabling a deeper connection to your true nature and place in the world.
Jo
Jo is a Londoner who started to practice yoga 20 years ago on and off to help deal with stress. After 7 years of trying out classes and teachers she found a Bikram yoga studio that was focused on building strength, flexibility, discipline and personal development through the practice an she was hooked from her first class!
Jo competed in the U.K. yoga championships for the studio in 2008 and has completed numerous trainings, yoga conditioning and intensives with the studio and even did a week yoga intensive whilst being 7 months pregnant!
In 2013 Jo qualified as a yoga teacher in India and continues to study and practice all over the globe to develop her understanding and appreciation of this ancient art that has so many benefits on our modern cultures. As a curious and passionate yogi, Jo's style of teaching is reflective of her own journey; concentrating on alignment, integrity and loving kindness.
Assisting and seeing students evolve on their own yoga journey is why Jo teaches yoga and share her love for the practice.
Lucy
Lucy has trained in the traditional style of Hatha Yoga, which includes the accent system of Asanas (postures), Pranayama (breathing exercises) and meditation. She has had the pleasure to have been trained and inspired by some of the world's leading Yoga teachers and is passionate about her own ever evolving practice and teaching. .
Her specific areas of interest are the connection between the mind body and breath. Linking breath with movement and finding space in an ever changing and demanding world. Her personal practice is a free-flowing vinyasa style that involves physical and energetic focus which often weaves into her teaching.
Amber
I started practising yoga around 15 years ago in Egypt, coming from a martial arts background but no longer practising or teaching, I needed something to help channel my energy and keep my strength and flexibility, yoga not only provided this but turned my journey inwards physically mentally and spiritually. I took my first training in india 2016 in Ashtanga Yoga and have furthered my education and learning in Jordan, in Hatha/Vinyasa/Kundalini Tantra yoga and also online too.
Anatomy and physiology – the why – is my passion along with the classical tantric philosophy. Providing my students with the tools to not only create a strong vessel/body through movement, but also transforming their inner being to a more conscious balanced state through tantra and philosophy.
Victoria
I've been practicing yoga for over 20 years and been a qualified teacher two years ago. During my teacher training, we mainly worked with the interpretations of the yoga positions described by the spiritual teacher Heinz Grill. Our training was based around the detailed description and meaning of yoga poses.
My approach is to use yoga as a tool to develop strength, inner calmness and self-awareness. When working with this approach, we develop these qualities through our yoga practice.
What I love about yoga is the artistic and graceful forms of the poses and movements develop an awareness of our creative self which I wish to bring to my classes.
Carla
My name is Carla. I'm trained in Hatha and Restorative yoga.
What I love the most about yoga is how it gives us the space to nourish not only our body but also our mind. To my classes, I bring an open heart, gratitude, breath awareness, and a sprinkle of laughter.
Becky
I started practicing yoga for the physical benefits, such as flexibility, but then noticed how it positively impacted my emotional well-being, feeling more grounded and less anxious, giving me a sense of calm. I want people doing my class to leave with that same feeling.
Adam
Adam's yoga practice has ebbed and flowed throughout the years. At first he practiced to build confidence for performing on stage then the embodiment of philosophy came into play and it changed his life. In his yoga classes he infuses expressive movement, a playful nature and a conscious approach that all bodies are different. He truly believes in the transformational power of yoga and wants to share it with the world with the hope of making it a more wonderful place to be in.
Cristine
Cristine found yoga in her search of clarity and deeper connection with her body. A lover of body movement and food.
She became a certified yoga instructor back in 2018 after a shoulder injury. Her background is Volleyball, Weightlifting and Functional Fitness. Cristine brings a playful and high energy classes, whilst helping her students connect with oneself and provide a strong practice that her student can take away on their daily lives.
the founders
Stephen Reid-Sturrock and Cristine Vasquez-Tan
Stephen & Cristine discovered Hotpod Yoga in Cardiff whilst on a mission to find a great yoga studio. They immediately fell in love with the pod and decided to open their own studio back home in Taunton! A few friendly franchise meetings with the Hotpod Yoga founders led Stephen & Cristine to take the plunge and become franchisees. They began the 200hr Hotpod Yoga Teacher Training course, bought their first Hotpod Home, and made Hotpod Yoga Taunton a reality!