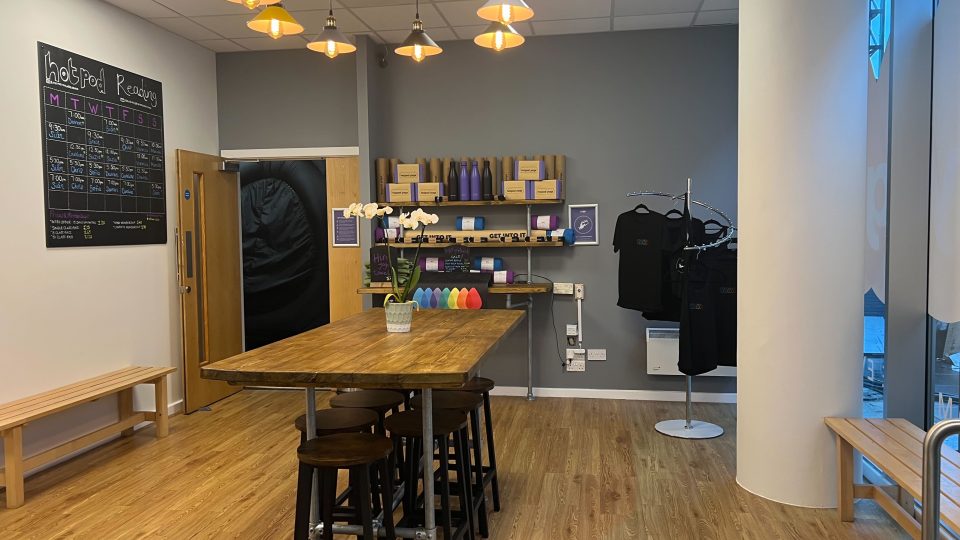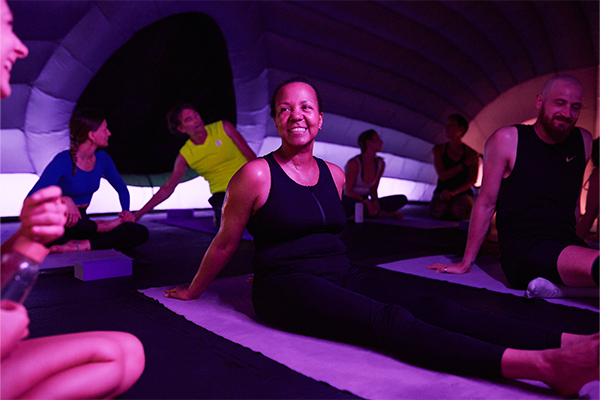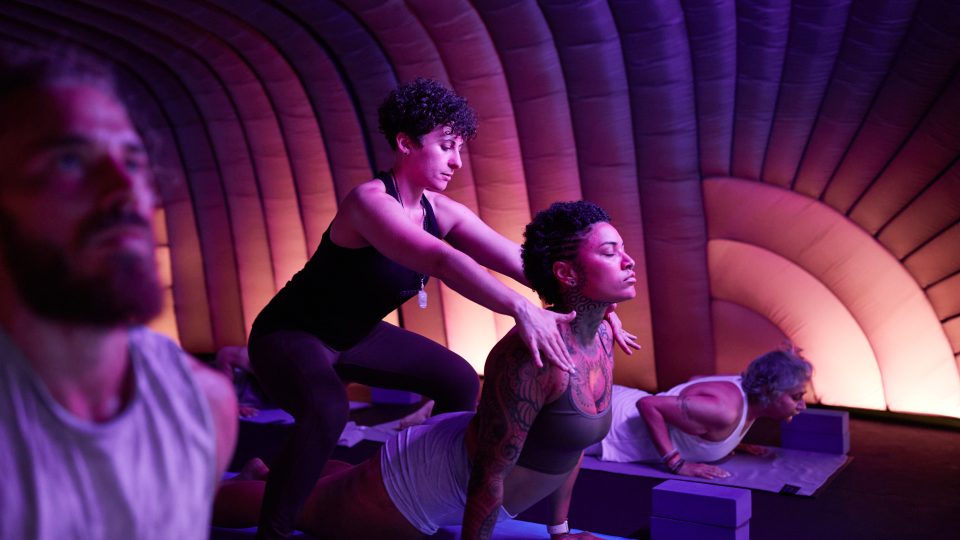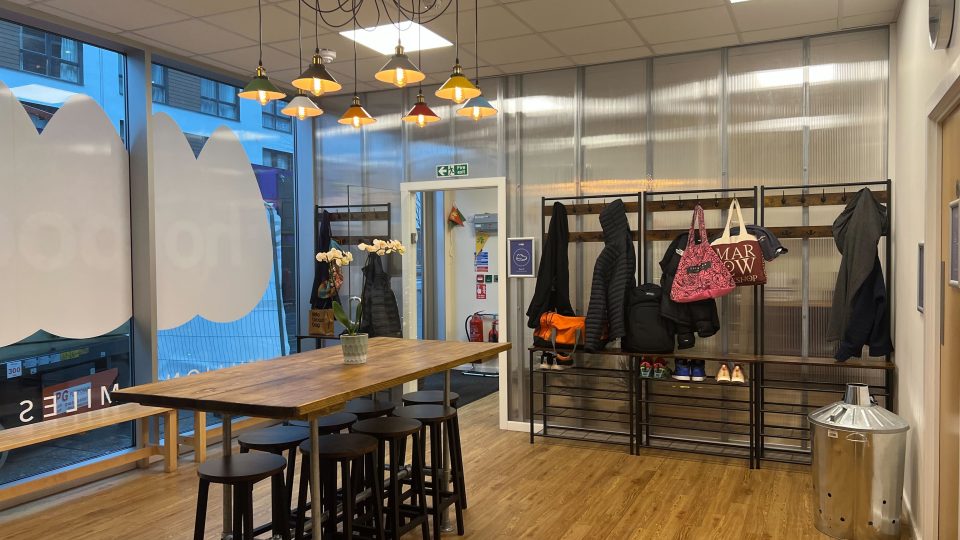 HPY Reading can be found in Chatham Place, opposite the Anytime Fitness gym. There is parking in the secure multi-story with Q-Park, which is part of the same building. If parking there come out of the ground floor doorway, and turn to the left, and our doors are on the left after approximately 30 metres. The car park is gated, and attended, and the whole area is busy and well lit.
Showers

Mats

Changing

Parking
step into our immersive pod
hot yoga in 37 degree heat
move to relaxing beats
filled with calming scents
suitable for all levels
find

us

2-4 Chatham Place, Reading, Berkshire, RG1 7AR, GB
Lucy Wylde
Lucy is a yoga teacher, personal trainer, highly experienced pregnancy and postnatal exercise specialist, baby massage instructor, massage therapist, matrescence* activist and Mum, to Matilda, born in 2014. Her work and passion lies in helping people to thrive (in body and mind), not just survive. She has worked with the body for over 14 years and has a degree in Dance.
*Matrescence (said like 'adolescence') is the transition women go through when they become a Mum.
Lavinia Ryan
Lavinia's prior experience working in Club and Gyms as a Group Exercise Instructor in LesMills programs, including BodyCombat, BodyPump, RPM, and BodyBalance, enabled participants to reach their goals. From here led into the yoga world and fell in love with the discipline. The Yoga journey began with Hatha Yoga 200hr training, with Drummond Education following Ashtanga Vinyasa 200 hr in India at Sampoorna and Yin Yoga 30hr with Kassandra Reinhardt. Lavinia is always looking to gain more knowledge. She frequently attends workshops, learning from other Yoga teachers' wisdom and sharing enlightenment with her students.
Lavinia's Yoga classes are dynamic, and her calm manor delivers fluidly from one posture into another, incorporating warming Vinyasa flows and standing sequences to work the whole body. Energize the breath with movement, finding balance, equilibrium, and to stretch within your flexibility; there is stillness in parts, where you are encouraged to listen to the beat of your heart and to find a calm mind. Then sail finally into the blissful relaxation.
Jessica Lambert
Jessica is a Yoga & Pilates Teacher, Personal Trainer and Osteopath. Keen on all things movement, longevity and health. I teach a strong but steady practice with a focus on anatomy / alignment, I also love a hands on assist!
Lorena Rodrigo
Lorena is a Sacred Sounds certified sound therapist and an Anusara, Yin, Pregnancy, Restorative Yoga teacher & a Reiki Master based in Reading.
She loves creating safe spaces for people to relax and reconnect deeply with their bodies and minds through meditation, breathwork and sound.
Her sessions are calming, relaxing and nurturing, giving you an opportunity to explore yourself in a deeper level of consciousness. She uses gongs, crystal bowls, Tibetan singing bowls, shamanic drums, rain sticks and a whole array of sacred instruments, all perfectly tuned to send you into a state of pure bliss.
Dimitra Zannidi
Dimitra has been practising yoga for over 10 years and teaching since 2016, when she qualified as a 200hr Registered Yoga Teacher with Yoga Alliance. Over this period her personal practice has varied in style and formed with influences from Hatha, Ashtanga, Vinyasa, Yin Yoga but also Kundalini yoga, contemporary dance and acrobatics. Dimitra is also qualified with Yoga Alliance in Aerial Yoga and Yoga for Kids.
Dimitra's classes provide a safe place for everyone to practise and appropriate adjustments and hands-on modifications are given throughout the class. By using the asanas (yoga poses) and flowing through the postures and transitions, you will build strength, balance and flexibility. By focusing on your breath and experiencing the present moment you will calm the fluctuations of the mind and create space for stress-relief, self-exploration and inner growth.
Expect dynamic and playful, yet safe and accessible classes and get ready to bring more sun (salutations!) to your practice, on and off the mat.
Dimitra is also a registered dietitian and a current PhD researcher in Food and Nutritional Sciences.
Grace Balsdon
When she is not on the mat Grace is a full time hockey player for England and Great Britain, she is a Tokyo 2020 Olympic Bronze medalist and Commonwealth Games 2022 Champion. For Grace the physical practice of yoga encompasses both strength, mobility and balance which compliments her other physical training. Yoga helps her stay present and provides a space to be able to reconnect and reenergise through movement and breath.
Her intention is to guide students through an energetic practice, learn essential postures and find their inner calm in their busy world. By the end of a practice students move easier, feel more centred, have fun and leave energised.
Darren Simonds
Darren first found yoga in 2002 when he was introduced by a friend to an evening Iyengar class and quickly became hooked, having realised the physical and mental health benefits.
During 2004 and 2005 Darren worked and lived at a yoga centre in the south of Crete, where he trained and refined his own personal Astanga Yoga practice with senior Astanga teachers Radha and Pierre.
Darren then went on to study and train with CYS (classic yoga school) – Yoga alliance which studies included but not limited to – Yoga Asana; Meditation and Pranayama Breathing Techniques: Yoga Anatomy and Physiology: Philosophical, the study of Yogic Texts with additional tuition in Chi-Gung, The Alexander Technique; Neurolinguistic Programming (NLP) and Nutrition.
Darren has over 15 years of teaching experience having taught in various health clubs, private one on one tuition and teaching hot yoga at Studio42 from 2010 – 2021
Continual Professional Development Include
Diplomas and Certification in Life Coaching, Mindfulness (Cognitive Behavioural Therapy and Counselling Theories.
Manish Ramji
Being Cabin Crew for an international airline for over 24 years, as well as a keen gym goer, takes its toll on both the body as well as the mind. To find a balance, an equilibrium and to feel grounded again Manish started yoga over 10 years ago. Noticing how his relationship was benefitting through practicing yoga not just with others but with himself and after reaping the benefits both physically and emotionally, he decided to share this gift and has been teaching since 2016. Constantly learning and exploring as well as keeping a very open mind is something that is second nature to him. His style is power and dynamic but most importantly with his great sense of humour he wants everyone to have fun and feel amazing because it is an individual journey after all.
Veronika Szypa
Veronica is originally from Poland but calls London her home. She came to yoga as a result of a very hectic life around 5 years ago. Veronica tried a variety of different styles but really connected with the Vinyasa style and decided to train as a yoga teacher. She completed her 200 hour Vinyasa yoga training at Hotpod Yoga. As an instructor she strives to help students to feel comfortable in their practice, learn new postures and ensure their practice is safe and enjoyable. She teaches all levels of Vinyasa flow and her classes are dynamic, challenging and fun.
Sofia Panas
After 10 years of yoga practice (living in traditional ashrams and practicing in studios) and nearly 6 years teaching, Sofia works with various tools including yoga asana (poses), pranayama (breath work) and yoga nidra (a form of guided meditation, used to relieve stress, decrease anxiety, improve sleep and more). Her classes are mindful, focusing on sensation and the breath whilst working to strengthen the body and build awareness with lots of options for all.
Caroline Catline
Caroline started practicing yoga 13 years ago to help with the stresses that came with her career. Instantly she fell in love with the way yoga made her feel. More relaxed, able to deal with work pressures, and strong.
Caroline continued her yoga practice throughout her pregnancies and after her maternity decided to pursue her love for yoga and completed her yoga teacher training in November 2019.
Caroline teaches a variety of styles of yoga, such as Yin, Meditation and Nidra, and Vinyasa Flow. She is passionate about sharing how the tools of yoga can help you find balance in day to day life on and off the mat. She likes to create flow classes which develop strength and flexibility, and also slower paced classes to encourage stress relief and relaxation.
Siân Goff
Siân is lead teacher at Hotpod Yoga Reading, with many years of experience.
Siân fell in love with yoga whilst training to become an actor. At first she found the physical practice really challenging and struggled to build strength, but soon she began to notice a transformation inside her head. She was building an inner resilience, a sense of space and freedom that she had never experienced before and this helped enormously to deal with the ups and downs of a creative career. It was a huge revelation and the desire to be able to share this magic with others led her to become a teacher in 2013.
Siân's classes always have a strong focus on breath and sensation, to help guide the student on a journey inward and build a better internal sense of their bodies.
Siân's approach is playful and curious, she likes to focus on the target areas of postures as opposed to the alignment, which helps to make them accessible to all bodies and gives the physical practice a sense of precision. She is always striving for a balance between appropriate challenge and relaxation. You will leave feeling uplifted yet grounded and calm.
In 2019 Siân became a lead teacher at Hotpod Yoga in London where she mentors teachers and leads their 200 hour teacher training alongside Sunita Devi and Elodie Frati.
the founder
Suzie Eggleton
Suzie first found Hotpod Yoga at the Folkestone studio, looking for ways to improve strength and flexibility post-injury as a professional athlete. Having found the benefits far out-stripping any other form of exercise, and also being incredibly enjoyable, Suzie decided to sign up for the HPY teacher training. She also found being involved with the studio, and the wider HPY family, wonderfully positive, and decided that Reading would be a fantastic place for a new HPY studio, and so Hotpod Yoga Reading was born!