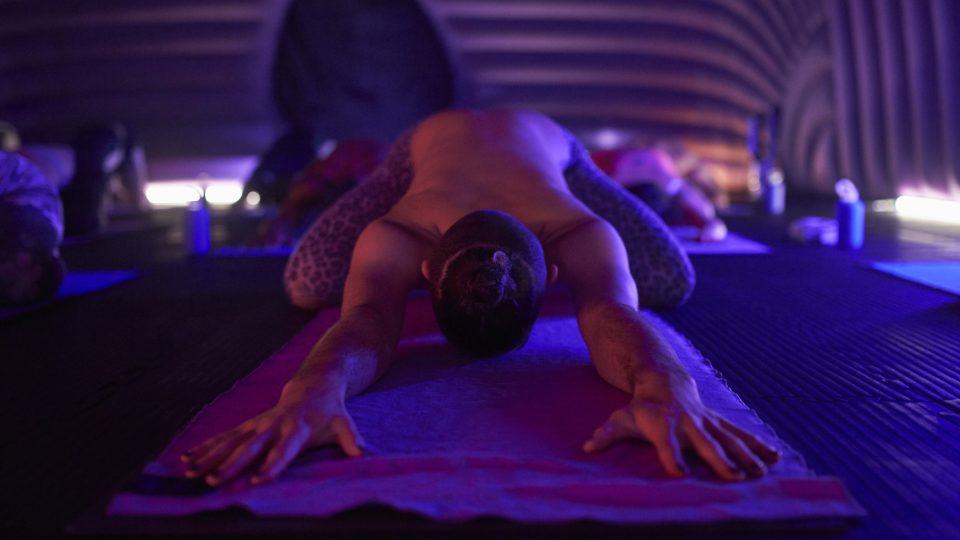 We're Europe's largest yoga business. Since 2013, over 100,000 people have immersed themselves in a Hotpod class at one of our 50+ locations around the world. You'll stretch further, breathe deeper, sweat harder and melt fully into the Hotpod experience – a balanced flow of active and passive postures, working the body and calming the mind in equal measure. For class times and more, take a look at the schedule above, then book your spot.
Changing

Mats

Parking

Showers
Signature Inflatable Studio
Vinyasa flow
37 degrees
All levels welcome
find

us

2 Dencora Park, 18 Shire Hill, Saffron Walden, Essex, CB11 3GB, GB
George
George fell in love with everything about yoga immediately after his first experience which happened to be in a Hotpod! He loved it so much that he went on to complete his Yoga Teaching Diploma on HPYs first-ever teacher training course in 2017. Since then George has taught at various Hotpods across the country and finally co-founded his own HPY studio in Bristol with his wife, Frances. So naturally, when George moved home to Essex to be closer to family in 2022, he couldn't wait to jump straight back into the Saffron Walden pod.
Lucy
Lucy comes from a Musical Theatre background and has always had a passion for movement and creativity.  Having practised yoga since her early twenties, Lucy realised that yoga is not only hugely beneficial physically, but that it also helps her mental wellbeing.  Lucy completed her 200-hr Yoga Teacher Training with Hotpod Yoga in November 2020, and went on to teach group and one-to-one classes in Saffron Walden.  Lucy now joins our studio where she continues to grow and evolve as an instructor within the Hotpod Yoga team.
Louise
Louise has been a big fan of yoga and the benefits it brings since her early thirties but her love for hot yoga was born in the summer of 2009 when she attended her first Bikram class in London.  Louise completed her 200-hr Teacher Training at The House of Yoga in Putney in 2018 and shortly after became a member at the Saffron Walden pod when relocating back to her home town.  Louise also enjoys walking, swimming and sometimes even running and feels her yoga practice provides balance to these activities and life overall.
Sarita
Sarita is an Artist and Yoga teacher. She has always loved fitness but struggled to find a bridge between fitness and creativity. Yoga is the perfect tool to train body, mind and spirit whilst still maintaining creative freedom and the pod is the perfect environment for this. Sarita trained with Yoga London and has been on a journey ever since.
Sarah
Sarah has been practicing yoga since her early 20's and completed her 500 hour Yoga Teacher Diploma with the British Wheel of Yoga in 2016. She went on to teach classes in yoga studios across London and Nottinghamshire before moving to Essex in 2017. Sarah believes there is a yoga practice to suit everyone; her classes are welcoming and creative and have a strong focus on safe alignment in every pose.
Sophie
Sophie hails all the way from Australia and made the big move to England in 2016. She is a mum to three young boys, including twins. She was first drawn to Hotpod yoga as a tool to calm the chaos of motherhood and fell in love. She completed her 200hr Teacher Training at Camyoga in January 2020 with the hopes of passing the love of yoga on to others in an inclusive and supportive environment. She believes yoga benefits all bodies regardless of age, shape and ability and wants to empower people to come to the mat as they are.
Nicola
Nicola moved to Essex from London in 2012 and completed her 200 hour Yoga Teacher Diploma and Hot Yoga Teacher Training at Camyoga the following year.  She went on to teach both yoga flow and hot yoga until March 2015 when she took a break to have her son.  Nicola returned to teaching as the director of Hotpod Yoga Saffron Walden which started up in February 2016 and she has loved bringing yoga to her community ever since.
the founder
Nicola Batten
Nicola was introduced to Hotpod Yoga by her friend Sarah, who started Hotpod Yoga in Nottinghamshire. After meeting HPY ​co-​founder, Max, at the Om Yoga Show at Alexandra Palace in 2015, she knew Hotpod was where she was meant to be. A short 3 months later, HPY Saffron Walden opened, calming the minds and working the bodies of Essex ever since January 2016!
Refer a friend for a FREE class for them and £10 OFF for you!
Click to copy and share your referral code.
or email code to a friend