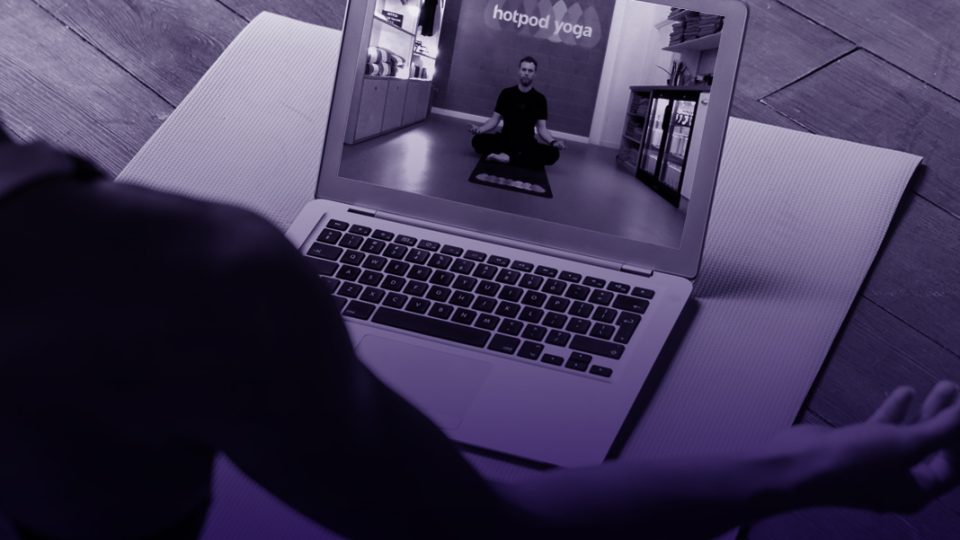 As we're not able to run in-studio classes at the moment, we're coming to you with live online classes for you to stream at home. For class times and more, take a look at the studio schedule above, then book your spot. Once you've booked, you can join the class directly via the 'my account' page. For more information on studio closures, please read below.
To help keep the HPY community safe and healthy, and to ensure that we're doing our bit in helping the effort to combat coronavirus, we're temporarily stopping running classes. We'll continue to monitor the latest advice and will reopen as soon as possible. Keep an eye on our social media pages for further updates, and don't hesitate to get in touch if you have any questions or concerns.
Vinyasa flow
All levels welcome
Ana C
Ana Maria, originally from the wild windswept West coast of Ireland, is a yogi, traveler, barefoot runner, and clinical massage therapist.
She has a background in fine art, but came to find a true home in the practice of yoga, mindfulness and wellbeing. In 2013 she began teaching yoga while living in her mothers homeland of Guatemala.
Her approach is rooted in a functional movement perspective. Anatomical variations mean that everyone's yoga practice will be as unique as them. She offers options and variations to allow you to find the practice that best suits you each day you show up on your mat.
In this way she invites you to be truly present with your body, in order to strengthen the mind body connection and to build a practice that is nourishing, strengthening and calming for your body, mind and spirit.
She has trained extensively with world renowned teachers Simon Borg-Olivier, Bianca Machliss, Cindy Lee, Anna Ashby and Jo Phee. Ana Maria is so grateful to all of her incredibly knowledgeable teachers.
Anna
Anna is a fun and energetic teacher who instantly makes you feel welcomed and relaxed through her friendly approach. She creates flowing sequences which move around the body in different ways, and are suitable for all levels. Whether you want to gain strength, flexibility, mobility or calm the mind, her classes are perfect for you.
Angela T
Angela turned to yoga to help her body heal from vigorous dance school training. The rewards and benefits of yoga made her curious to understand her practice more; this lead her to do her teacher training in 2014. Angela's classes focus on physical awareness as well as listening to one's own body in order to reconnect body to mind.
Antonia C
Antonia has been practicing yoga for the last 7 years and left her Mental Health Nursing role to embark upon a career teaching yoga. Antonia is always seeking new ways in which she can learn and grow and teaching yoga has been her biggest educator. She enjoys teaching yoga as it allows her to look beyond her own personal practice and connect with others unlike ever before. This has inspired her to live a life dedicated to inspiring others through the practice of yoga. Her classes are dynamic and fun but be prepared to be challenged. Antonia focuses on alignment and does her best to support students through hands on adjustments and verbal cues. Antonia loves sharing, teaching and movement and will leave you feeling energised and revitalized.
Zalika K
Whilst on tour as a backing vocalist, Zalika was pursuaded to try a yoga class – and instantly became hooked! After practising for 6 years she attended a Sumits Yoga class in Arizona where the entire class was set to a curated play list and was, once again… hooked. That same summer of 2014, Zalika completed her Hot Vinyasa Yoga Teacher Training in Santa Margherita, Los Angeles and has since enjoyed her journey as practitioner and teacher. With music and yoga being the consistent theme, working with Hotpod Yoga was an inevitable love affair.
Mandy B
Mandy's journey into yoga began in 2010 in Asia. She was first attracted by the physical aspect of yoga. Continuing her practice, she quickly discovered its joy and benefits both on her body and on her mind using mindful movement, breath and awareness. Her classes are dynamic with a strong emphasis on the breath and alignment. She encourages people to connect with their bodies leading them to liberate their minds.
Lucie H
Lucie initially came to yoga when suffering with mental health issues. Having worked in the fashion industry for six years, she left due to having no work-life balance and feeling exhausted. Yoga helped her to escape the stressful working environment, allowing her to feel balanced and present. She hopes her classes help students to get out of their heads and bring awareness to their bodies thus enabling them to move intuitively, whether it's challenging themselves to push through or taking a step back and moving more slowly and gently.
Jamie R
Through all of life's chaos and challenges, yoga is a place Jamie finds he can always come to when in need of grounding and stillness of the mind. He has been practicing for nearly a decade now and has found a new love in assisting others in discovering their personal path to this accent discipline. He specialises in vinyasa flow yoga with a strong emphasis on the breath and often talks about breathing techniques that can help reduce our levels of stress and anxiety. It doesn't matter if you can't touch your toes, Yoga is so much more than that and is for absolutely everyone. Jamie particularly likes working with beginners and will use language and instruction that is simple to follow making you feel very comfortable and in safe hands.
Emily J
Emily was first introduced to yoga in Australia. She went on to complete her training in Bali and continues to add to her training in India. As well as being a dedicated yogi, she is now a wellbeing and intimacy coach. Through her practice she has begun to unravel and explore her inner landscape, alongside building strength and flexibility. Em's teaching style reflects her desire to support and nurture her students on their own journey, on and off the mat.
Nicola L
Nicola trained as a professional dancer and turned to yoga during her final year, originally to gain more strength and flexibility. Soon, yoga became a necessity for both her body and mind. Nicola found that yoga challenged her to be in the present moment as well as to be conscious of her physical and mental surroundings and also the boundaries of her body and mind. Her classes are creative and unique, exploring the ebbs and flows of breath and movement from the very subtle to the most expressive.
Catherine W
Catherine has been practicing yoga for several years and found it a natural progression from the dance and pilates she had done before and started teaching in 2011 qualifying with Yoga London. With an incredible energy about her, Catherine's classes are filled with fun, teaching students not to take themselves to seriously…. she's a native Londoner who loves people & loves life!
Lauren F
Lauren has always known she wanted to help people but stuck in the corporate world for years she didn't know how. After travelling the world, Lauren trained as a yoga teacher and found the confidence to help others through yoga and wellbeing. Lauren loves how yoga makes her body feel but most importantly it's the magic that happens in her mind that drives her to share yoga with others. Lauren likes to teach a strong and mindful class where laughing and smiling are always allowed!
Zaz G
After a motorcycle accident 19 years ago, Zaz came to yoga to help her recovery with back and neck issues, and from the first breath on the mat she knew she was at home. Her teaching style is nourishing and empowering, with attention to alignment and an insistence on self-awareness. A hands-on teacher providing gentle physical and verbal guidance, she believes in taking every opportunity to challenge the mind's perceptions of what we can do!
Colly
As a passionate long distance runner & regular five-a-side footy player, Colly found yoga as a means of recovery for a busy sporting schedule. Having trained with Hot Pod Yoga in 2018, he's now also trained specifically in teaching yoga for sports and to athletes with Manchester United's Sarah Ramsden, as well as developing a strong interest in the role of the breath with his Oxygen Advantage breathwork training. He enjoys challenging, mindful movement to get you out of the head & into the body.
Geri K
Geri has a background in gymnastics, which led her to explore yoga. She has been practicing yoga for over 6 years. She wanted to take her yoga practice to the next level and decided to do a 200 hours Vinyasa Flow Teacher Training with HotPod Yoga. Geri brings playfulness to her classes that allows adults to relax and enjoy yoga. Her yoga practice is light hearted, whilst also teaching people to learn and develop their body and mind.
Jofie Trythall
From a young age, yoga has been Jofie's place to re-connect, especially later in city life. Over the years Jofie's practice has become deeply healing both physically and mentally, nourishing her and giving her confidence and calmness is many aspects of her life. This lead to Jofie furthering her practice and completing her teacher training. She is passionate about creating open, creative and dynamic classes with options to welcome all levels of practice. Her classes focus on finding and creating space, deepening the mind body connection by using some of the fundamentals of ashtanga with breath, gaze and flow.
Isabelle J
Isabelle was introduced to yoga through a community project in Battersea which engages with disadvantaged young people through skills such as boxing and yoga. Inspired particularly by a local yoga teacher and all that she did for the community, Isabelle witnessed first hand how how movement could transform people's lives. She completed her 200 hour training in 2017 and has not looked back. She has since furthered her study in other areas of the practice and is now a 200 hour Naad Sound practitioner as well as more recently training as a Stott Pilates teacher and Barre teacher.
With a unique and playful approach, Isabelle enjoys working with students to challenge themselves and explore their personal approach to the practice. Her teaching is enriched by her love of sound, voice, meditation and breath which she weaves into her classes in the hope to bring a sense of calm and joy on and off the mat.
Erin
Erin has been practicing yoga for around 6 years, as a balance to hectic city life. Having graduated from Hotpod's 200hr Teacher Training, she has been helping others reconnect with their bodies and find balance in their own lives through conscious movement and meditation. Erin's classes are dynamic, fun and will leave you full of energy and ready to take on the day!
Sarah E
Sarah a registered 482 Hour London based yoga teacher. Her mission as a teacher is to remind students that they are MORE than enough just as they are and that yoga is about so much more than just moving. She reminds clients that their worth isn't determined by their ability to handstand but rather through forming a much deeper and happier relationship with themselves. It's Sarah's hope that through practicing yoga with her you reignite your inner light and remember how to live from a place of love and confidence.
Georgie B
Georgie immediately fell in love with yoga after discovering all its beautiful forms. His classes are tailored for every ability, body and walk of life, feeling that yoga is in every way it is expressed, good for everyone. Currently he's a student of Aromatherapy/Massage, has a love of plants, natural health and is passionate about the subtle body, the great Yogi's and enjoying life with a smile.
Nick Higgins
One half of Hotpod Yoga's founding duo, Nick's been teaching yoga for 6 years and has lead workshops worldwide with a particular focus on assists, adjustments and teaching style. In charge of developing and managing the quality of teaching across Hotpod Yoga worldwide, he has helped hundreds of teachers develop their teaching technique and effectively bring their personality across in their classes.
Nick's approach to teaching epitomises what Hotpod's all about – a down-to-earth accessibility, high on impact (both mental and physical) and a good bit of fun.
Nataliya P
Nataliya had her first meeting with yoga in early 2000 as part of a recovery program in her elite orienteering career. Practising yoga on and off helped her heal her body and she soon realised that she wanted to share this amazing practice with others. In 2016 Nataliya trained as a Hot Power Yoga teacher. Her passion is to bring health and well-being through yoga, in balanced and fun way. Despite a sport background, she loves yoga being a non-competitive activity available for everyone – no matter their age, fitness level or shape.
Alex G
Alex started dancing before she could walk. Her fascination with the arts became her career as an adult and she went on to perform in numerous musicals and other theatrical productions. After being out of the theatre industry for a year Alex Needing something new to sink her teeth into and found the fitness industry. She now specialised in teaching Hot and Power Yoga, Pole Fitness, Barre and anything else that uses dance based techniques. She is excited to share her passion and energy with you.
Matt H
The last few years have been transformative for Matt; physically, mentally and spiritually. Yoga is the constant golden thread through this and an important part of daily life. The journey inspired Matt to attend yoga teaching with Hot Pod early in 2019. As a massage therapist and yoga teacher, he loves helping people to reconnect their body and mind whilst building resilience to the ups and downs of life. Expect vibrant flows and a chance to lush out.
Valentine G
Valentine discovered yoga in 2010 and was instantly drawn to learn more. After years of dedicated practice she decided to complete a teacher training course so that she could share her knowledge and help others make yoga a part of their lives. Her classes will inspire you to find strength, discover a deeper awareness of your body, feel your breath and ultimately experience a deep sense of relaxation after practice.
Eleonora G
Eleonora's teaching focuses on using the yoga practice as a tool to live deeper and more meaningful lives. Her interest in the body and mind connection, self-improvement and creating the best possible version of yourself led her to yoga.
She pays careful attention to the students' individual needs and gives adjustments, variations, and modifications to help them deepen their practice physically, mentally, and spiritually.
She teaches dynamic vinyasa classes that emphasise building strength, creating flexibility, encouraging play, and learning to float. Her caring and intelligent teaching style makes yoga relatable for all levels.
Whether beginner or advanced, students can get ready to step outside their comfort zone.
Hongyi H
An introduction to Iyengar yoga in his early 20s would mark the start of a 20-year yoga journey but it was moving to London that Hongyi discovered and began to explore the myriad of styles that the city offered. He has been practising the Vinyasa style since and appreciates the dynamism and physicality as well as calming qualities.
A desire to further his practice led him to train as a yoga teacher. Through emphasis on linking movement and breath, Hongyi's classes aim to synchronise qualities of strength with qualities of stretch, to bring an overall toning and sense of awakening to the body and mind.
Currently pursuing a Diploma in Yoga Therapy, the training focuses on the nurturing and restorative aspects of the discipline; the aim is to broaden his skills and cultivate a more therapeutic application of yoga that can be shared with a diverse and wider audience.
the founders
Nick Higgins and Max Henderson
A former Schoolteacher and Management Consultant, founded Hotpod Yoga in 2013. They were not part of the 1% who regularly practiced yoga; they were of the other 99% who simply needed to clear their over-stimulated minds, work off their hangovers and open up their bodies after a hard day at work. Max and Nick started Hotpod Yoga to supercharge the yoga experience and take that experience out to the masses.