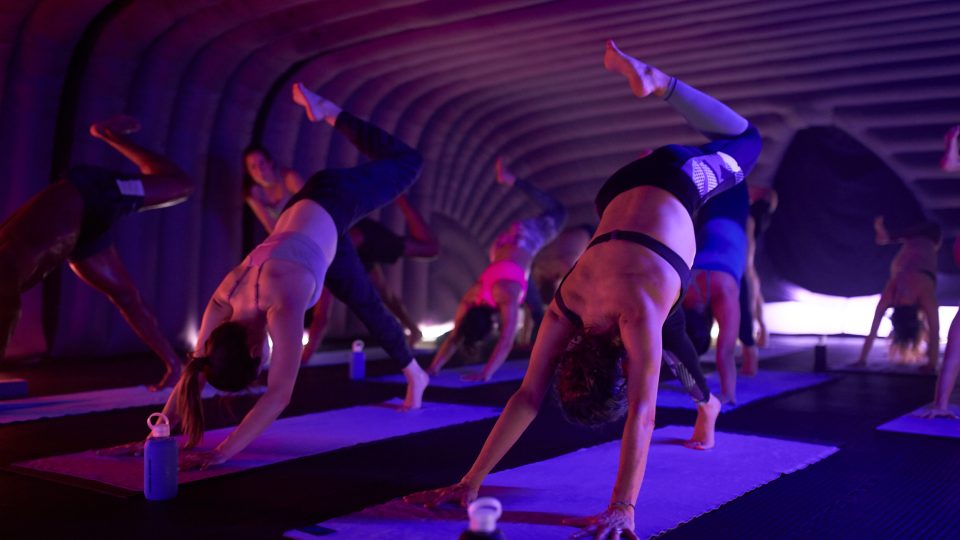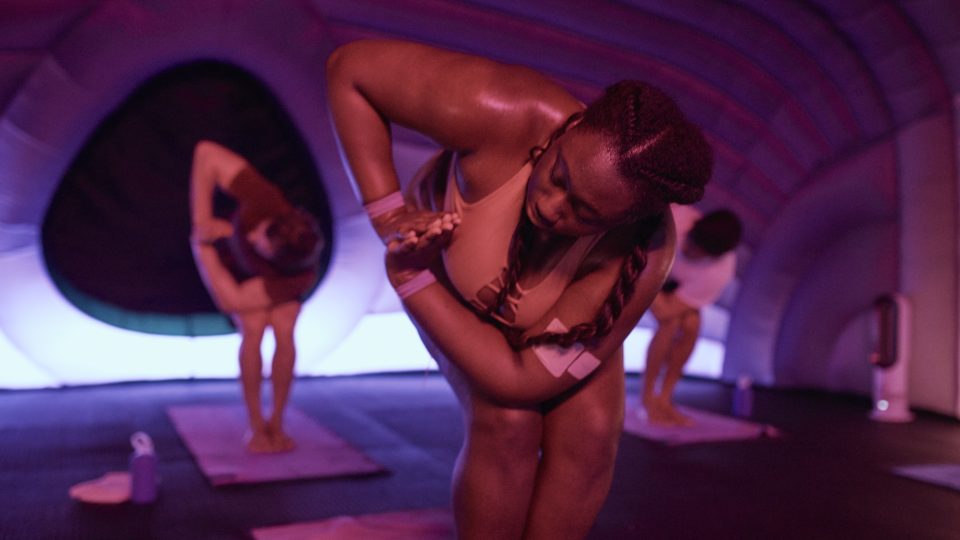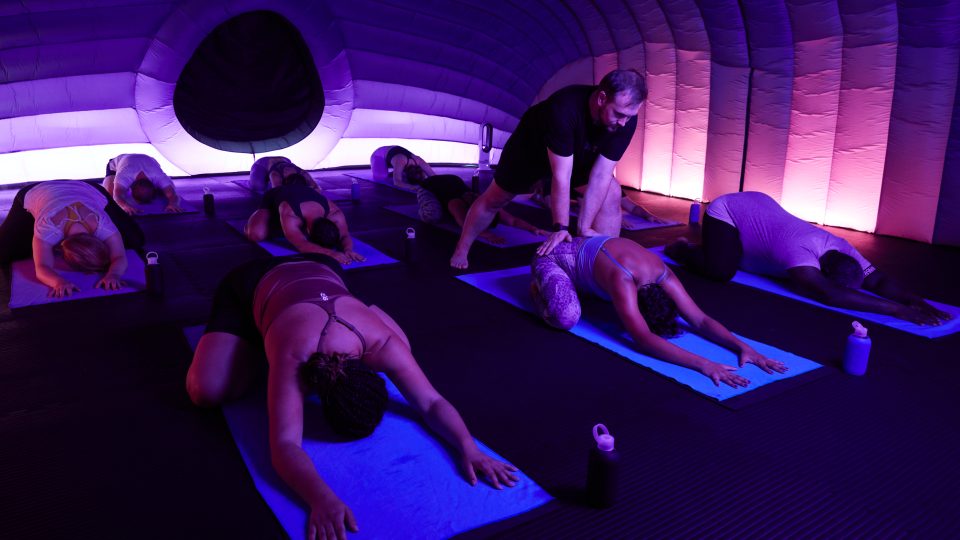 about the studio
Hotpod Yoga Ribble Valley is spacious and modern, with changing rooms and a boutique shop. Choose from vinyasa flow yoga classes or relaxed, nurturing flow yoga classes, available 7 days per week at a variety of times. Please ask for more information if you are interested in bespoke corporate yoga classes, wellbeing events, workshops, individual or private group yoga classes.
Hotpod Yoga Ribble Valley studio is just 5 minutes from Junction 31 of the M6, turn left onto Whalley Old Road for approximately 2 miles in Salmesbury, Preston. There is plenty of free parking available, toilets are available on the ground floor and the yoga studio is located upstairs in Huntleys. We are thrilled to be based above Huntleys! Huntleys is a Samlesbury-based farm shop that prides itself on being the place 'where quality matters' in Lancashire.  There's always something new and exciting happening here, and we look forward to welcoming you!
Please note, before 9am and after 5:30pm, when Huntleys Farm Shop is closed, entrance to the hot yoga studio is via the restaurant door. Please use the intercom for access into the studio (located on the front door inside the restaurant conservatory).
Signature Inflatable Studio
Vinyasa flow
37 degrees
All levels welcome
find

us

Huntleys, Whalley Rd, Samlesbury, Myerscough Smithy, Preston, PR5 0UN, GB
Ian McGoay
Ian holds a peaceful and calming space, helping attendees to experience the relaxing and revitalising potential of a gong bath.
Over the course of the past decade Ian's pursuit has broadened, and he began seeking out how music and, more importantly, how sound can dramatically shift our perspective, raise our consciousness, and even help us heal ourselves. Along his path he have studied sound healing and earned a sound practitioner certification through "about gong" with Selma Studer and is fully accredited by the Complementary Medical Association.
Ian uses a mixture of gong, crystal bowls, chimes, voice and other instruments for an authentic experience. Sound meditation has been a huge part of his journey and he feels very passionately about sharing that with others. He has a love for sound for many reasons, but a couple of top ones would be the accessibility and how it fast tracks you into a meditative state.
Lorraine Carter
I have been practising yoga for around 30 years and it has literally become a way of life. First and foremost it provides the relaxation "space" I need, both mentally and physically away from the day to day stress and chaos of the external world.
My mat is the place where I can make the shift to an internal focus, come back to the present moment and truly connect with myself. It's a place of calm and peace for the mind, where I know I can safely release any anxiety and stress.
The breath is the wind that guides the physical movement and allows the body to flow through postures, with no grasping or clinging, just a gentle easing with curiosity, all the while maintaining that internal awareness and focus.
As well as the many physical benefits of yoga, such as increased flexibility and strength, yoga is a wonderful tool for self enquiry, shifting perspective and facilitating self-change. It creates a calm state of mind which we can carry with us into the daily challenges the world constantly presents us with.
Louise Owen
My yoga journey began 9 years ago when I first attended a class and discovered the magic of yoga. Upon qualifying in March 2020 as a 200-hour vinyasa flow teacher, I started teaching a variety of classes straight away. My classes have a restorative feel, and it gives me life to guide students through classes with a focus on improving their mental well-being
Mary Dimopoulou
My name is Maria and I have been practicing yoga since 2014. Helping people feel good with themselves has always been my priority. Since I was young, I always enjoyed the experience of movement, that's why I practiced ballet and contemporary dance for over 8 years. It was truly a passion, which I sadly had to give up after injuring my knee. This, however, opened my eyes to the world of yoga and how movement and rhythm can be expressed through a different form. My injury also helped me to listen to my body even deeper and adapt each pose accordingly. It wasn't just dance, but also my studies and experience in nursing which helped me realise how healing and beneficial yoga can be for everyone – both in the body and the mind. This realisation led me to Rishikesh, a place close to the Himalayas in India. There I immersed myself in Hatha and Ashtanga training, successfully completing over 200hrs of intensive teachings and meditation. My teaching style combines both Hatha and Ashtanga in a slower vinyasa style. This gives me the time to demonstrate each posture completely and allows you to better understand and truly feel the benefits of each asana/posture. The key message I bring to my practice and teaching is "Yoga is not a workOUT but a workIN" Finally, three years ago, in a magical place called Reykjavik, I discovered yin as a practice and there I shared my knowledge of yoga with people from all over the world. This adventure in that lovely Icelandic city revealed to me that working in a spirit of community and support, we can create a safe and meaningful yoga environment where we can support each other and grow.
Anita Yogalife
Yoga Teacher, Anita grew up in Blackburn, now Ribble Valley resident and has lived in the area for most of her life. Having heard of a new hot yoga studio open close to her father in laws home in Ruislip, Anita hopped on a train to London and stumbled across Hot Yoga in 2018, she really felt as if she had found her yoga home, loving the combination of the heat, accessible classes and a friendly vibe and was hooked. This resulted in her training as a yoga teacher in 2019, and inspired her to open her own hot yoga studio in Samlesbury, Lancashire.  Anita, is a busy mother of three and a qualified Hot Yoga teacher who has a long standing love for all things healthy and well being related.
Anita has been teaching Yoga in the Ribble Valley for the past three years and has gained lots of knowledge and experience of various yoga styles and teaching to many diverse groups of all abilities, including beginners. Anita made a big decision to ditch being a chartered accountant to follow her dream to become a hotpod yoga franchise owner. Anita is excited to pioneer this new and innovative approach in Ribble Valley and can't wait to welcome local people to Hot Yoga at Hotpod Ribble Valley at Huntleys.
the founders
Anita & Ian McGoay
Ribble Valley residents Anita and Ian are launching this Hotpod studio. Anita who grew up in Blackburn is a qualified Yoga teacher and has been teaching Yoga in the area for several years. Anita has gained lots of knowledge and experience of various yoga styles and teaching to many diverse groups of all abilities, including beginners. Anita's other half Ian, who grew up in London, is an ex competitive sprinter. Ian holds a Bachelor of Honours in Sports and Exercise Science, he is also a qualified sound healer therapist and is passionate about plant based nutrition and alternative therapies. Anita and Ian discovered Hotpod Yoga Ruislip back in January 2019 whilst on a casual visit to Ian's parents and will always be grateful for their curiosity planting the seed and introduction to this wonderful environment.