Our Design and Intellectual Property
A note from co-founder Max Henderson
When we set out to create Hotpod Yoga, Nick and I had a clear and ambitious plan – to create a global yoga brand centred around an extraordinary yoga experience. We wanted to reinvent yoga, creating an immersive experience that would help us take yoga out of its niche and into the lives of millions. 
We're proud to say that we've come a fair way towards achieving that – and that's thanks to innovation, luck and a huge dose of hard work from the entire HPY community. This business is special to all of us, so it's important we protect it. Here's a little summary of how we do that, and why.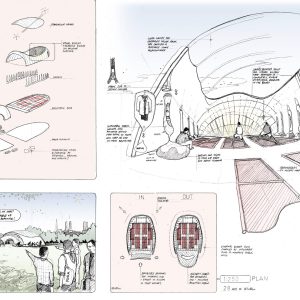 An idea
Over 7 years ago, we set about investigating our options for creating the perfect yoga environment. We wanted something that was deeply immersive, beautifully coloured and lit, environmentally efficient and insulative, relatively affordable and – critically – totally hygienic.
After looking at countless options and speaking to designers and engineers from a huge range of fields, we began experimenting with inflatable structures – something that had never been used for heated exercise – with the help of industry pioneer Nick Crosbie and his team at Inflate. After plenty of head-scratching, a lot of sketching, some very sweaty failures and a good few iterations, we landed on the final design for our Hotpod studio.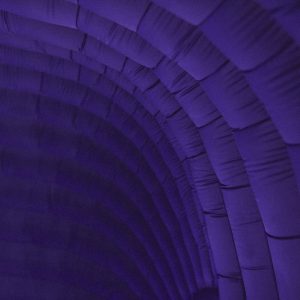 A challenge, and a solution
One of our initial concerns with inflatable structures was hygiene. We were worried that it'd lack fresh air and that condensation and sweat would build up inside it (like a tent). Well, in our first iteration it did. But, through a tweak to our design, we landed on a structure that had airflow throughout the internal walls of the structure. This, it turned out, was the perfect remedy to our concerns.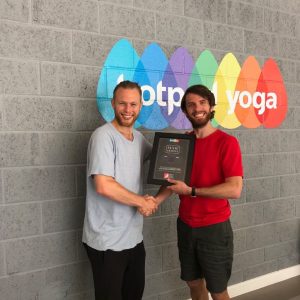 Our patent
While we never set out with the intention of patenting our product, this innovative use of an existing technology in a completely novel way opened those doors by making our Hotpod studio patentable – on the advice of some excellent IP specialists. So, we took the big and expensive decision to apply for patents internationally. To our delight, in 2016, our first patent was granted in the UK and all others have followed since – with successful examinations and approvals around the world (European Patent number 3060732, US Patent number 9708830).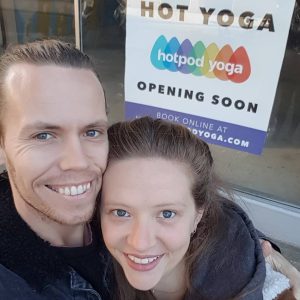 Our value for franchisees
Our franchisees buy into everything that is Hotpod. Perhaps most of all, they value the brand, the support and the expertise that we bring. But, they also buy into the exclusivity of our invention, and the fact that it was us who took that step to create the Hotpod Yoga concept and experience and us who do everything we can to protect it. This is important to them – it gives them security and comfort and we therefore have a responsibility to uphold that.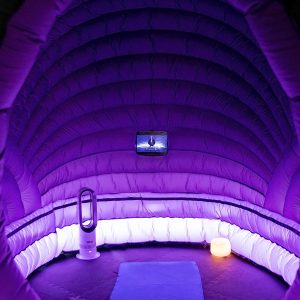 Our Minipods
In August 2020, we launched our very first Minipods at our London Hackney studio. With the same patented technology as our full-sized pods, the Minipod offers so much more than a yoga class. It's everything our customers love about our normal Hotpod classes — the heat, immersive soundscapes, soft lighting and fragrant aromatherapy — but in an individually sized cocoon, with zero distractions. It's a perfect, fully immersive yoga experience.
Protecting our idea
Our patents are there for all to see – in our studios, on our website and social media, and in all of our franchising materials. We're proud of them. But we also want to ensure people are aware of them and take them seriously. 
We never want to be a litigious business or get embroiled in legal battles. It's not in our nature and it's not good for anyone. So, we just ask (really nicely) that people take us on our word with our patent – look at the details, respect the legal systems in place and understand that we have them there for a reason – to protect our business and the businesses of our franchisees. 
Every industry is sadly beset with stories of unscrupulous copycats keen to make hay on the back of the hard work and ingenuity of others, and we're no different. We've of course had copycats, with some even trying to reassure others that they've found some clever way to get around our patent or that our patent is in some way invalid. All we can say is that it's important you don't take them on their word and that you do your own research as, to date, there's been no truth to their claims.
We're sure we'll always have to deal with the odd copycat here or there, but we hope that this note about what we do and why we do it might discourage a few of them. And to those who had considered it, we hope they find their own path and their own passion that doesn't simply involve copying someone else!
– Max