Teacher Training Frequently Asked Questions
Teacher Training Frequently Asked Questions
Here at Hotpod Yoga, we offer part time and full time 200 hour teaching courses that prepare students for the modern yoga world, and help to develop their brands and careers as yoga teachers. All of our 200hr courses are Yoga Alliance accredited, and alongside getting practical teaching experience from day one, you'll learn about the philosophy and history of yoga, Sanskrit, breathing, diversity, equity and cultural appropriation, as well as a variety of styles of yoga.
Do you have any questions about our teacher training or what it involves? You might find them here!
Where and when do the teacher training courses take place?
We hold all our courses at our Teaching Academy in Hackney. It's close to lots of green space, but also to some great cafes and markets where you can grab lunch or a coffee and chill out. Each year we have a minimum of two part-time and two full-time courses, with days running from 8.15am until 5.30pm.
Who leads the courses?
The courses are led by Lead Teachers Siân Goff and Elodie Frati. Both have a wealth of experience in the yoga world, but also in performing arts, which they draw inspiration from to make you the best teacher possible! Sian has a passion for meditation, ayurveda and the nurturing side of yoga, whilst Elodie loves anatomy and getting upside down. You will also be taught by experts in their field who come to deliver workshops in subjects ranging from Sanskrit to breath work and more.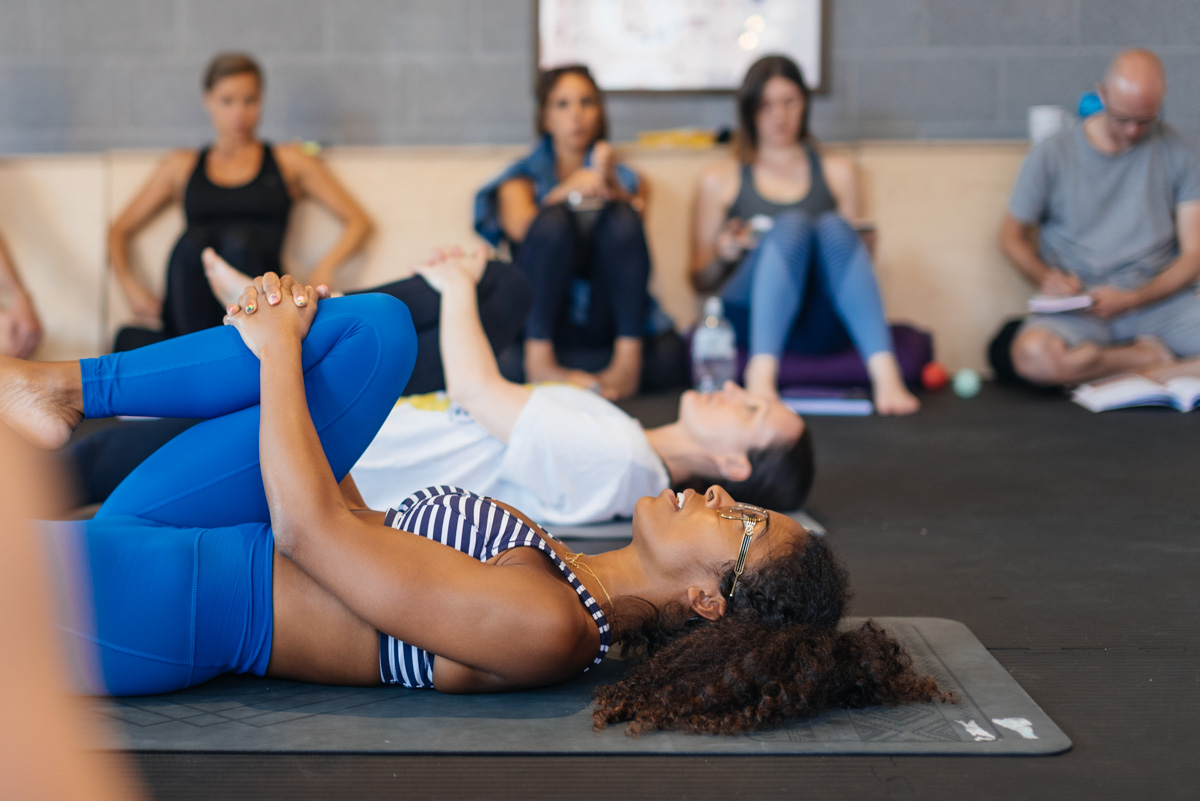 Which is right for me – full time or part time?
The full-time course allows you to be fully immersed without much interruption from daily life. It is an intense experience which is great if you like to fully engage in a topic, and are able to take five weeks out of your regular schedule. The part-time course allows for a little more space between different sections of the course, and offers slightly more time to practice teaching family and friends before you qualify. Whilst it is easier to fit the part-time course around a job and our busy lives, it also requires a fair amount of dedication from you during your time away. Both options have their benefits, however the content is exactly the same whether you choose to study full-time or part-time. It really depends on how you learn best, and what you can fit in around your schedule.
What type of yoga will I be qualified to teach after the course?
You will be qualified to teach Vinyasa (or Flow), but you will experience lots of different types of yoga during the course. You will also experience teaching in the heat, and will therefore also have the flexibility to teach hot yoga should you wish to do so.
Are all the classes held in the pod?
You will practise in the pod at regular intervals, however most of the classes are held outside of the heat. This is less depleting for students, and is less of a challenging environment to learn how to teach. You will of course have the chance to experience teaching in the pod yourself as the course progresses.
I am not sure I want to teach, can I still come on the course?
Of course! We have lots of students who just want to further their education rather than go on to teach – although they often change their mind!
How much experience do I need to take part?
This varies greatly depending on your background, but we recommend that you've had a regular, committed practice over a period of time. Whilst it is different for everyone, we advise a minimum of 18 months of regular practice. If you have any further questions about this, please feel free to reach out and chat with the team.
I can't headstand/handstand/crow/do a push up… will I be good enough?
We are not expecting you to come onto the course knowing all of these things… that's why you're doing it – to learn! Everyone comes onto the course at different stages of their life and their practice, with different life experiences. Come as you are, with a strong commitment to learning.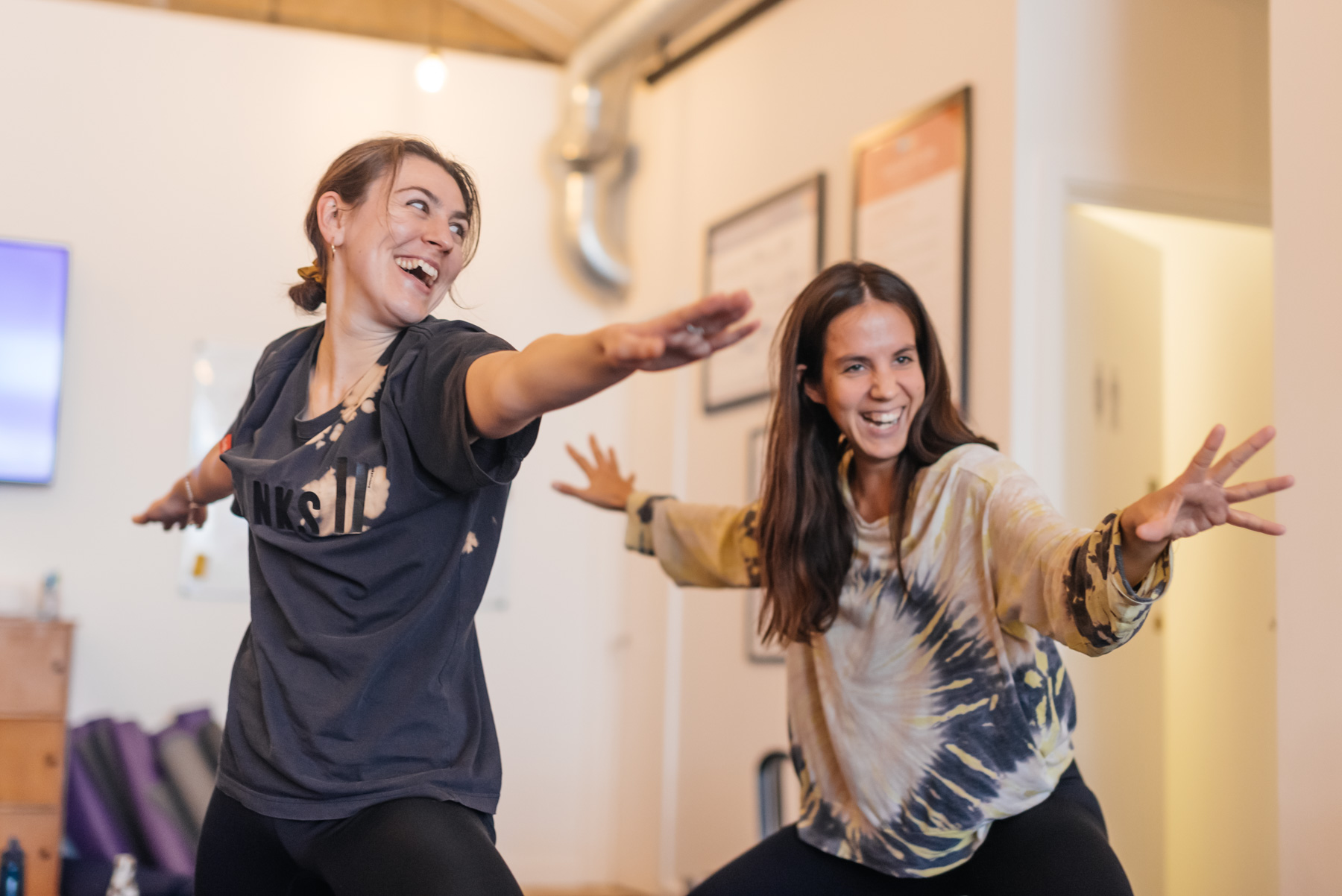 I am quite shy, I am not sure I can stand up at the front and teach…
You are not alone. Many of our students find this very challenging to start with. Sian and Elodie both have a background in performance, and have plenty of tools to coach you to 'hold the space' with confidence by the end of the course.
What makes Hotpod Yoga teacher training different to other schools or courses?
At Hotpod, we get you teaching right from the start so you can continue to develop your skills throughout the course, and you will teach a full hour with feedback before the end. We also ensure that you are taught about being a business owner, cultural appropriation in yoga, Sanskrit and more, so that you graduate with an understanding of the landscape of yoga as a culture (both historically and in present day).
You also have the huge advantage of having regular, personal feedback throughout the course, and having one teacher present every day throughout your course to ensure you are taking all the information on board, allowing consistency and mentoring throughout your time with us. On top of this, you get the perk of having access to Hotpod Home throughout your course, and will experience teaching in and out of the heat, making you a teacher with multiple competencies.
Interested in signing up or finding out more? See our teacher training page for more information. If you haven't experienced a Hotpod Yoga class before, we highly recommend you do that as a first step, so book a class today and see what we're all about.