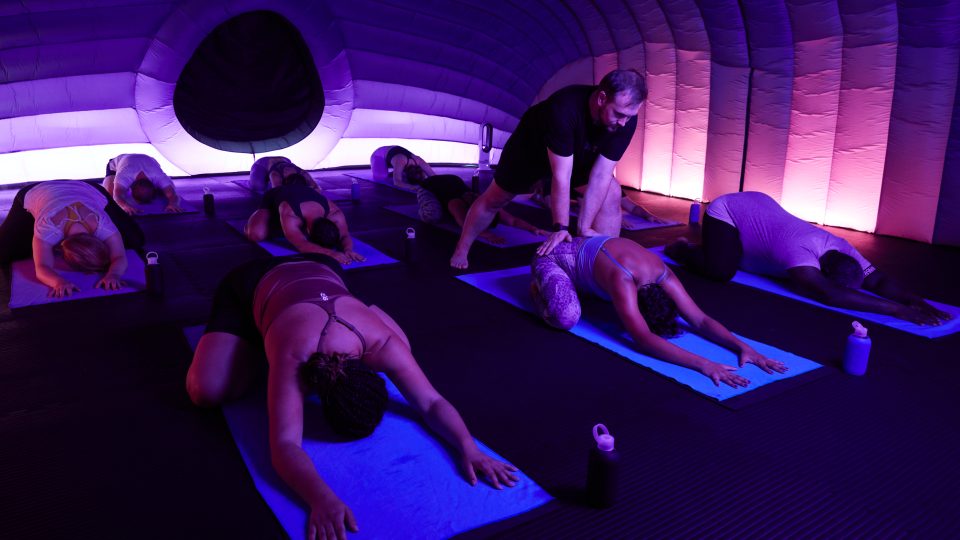 about the studio
Hotpod Eastbourne is spacious, unique and vibrant, with changing rooms, showers, hair dryers and toilets available for use. Choose from our classic Hotpod Flow or our more relaxed Nurturing Flow classes, available 7 days per week at a variety of times. Based in the suburb of Eastbourne one of UK's happiest towns – Hampden park is notable for its unique railway station, where local trains on the east coastway line stop twice, and is thought to be the busiest level crossing in Europe, just a short walk from our flag ship studio. Hampden park also holds host to a busy retail park. Nearby you can enjoy a gentle walk through the scented gardens, natural woodland and stop off at the lakeside cafe bustling with life.
Changing

Parking

Showers

Mats
step into our immersive pod
hot yoga in 37 degree heat
move to relaxing beats
filled with calming scents
suitable for all levels
find

us

Unit 7 Harvington Business Park Brampton Road, Eastbourne, East Sussex, BN22 9BN, GB
Jess
I have dabbled with yoga since my 20's but really found my passion for it following the birth of my daughter. HIIT was my go to for fitness but postpartum, I found I was seeking a more restorative form of exercise. I found yoga encompassed it all, gentleness, flexibility, strength, calmness, and stamina.
I then went on to complete Teacher Training with Yoga Haven and my passion only grew. I believe yoga is for any body and everyone can benefit from it.
I aim to make students feel like yoga is accessible, whatever their level of experience, background or body shape. I hope they leave my class feeling the benefits of their practice.
I am excited to continue my teaching journey with Hot Pod Yoga. It's a wonderfully unique and immersive experience. Hopefully I will see you in the pod soon!
Connie Rose
For many years now, since the age of 18, I have always been interested & dabbled into the spiritual world. The more yoga classes I attended & the more books I read… I realised that I had an intense draw to the practice of yoga. It allowed me to feel grounded, overcome some truly difficult times & connect back to myself after the longest time of feeling lost & uncertain of who I was.
After spending several years practising yoga daily & reaping the many benefits it brought me. I decided I had a deeper purpose in this world, to deliver this practice to many more likeminded humans who needed to reconnect back to what matters.
In 2019 I ventured to India, the heart of yoga to complete my 200hr Yoga Teacher Training & it was a truly transformational experience. Shortly after, I returned back to the UK and started sharing my knowledge and spreading my passion for yoga with the world through weekly classes and have been doing so ever since!
Luke Forest
Luke Forest has travelled the world for the best part of the last decade learning movement, breath work and meditation techniques from the oldest and best schools and teachers he could find. He has spent a lot of time in India studying Yoga philosophy and systems notably at The Yoga Institute in Mumbai.
When asked about his classes he says :
"In my classes I aim to create a focused, challenging yet relaxing environment for students of any level to grow and achieve their goals. I like to offer as many different options in poses as possible and I aim to give students the opportunity to find what works for their body. This allows them to move themselves as far as they are comfortable in order to progress safely and with ease. My goal has always been to bring Yoga to as many people from as many different backgrounds as possible. I believe that this incredible system can benefit everyone, no matter their level of mobility or life experience."
Veronica hare
Veronica Hare
Veronica is a 500hr RYT Vinyasa and Yin Yoga teacher. She teaches a holistic practice that promotes her students physical and mental wellbeing. She helps students to feel empowered in their bodies and creates classes that are accessible and uplifting for all. Her classes provide a balance between strength, flexibility, and relaxation. She enables her students to leave her classes feeling empowered, balanced, and refreshed. Outside the pod, Veronica works in the development sector specialising in approaches to combating climate change and addressing gender and diversity issues in the private sector.
www.veronicahareyoga.com
@veronicahareyoga
Bryony Adamson
I have been practicing yoga for quite a few years and truly can't imagine my life without it. I completed my 200hr yoga teacher training with Be-Yoga Academy which took place in Sussex and Morocco.
The main reason I started yoga was due to mental health reasons – something I like to be very open and honest with as there can be such a stigma attached to mental health. Battling with your mind every day is exhausting but yoga allows us to let go of negative emotions that cause suffering, such as stress, anger, anxiety, fear and sadness and encourages us to live more in the present moment.
In my classes you are encouraged to relax and slow your breath, shifting the balance from the sympathetic nervous system (or the fight-or-flight response) to the parasympathetic nervous system. You'll find that your breathing, heart rate and blood pressure is decreased, stimulating the relaxation response. Yum!
See you in the pod ?
Bryony x
Bev Stevo
I found yoga by happy accident. 25 years of playing sport and teaching PE caught up and I found myself battling lots of niggling injuries. I started yoga as a means of increasing my flexibility. It was the best decision as it lead me to my 200 Hour Yoga Teacher Training course. It was an amazing experience. I qualified teaching a moon salutation class on a moonlit beach in Egypt. Yoga has become an important part of my life which I now love sharing with others. I want all in my classes to feel totally comfortable, happy and free to work within their own abilities. I think yoga should be for everyone. I never regret time on my mat and want you all to leave my classes happy you came. I can't wait to start teaching in the pod and welcome you all to join me.
Rachael Voss
Rachael has been practicing yoga for many years before completing her 200-hour teacher training with Yoga Haven, followed by certificates in Pregnancy, Post-Natal, Mum and Baby and Children's yoga. She can't wait to get back to teaching in the Pod, having previously been part of the Loughborough studio team. She swears by the heat, chilled tunes and lovely scent in the Pod.
Rachael encourages all abilities and is very welcoming of newcomers to yoga. She wants to get people moving, to make time for themselves, and to learn to take a deep breath and step back from the day-to-day routine of everyday life. Her teaching style is not at all serious or that kind of class where you wonder 'What in earth is going on here?!' It's for everyone, and will fit perfectly into your modern day. An ancient practice but with lots of smiles, fun and feel-good energy.
For Rachael, regular exercise and creating space both physically and mentally is key to keeping a positive outlook on life. Having her own invisible illness, she understands that everyone has their own personal struggles and their own reason for trying yoga.
She welcomes anyone to give it a go and is happy to chat about individual needs or provide modifications – even if your first class is just lying on your mat
Jade Coco
I started attending Yoga classes to compliment my other fitness training and to increase flexibility. I remember being really worried about not being able to do certain postures and being bendy enough which I think can put many people off attending their first class! I soon came to understand that it really didn't matter and Yoga is for everyone. I took my 200 hour teaching training in 2018 with Live Love Yoga and have since completed further training and CPD in Yin Yoga, meditation and pranayama and fertility yoga. I feel like I am still a student, continually learning many different aspects of the practice.
For me, Yoga is a safe space to connect inwards when I need it the most. I really enjoy a blend of fun energetic flows but I also love relaxing slow movements and stillness to really dive inwards. I hope that my classes are welcoming, down to earth and friendly and encourage you to focus on how you feel rather than what it looks like. I'm really looking forward to sharing the Yoga magic with you all soon!
Angela whimpenny
I have a deep passion for yoga and had an extensive personal practice before completing my teacher training with Yoga Life Eastbourne. I've since continued my learning journey to include amongst others Yin Yoga and Yoga Trapeze.
You will find me teaching at various venues in and around Eastbourne including studios, leisure centres, private clubs and outdoor locations. I am really looking forward to joining the team and adding Hot Pod Yoga to my weekly class schedule.
I believe that yoga should be part of everyday life, it is for everyone and I encourage you to come to your mat as often as possible. My classes are fun and accessible, I give lots of options and progressions to suit a gentle or more energetic practice.
I love the way that yoga leaves you feeling calm and relaxed in your mind, strong and energetic in your body and with an after yoga smile on your face.
the founder
Lizzy Jarvis
Lizzy has always had a passion for Health and Fitness. She started teaching exercises classes at the age of 18 in many health clubs, gyms and hotels. She qualified as a nutritionist and has helped alongside the NHS delivering weight management programmes. She discovered Hotpod Yoga at the OM Yoga show in London a few years ago and had the desire to bring Hotpod Yoga to Eastbourne!