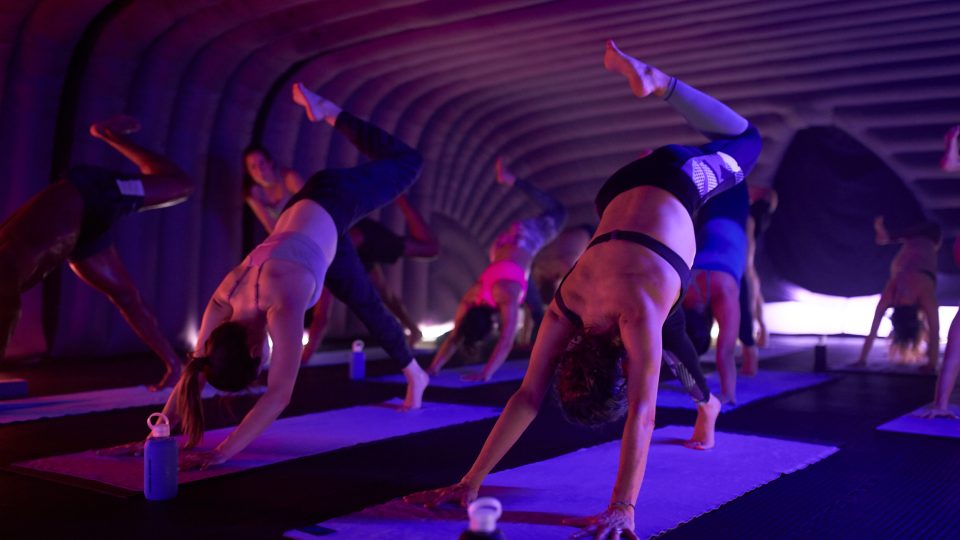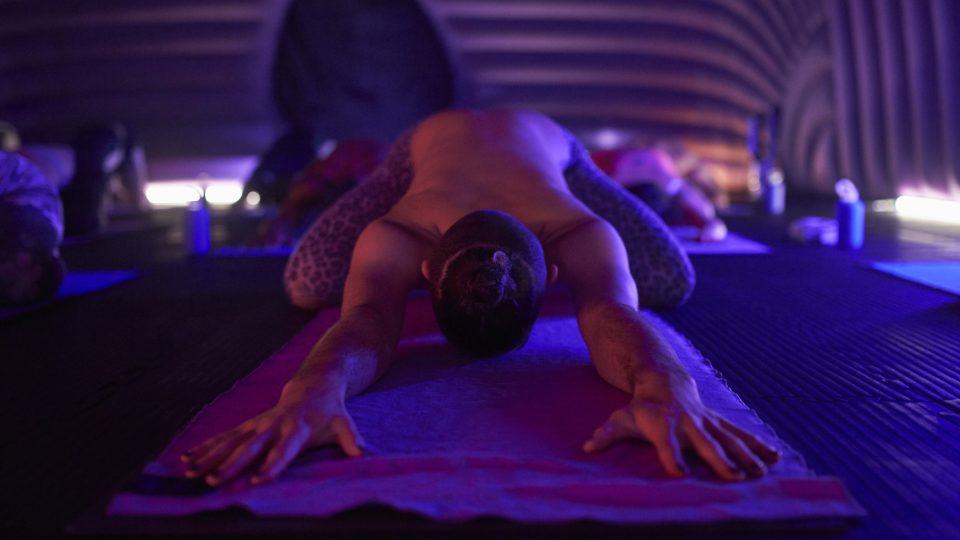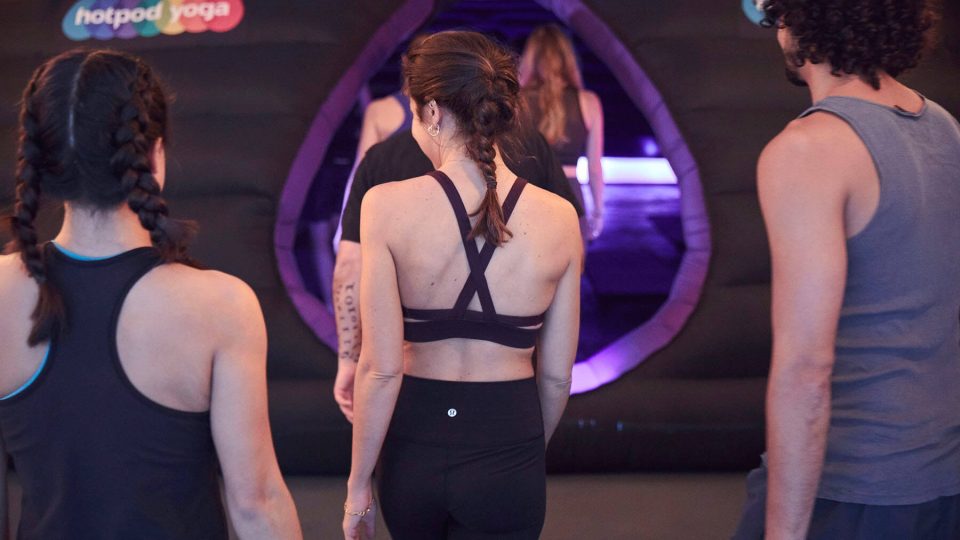 While our studio will be temporarily closed from the 26th December as a result of COVID-19 restrictions, we're coming to you with live online classes for you to stream at home. For class times and more, take a look at the studio schedule above, then book your spot.
We are monitoring the latest government advice and will reopen as soon as possible to do so. Keep an eye on our social media pages for further updates, and don't hesitate to get in touch if you have any questions or concerns.
.
Signature Inflatable Studio
Vinyasa flow
37 degrees
All levels welcome
find

us

Hotpod Yoga - Cambridgeshire, Unit 105, Norman Industrial Estate, 109 Cambridge Rd, Milton, Cambridgeshire, CB24 6AT, GB
Ailie
Ailie is a trained performer and has been dancing professionally for the past 5 years. During this time Ailie took up Yoga to help compliment her strength and flexibility and instantly fell in love. She found it both physically and mentally rewarding giving her an oasis of calm during busy London life. Wanting to deepen her practise further, she went to India to complete her Teaching Training in Ashtanga and Vinyasa at the Sampoorna Yoga School in Goa. Welcoming yogis of all levels and experiences, Ailie's classes aim to guide students into developing their physical potential with a creative, energising and fun approach. When she's not on her mat you'll find her enjoying an active lifestyle; running, playing tennis, or spending time at the coast with her beloved cockapoo and paddleboard.
Molly
Molly trained as a Yoga Teacher in Goa and loves to be able to share the knowledge she has gained and her love for the practice with others. Molly loves to get out into the world and see and experience it all. When she's not paddling her stand up paddleboard along the river or doing yoga on a beach, you might find her running Princess parties or walking her beloved dog, Chief.
Vic
Vic started her yoga journey as a way of complimenting her fitness. What she soon realised, is that yoga offered her so much more than a few stretches. Yoga allowed Vic to grow on and off the mat and she would love to give everyone the opportunity to find happiness within themselves. Vic believes that a strong mind needs a strong body and viceversa, hence she has always taught Vinyasa yoga styles. In her classes she will encourage you to listen to your body and take your practice one breath at a time, being fully present and enjoying every single step of the journey.
Miguel
Yoga is so many things to Miguel. It is a practice of self-care, dignity, presence, and physical stamina. Above all else, he has seen how yoga provided him a venue to focus inward and practice mindfulness in a busy environment that sometimes leaves us without the time to check in with ourselves. Miguel grew up in Southern California, which explains his laid-back approach to life. While he does apply discipline and respect to his yoga practice, he also knows how to enjoy the playfulness of moving our bodies into interesting poses! Miguel encourages yoga practitioners to breathe consciously, sharpen their focus, and have fun.
Polly
Polly is a Hot Yoga devotee. She originally trained in the Bikram method and since then has taught full time in Norwich, Suffolk, California, Thailand and New Zealand. Polly loves yoga's trans-formative capacities, especially in the context of personal recovery, and will encourage you to find the yoga that you need. She also loves to get outside, enjoying beach runs and swimming in the ocean.
Lucy
Lucy's teaching takes elements of the practices she loves including Ashtanga, Jivamukti, Vinyasa Flow yoga and Hot Power Yoga. With a background in ballet and contemporary dance, Lucy teaches in a creative, fluid and fun way. As a mum to two very busy boys, and two very busy dogs, Lucy strives to help her students bring the principles of yoga into everyday life, with the aim of helping them to truly grow, find space and peace.
Becca
Having been exposed to an active and outdoor lifestyle from a young age, Becca has always been up for trying new sporting challenges. Initially getting into yoga to compliment her running and exercise, she soon became hooked and qualified as a yoga teacher in 2016. She has since been teaching dynamic Vinyasa and Power Flow classes, with a Baptiste influence, more recently exploring and learning about the benefits of restorative & yin yoga. Her teaching aims to link steady breath with every movement, offering an experiential practice that gives variations in order to welcome and empower students of all levels and experiences.
Jenny
Jenny found yoga when she was training as a dancer, as it was used to build strength and flexibility. She fell in love with it instantly and started taking classes as often as she could; but it wasn't just the physical benefits she noticed as her body changed, it was the mental benefits that really had a profound effect. Three teacher trainings down the line, Jenny's passionate about teaching hot yoga, flow yoga and yin yoga. Jenny's aim in her teachings is to nurture her students into their potential, and to help them discover what yoga can do for them; physically and mentally.
Pippa
Pippa enjoys teaching both gentle flow styles and a more dynamic class, always with a focus on ensuring yoga is safe and enjoyable, whilst giving students confidence to take things a little deeper and have fun with their practice. She believes everyone can do yoga; whatever age, gender, fitness level or body shape, and would love everybody to have a little yoga in their lives. Or even a lot!
the founder
Pippa Davis
Coming from a fitness background, Pippa was first introduced to yoga in an attempt to soothe and heal a chiropractic injury, and very quickly fell in love with the transformative mental and physical benefits of practice. She was first introduced to Hotpod whilst living in Nottingham, and missed it so dearly when life saw her relocate to Cambridge that she saw no other option than to bring her very own pod along with her!