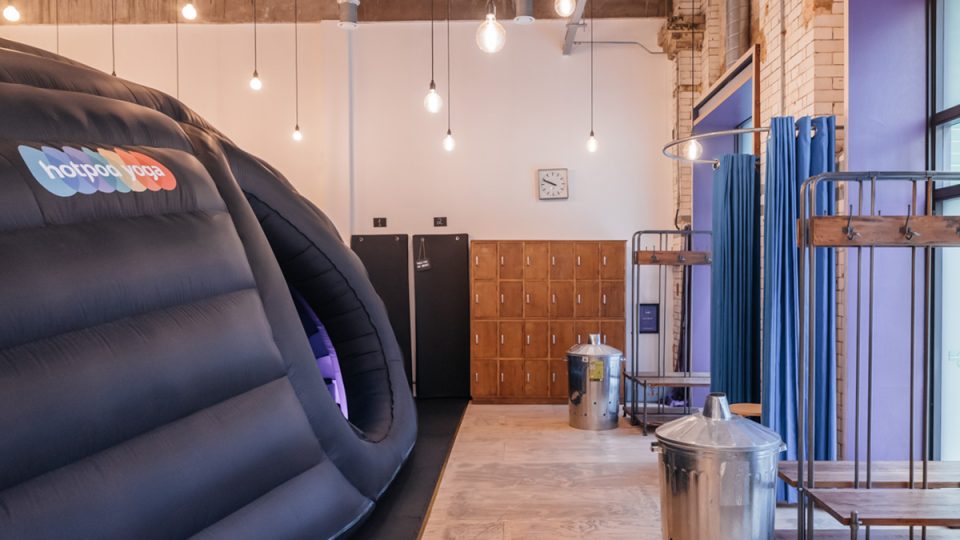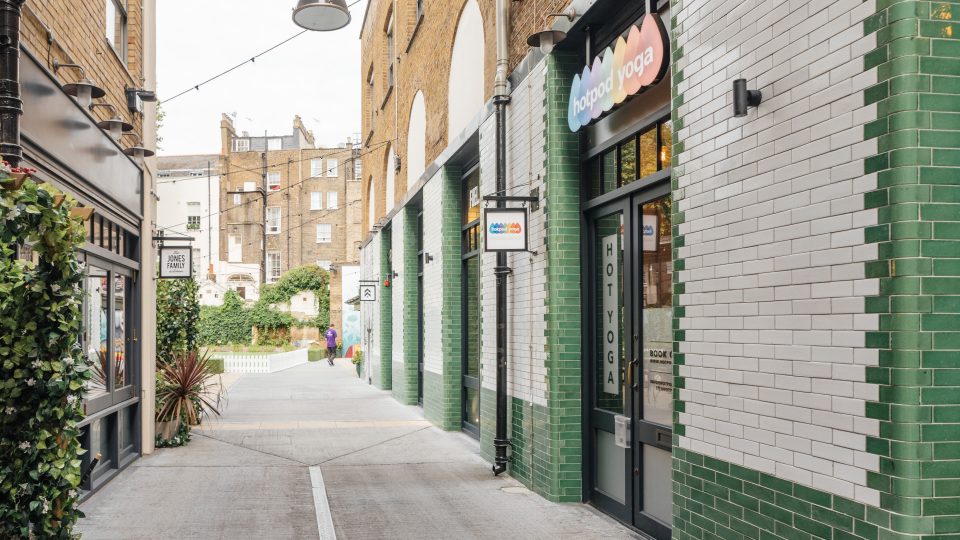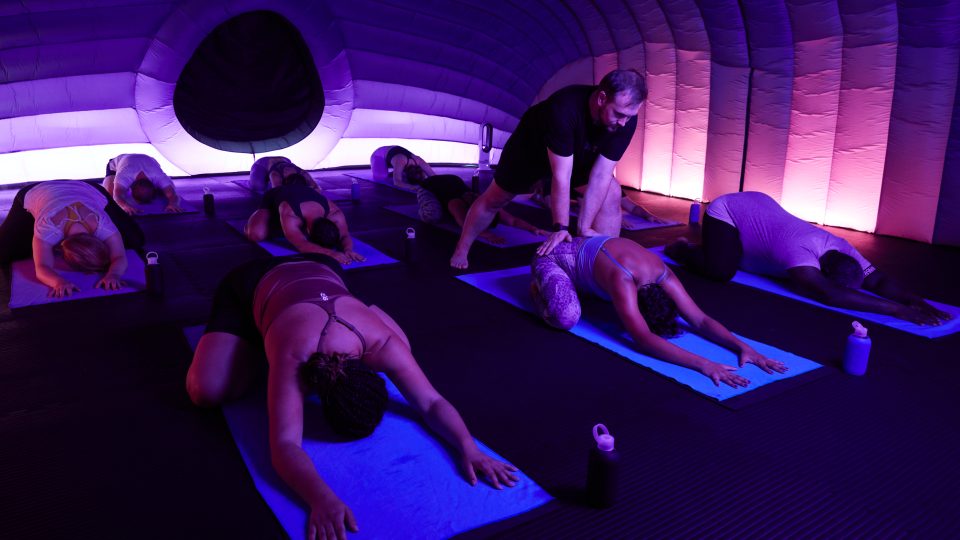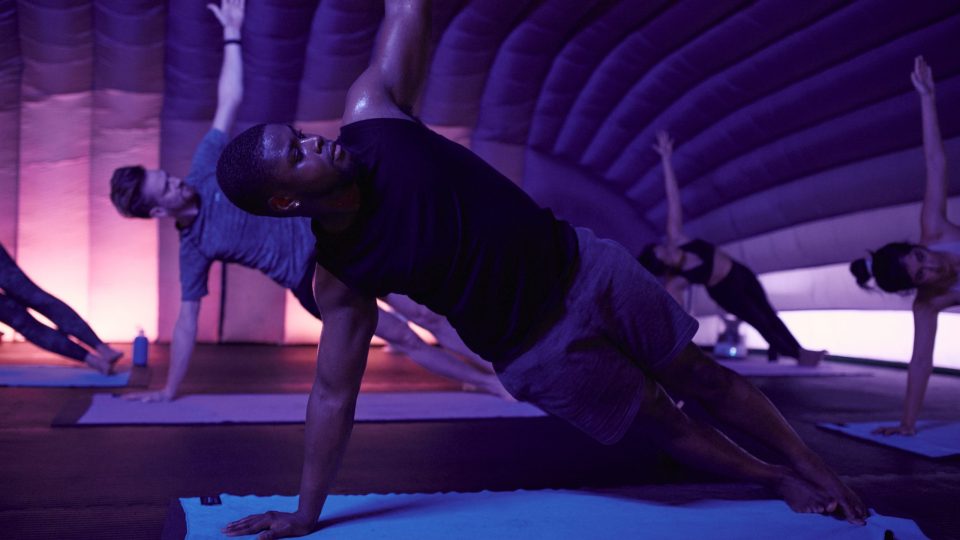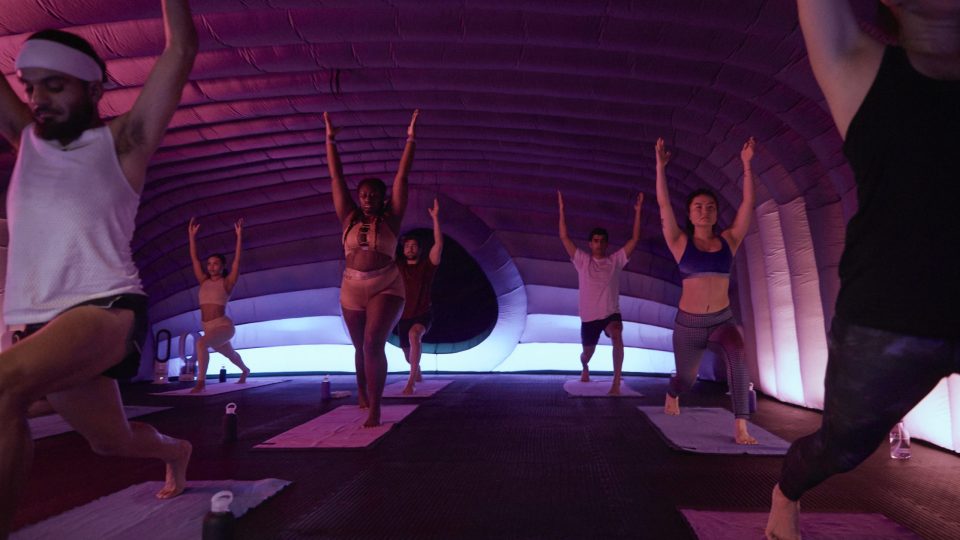 Our Belgravia studio is located within beautiful Eccleston yards, 5 mins walk from Victoria tube station and 10 mins from Sloane Square.
We're Europe's largest yoga business. Since 2013, over 100,000 people have immersed themselves in a Hotpod class at one of our 50+ locations around the world.
You'll stretch further, breathe deeper, sweat harder and melt fully into the Hotpod experience – a balanced flow of active and passive postures, working the body and calming the mind in equal measure. You'll immediately find yourself a million miles away from the every day. Bring water and a towel to enjoy the unique immersion that is a Hotpod Yoga class. To understand it, you've got to experience it
google
reviews
Read what a few of our happy customers have to say! We'd love it if you could support our studio by leaving a review of your own. Simply click below to share your thoughts with us.
step into our immersive pod
hot yoga in 37 degree heat
move to relaxing beats
filled with calming scents
suitable for all levels
find

us

19 Eccleston Yards, London, London, SW1W 9AZ, GB
Alex G
Alex started dancing before she could walk. Her fascination with the arts became her career as an adult and she went on to perform in numerous musicals and other theatrical productions. After being out of the theatre industry for a year Alex Needing something new to sink her teeth into and found the fitness industry. She now specialised in teaching Hot and Power Yoga, Pole Fitness, Barre and anything else that uses dance based techniques. She is excited to share her passion and energy with you.
Nick Higgins
One half of Hotpod Yoga's founding duo, Nick's been teaching yoga for 10 years and has lead workshops worldwide with a particular focus on assists, adjustments and teaching style. In charge of developing and managing the quality of teaching across Hotpod Yoga worldwide, he has helped hundreds of teachers develop their teaching technique and effectively bring their personality across in their classes.
Nick's approach to teaching epitomises what Hotpod's all about – a down-to-earth accessibility, high on impact (both mental and physical) and a good bit of fun.
Zalika
Whilst on tour as a backing vocalist, Zalika was persuaded to try a yoga class – and instantly became hooked! After practising for 6 years she attended a Sumits Yoga class in Arizona where the entire class was set to a curated play list and was, once again… hooked. That same summer of 2014, Zalika completed her Hot Vinyasa Yoga Teacher Training in Santa Margherita, Los Angeles and has since enjoyed her journey as practitioner and teacher. With music and yoga being the consistent theme, working with Hotpod Yoga was an inevitable love affair.
Lucy
Lucy has been practicing Yoga for 16 years and been teaching for the last 5 years in Chile, Spain and now in London. Her classes are strong, slow and meditative, with the intention to enable the individual to really lose themselves in the flow and become fully present, as well as gaining flexibility and strength of the mind and body. She has experience teaching private; group classes; children; yoga for surfing; and yoga for the recovery from trauma and eating disorders. From this she has developed skills to deliver and create classes that work for a wide range of abilities, looking for that sweet spot, that varies for each individual. Feeling welcome and in a truly nurturing environment open to all is what hooked Lucy to yoga, and this is what she intends on passing on in her classes.
Antonia
Antonia has been practicing yoga for the last 7 years and left her Mental Health Nursing role to embark upon a career teaching yoga. Antonia is always seeking new ways in which she can learn and grow and teaching yoga has been her biggest educator. She enjoys teaching yoga as it allows her to look beyond her own personal practice and connect with others unlike ever before. This has inspired her to live a life dedicated to inspiring others through the practice of yoga. Her classes are dynamic and fun but be prepared to be challenged. Antonia focuses on alignment and does her best to support students through hands on adjustments and verbal cues. Antonia loves sharing, teaching and movement and will leave you feeling energised and revitalized.
Nicola G
Nicola has been practicing yoga on and off since her teens but it was hot yoga that really got her hooked. She completed her first Yoga Teacher Training in 2015. Nicola believes that yoga is for everyone regardless of age, size, current fitness or flexibility level. She loves the combination of strength and flexibility, power and grace and achieving that balance which comes with a regular yoga practice. Yoga has made her stronger physically and mentally, more determined and focused, more balanced and calm. Yoga has helped Nicola deal with anxiety issues, physical injuries and all the usual stress and challenges we all face in our daily lives. She loves teaching as a way to help others discover the benefits of yoga to both body and mind.
Isabelle
Isabelle was introduced to yoga through a community project in Battersea which engages with disadvantaged young people through skills such as boxing and yoga. Inspired particularly by a local yoga teacher and all that she did for the community, Isabelle witnessed first hand how how movement could transform people's lives. She completed her 200 hour training in 2017 and has not looked back. She has since furthered her study in other areas of the practice and is now a 200 hour Naad Sound practitioner as well as more recently training as a Stott Pilates teacher and Barre teacher.
With a unique and playful approach, Isabelle enjoys working with students to challenge themselves and explore their personal approach to the practice. Her teaching is enriched by her love of sound, voice, meditation and breath which she weaves into her classes in the hope to bring a sense of calm and joy on and off the mat.
Gigi
Born and raised in Italy, Gigi decided to move to London at the age of 19 seeking exciting experiences. She realised how much she loves the city and everything is has to offer so she never left! Gigi discovered Yoga in her early 20's and has not stopped practising since.
She soon realised that Yoga for her, was finding space to discover herself, emotionally and physically. A safe, uplifting space that helped her to find self love, acceptance, strength and much more. Gigi always looks to support, lift and empower people in their unique journeys.
Her classes bring an unique approach to teaching and healing — one that is focused on self-inspiration and which embodies the physical, spiritual, and emotional aspects of wellbeing.
Bianca
A passionate surfer, Bianca believes yoga helps us ride the waves of life. Although there are no beaches in London, Bianca landed back in the city after living in Singapore, Los Angeles, and most recently Bali – where she found mindful movement on her healing journey. Her classes are a balance of challenge and chill, drawing on her corporate experience to help shape the intention behind her teaching: building resilience, reducing stress, and fostering connection to ourselves and each other. Above all, she hopes to help you find your way.
Veronica
Veronica is originally from Poland but calls London her home. She came to yoga as a result of a very hectic life around 5 years ago. Veronica tried a variety of different styles but really connected with the Vinyasa style and decided to train as a yoga teacher. She completed her 200 hour Vinyasa yoga training at Hotpod Yoga.
As an instructor she strives to help students feel comfortable in their practice, learn new postures and ensure their practice is safe and enjoyable. She teaches all levels Vinyasa flow and my classes are dynamic, challenging and fun.
Michelle
What attracted Michelle to yoga teaching was the lifestyle. Being into surfing she spent many years travelling and teaching alongside wave chasing! But the yoga took over. From its beginnings in India though to her classes today, Michelle's teaching holds a deep understanding and love for all things yoga. Michelle is in her third year of Rolfing training and she says she is "on a never ending lesson on what union of the body and mind can mean"
Sara
Sara works professionally as a contemporary dancer, dance teacher and yoga instructor. She completed her teacher training with Hotpod Yoga which inspired her in ways to communicate and enjoy movement with people who approach it from different physical ability, intention or experience. In class, she aims to create a space for exploration and discovery by playing with images and different movement qualities. Sara brings her passion and joy for movement to share the physical and emotional benefits of yoga, making it a practice for all.
Sarah B
Sarah started out as a ballet dancer, dancing was her life and she loved everything about it. After graduating from dance college she worked as a dancer onboard P&O and costa cruise ships and explored the world. Once this chapter in her life came to an end she was looking for a way to stay fit and strong, having trained her whole life so rigorously. She discovered hot yoga first, she remembers laying on her mat at the end of a horrendous hour of crazy yoga poses and sweat and she thought…..this feels like dancing, the technique, the power, the grace. From there she tried out different styles of yoga, Ashtanga, Hatha, Forrest, Vinyasa. She fell in love with the vinyasa style instantly. She trained at Hot Power Yoga studio in Clapham, London in October 2015 and have been teaching ever since. She started teaching at gyms-Anytime fitness, Fitness first and later progressed on to yoga studios- Blok, AM Power yoga studio, HPY studio, Hot Pod yoga studios. She has taught students of all abilities and experience throughout her teaching career and also those with injuries. She teaches pre/post natal yoga, restorative yoga and vinyasa yoga.
She is best know for teaching a powerful, dynamic, energetic vinyasa class. With many modifications to suit every student from beginners to the advanced yogi. You will become strong, flexible, grounded, toned and very fit if you train with Sarah. She knows how to make you sweat so if you are willing to put in the work and push yourself to your limits, Sarah is the teacher/trainer for you. She also likes to make you laugh while you're flowing/training so prepare yourself for endless dad jokes!
Nix
After witnessing the incredible impact yoga has had on her daily life, Nix loves to guide her students to slow down and reconnect to themselves through the practice. Having specialised as a Breathwork teacher with Oxygen Advantage and extensive pranayama training, expect classes to focus on the connection to the breath and becoming present to the sensations of the energetic body, whilst building strength and stability within. Originally studying with Noelle Connelly in Sydney, with direct lineage to BKS Iyengar and K. Pattabhi Jois, Nix is honoured to share this practice to help you find balance and gain freedom from stress.
Jess L
Jess found yoga as a safe haven and way of staying happy, healthy and balanced when work and life got busy. When she realised the positive impact yoga was having on all areas of her life, she wanted to share this joy with others. Jess therefore took a leap of faith, waived goodbye to the corporate world and completed her 200hr Teacher Training with Hotpod – a journey that went full circle when she became a teacher here!
Jess's classes are uplifting and full of energy, whilst also encouraging students to delve deeper physically and mentally. Students can expect to build resilience, find a sense of calm and gain some much needed perspective! Most importantly, her smiley, welcoming teaching style makes her classes feel fun and inclusive to all. Jess can't wait to see you in the pod!
Gemma
A Hotpod baby born and bred, Gemma loves the focus yoga brings; moving the body whilst calming the mind. She wants to share these benefits by bringing energy, warmth and most importantly a smile to her dynamic classes. As a psychotherapist for the NHS, Gemma is only too familiar with the detrimental effect our hectic schedules can have on our mental health. Therefore, she is a big advocate for finding that much needed moment of stillness and believes there is no better place than on your mat in the pod!
Taylor
Taylor has been practicing yoga for 9 years, starting with Bikram yoga while at drama school. She fell in love with the heat and the amazing benefits of practice, both physically and mentally. Coming to class was a reliable constant that helped her greatly with anxiety and to feel more connected to her body. After trying many forms of yoga, she decided to do her teacher training with Hotpod in 2019. Taylor's classes are fun, energetic and uplifting!
Mandy
Mandy's journey into yoga began in 2010 in Asia. She was first attracted by the physical aspect of yoga. Continuing her practice, she quickly discovered its joy and benefits both on her body and on her mind using mindful movement, breath and awareness. Her classes are dynamic with a strong emphasis on the breath and alignment. She encourages people to connect with their bodies leading them to liberate their minds.
Holly
Holly started her journey as a professional dancer and has always loved movement. She found the industry focused a lot on the physical being and struggled with an eating disorder in her early teens due to thinking her worth was solely the physical but when she turned to yoga, she loved that there was a deeper connection to the inner self and ever since then has been obsessed with the practise and the way it makes her and other people feel. Holly loves a challenging physical practise but her main focus is to make sure that you go on a journey within yourself to find a sense of peace and acceptance. Her favourite pose is the finishing pose in corps pose. Laying there on the mat after creating some heat within a practise and a warm fuzzy feeling pumping through the body is like no other!
Miztli
Miztli Rose is a London based yoga teacher of British and Mexican heritage. She first discovered the joy of yoga whilst training as an actor at The Royal Academy of Dramatic Art. After practicing for 5 years, Miztli decided to undertake her 200 hour teacher training with Hotpod. Since then she has taken further training in Pregnancy, Yin and Restorative practices. As a teacher, Miztli is particularly interested in the power of yoga to help enhance creativity, and is passionate about helping students nurture themselves through movement. When she is not teaching, Miztli continues to work as a performer and comedian.
Alice W
Alice is a driven, supportive and giving yoga teacher. She loves encouraging and challenging people to find their own flow state, to take up space in new ways and get out of their heads, by smiling, moving and playing with their practice.
the founders
Nick Higgins and Max Henderson
A former Schoolteacher and Management Consultant, founded Hotpod Yoga in 2013. They were not part of the 1% who regularly practiced yoga; they were of the other 99% who simply needed to clear their over-stimulated minds, work off their hangovers and open up their bodies after a hard day at work. Max and Nick started Hotpod Yoga to supercharge the yoga experience and take that experience out to the masses.