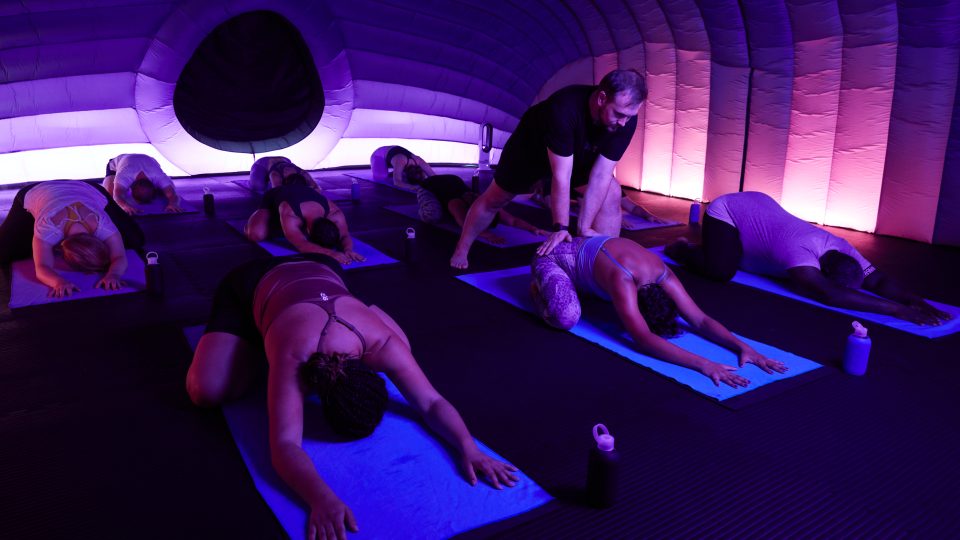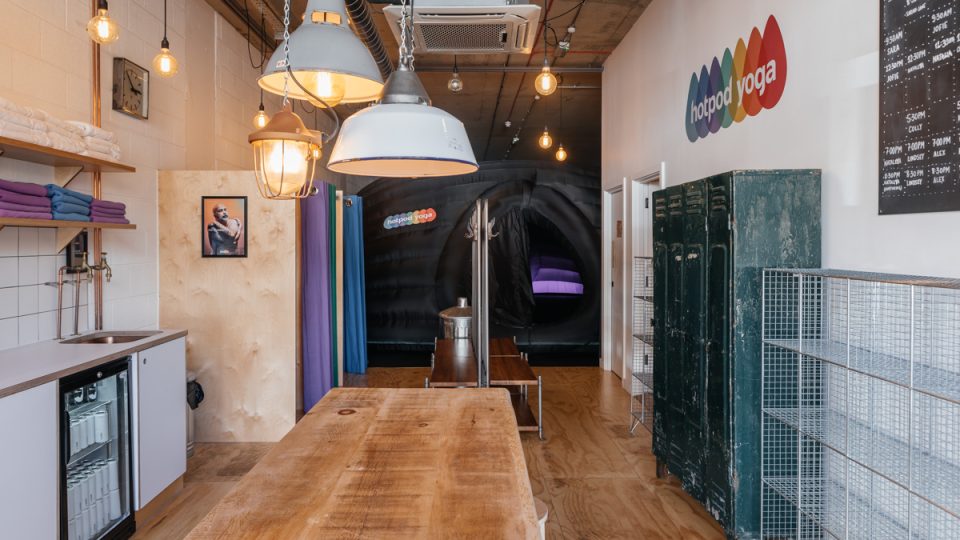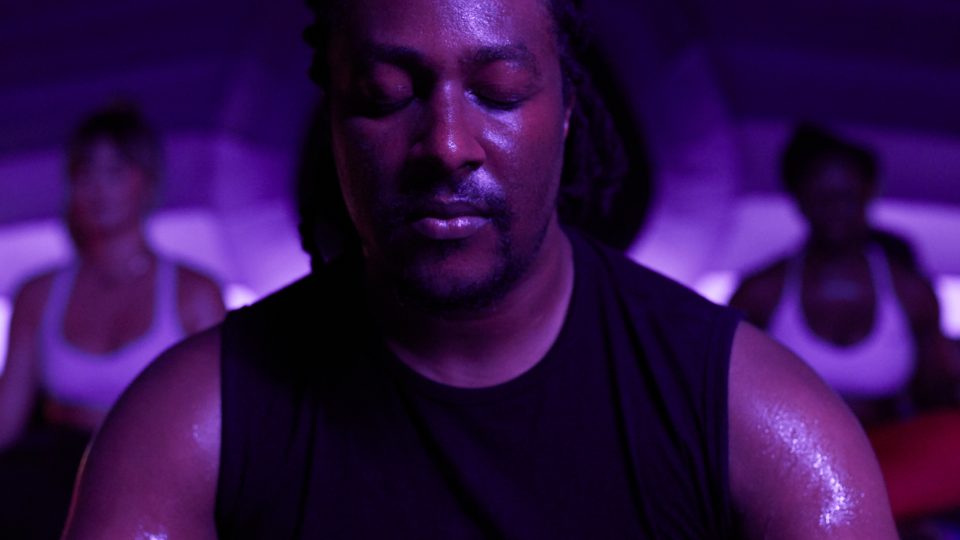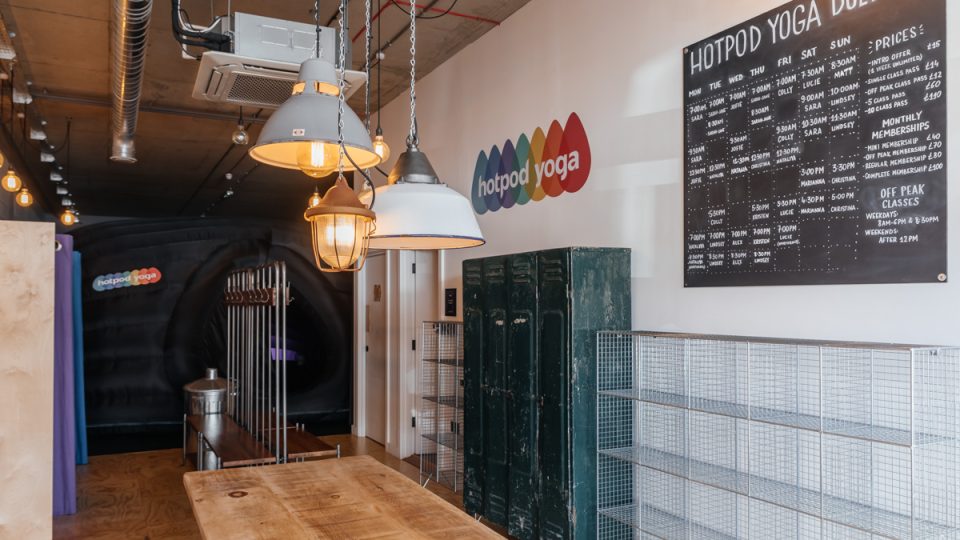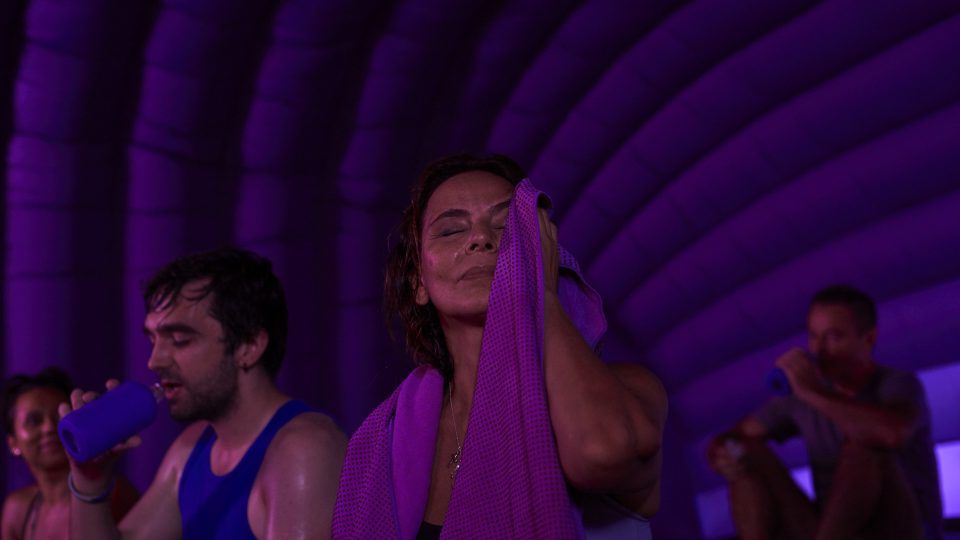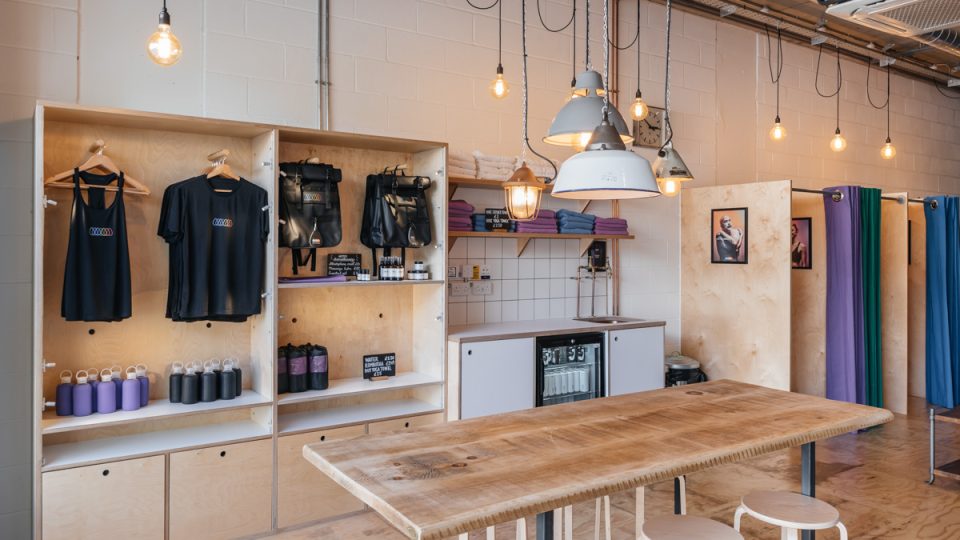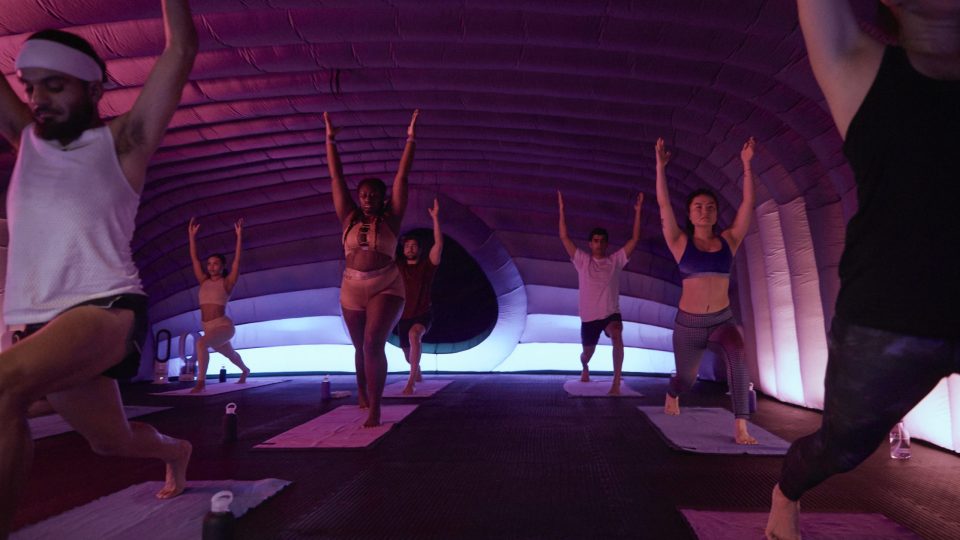 We're Europe's largest yoga business. Since 2013, over 100,000 people have immersed themselves in a Hotpod class at one of our 50+ locations around the world. You'll stretch further, breathe deeper, sweat harder and melt fully into the Hotpod experience – a balanced flow of active and passive postures, working the body and calming the mind in equal measure. For class times and more, take a look at the schedule above, then book your spot.
google
reviews
Read what a few of our happy customers have to say! We'd love it if you could support our studio by leaving a review of your own. Simply click below to share your thoughts with us.
step into our immersive pod
hot yoga in 37 degree heat
move to relaxing beats
filled with calming scents
suitable for all levels
find

us

13-19 Croxted Road, Unit 3, London, London, SE21 8SZ, GB
Elena
Elena came to yoga to find a bit of extra space in her mind and life in the busy and bustling city of London. Her classes are comfortable and playful spaces where people are able to let go and be led. The vibe is easy going and when the world allows, there are lots of hands-on assists where students feel comfortable. She has 400hrs YTT in Ashtanga and Vinyasa.
Sarah L
Yoga is about connection & community! Sarah loves to weave this in all her classes, encouraging you to cultivate a practice that is uniquely yours, making the space for a couple giggles and sighs along the way. A typical class tends to have a creative flow weaved with a few challenging postures (options will be given for all level of practitioner), a philosophical theme & a steady mindful breath; all geared to let you leave the mat, a little calmer, stronger & lifted. Assists will be offered- consent will asked every class, never assumed.
Sarah specialises in Vinyasa, Rocket & Children's Yoga, and has also trained in Trauma informed practice, Bhakti Yoga & Yin.
Sarah's ever evolving personal practice draws from both Buddhist & Bhakti teachings, – from here she loves to share snips of different teachings and meditations.
She's also thoroughly addicted to coffee, so if you ever have a spare 15 mins after a class…
Trent P
Trent has been practicing yoga for 15 years before undertaking his 200hr training in beautiful Sri Lanka.
Originally attracted to the physical benefits of yoga, it has now become a central part of his life, helping maintain overall balance and flow in everyday London life.
Hailing from Australia, he (predictably) loves the sun and sea, and is fascinated with the combination of surf and yoga culture. His 'heat fix' now mainly comes from the Pod where he has been an active member of the Dulwich community, having joined hundreds of classes, and is now super excited to join the teaching team too.
Liz M
Liz has been practicing yoga for over 8 years. She is a wellbeing-focused yoga teacher, having a Master's degree in clinical and community psychology. The fascination of wellbeing had led Liz to complete her teacher training. As well as being a qualified Yoga teacher, she works for a mental health charity.
As a yoga teacher, she brings to her students a depth of experience in Vinyasa flow with a main focus on alignment, feeling; and how the breath can help soothe and calm us. Liz also brings experience in beginner and injury-tailored yoga classes. Liz's class can be intention-based as she strives to allow her students to take the happy hormones produced in the pod, outside of the pod, and into everyday life.
Veronique P
Veronique grew up in British Columbia, Canada and is a lover of oceans, mountains, sky and sun. She is a performer and singer at heart, bringing vocal and physical presence to her yoga classes.
After being told as a child by her ballet teacher that, 'there was no hope for her flexibility', Veronique (wrongly) spent years believing that she couldn't do yoga.
Veronique is a believer that yoga practice is for every body, and encourages students to get to know their own individual frames through the breath. Years of being the least flexible person in the room has taught her that yoga is never about how asanas (poses) look aesthetically, but rather about exploring how they feel in the body.
Expect breath-led, energising practice with a focus on working with each practitioner's own unique range of motion and flexibility.
Veronique is a RYS 200 hour teacher, and is continually training and learning! She has an interest in Forrest and Yin yoga, in pranayama and the body | mind connection, and in the benefits of yoga for performing artists.
Sophie L
Sophie Lloyd is an experienced yoga practitioner who trained to be a teacher in India (2018). Her passion for the practice began during her time travelling and discovering different ways to approach health and well-being. Sophie is a confident and warm facilitator who's broad experience across dance, poetry and integrated therapy feed into her energising and cathartic classes.
Sophie took her first Hotpod class in Lisbon where the pod provided sanctuary as her mind and body adjusted to life in a new city. When she moved to Margate, Sophie was pleased to see that there was a pod near by as she remembered there was nothing quite like the pod environment to bring her back into her body and away from the busyness and sometimes overwhelm of day to day life. Sophie has been teaching at HPY Margate for for the last 7 months and has adored her time there. She has made the decision to move back to South London and is looking forward to joining the Dulwich community and remain a part of the Hotpod family.
Expect to be guided through her sessions with care, charisma and the odd giggle.
Jess L
Jess found yoga as a safe haven and way of staying happy, healthy and balanced when work and life got busy. When she realised the positive impact yoga was having on all areas of her life, she wanted to share this joy with others. Jess therefore took a leap of faith, waived goodbye to the corporate world and completed her 200hr Teacher Training with Hotpod – a journey that went full circle when she became a teacher here!
Jess's classes are uplifting and full of energy, whilst also encouraging students to delve deeper physically and mentally. Students can expect to build resilience, find a sense of calm and gain some much needed perspective! Most importantly, her smiley, welcoming teaching style makes her classes feel fun and inclusive to all. Jess can't wait to see you in the pod!
Asha
Asha started doing yoga at HPY about 5 years ago as just another part of her exercise regime, however she soon started to notice other benefits… Not only did Asha soak up all of the endorphins from getting her sweat on, Asha also began to reap the benefits of the calmness and focus that her practice began to develop.
With the encouragement and support from her HPY teachers Asha decided to take the leap of faith and complete her 200hr Yoga Teacher Training – and now she's back as a teacher herself!
Asha is also an actor, so when she's not on the yoga mat she'll either be learning lines, writing scripts or hanging with her little pup Nelly.
Louise H
Louise is a Yoga teacher and actress. She trained with Inside Yoga in Croatia where she gained her 200hr RYT certificate in Ashtanga. She is so happy to be part of the Hotpod team and can't wait to welcome you to her class.
Claire M
Claire is passionate about people and teaching. With her family now all grown up, she is honoured to be able to embrace her deep love of yoga and share it with you! She is self motivated, very organised and believes in embracing the best in people. She teaches her classes with a smile on her face and with joy in her heart.
Claire is able to teach a wide range of yoga styles including Vinyasa, Rocket, Yin and Forest, along with accessible yoga for cancer and limited mobility.
Lucy B
Lucy is an inclusive yoga teacher and movement specialist who has been teaching yoga since 2015. She loves working with students of all shapes and sizes, ages and abilities. Her aim is to help her students feel empowered in a fun and inclusive space open to all.
Being a teacher in a larger body she has experienced first hand just how intimidating and exclusive yoga spaces can be which is why she aims to create a friendly and warm environment with a focus on how the postures feel, rather than trying to all look the same. Lucy strongly believes movement is joyful and that yoga class should be a judgement free zone.
Sarah K
Sarah was introduced to yoga during her time at drama school and found that when things felt hectic, yoga kept her rooted and calm. Sarah encourages lightheartedness throughout practice while always keeping the greater tradition at heart in a practical and relatable way. Sarah believes that absolutely everyone can reap the benefits of strengthening the body and calming the mind through yoga.
Miztli
Miztli Rose is a London based yoga teacher of British and Mexican heritage. She first discovered the joy of yoga whilst training as an actor at The Royal Academy of Dramatic Art. After practicing for 5 years, Miztli decided to undertake her 200 hour teacher training with Hotpod. Since then she has taken further training in Pregnancy, Yin and Restorative practices. As a teacher, Miztli is particularly interested in the power of yoga to help enhance creativity, and is passionate about helping students nurture themselves through movement. When she is not teaching, Miztli continues to work as a performer and comedian.
Orly
Orly qualified as a yoga teacher in India in 2016, and started teaching for Hotpod Newcastle in early 2017. Since then she's never looked back, and has recently had the good fortune of seeing her Hotpod family expand following her move to London in 2020. Orly loves having the opportunity to meet so many wonderful people with shared passion through her work and is so grateful for her place within the Hotpod community.
Sara
Sara works professionally as a contemporary dancer, dance teacher and yoga instructor. She completed her teacher training with Hotpod Yoga which inspired her in ways to communicate and enjoy movement with people who approach it from different physical ability, intention or experience. In class, she aims to create a space for exploration and discovery by playing with images and different movement qualities. Sara brings her passion and joy for movement to share the physical and emotional benefits of yoga, making it a practice for all.
Matt
The last few years have been transformative for Matt; physically, mentally and spiritually. Yoga is the constant golden thread through this and an important part of daily life. The journey inspired Matt to attend yoga teaching with Hot Pod early in 2019. As a massage therapist and yoga teacher, he loves helping people to reconnect their body and mind whilst building resilience to the ups and downs of life. Expect vibrant flows and a chance to lush out.
Natalia R
Natalia started practising yoga as a way to heal her injured knees and find balance when working in a high-pressure job in tech. She now teaches yoga in several London locations and is keen to help others discover its physical and emotional benefits. Natalia completed her 250-hour yoga training with Fierce Grace in 2018. When she isn't teaching or practising yoga, she'll probably be found behind the lens of her camera!
Nataliya P
Nataliya had her first meeting with yoga in early 2000 as part of a recovery program in her elite orienteering career. Practising yoga on and off helped her heal her body and she soon realised that she wanted to share this amazing practice with others. In 2016, Nataliya trained as a Hot Power Yoga teacher. Her passion is to bring health and well-being through yoga, in a balanced and fun way. Despite a sport background, she loves yoga being a non-competitive activity available for everyone – no matter their age, fitness level or shape.
Jamie
Through all of life's chaos and challenges, yoga is a place Jamie finds he can always come to when in need of grounding and stillness of the mind. He has been practicing for nearly a decade now and has found a new love in assisting others in discovering their personal path to this accent discipline. He specialises in vinyasa flow yoga with a strong emphasis on the breath and often talks about breathing techniques that can help reduce our levels of stress and anxiety. It doesn't matter if you can't touch your toes, Yoga is so much more than that and is for absolutely everyone. Jamie particularly likes working with beginners and will use language and instruction that is simple to follow making you feel very comfortable and in safe hands.
Hannah J
Following her training as a professional dancer, Hannah completed her Yoga Teacher Training in 2012 after falling in love with the diversity of the practise. Hannah encourages her students to explore both the physical and mental benefits of the practise, to work in the way which feels right for them.
Lucie H
Lucie initially came to yoga when suffering with mental health issues. Having worked in the fashion industry for six years, she left due to having no work-life balance and feeling exhausted. Yoga helped her to escape the stressful working environment, allowing her to feel balanced and present. She hopes her classes help students to get out of their heads and bring awareness to their bodies thus enabling them to move intuitively, whether it's challenging themselves to push through or taking a step back and moving more slowly and gently.
Antonia
Antonia has been practicing yoga for the last 7 years and left her Mental Health Nursing role to embark upon a career teaching yoga. Antonia is always seeking new ways in which she can learn and grow and teaching yoga has been her biggest educator. She enjoys teaching yoga as it allows her to look beyond her own personal practice and connect with others unlike ever before. This has inspired her to live a life dedicated to inspiring others through the practice of yoga. Her classes are dynamic and fun but be prepared to be challenged. Antonia focuses on alignment and does her best to support students through hands on adjustments and verbal cues. Antonia loves sharing, teaching and movement and will leave you feeling energised and revitalised.
Ana
Ana Maria, originally from the wild windswept West coast of Ireland, is a yogi, traveler, barefoot runner, and clinical massage therapist.
She has a background in fine art, but came to find a true home in the practice of yoga, mindfulness and wellbeing. In 2013 she began teaching yoga while living in her mothers homeland of Guatemala.
Her approach is rooted in a functional movement perspective. Anatomical variations mean that everyone's yoga practice will be as unique as them. She offers options and variations to allow you to find the practice that best suits you each day you show up on your mat.
In this way she invites you to be truly present with your body, in order to strengthen the mind body connection and to build a practice that is nourishing, strengthening and calming for your body, mind and spirit.
She has trained extensively with world renowned teachers Simon Borg-Olivier, Bianca Machliss, Cindy Lee, Anna Ashby and Jo Phee. Ana Maria is so grateful to all of her incredibly knowledgeable teachers.
Colly
As a passionate long distance runner & regular five-a-side footy player, Colly found yoga as a means of recovery for a busy sporting schedule. Having trained with Hot Pod Yoga in 2018, he's now also trained specifically in teaching yoga for sports and to athletes with Manchester United's Sarah Ramsden, as well as developing a strong interest in the role of the breath with his Oxygen Advantage breathwork training. He enjoys challenging, mindful movement to get you out of the head & into the body.
Christina
Christina started her yoga journey 4 years ago. Always having a passion for the health and fitness industry Christina was instantly hooked by the practice and amazed by the therapeutic benefits that it had on both her body and mind. As an ex dancer Christina had developed a spinal and hip injury which cleared up as a result of her newly emerging passion for yoga.
Fast forward 4 years and Christina is now a Vinyasa yoga teacher who values the internal and external health benefits of the practice designed for optimal health. Christina promotes balance throughout her classes and sees yoga as a way to not only align, lengthen and strengthen the body but also to calm, restore and relax the mind.
Christina has a wonderful sense of rhythm which she has taken from her dancing background and natural movement ability. Christina draws on her knowledge of anatomy and alignment as well as mindfulness and breath work throughout her classes. Christina puts these elements into practice within the HotPod flows, allowing students to enter a therapeutic and meditative state.
the founder
Lindsey Huebner
Lindsey is a Canadian Londoner who was enticed to these shores with dreams of being an actor on the world's most prestigious stages. In negotiating the performance industry's ups and downs, Lindsey found yoga to be a tool not only for its physical benefits but for the mental and emotional equilibrium it brought about. She discovered the joys of Hotpod whilst on tour in Dublin and quickly sought it out back in London. Very soon after qualifying as a yoga teacher in India, she found her home away from home in Hotpod studios across London and feels very privileged to have the ability to assist students at every stage on their yoga journey.