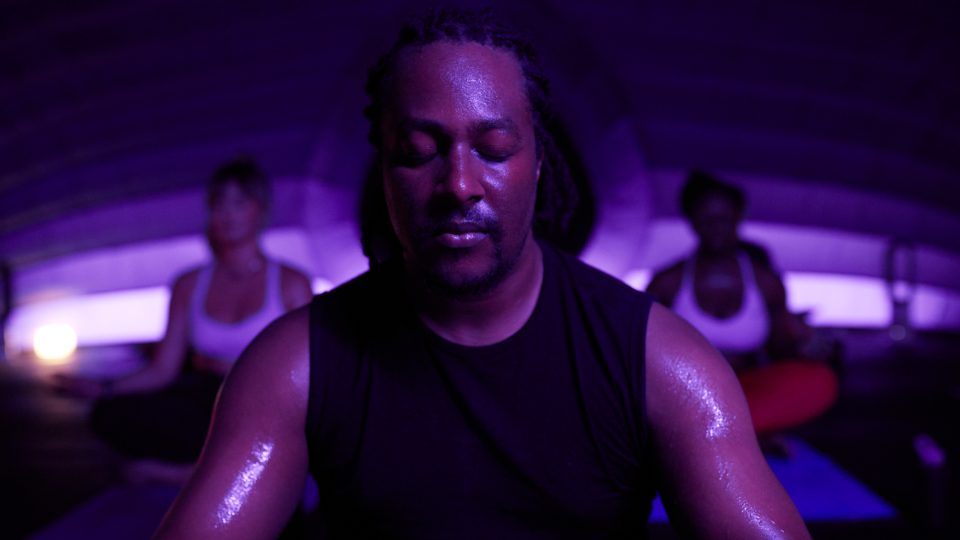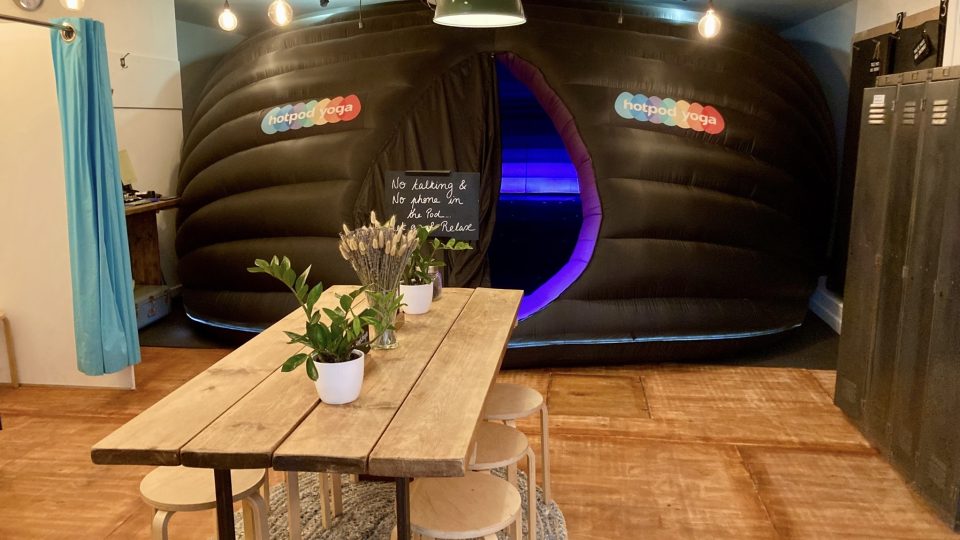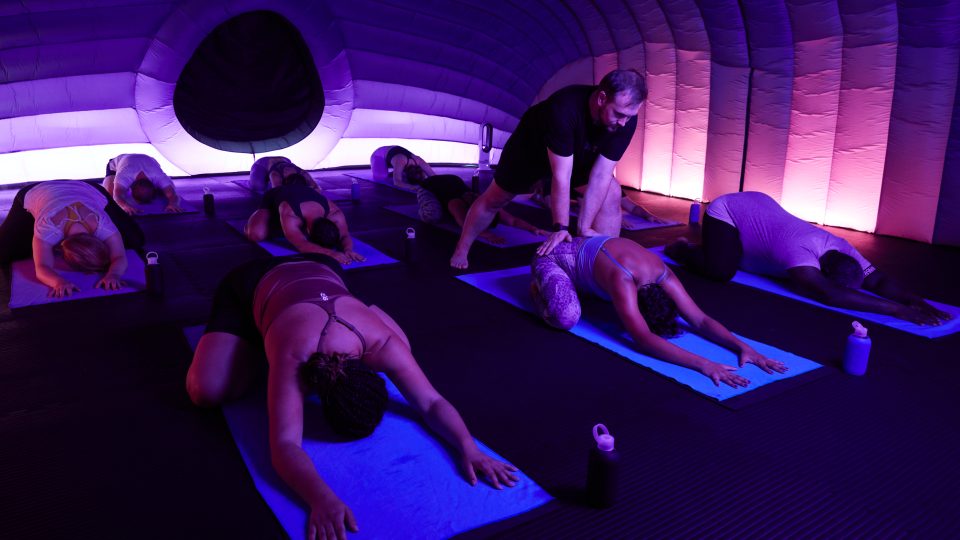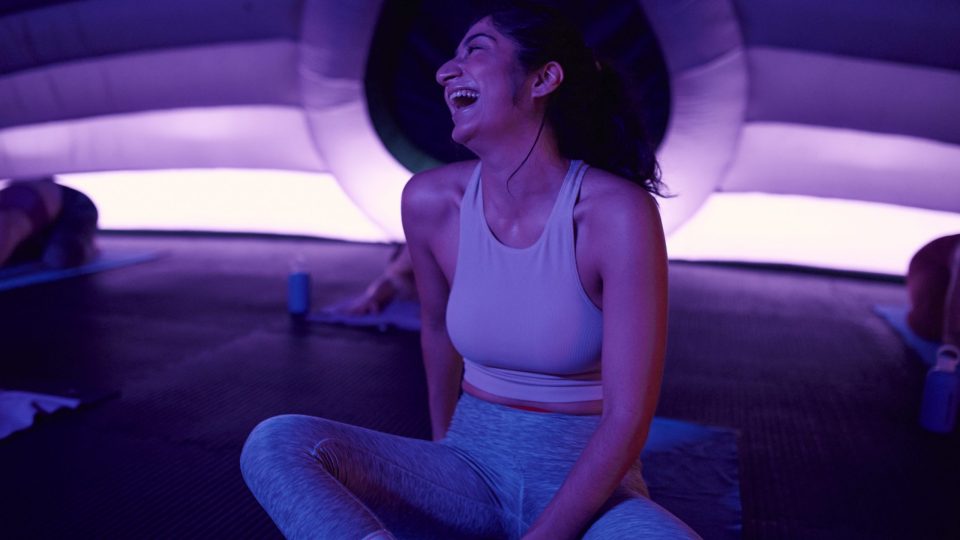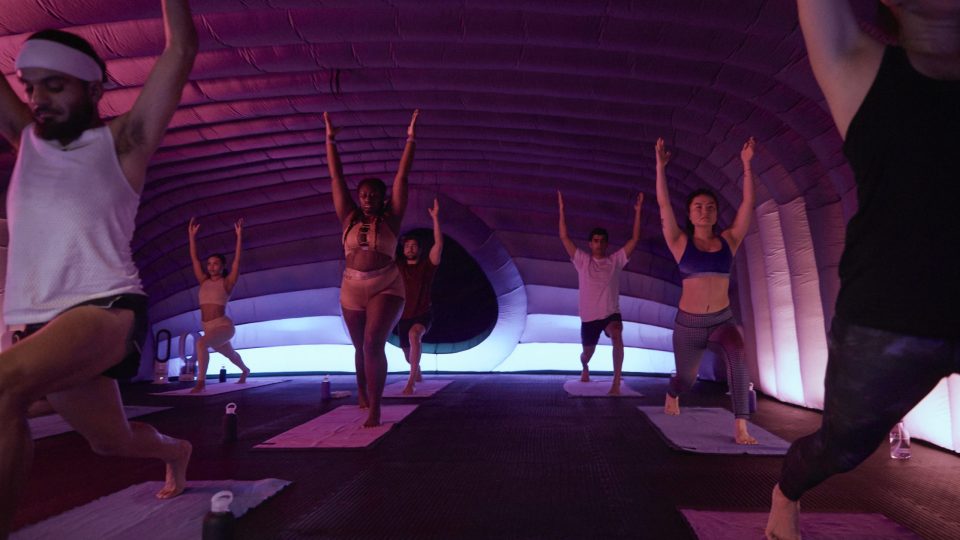 We're Europe's largest yoga business. Since 2013, over 100,000 people have immersed themselves in a Hotpod class at one of our 50+ locations around the world. You'll stretch further, breathe deeper, sweat harder and melt fully into the Hotpod experience – a balanced flow of active and passive postures, working the body and calming the mind in equal measure. For class times and more, take a look at the schedule above, then book your spot.
step into our immersive pod
hot yoga in 37 degree heat
move to relaxing beats
filled with calming scents
suitable for all levels
find

us

1A Great Western Road, London, England, W9 3NW, GB
Dominique
Dominique grew up in Tanzania, was schooled in South Africa and moved to the UK for her undergraduate & postgraduate degrees. Adventure, movement and sports have always been a huge part of her life.
Once finishing her studies, Dominique travelled to India to complete her Yoga Teacher Training where she qualified in Ashtanga; anatomy; pranayama; meditation; philosophy and Ayurveda. Learning that yoga has so much more to offer than the physical benefits, she found her passion in helping individuals slow down finding calmness in their fast-paced lives, taking what we learn on the mat into our everyday lives.
Dominique teaches yoga at various studios across West London and later found her love for Pilates where she teaches at a Reformer Pilates studio in Chelsea – her practices will help you cultivate body awareness, decrease stress levels, together with improving breathing techniques. You will leave Dominique's classes feeling calm, strong, and aligned.
Natalia
Natalia Meksa is a professional dancer and a Vinyasa Flow yoga teacher. She completed her yoga teacher training with Hotpod Yoga Teaching Academy in London and has been primarily teaching in Poland, the Canary Islands, London and Manchester.
She has also completed an MA degree in Dance Performance and Professional Practices from the University of Salford, and graduated with a BA (Hons) in Contemporary Dance at Trinity Laban Conservatoire of Music and Dance in London.
Natalia loves merging her passion for dance and yoga by teaching creative movement sequences, emphasising the importance of finding pleasure in the movement.
Ali
Ali is a qualified yoga, pilates and meditation teacher and has also trained in mindfulness meditation, guided meditation and Crystal Healing with both cystals and singing bowls.
She has a multi-discipline sports background, is a masters level teacher of Aerial Yoga and has taught Yoga to professional athletes.
Ali was also a headline yoga teacher at festivals and events such as The Om Yoga Show and Wonderlust and is currently a listed pro teacher with Alo Yoga.
Her main goal is to make sure her classes are both dynamic, challenging with lots of moments for zen.
Erin
Erin has been practicing yoga for around 6 years, as a balance to hectic city life. Having graduated from Hotpod's 200hr Teacher Training, she has been helping others reconnect with their bodies and find balance in their own lives through conscious movement and meditation. Erin's classes are dynamic, fun and will leave you full of energy and ready to take on the day!
Vivian
Originally from Hong Kong, Vivian first came to yoga in her twenties through classes at the corporate workplace, eventually turning a casual practice into a more mindful pursuit after the demands of full-time motherhood led to greater self-care, coming to yoga to literally take a breather, to recalibrate, to regain equilibrium.
Vivian has a penchant for Vinyasa for its fluidity and variability. Her classes are energising and light-hearted, though slow and deep at times, with a strong focus on careful alignment and controlled yet exploratory movement, welcoming each and every one to seek their own balance between effort and ease, to experience their own yoga.
Veronika P
Veronika discovered the benefits of yoga in 2010 and soon realized that she found a tool to help her navigate through life with more awareness, balance, clarity and ease. Inspired to share this gift, she completed her first formal 200hr teacher training in 2015. Forever a student of the practice, she explored a variety of disciplines through teacher trainings and extended workshops with senior teachers. During her journey with yoga she travelled around the globe, teaching in different locations, from retreat centres in Colombia and Spain to busy studios in London. Complimenting her asana practice and teaching, she delved deeper into mindfulness-based meditation practices, yoga Nidra and sound therapy.
Veronika's yoga classes are focused on mindful movement, with detailed attention to postural alignment and breath. Her hope is that her students step off the mat feeling refreshed, energised, connected and balanced with greater awareness.
Ina
Growing up as a child, Ina spent most of her time in sports and dancing. Persuading the dynamic career as a professional dancer, performer, and teacher, she ends up injuring herself. This is how she discovered yoga. It helped her heal mentally and physically from her injury. She found a balance between ambition and being kind to her body. Very soon, she discovers Hotpod Yoga and falls in love with the practice in the heat and its benefits.
Ina is a certified Vinyasa and Flexibility and Strength teacher. Her classes are authentic, inclusive of different bodies and levels, and allow people to take what they need in the present moment.
Rachel
Rachel discovered meditation and yoga in 2016 and has since gained over 600 hours of training in ashtanga vinyasa flow, yoga therapy and yoga nidra. She's passionate about helping her students feel their best through the healing power of movement and meditation.
Rachel takes inspiration from nature and offers mindful but challenging yoga classes to help you unfold and feel renewed. Her classes are inclusive classes for every body type and level of experience.
Holly
Holly started her journey as a professional dancer and has always loved movement. She found the industry focused a lot on the physical being and struggled with an eating disorder in her early teens due to thinking her worth was solely the physical but when she turned to yoga, she loved that there was a deeper connection to the inner self and ever since then has been obsessed with the practise and the way it makes her and other people feel.
Holly loves a challenging physical practise but her main focus is to make sure that you go on a journey within yourself to find a sense of peace and acceptance. Her favourite pose is the finishing pose in corps pose. Laying there on the mat after creating some heat within a practise and a warm fuzzy feeling pumping through the body is like no other!
Rami
Rami first came to yoga as a way to keep the body strong and healthy, but was allured by the mental space and clarity the practice provides. His classes place strong emphasis on the transformational benefits of the breath to guide towards a deeper inner connection, ultimately supporting our connection with others away from the mat.
Whether breathing through a moving meditation, or exploring ease in the stillness, his classes intend to invite students towards self-inquiry. His background in Psychology education further adds to creating a safe space for his students to move beyond the physical in their practice.
Rami is trained in Vinyasa, Yin, and Hot yoga. He enjoys practising various yoga styles and movement modalities, interweaving these learnings into his classes to invite curiosity from his students.
Manish
Being Cabin Crew for an international airline for over 24 years as well as a keen gym goer, takes its toll on both the body as well as the mind. To find a balance, an equilibrium and to feel grounded again Manish started yoga over 10 years ago. Noticing how his relationship was benefiting through practicing yoga – not just with others but with himself and after reaping the benefits both physically and emotionally, he decided to share this gift and has been teaching since 2016. Constantly learning and exploring as well as keeping a very open mind is something that is second nature to him. His style is power and dynamic but most importantly with his great sense of humour he wants everyone to have fun and feel amazing because it's an individual journey after all.
Cecilia
Cecilia is a qualified Vinyasa, pre and post-natal yoga teacher, with years of personal practice. She believes that Yoga has been an important part of her healing process and wishes to share her experience with others.
Cecilia is also very attentive to the students' individual needs. She will offer adjustments and variations to assist them during the class, so they can deepen their practice safely.
Orly
Orly qualified as a yoga teacher in India in 2016, and started teaching for Hotpod Newcastle in early 2017. Since then she's never looked back, and has recently had the good fortune of seeing her Hotpod family expand following her move to London in 2020. Orly loves having the opportunity to meet so many wonderful people with shared passion through her work, and is so grateful for her place within the Hotpod community.
Sofia
Having spent most of her late teens and early 20's in a state of anxiety, leading to lack of focus, trouble sleeping and ultimately burn out after burn out, Sofia decided to ditch the wellness to do lists and focus on what made her feel most at peace and connected to her body. She found the practice of yoga nidra and slow mindful yoga flows worked best to help cultivate focus, begin a compassionate self-enquiry and connect to the innate and underlying sense of calm we all have within us.
As a qualified somatic-body-oriented coach, Sofia's classes are focused on staying present with sensation and with the breath to connect to the underlying peacefulness that is already there in all of us.
Weronica
Veronica is originally from Poland but calls London her home. She came to yoga as a result of a very hectic life around 5 years ago. Veronica tried a variety of different styles but really connected with the Vinyasa style and decided to train as a yoga teacher. She completed her 200 hour Vinyasa yoga training at Hotpod Yoga.
As an instructor she strives to help students feel comfortable in their practice, learn new postures and ensure their practice is safe and enjoyable. She teaches all levels Vinyasa flow and her classes are dynamic, challenging and fun.
Gigi
Born and raised in Italy, Gigi decided to move to London at the age of 19 seeking exciting experiences. She realised how much she loves the city and everything is has to offer so she never left! Gigi discovered Yoga in her early 20's and has not stopped practising since.
She soon realised that Yoga for her, was finding space to discover herself, emotionally and physically. A safe, uplifting space that helped her to find self love, acceptance, strength and much more. Gigi always looks to support, lift and empower people in their unique journeys.
Her classes bring a unique approach to teaching and healing – one that is focused on self-inspiration and which embodies the physical, spiritual, and emotional aspects of wellbeing.
Claire M
Claire is passionate about people and teaching. With her family now all grown up, she is honoured to be able to embrace her deep love of yoga and share it with you! She is self motivated, very organised and believes in embracing the best in people. She teaches her classes with a smile on her face and with joy in her heart.
Claire is able to teach a wide range of yoga styles including Vinyasa, Rocket, Yin and Forest, along with accessible yoga for cancer and limited mobility.
Zaz
After a motorcycle accident 19 years ago, Zaz came to yoga to help her recovery with back and neck issues, and from the first breath on the mat she knew she was at home. Her teaching style is nourishing and empowering, with attention to alignment and an insistence on self-awareness. A hands-on teacher providing gentle physical and verbal guidance, she believes in taking every opportunity to challenge the mind's perceptions of what we can do!
Valentine
Valentine discovered yoga in 2013 and was instantly drawn to learn more. After years of dedicated practice she decided to complete a teacher training course so that she could share her knowledge and help others make yoga a part of their lives. Her classes will inspire you to find strength, discover a deeper awareness of your body, feel your breath and ultimately experience a deep sense of relaxation after practice.
the founder
Valentine Guerin
Valentine discovered Yoga in 2013 and attended her first yoga class at the Hotpod pop-up London location in Notting Hill. This is where she started practicing several times a week and grew a passion for yoga, until eventually undertaking the training to become a certified yoga teacher in 2017. Soon after, she joined the London Hotpod teacher's team and became very attached to the Notting Hill studio, where she spent a lot of time teaching. She was incredibly grateful to have had the opportunity to become its owner in 2021; It seemed to be a natural progression/next step in her Hotpod journey. She is looking forward to welcoming you under the Notting Hill warm pod, with its iconic purple lights and friendly atmosphere.