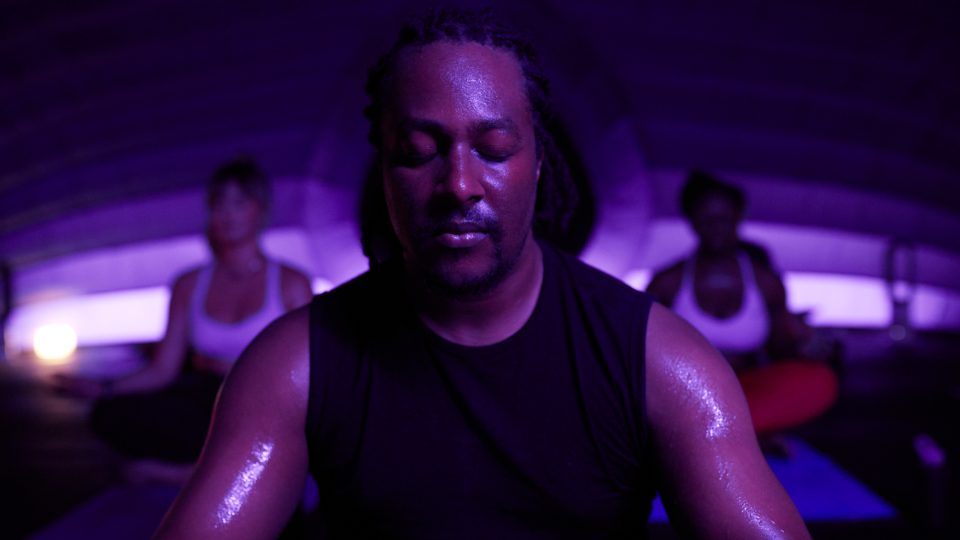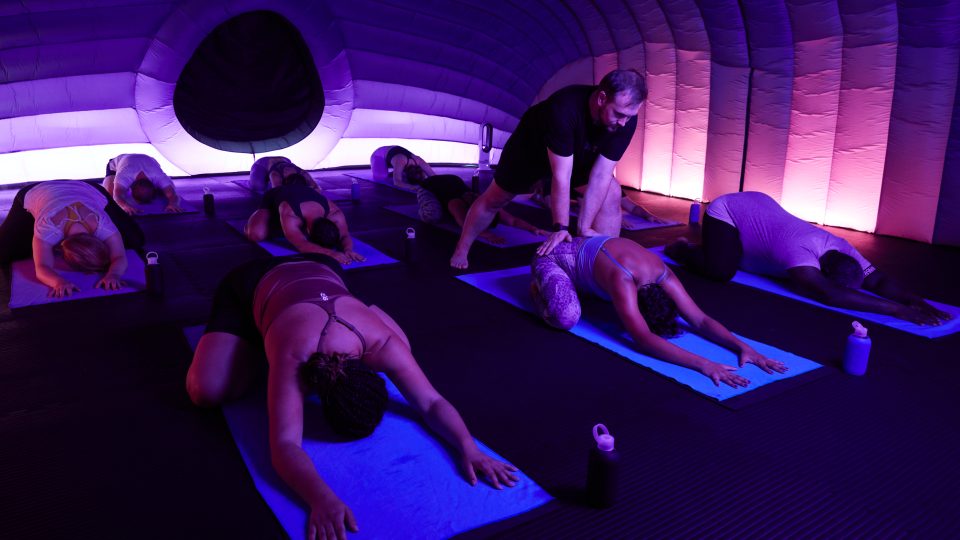 We're Europe's largest yoga business. Since 2013, over 100,000 people have immersed themselves in a Hotpod class at one of our 50+ locations around the world. You'll stretch further, breathe deeper, sweat harder and melt fully into the Hotpod experience – a balanced flow of active and passive postures, working the body and calming the mind in equal measure. For class times and more, take a look at the schedule above, then book your spot.
Signature Inflatable Studio
Vinyasa flow
37 degrees
All levels welcome
find

us

1A Great Western Road, London, England, W9 3NW, GB
Ina
Growing up as a child, Ina spent most of her time in sports and dancing. Persuading the dynamic career as a professional dancer, performer, and teacher, she ends up injuring herself. This is how she discovered yoga. It helped her heal mentally and physically from her injury. She found a balance between ambition and being kind to her body. Very soon, she discovers Hotpod Yoga and falls in love with the practice in the heat and its benefits.
Ina is a certified Vinyasa and Flexibility and Strength teacher. Her classes are authentic, inclusive of different bodies and levels, and allow people to take what they need in the present moment.
Rachel
Rachel discovered meditation and yoga in 2016 and has since gained over 600 hours of training in ashtanga vinyasa flow, yoga therapy and yoga nidra. She's passionate about helping her students feel their best through the healing power of movement and meditation.
Rachel takes inspiration from nature and offers mindful but challenging yoga classes to help you unfold and feel renewed. Her classes are inclusive classes for every body type and level of experience.
Holly
Holly started her journey as a professional dancer and has always loved movement. She found the industry focused a lot on the physical being and struggled with an eating disorder in her early teens due to thinking her worth was solely the physical but when she turned to yoga, she loved that there was a deeper connection to the inner self and ever since then has been obsessed with the practise and the way it makes her and other people feel.
Holly loves a challenging physical practise but her main focus is to make sure that you go on a journey within yourself to find a sense of peace and acceptance. Her favourite pose is the finishing pose in corps pose. Laying there on the mat after creating some heat within a practise and a warm fuzzy feeling pumping through the body is like no other!
Rami
Rami first came to yoga as a way to keep the body strong and healthy, but was allured by the mental space and clarity the practice provides. His classes place strong emphasis on the transformational benefits of the breath to guide towards a deeper inner connection, ultimately supporting our connection with others away from the mat.
Whether breathing through a moving meditation, or exploring ease in the stillness, his classes intend to invite students towards self-inquiry. His background in Psychology education further adds to creating a safe space for his students to move beyond the physical in their practice.
Rami is trained in Vinyasa, Yin, and Hot yoga. He enjoys practising various yoga styles and movement modalities, interweaving these learnings into his classes to invite curiosity from his students.
Isabelle Tara
Isabelle was drawn to yoga through a community project in Battersea helping disadvantaged young people through skills such as boxing and yoga. Inspired particularly by a local yoga teacher and all that she did for the community, Isabelle witnessed first hand how movement, the breath & a more meditative approach to life could transform and affect people. She completed her 200 hour training in 2017 and has not looked back. She has since furthered her study in other areas of the practice and is now a 200 hour Naad Sound practitioner as well as a Stott Pilates instructor.
Isabelle adores creating community, bringing people together and sharing all that she has learnt from her own practices. Her teaching is enriched by her love of sound, voice, meditation and breath which she weaves into her classes in the hope to bring a sense of calm and joy on and off the mat.
Sami Fitz
Sami Fitz is a musician and sound meditation practitioner. She studied Naad Yoga in 2019 with Leo Cosendai and holds a 200-HR certificate with the Yoga Alliance. Her work includes using gongs, singing bowls, voice, and small percussion to relax the body and help clear the mind. After a decade of working for large corporations, such as Viacom, MTV, and Salesforce, and also as an independent artist, she offers a unique perspective on how to enhance creativity, promote teamwork, and create balance in the workplace. She is currently training with Sarah all as a yin practitioner and mindfulness coach.
Manish
Being Cabin Crew for an international airline for over 24 years as well as a keen gym goer, takes its toll on both the body as well as the mind. To find a balance, an equilibrium and to feel grounded again Manish started yoga over 10 years ago. Noticing how his relationship was benefiting through practicing yoga – not just with others but with himself and after reaping the benefits both physically and emotionally, he decided to share this gift and has been teaching since 2016. Constantly learning and exploring as well as keeping a very open mind is something that is second nature to him. His style is power and dynamic but most importantly with his great sense of humour he wants everyone to have fun and feel amazing because it's an individual journey after all.
Cris
Cris truly believes in the power of movement as a life changing experience accessible to everyone. She started practicing yoga at 25 after a surgery, and embarked on her first teacher training a couple of years later to deepen her practice.
During the training, she slowly started to understand how important it is for her to share and connect through teaching.
Cris's classes will be motivating, fun and relaxing at the same time, powerful and chilled, and they will inspire you to challenge yourself.
Sian
Siân fell in love with yoga whilst training to become an actor. She found the practise to be a profound tool for healing and transformation, helping her to manage anxiety and reclaim a true sense of herself. Her classes focus on creating the space for this healing to take place and allowing students to connect inward and wake up to their own aliveness.
You can expect a steady, flowing practise with an emphasis on connecting breath to movement and exploring your inner and outer worlds leaving you feeling calm, nourished, and uplifted. And rooted in the now!
Siân leads the Hotpod Yoga teacher training alongside Elodie Frati and Sunita Devi.
Lauren F
Lauren first fell in love with yoga when she realized the benefits to her mental wellbeing. Yoga soon became an integral part of Lauren's life, finding grounding and growth in her practice and life lessons beyond the yoga mat.
As a Coach and Yoga Therapist, Lauren's yoga teaching is down to earth and empowering with a therapeutic edge. With the application of science and mindset coaching.
Lauren integrates mind, body and emotional experiences through breathing techniques, embodied movements, yoga postures, and mindfulness-based approaches.
Cecilia
Cecilia is a qualified Vinyasa, pre- and post-natal yoga teacher, with years of personal practice. She believes that Yoga has been an important part of her healing process and wishes to share her experience with others.
Cecilia is also very attentive to the students' individual needs. She will offer adjustments and variations to assist them during the class, so they can deepen their practice safely.
Virginia
Virginia started practicing yoga way back in 1999, and 20 years later, it is still a central part of her life. Virginia believes that yoga is for everyone, and that there are incredible benefits to be found by moving, breathing and finding balance without competition. She encourages fellow yogis to find strength both mentally and physically through yoga, and to always practice with a laugh or two!
Lilly
Lilly has been teaching Yoga for 11 years both in London and around the world. From pregnancy yoga, yin, Mandala yoga to teaching premier league footballers or in corporate boardrooms. She is/has qualified in many different styles of yoga with a wealth of teaching experience. Her classes are strong and energetic with her focus is based on anatomical alignment combined with re-centering and building energy in the body.
Orly
Orly qualified as a yoga teacher in India in 2016, and started teaching for Hotpod Newcastle in early 2017. Since then she's never looked back, and has recently had the good fortune of seeing her Hotpod family expand following her move to London in 2020. Orly loves having the opportunity to meet so many wonderful people with shared passion through her work, and is so grateful for her place within the Hotpod community.
Lucy B
Lucy has been practicing Yoga for 16 years and been teaching for the last 5 years in Chile, Spain and now in London. Her classes are strong, slow and meditative, with the intention to enable the individual to really lose themselves in the flow and become fully present, as well as gaining flexibility and strength of the mind and body. She has experience teaching private; group classes; children; yoga for surfing; and yoga for the recovery from trauma and eating disorders. From this she has developed skills to deliver and create classes that work for a wide range of abilities, looking for that sweet spot, that varies for each individual. Feeling welcome and in a truly nurturing environment open to all is what hooked Lucy to yoga, and this is what she intends on passing on in her classes.
Sofia Panas
Having spent most of her late teens and early 20's in a state of anxiety, leading to lack of focus, trouble sleeping and ultimately burn out after burn out, Sofia decided to ditch the wellness to do lists and focus on what made her feel most at peace and connected to her body. She found the practice of yoga nidra and slow mindful yoga flows worked best to help cultivate focus, begin a compassionate self-enquiry and connect to the innate and underlying sense of calm we all have within us.
As a qualified somatic-body-oriented coach, Sofia's classes are focused on staying present with sensation and with the breath to connect to the underlying peacefulness that is already there in all of us.
Weronica
Veronica is originally from Poland but calls London her home. She came to yoga as a result of a very hectic life around 5 years ago. Veronica tried a variety of different styles but really connected with the Vinyasa style and decided to train as a yoga teacher. She completed her 200 hour Vinyasa yoga training at Hotpod Yoga.
As an instructor she strives to help students feel comfortable in their practice, learn new postures and ensure their practice is safe and enjoyable. She teaches all levels Vinyasa flow and her classes are dynamic, challenging and fun.
Eleonora
Eleonora's teaching focuses on using the yoga practice as a tool to live deeper and more meaningful lives. Her interest in the body and mind connection, self-improvement and creating the best possible version of yourself led her to yoga.
She pays careful attention to the students' individual needs and gives adjustments, variations, and modifications to help them deepen their practice physically, mentally, and spiritually.
She teaches dynamic vinyasa classes that emphasise building strength, creating flexibility, encouraging play, and learning to float. Her caring and intelligent teaching style makes yoga relatable for all levels.
Whether beginner or advanced, students can get ready to step outside their comfort zone.
Antonia
Antonia has been practicing yoga for the last 7 years and left her Mental Health Nursing role to embark upon a career teaching yoga. Antonia is always seeking new ways in which she can learn and grow and teaching yoga has been her biggest educator. She enjoys teaching yoga as it allows her to look beyond her own personal practice and connect with others unlike ever before. This has inspired her to live a life dedicated to inspiring others through the practice of yoga. Antonia focuses on alignment and does her best to support students through hands on adjustments and verbal cues.
Prepared to be challenged with her fun and dynamic flows that will leave you feeling energized and revitalized.
Erin
Erin has been practicing yoga for around 6 years, as a balance to hectic city life. Having graduated from Hotpod's 200hr Teacher Training, she has been helping others reconnect with their bodies and find balance in their own lives through conscious movement and meditation. Erin's classes are dynamic, fun and will leave you full of energy and ready to take on the day!
Gigi
Born and raised in Italy, Gigi decided to move to London at the age of 19 seeking exciting experiences. She realised how much she loves the city and everything is has to offer so she never left! Gigi discovered Yoga in her early 20's and has not stopped practising since.
She soon realised that Yoga for her, was finding space to discover herself, emotionally and physically. A safe, uplifting space that helped her to find self love, acceptance, strength and much more. Gigi always looks to support, lift and empower people in their unique journeys.
Her classes bring a unique approach to teaching and healing – one that is focused on self-inspiration and which embodies the physical, spiritual, and emotional aspects of wellbeing.
Claire M
Claire is passionate about people and teaching. With her family now all grown up, she is honoured to be able to embrace her deep love of yoga and share it with you! She is self motivated, very organised and believes in embracing the best in people. She teaches her classes with a smile on her face and with joy in her heart.
Claire is able to teach a wide range of yoga styles including Vinyasa, Rocket, Yin and Forest, along with accessible yoga for cancer and limited mobility.
Alex S
Alex is a lifelong student of movement. She trained for 15 years as a classical ballet dancer before moving to London to pursue a publishing career. She rediscovered yoga in the pod and fell in love with the accepting nature of yoga – its ability to challenge the body while freeing the mind from expectations of perfection. This led her to complete her first teacher training and she continues to study and deepen her understanding of yoga movement and philosophy. She strives to teach a strong and functional yoga class, focused on finding mind/body connection and gratitude (while not taking anything too seriously).
Alex G
Alex started dancing before she could walk. Her fascination with the arts became her career as an adult and she went on to perform in numerous musicals and other theatrical productions. After being out of the theatre industry for a year Alex Needing something new to sink her teeth into and found the fitness industry. She now specialised in teaching Hot and Power Yoga, Pole Fitness, Barre and anything else that uses dance based techniques. She is excited to share her passion and energy with you.
Zaz
After a motorcycle accident 19 years ago, Zaz came to yoga to help her recovery with back and neck issues, and from the first breath on the mat she knew she was at home. Her teaching style is nourishing and empowering, with attention to alignment and an insistence on self-awareness. A hands-on teacher providing gentle physical and verbal guidance, she believes in taking every opportunity to challenge the mind's perceptions of what we can do!
Becca
Having been exposed to an active and outdoor lifestyle from a young age, Becca has always been up for trying new sporting challenges. Initially getting into yoga to compliment running & exercise, she soon became hooked and qualified as a yoga teacher in 2016. She has since been teaching dynamic vinyasa flow classes, and expanded her knowledge into yin yoga and basic Pilates. Her teaching aims to link steady breath with every movement, offering an experiential practice that gives variations in order to welcome and empower students of all levels and experiences.
Valentine Guerin
Valentine discovered yoga in 2013 and was instantly drawn to learn more. After years of dedicated practice she decided to complete a teacher training course so that she could share her knowledge and help others make yoga a part of their lives. Her classes will inspire you to find strength, discover a deeper awareness of your body, feel your breath and ultimately experience a deep sense of relaxation after practice.
the founder
Valentine Guerin
Valentine discovered Yoga in 2013 and attended her first yoga class at the Hotpod pop-up London location in Notting Hill. This is where she started practicing several times a week and grew a passion for yoga, until eventually undertaking the training to become a certified yoga teacher in 2017. Soon after, she joined the London Hotpod teacher's team and became very attached to the Notting Hill studio, where she spent a lot of time teaching. She was incredibly grateful to have had the opportunity to become its owner in 2021; It seemed to be a natural progression/next step in her Hotpod journey. She is looking forward to welcoming you under the Notting Hill warm pod, with its iconic purple lights and friendly atmosphere.