Hotpod Yoga
London | Hackney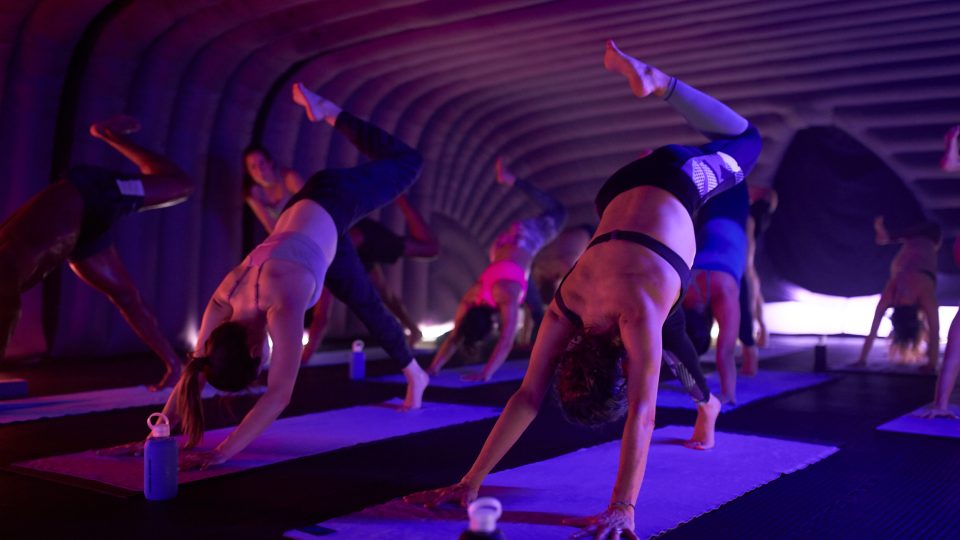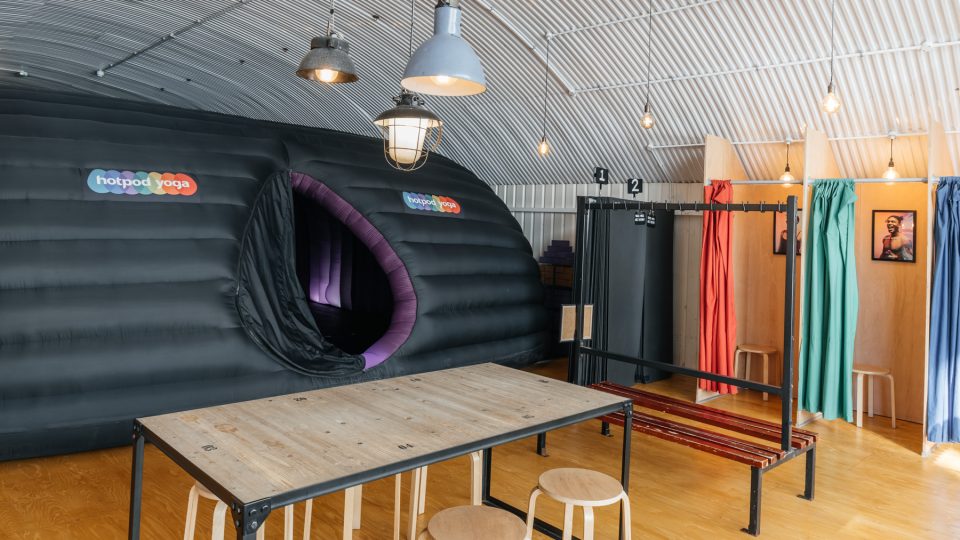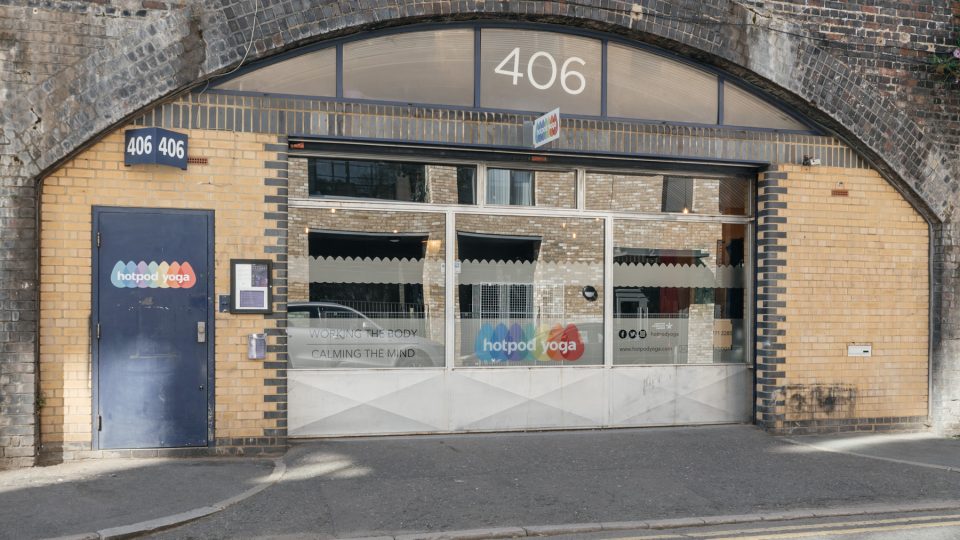 We're Europe's largest yoga business. Since 2013, over 100,000 people have immersed themselves in a Hotpod class at one of our 50+ locations around the world.
You'll stretch further, breathe deeper, sweat harder and melt fully into the Hotpod experience – a balanced flow of active and passive postures, working the body and calming the mind in equal measure. You'll immediately find yourself a million miles away from the every day. Bring water and a towel to enjoy the unique immersion that is a Hotpod Yoga class. To understand it, you've got to experience it.
Signature Inflatable Studio
Vinyasa flow
37 degrees
All levels welcome
find

us

Arch 406, Mentmore Terrace, London, London, E8 3PH, GB
Find Us
Our Hackney studio is located at Arch 406, Mentmore Terrace. Nearest station is London Fields (train) and the nearest tube is Bethnal Green. There is metered street parking nearby. If there is a class beforehand, please wait quietly outside until it's finished!
Catherine Weston
Catherine has been practicing yoga for several years and found it a natural progression from the dance and pilates she had done before and started teaching in 2011 qualifying with Yoga London. With an incredible energy about her, Catherine's classes are filled with fun, teaching students not to take themselves to seriously…. she's a native Londoner who loves people & loves life!
Hongyi Huang
Hongyi was first introduced to Iyengar yoga 20 years ago but soon after moving to London, would discover the myriad of styles that the city had to offer. It led him to Vinyasa yoga, which he has been practising since, and appreciates the dynamism, physicality as well as calming qualities. A desire to deepen his knowledge in yoga was motivation to complete teacher training, marking the start of a personal yogic journey. Through emphasis on linking breath and movement, he hopes to encourage greater physical self-awareness, and bring a feeling of balance and awakening to the practice.
Anna De Sousa
Anna discovered yoga during her last year of uni. She decided to learn more about yoga and became a certified Yoga Teacher(200HR). Anna is a fun and energetic teacher who instantly makes you feel welcomed and relaxed through her friendly approach. Originally from Spain, Anna has also lived in Paris and now is in love with London!
Charlie Tallack
Charlie first stepped on a yoga mat whilst studying as an actress. She quickly felt the physical and mental benefits of practicing & became more and more intrigued taking her to India where she did her first trained. Charlie became a full time yoga teacher in 2011 , since then has gained her 500hrs certification in Bali & has assisted on Hotpod yoga teacher trainings. She loves exploring different types of yoga which brings an eclectic edge to her teaching.
Charlie believes in keeping the time you spend on the mat fun, honest and spontaneous. She encourages you to learn together, to be challenged and to explore your own potential in a playful and uplifting way.
She is returning after maternity leave and excite to be part of the team again & be back in the pod.
Claire Marchais
Claire has always felt the need to express herself and her emotions through movements, that had been gymnastics or dance. When she discovered yoga in 2014 she learned how to listen to her body more intensively and truthfully and becomes completely amazed and passionate by the connection between her mind and body. Having trained with Hotpod Yoga in London, she will teach a dynamic vinyasa flow that will focus on the connection between a conscious breath and a mindful body awareness. She invites her students with all levels to learn more about their own body in a very kind, safe, dynamic and nurturing way.
Emily Johnson
Emily was first introduced to yoga in Australia. She went on to complete her training in Bali and continues to add to her training in India. As well as being a dedicated yogi, she is now a wellbeing and intimacy coach. Through her practice she has begun to unravel and explore her inner landscape, alongside building strength and flexibility. Em's teaching style reflects her desire to support and nurture her students on their own journey, on and off the mat.
Evelin Fecioru
Evelin's yoga journey started in 2012 when she was looking to complement long distance running. Aside from appreciating the physical benefits, she was amazed by the calmness and mental clarity yoga gave her and has been practicing ever since. Evelin qualified on Hotpod's own 200-hour Teacher Training in November 2018 and is excited to share her passion by teaching classes that nurture and challenge at the same time.
Jodi Mullen
Jodi has been a body worker since 2012, she's a qualified Level 3 PT, Kettle bell trainer, Pilates instructor and health coach but she fell in love with Yoga the same year and has dedicated herself entirely to Yoga since 2014! It's been a total life revolution and things have never remained the same since. As someone who gets bored easily, Jodi says it's just brilliant that the practice and teaching of yoga continues to inspire, teach and open her and others up to more delicious ways of living.
Sofia Panas O'Brien
For Sofia yoga has always been a place to reconnect and find some calm in a frantic world. Having originally started the practice at university, Sofia then continued to practice on her travels, studying in India and teaching in Colombia before returning to London to share her practice. She endeavours to provide a safe, nurturing and welcoming space for all to explore their body-mind connection and to feel yoga's incredible benefits.
Michelle Ocean
What attracted Michelle to yoga teaching was the lifestyle. Being into surfing she spent many years travelling and teaching alongside wave chasing! But the yoga took over. From its beginnings in India though to her classes today, Michelle's teaching holds a deep understanding and love for all things yoga. Michelle is in her third year of Rolfing training and she says she is "on a never ending lesson on what union of the body and mind can mean"
Nicola London
Nicola trained as a professional dancer and turned to yoga during her final year, originally to gain more strength and flexibility. Soon, yoga became a necessity for both her body and mind. Nicola found that yoga challenged her to be in the present moment as well as to be conscious of her physical and mental surroundings and also the boundaries of her body and mind. Her classes are creative and unique, exploring the ebbs and flows of breath and movement from the very subtle to the most expressive.
Lindsey Huebner
Lindsey hails from Canada and when she's not flowing with you in the Pod, she can be found at the theatre or wrapped around a cuppa. As a new teacher to HPY, Lindsey cannot wait to be part of this beautiful community.
Lucy Buschhaus
Lucy has been practicing Yoga for 16 years and been teaching for the last 5 years in Chile, Spain and now in London. Her classes are strong, slow and meditative, with the intention to enable the individual to really lose themselves in the flow and become fully present, as well as gaining flexibility and strength of the mind and body. She has experience teaching private; group classes; children; yoga for surfing; and yoga for the recovery from trauma and eating disorders. From this she has developed skills to deliver and create classes that work for a wide range of abilities, looking for that sweet spot, that varies for each individual. Feeling welcome and in a truly nurturing environment open to all is what hooked Lucy to yoga, and this is what she intends on passing on in her classes.
Zalika King
Whilst on tour as a backing vocalist, Zalika was pursuaded to try a yoga class – and instantly became hooked! After practising for 6 years she attended a Sumits Yoga class in Arizona where the entire class was set to a curated play list and was, once again… hooked. That same summer of 2014, Zalika completed her Hot Vinyasa Yoga Teacher Training in Santa Margherita, Los Angeles and has since enjoyed her journey as practitioner and teacher. With music and yoga being the consistent theme, working with Hotpod Yoga was an inevitable love affair.
the founders
Nick Higgins and Max Henderson
A former Schoolteacher and Management Consultant, founded Hotpod Yoga in 2013. They were not part of the 1% who regularly practiced yoga; they were of the other 99% who simply needed to clear their over-stimulated minds, work off their hangovers and open up their bodies after a hard day at work. Max and Nick started Hotpod Yoga to supercharge the yoga experience and take that experience out to the masses.