Hotpod Yoga
London | Hackney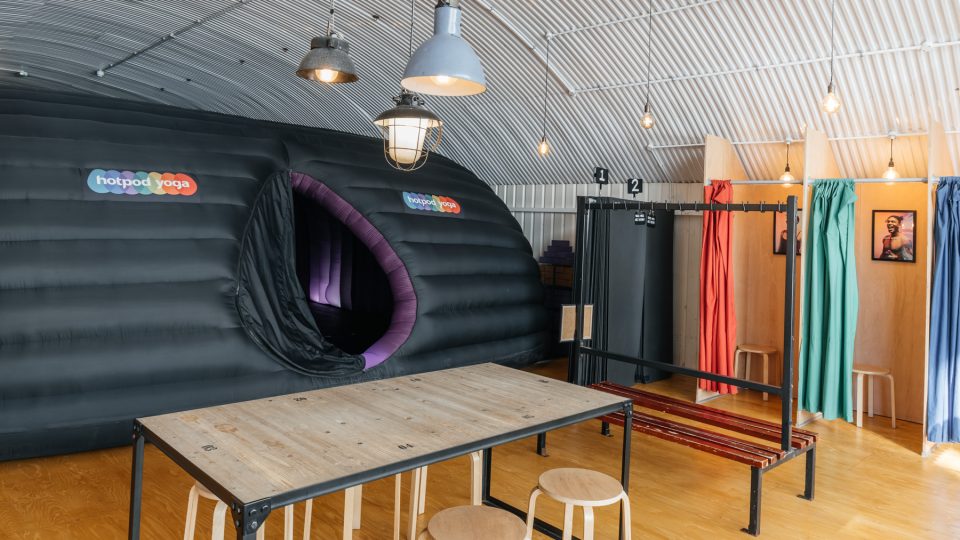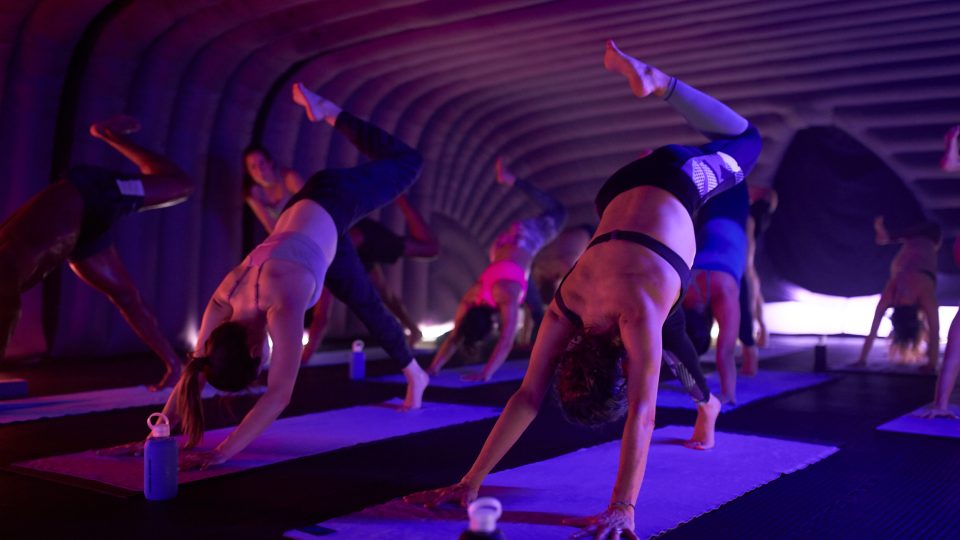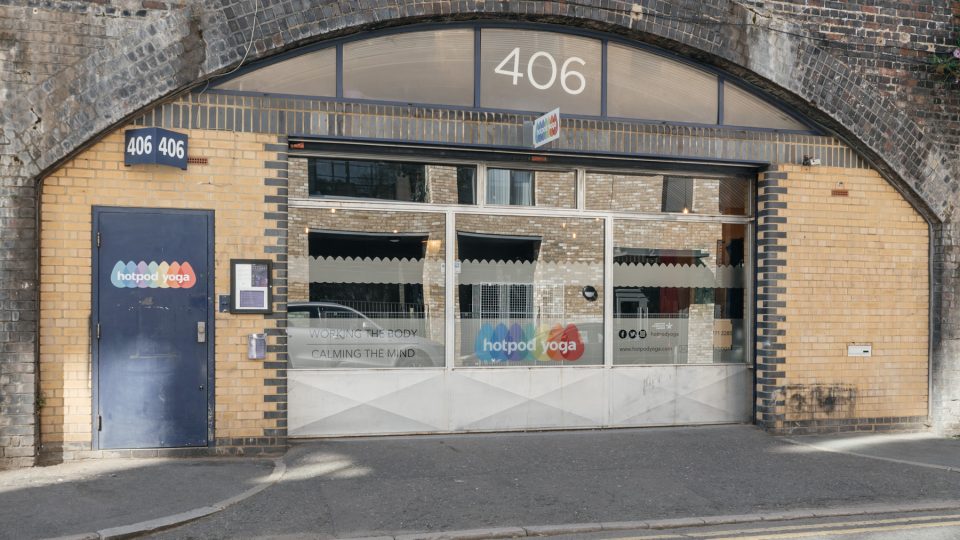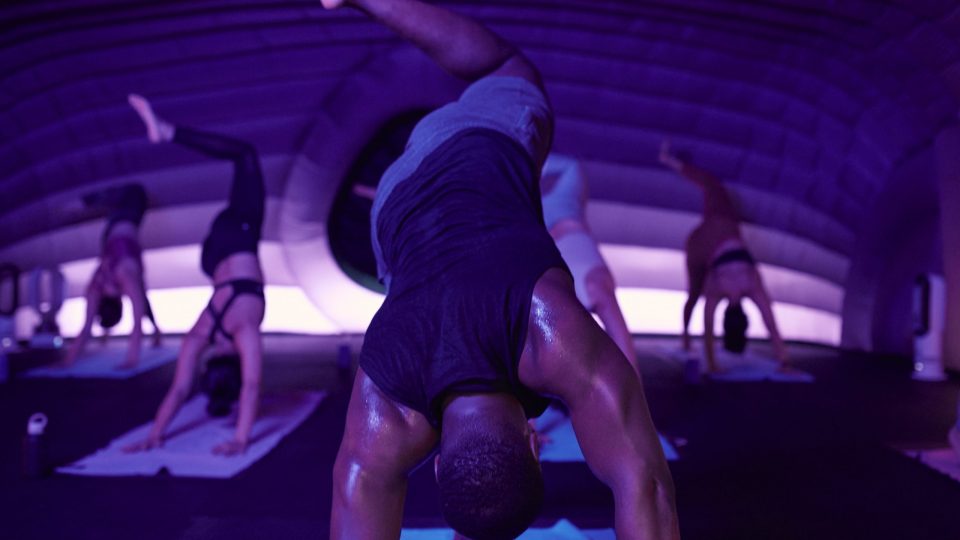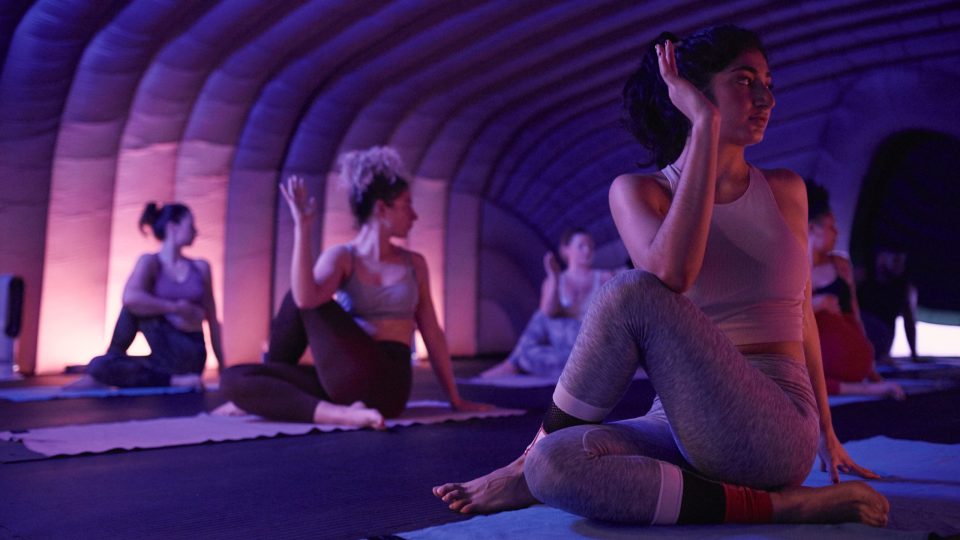 Our Hackney studio is located at Arch 406, Mentmore Terrace. The nearest station is London Fields (train) and the nearest tube is Bethnal Green. There is metered street parking nearby. If there is a class beforehand, please wait quietly outside until it's finished!
We're Europe's largest yoga business. Since 2013, over 100,000 people have immersed themselves in a Hotpod class at one of our 50+ locations around the world.
You'll stretch further, breathe deeper, sweat harder and melt fully into the Hotpod experience – a balanced flow of active and passive postures, working the body and calming the mind in equal measure. You'll immediately find yourself a million miles away from the every day. Bring water and a towel to enjoy the unique immersion that is a Hotpod Yoga class. To understand it, you've got to experience it.
step into our immersive pod
hot yoga in 37 degree heat
move to relaxing beats
filled with calming scents
suitable for all levels
find

us

Arch 406, Mentmore Terrace, London, London, E8 3PH, GB
Catherine
Catherine has a deep love of body movement with a creative approach to yoga.
Catherine is trained to what is regarded as an advanced level of yoga teacher training with Jason Crandell as well as additional trainings and workshops with Alexandria Crow, Annie Carpenter, Tiffany Cruikshank amongst others, all senior in their field and known as "teachers of teachers".
She has created A Fresh Approach – her own mentoring course for teachers as well as mentoring individual teachers and has written a very comprehensive 85 hour prenatal yoga teacher training course accredited to yoga alliance which she hosts in London.
She teaches contemporary vinyasa flow style yoga, Hatha, hot yoga, restorative, pre and postnatal classes.
Catherine began her working life in the hairdressing industry, starting off as a junior sweeping floors, running errands, working through an apprenticeship and beyond, gradually gaining a position with one of the leading global haircare and wellness brands whose goal was sustainability and environmental leadership.
Catherine had many roles over time within the company and with each role she began to teach others. Although hairdressing seems worlds apart from yoga, the teaching element was always there.
The brand were innovative and well ahead of their time introducing holistic speakers and meditation workshops for staff and it was here that Catherine first learned about the Chakras, the subtle energy body, the benefits of being present, introduced to Ayurveda and it's concepts and yoga.
"I still know their mission statement off by heart" she says laughing!
This was actually her first steps towards yoga in the 90's and in all honesty she says referring to her first class "it just wasn't the right class for me, I already did a lot of movement based activity through dance and pilates, I think I was looking for something else at that time".
Roll on ten years, with her world turned upside down and inside out and she was back on the mat at the right moment in the right class with the loveliest teacher, the journey towards yoga and yoga teaching began.
Catherine says the key thing yoga has taught her is to be present. She has a full life, a family that mean the world to her and no matter how busy life gets at times, the tools of yoga continue to help her maintain peace of mind
Hongyi
An introduction to Iyengar yoga in his early 20s would mark the start of a 20-year yoga journey but it was moving to London that Hongyi discovered and began to explore the myriad of styles that the city offered. He has been practising the Vinyasa style since and appreciates the dynamism and physicality as well as calming qualities.
A desire to further his practice led him to train as a yoga teacher. Through emphasis on linking movement and breath, Hongyi's classes aim to synchronise qualities of strength with qualities of stretch, to bring an overall toning and sense of awakening to the body and mind.
Currently pursuing a Diploma in Yoga Therapy, the training focuses on the nurturing and restorative aspects of the discipline; the aim is to broaden his skills and cultivate a more therapeutic application of yoga that can be shared with a diverse and wider audience.
Anna
Anna is a fun and energetic teacher who instantly makes you feel welcomed and relaxed through her friendly approach. She creates flowing sequences which move around the body in different ways, and are suitable for all levels. Whether you want to gain strength, flexibility, mobility or calm the mind, her classes are perfect for you.
Evelin
Evelin's love affair with yoga started in 2012 when a friend took her to a hot yoga class and she's been hooked ever since. Having qualified through Hotpod's own 200-hour Teacher Training in 2018, she is always keen to share her passion by teaching in a way that simultaneously challenges and nurtures. Her classes incorporate playful sequences to improve mobility and to encourage everyone to move in a way that best suits their own bodies.
Michelle
What attracted Michelle to yoga teaching was the lifestyle. Being into surfing she spent many years travelling and teaching alongside wave chasing! But the yoga took over. From its beginnings in India though to her classes today, Michelle's teaching holds a deep understanding and love for all things yoga. Michelle is in her third year of Rolfing training and she says she is "on a never ending lesson on what union of the body and mind can mean"
Nicola L
Nicola trained as a professional dancer and turned to yoga during her final year, originally to gain more strength and flexibility. Soon, yoga became a necessity for both her body and mind. Nicola found that yoga challenged her to be in the present moment as well as to be conscious of her physical and mental surroundings and also the boundaries of her body and mind. Her classes are creative and unique, exploring the ebbs and flows of breath and movement from the very subtle to the most expressive.
Lucy
Lucy has been practicing Yoga for 16 years and been teaching for the last 5 years in Chile, Spain and now in London. Her classes are strong, slow and meditative, with the intention to enable the individual to really lose themselves in the flow and become fully present, as well as gaining flexibility and strength of the mind and body. She has experience teaching private; group classes; children; yoga for surfing; and yoga for the recovery from trauma and eating disorders. From this she has developed skills to deliver and create classes that work for a wide range of abilities, looking for that sweet spot, that varies for each individual. Feeling welcome and in a truly nurturing environment open to all is what hooked Lucy to yoga, and this is what she intends on passing on in her classes.
Zalika
Whilst on tour as a backing vocalist, Zalika was persuaded to try a yoga class – and instantly became hooked! After practising for 6 years she attended a Sumits Yoga class in Arizona where the entire class was set to a curated play list and was, once again… hooked. That same summer of 2014, Zalika completed her Hot Vinyasa Yoga Teacher Training in Santa Margherita, Los Angeles and has since enjoyed her journey as practitioner and teacher. With music and yoga being the consistent theme, working with Hotpod Yoga was an inevitable love affair.
Orly
Orly qualified as a yoga teacher in India in 2016, and started teaching for Hotpod Newcastle in early 2017. Since then she's never looked back, and has recently had the good fortune of seeing her Hotpod family expand following her move to London in 2020. Orly loves having the opportunity to meet so many wonderful people with shared passion through her work and is so grateful for her place within the Hotpod community.
Kate
Kate's relationship with hot yoga began in 2010. Following years of martial arts training and numerous injuries, she did not have the flexibility she wanted. After trying many different kinds of yoga she discovered the hot room and began building strength and flexibility at an unbelievably fast rate… and completely fell in love with the practice.
Since graduating in 2015 Kate has broadened her knowledge and now teaches lots of different yoga and fitness disciplines. She's passionate about helping beginners on their yoga journey to discover their true potential, build their mind body connection and she stands by her philosophy that no-one is too stiff or broken for yoga.
Kate's classes will inspire you and help you reach new levels in your fitness and yoga practice. Expect to learn something new from every practice, leave her classes feeling motivated and ready to attack the day. Her energy is contagious.
Sara
Sara works professionally as a contemporary dancer, dance teacher and yoga instructor. She completed her teacher training with Hotpod Yoga which inspired her in ways to communicate and enjoy movement with people who approach it from different physical ability, intention or experience. In class, she aims to create a space for exploration and discovery by playing with images and different movement qualities. Sara brings her passion and joy for movement to share the physical and emotional benefits of yoga, making it a practice for all.
Hannah C
Growing up playing sports in Scotland, Hannah came to yoga when living in California and training for the LA Marathon. This experience soon taught her how important yoga is for stretching and strengthening our bodies, whilst focusing our mind. After working in the HPY HQ office, Hannah decided to do the Hotpod YTT and is now excited to be part of the teaching team! You'll feel warmly welcomed in this fun, flowy class.
Phoebe
Phoebe is a professional ballet and contemporary dancer alongside being a Yoga teacher. She has a passion for movement and exploration, drawing on her unique experience as a dancer to push your body to its fullest, fittest and most fabulous. Phoebe believes deeply in the importance of alignment and accuracy in her flows to keep your body safe and healthy during her practice.
Elena
Elena came to yoga as she was in need of some space, in her body and in her life, since then she has been hooked by the practice and the positive community it creates. She is a 400 RYT in Vinyasa and Ashtanga. Her classes have a great balance of being energetic with deep relaxation to close the practice.
Elena's classes are comfortable and playful spaces where people are able to let go and be led. The vibe is easy going, a place where students feel comfortable and there will be the option of lots of hands-on assists and adjustments.
Colly
As a passionate long distance runner & regular five-a-side footy player, Colly found yoga as a means of recovery for a busy sporting schedule. Having trained with Hot Pod Yoga in 2018, he's now also trained specifically in teaching yoga for sports and to athletes with Manchester United's Sarah Ramsden, as well as developing a strong interest in the role of the breath with his Oxygen Advantage breathwork training. He enjoys challenging, mindful movement to get you out of the head & into the body.
Mandy
Mandy's journey into yoga began in 2010 in Asia. She was first attracted by the physical aspect of yoga. Continuing her practice, she quickly discovered its joy and benefits both on her body and on her mind using mindful movement, breath and awareness. Her classes are dynamic with a strong emphasis on the breath and alignment. She encourages people to connect with their bodies leading them to liberate their minds.
Alice W
Alice is a driven, supportive and giving yoga teacher. She loves encouraging and challenging people to find their own flow state, to take up space in new ways and get out of their heads, by smiling, moving and playing with their practice.
Miztli
Miztli Rose is a London based yoga teacher of British and Mexican heritage. She first discovered the joy of yoga whilst training as an actor at The Royal Academy of Dramatic Art. After practicing for 5 years, Miztli decided to undertake her 200 hour teacher training with Hotpod. Since then she has taken further training in Pregnancy, Yin and Restorative practices. As a teacher, Miztli is particularly interested in the power of yoga to help enhance creativity, and is passionate about helping students nurture themselves through movement. When she is not teaching, Miztli continues to work as a performer and comedian.
Chloé
Chloé joined Hotpod in 2019. She is passionate about creating a space for all to feel welcome in during her classes, regardless of ability or experience. Expect a relaxed, grounded approach, with a little something for everyone – be that a nourishing moment of calm after a busy day, or a focus-demanding challenge that will leave you feeling energised and revitalised!
Naomi
Naomi's yoga teaching career began in 2013 and has involved studio teaching, trauma-informed work and the running of health based retreat programmes. The yoga she teaches and practises is grounded in the knowledge of its therapeutic capacity to enhance our sense of self through wellbeing. She works to give students the tools and techniques to access their own unique needs and foster new connections between body and mind that anchor us to the present moment with a sense of deep curiosity and care for ourselves.
the founders
Nick Higgins and Max Henderson
A former Schoolteacher and Management Consultant, founded Hotpod Yoga in 2013. They were not part of the 1% who regularly practiced yoga; they were of the other 99% who simply needed to clear their over-stimulated minds, work off their hangovers and open up their bodies after a hard day at work. Max and Nick started Hotpod Yoga to supercharge the yoga experience and take that experience out to the masses.