Hotpod Yoga
London | Hackney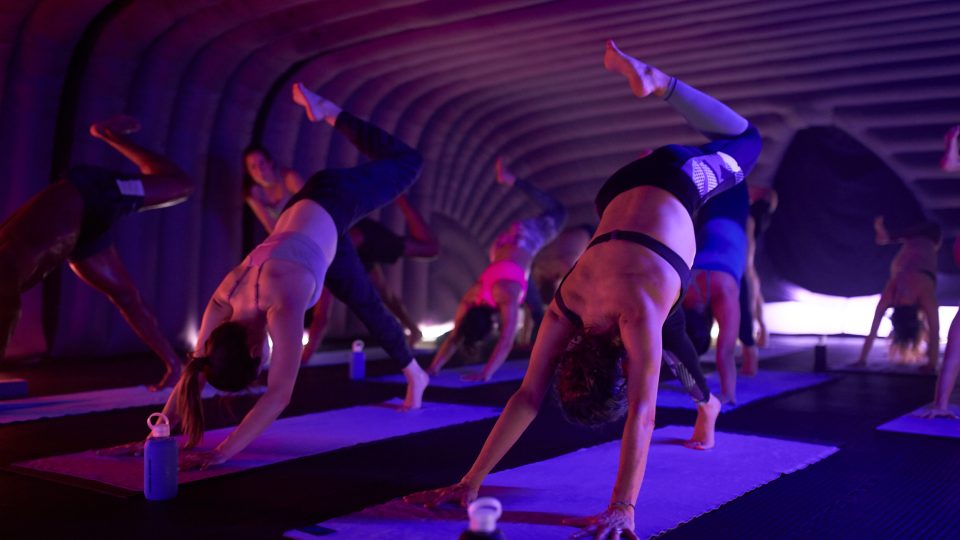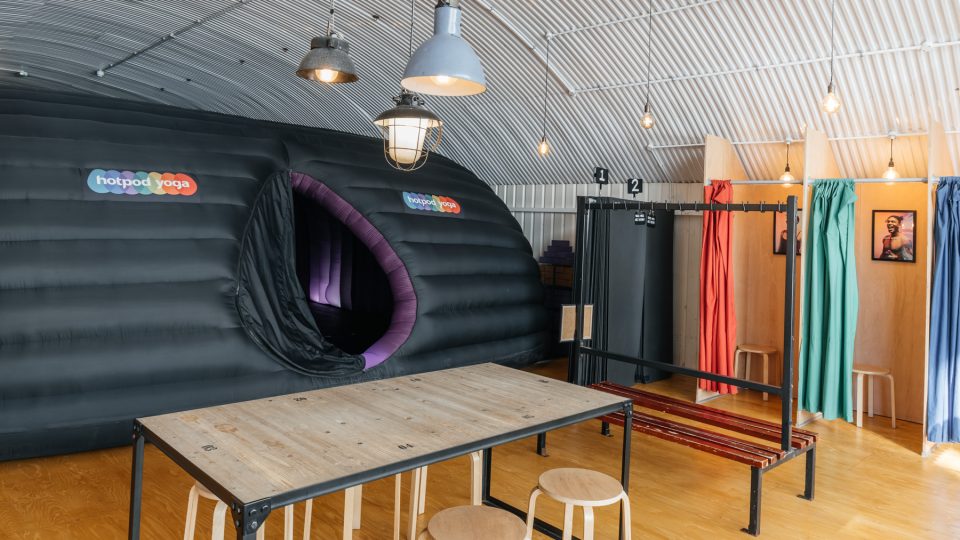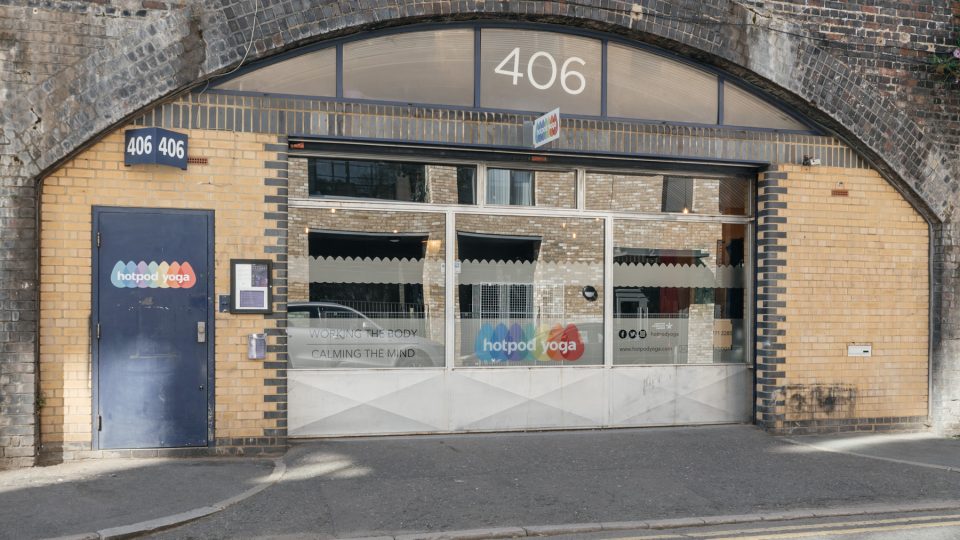 We're Europe's largest yoga business. Since 2013, over 100,000 people have immersed themselves in a Hotpod class at one of our 50+ locations around the world.
You'll stretch further, breathe deeper, sweat harder and melt fully into the Hotpod experience – a balanced flow of active and passive postures, working the body and calming the mind in equal measure. You'll immediately find yourself a million miles away from the every day. Bring water and a towel to enjoy the unique immersion that is a Hotpod Yoga class. To understand it, you've got to experience it.
Signature Inflatable Studio
Vinyasa flow
37 degrees
All levels welcome
find

us

Arch 406, Mentmore Terrace, London, London, E8 3PH, GB
Catherine W
Catherine has been practicing yoga for several years and found it a natural progression from the dance and pilates she had done before and started teaching in 2011 qualifying with Yoga London. With an incredible energy about her, Catherine's classes are filled with fun, teaching students not to take themselves to seriously…. she's a native Londoner who loves people & loves life!
Hongyi H
An introduction to Iyengar yoga in his early 20s would mark the start of a 20-year yoga journey but it was moving to London that Hongyi discovered and began to explore the myriad of styles that the city offered. He has been practising the Vinyasa style since and appreciates the dynamism and physicality as well as calming qualities.
A desire to further his practice led him to train as a yoga teacher. Through emphasis on linking movement and breath, Hongyi's classes aim to synchronise qualities of strength with qualities of stretch, to bring an overall toning and sense of awakening to the body and mind.
Currently pursuing a Diploma in Yoga Therapy, the training focuses on the nurturing and restorative aspects of the discipline; the aim is to broaden his skills and cultivate a more therapeutic application of yoga that can be shared with a diverse and wider audience.
Anna
Anna is a fun and energetic teacher who instantly makes you feel welcomed and relaxed through her friendly approach. She creates flowing sequences which move around the body in different ways, and are suitable for all levels. Whether you want to gain strength, flexibility, mobility or calm the mind, her classes are perfect for you.
Charlie T
Charlie first stepped on a yoga mat whilst studying as an actress. She quickly felt the physical and mental benefits of practicing & became more and more intrigued taking her to India where she did her first trained. Charlie became a full time yoga teacher in 2011 , since then has gained her 500hrs certification in Bali & has assisted on Hotpod yoga teacher trainings. She loves exploring different types of yoga which brings an eclectic edge to her teaching.
Charlie believes in keeping the time you spend on the mat fun, honest and spontaneous. She encourages you to learn together, to be challenged and to explore your own potential in a playful and uplifting way.
She is returning after maternity leave and excite to be part of the team again & be back in the pod.
Claire M
Claire has always felt the need to express herself and her emotions through movements, that had been gymnastics or dance. When she discovered yoga in 2014 she learned how to listen to her body more intensively and truthfully and becomes completely amazed and passionate by the connection between her mind and body. Having trained with Hotpod Yoga in London, she will teach a dynamic vinyasa flow that will focus on the connection between a conscious breath and a mindful body awareness. She invites her students with all levels to learn more about their own body in a very kind, safe, dynamic and nurturing way.
Emily J
Emily was first introduced to yoga in Australia. She went on to complete her training in Bali and continues to add to her training in India. As well as being a dedicated yogi, she is now a wellbeing and intimacy coach. Through her practice she has begun to unravel and explore her inner landscape, alongside building strength and flexibility. Em's teaching style reflects her desire to support and nurture her students on their own journey, on and off the mat.
Evelin F
Evelin's love affair with yoga started in 2012 when a friend took her to a hot yoga class and she's been hooked ever since. Having qualified through Hotpod's own 200-hour Teacher Training in 2018, she is always keen to share her passion by teaching in a way that simultaneously challenges and nurtures. Her classes incorporate playful sequences to improve mobility and to encourage everyone to move in a way that best suits their own bodies.
Jodi M
Jodi has been a body worker since 2012, she's a qualified Level 3 PT, Kettle bell trainer, Pilates instructor and health coach but she fell in love with Yoga the same year and has dedicated herself entirely to Yoga since 2014! It's been a total life revolution and things have never remained the same since. As someone who gets bored easily, Jodi says it's just brilliant that the practice and teaching of yoga continues to inspire, teach and open her and others up to more delicious ways of living.
Sofia Panas
Having spent most of her late teens and early 20's in a state of anxiety, leading to lack of focus, trouble sleeping and ultimately burn out after burn out, Sofia decided to ditch the wellness to do lists and focus on what made her feel most at peace and connected to her body. She found the practice of yoga nidra and slow mindful yoga flows worked best to help cultivate focus, begin a compassionate self-enquiry and connect to the innate and underlying sense of calm we all have within us.
As a qualified somatic-body-oriented coach, Sofia's classes are focused on staying present with sensation and with the breath to connect to the underlying peacefulness that is already there in all of us.
Michelle O
What attracted Michelle to yoga teaching was the lifestyle. Being into surfing she spent many years travelling and teaching alongside wave chasing! But the yoga took over. From its beginnings in India though to her classes today, Michelle's teaching holds a deep understanding and love for all things yoga. Michelle is in her third year of Rolfing training and she says she is "on a never ending lesson on what union of the body and mind can mean"
Nicola L
Nicola trained as a professional dancer and turned to yoga during her final year, originally to gain more strength and flexibility. Soon, yoga became a necessity for both her body and mind. Nicola found that yoga challenged her to be in the present moment as well as to be conscious of her physical and mental surroundings and also the boundaries of her body and mind. Her classes are creative and unique, exploring the ebbs and flows of breath and movement from the very subtle to the most expressive.
Lindsey H
Lindsey hails from Canada and when she's not flowing with you in the Pod, she can be found at the theatre or wrapped around a cuppa. As a new teacher to HPY, Lindsey cannot wait to be part of this beautiful community.
Lucy B
Lucy has been practicing Yoga for 16 years and been teaching for the last 5 years in Chile, Spain and now in London. Her classes are strong, slow and meditative, with the intention to enable the individual to really lose themselves in the flow and become fully present, as well as gaining flexibility and strength of the mind and body. She has experience teaching private; group classes; children; yoga for surfing; and yoga for the recovery from trauma and eating disorders. From this she has developed skills to deliver and create classes that work for a wide range of abilities, looking for that sweet spot, that varies for each individual. Feeling welcome and in a truly nurturing environment open to all is what hooked Lucy to yoga, and this is what she intends on passing on in her classes.
Zalika K
Whilst on tour as a backing vocalist, Zalika was pursuaded to try a yoga class – and instantly became hooked! After practising for 6 years she attended a Sumits Yoga class in Arizona where the entire class was set to a curated play list and was, once again… hooked. That same summer of 2014, Zalika completed her Hot Vinyasa Yoga Teacher Training in Santa Margherita, Los Angeles and has since enjoyed her journey as practitioner and teacher. With music and yoga being the consistent theme, working with Hotpod Yoga was an inevitable love affair.
Orly A
Orly qualified as a yoga teacher in India in 2016, and started teaching for Hotpod Newcastle in early 2017. Since then she's never looked back, and has recently had the good fortune of seeing her Hotpod family expand following her move to London in 2020. Orly loves having the opportunity to meet so many wonderful people with shared passion through her work and is so grateful for her place within the Hotpod community.
Claire Miller
Claire is passionate about people and teaching. With her family now all grown up, she is honoured to be able to embrace her deep love of yoga and share it with you! She is self motivated, very organised and believes in embracing the best in people. She teaches her classes with a smile on her face and with joy in her heart.
Claire is able to teach a wide range of yoga styles including Vinyasa, Rocket, Yin and Forest, along with accessible yoga for cancer and limited mobility.
Kate K
Kate's relationship with hot yoga began in 2010. Following years of martial arts training and numerous injuries, she did not have the flexibility she wanted. After trying many different kinds of yoga she discovered the hot room and began building strength and flexibility at an unbelievably fast rate… and completely fell in love with the practice.
Since graduating in 2015 Kate has broadened her knowledge and now teaches lots of different yoga and fitness disciplines. She's passionate about helping beginners on their yoga journey to discover their true potential, build their mind body connection and she stands by her philosophy that no-one is too stiff or broken for yoga.
Kate's classes will inspire you and help you reach new levels in your fitness and yoga practice. Expect to learn something new from every practice, leave her classes feeling motivated and ready to attack the day. Her energy is contagious.
Madelaine
Madelaine hails from Melbourne but now lives in London and came to yoga during her first pregnancy. Madelaine's background is dance and her classes focus on creative and flowing sequences that are guided by your breath and your own self awareness. Through mindful movement and safe and precise alignment cues, she endeavours to adapt the class to whatever you need that day. Sometimes strong and dynamic, sometimes restful and calm, perhaps working with injury or illness. Whatever your level and experience, my classes are open to everyone and are really just an opportunity to give yourself space and time and open your mind to new possibilities.
the founders
Nick Higgins and Max Henderson
A former Schoolteacher and Management Consultant, founded Hotpod Yoga in 2013. They were not part of the 1% who regularly practiced yoga; they were of the other 99% who simply needed to clear their over-stimulated minds, work off their hangovers and open up their bodies after a hard day at work. Max and Nick started Hotpod Yoga to supercharge the yoga experience and take that experience out to the masses.