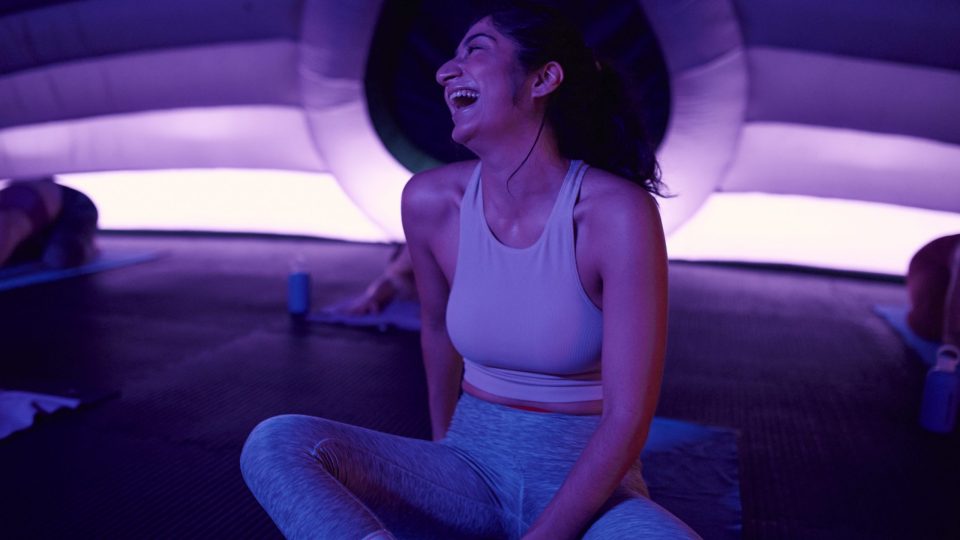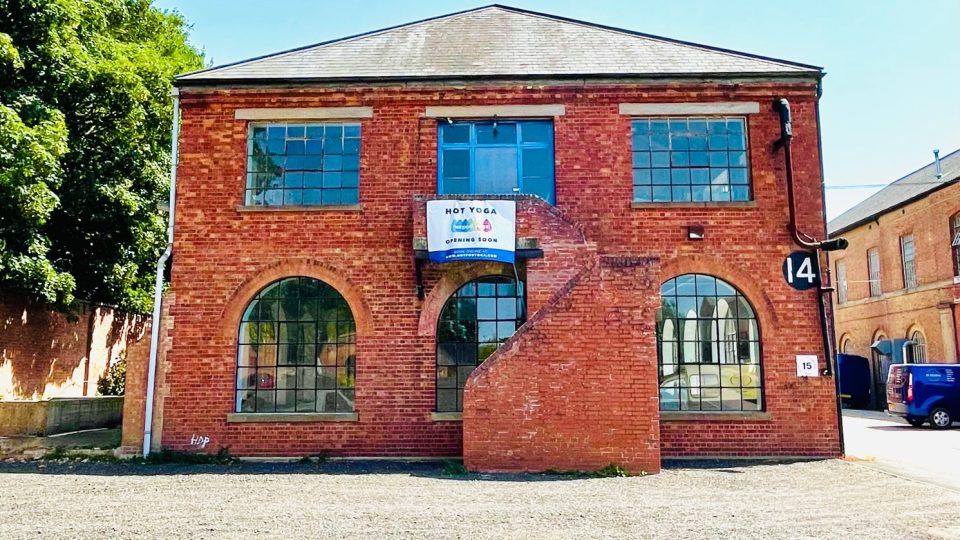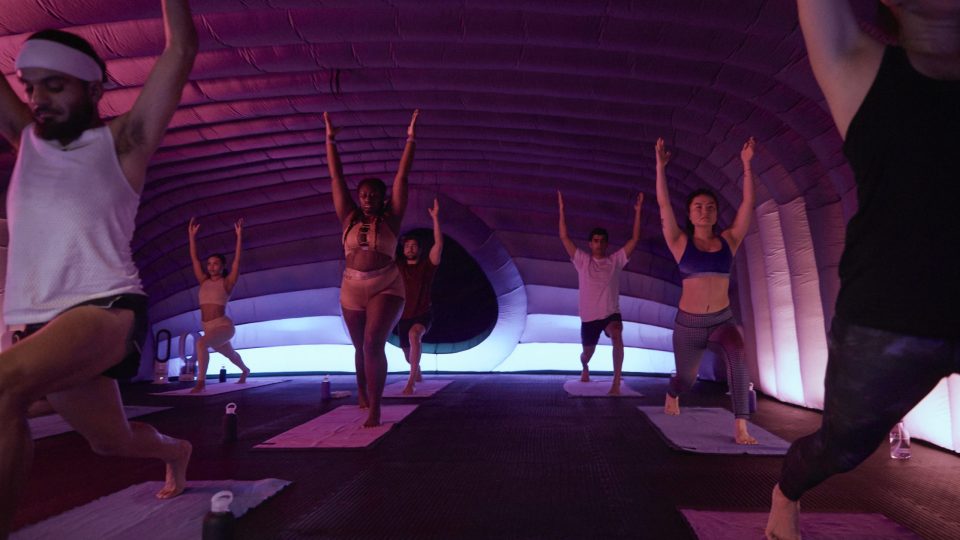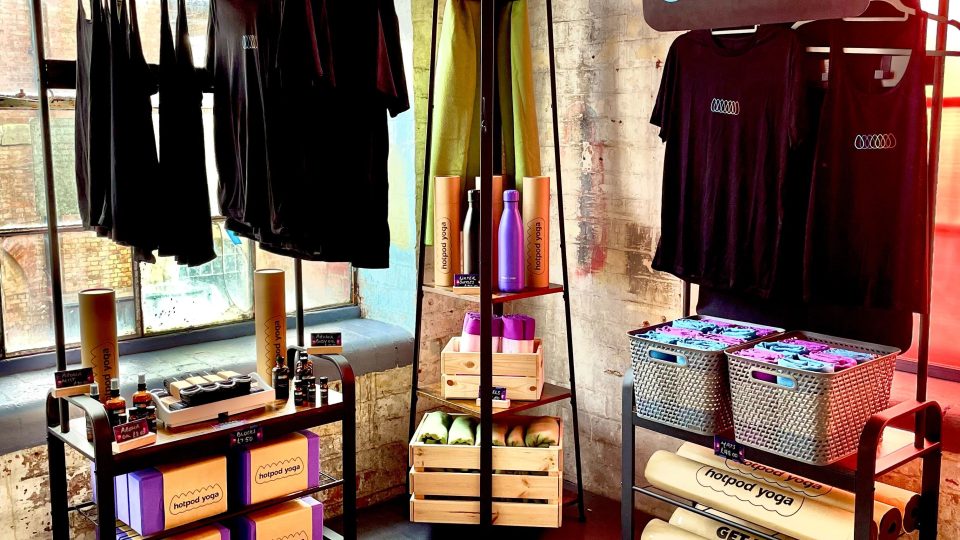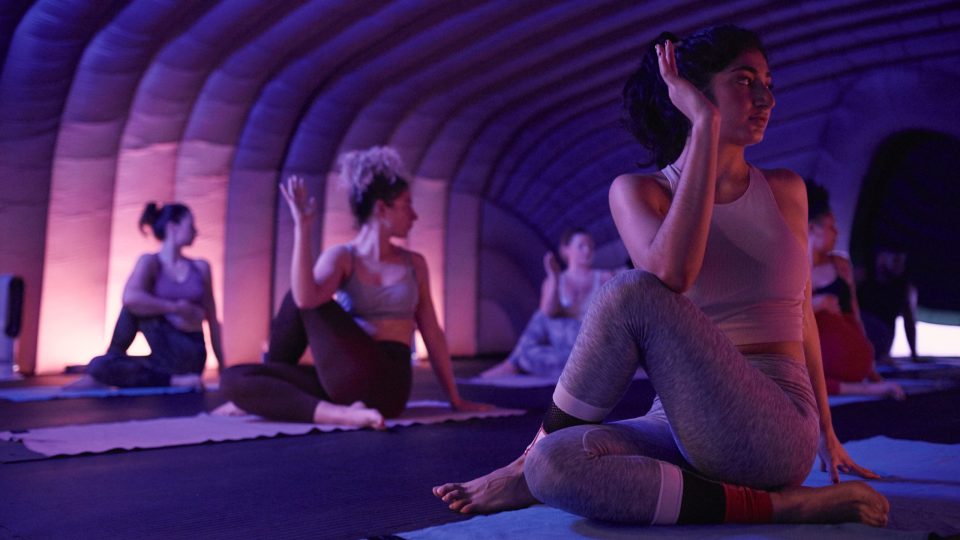 Forming part of a Victorian warehouse originally storing military uniforms, Unit C1 in Building 14 at The Depot in Weedon Bec has been lovingly restored and given a new lease of life as a HotPod Yoga studio. Flooded with natural light, the studio boasts an impressive 33m length. We have showers, changing rooms, and toilet facilities available. Classes are offered 7 days a week at a variety of times and feature our signature HotPod Flow classes as well as several more relaxing and nurturing classes. On your way back from class, why not pop in to one of the many vintage stores or workshops on site? There are so many interesting businesses to visit.
google
reviews
Read what a few of our happy customers have to say! We'd love it if you could support our studio by leaving a review of your own. Simply click below to share your thoughts with us.
Showers

Mats

Changing

Parking
step into our immersive pod
hot yoga in 37 degree heat
move to relaxing beats
filled with calming scents
suitable for all levels
find

us

Unit C1, Building 14, The Depot, Weedon Bec, Northamptonshire, NN7 4PS, GB
Mollie Tuck
Mollie began practising yoga when she was travelling through Costa Rica. The way it made her feel was something she knew she had to include into her life. Since then, Mollie's love for yoga has only gotten stronger. She's had the good fortune to travel around Australia and Asia, practising many forms and developing a deeper understanding of Yoga. Mollie received Ashtanga training, which helped her to comprehend yoga and the purpose behind our practise. Mollie brings this passion and knowledge into her classes. She says: "I take great pleasure in putting others at ease, and I want to create a secure space in my classes where students may genuinely feel at peace with themselves."
Scott Edwards
Scott's journey has been full of challenges, but his discovery of yoga in 2020 proved to be a turning point for him. When other options weren't available, yoga gave him a way to move his body and stay active. Unfortunately, in 2022, Scott suffered knee injuries that put an end to his 10-year career as a dancer. It was a difficult time, but yoga once again came to his aid, helping him with his rehabilitation and giving him a renewed sense of purpose. After completing a 200-hour training course with Hotpod Academy, Scott is now eager to help others on their own physical healing journeys.
Dorita Nissen
Danish-born Dorita, a Freelance Makeup Artist with 20+ years experience in fashion and film. But amidst the unpredictable freelance life, Dorita recognised the need to prioritise her mental and physical well-being. Embracing this realisation, she delved into the realms of Spin and Yoga, seeking a harmonious blend that nurtured both body and mind. For Dorita, Yoga is more than just a practice; it's a vibrant community that fosters mental, physical, and spiritual well-being. Her philosophy is succinctly put: "Yoga is a joyful journey of self-care, a celebration of showing up for oneself."
Donna Lowe
Donna Lowe is a CNHC registered Nutritionist and Certified Health Coach specialising in supporting women through the menopause and beyond, as well as helping sufferers of IBS and diabetes to get back into balance. Her business is called "Menu for Health" as she firmly believes that we all have a choice in what we put in our mouths and our health is directly connected to this. She has a passion for food and cooking family-friendly meals that are delicious, nutritious and don't require hours in the kitchen with lots of fancy equipment and any special culinary skills. As well as running menopause programmes, she works 1:1 with individual clients and runs tailored wellbeing programmes for businesses.
Caroline Hickman
Caroline attended her first yoga class in Queenstown, New Zealand, back in 2008 and was instantly hooked. "I lived in Queenstown for almost ten years and yoga complimented every part of my life there, and on my travels, and on my return to the UK – it's been my constant companion." As a person committed to fitness and wellbeing she spent her time outside of work snowboarding, mountain biking and running, as well as taking part in an array of endurance events both on foot and by bike. Since returning to the UK, she's had three children and continued her yoga practice, noticing the strength, resilience and stability it's provided throughout her life. She's committed to sharing this knowledge and love of yoga, as well as the benefits it brings both on and off the mat, with her students. "I look forward to seeing you in the pod soon!"
Alice Pead
Alice has taught yoga for over 15 years. Alice first came to yoga by healing her own chronic back pain through yoga. She has a caring teaching style,
communicating her passion for yoga with clarity. Her yoga training began in hatha yoga and chi-gung in 2008, with continued training in 2012. Alice is also an Intuitive Holistic Healer. She took her first course in healing in 2017 with an AromaTouch Technique course. Alice now has an array of healing modalities including Crystal Reiki, Indian Head Massage, Sound Therapy, and Light Language.
Alice offers a unique blend of hatha yoga and chi-gung classes including, breathwork, she always finishes with a deeply restorative healing guided meditation. Alongside helping you to achieve all-body toning, strength and balance through asanas, Alice will work to release toxins held physically in
the body and subtly in the emotions, by guiding you through anything from a fast cardio vinyasa flow to a gently restorative yin yoga class.
Laina Lovegrove
Laina's love for yoga started back in 2008, when she walked into a yoga class not even being able to touch her toes, but rather than feeling defeated and never going back to another yoga class, she saw this as a real challenge, never gave up and now 14 years later she is the yoga teacher. Laina has been teaching yoga for the past 10 years, alongside being a qualified Personal Trainer. Her approach to yoga is one that is very dynamic, achieves results and is fast flowing whilst being creative with the asanas and flow. Laina's main goal in life is to be able to teach people how to move freely in without pain. Yoga is very much a part of her everyday life, as she knows the benefits it has had not only on her body but also her mind.
Ali Futrill
Ali's passion for yoga was fully ignited in the tropics of Koh Samui, where she discovered Hot Yoga and later completed her 200 hour Yoga Alliance Teacher Training in 2007. She has since undertaken training in Yin Yoga and completed an additional 300 Hour Yoga Alliance Teacher Training in 2018.
Yoga brings Ali so much joy. It allows her to move and appreciate her body for all that it can, and can not do. Ali's style of teaching style is encouraging, energising, but relaxed, and fun; aimed to let you leave everyday stresses behind. It's showing up to practice and to just enjoy the sweaty journey.
Michelle Irving
Michelle's passion for yoga started in 2012 when her son was injured in Afghanistan serving with the British Army. He had life changing injuries. He was encouraged to take up HotPod Yoga and went on to introduce Michelle to this amazing practice. She has never looked back.
Practicing yoga for over 10 years, Michelle decided it was high time to start teaching what she loves. Michelle now uses yoga to build strength and stamina, working on alignment, balance and will help you to understand how your body works whilst using your breath to guide you through your yoga practice. Whilst delivering a strong practice, Michelle will also take you into a lovely relaxation at the end of your class to help bring you into a gentle mindset. Michelle is a bubbly and energetic teacher who brings fun to the mat. Her practice will definitely leave you feeling energised.
Eliza Glynn
Eliza discovered the power of yoga 8 years ago and started practising to support her physical and mental health. In her own practise, she enjoys a challenging, dynamic flow but since completing her teacher training, has been exploring other styles of yoga. Eliza teaches yoga alongside her full-time role as a Nutritionist and is studying for a master's degree in Nutritional Therapy, specialising in mental health. She brings her passion and positive energy to all her classes, and encourages students to appreciate their body and mind, through mindful movement and breath practice. Join her for a fun, empowering flow.
Millie Mi
Millie absolutely loves practicing and teaching Yoga. After practicing various Yoga styles for 18 years, she qualified as a Hot Yoga teacher through a Yoga Alliance certified 200-Hour Yoga Teacher Training programme in 2020. Millie teaches various styles of Yoga, including Hatha Flow, Vinyasa Flow and Hot Yoga, she also runs some Special Yoga Events including Masterclasses, Yoga Workshops incorporating Yin Yoga, Restorative Yoga and Yoga Nidra. In addition, she also teaches BARRE classes, a fun class inspired by Ballet moves, fusioned with Yoga and Pilates, designed to have a full body workout and stretchout. Millie's classes are dynamic and fun. She will put you through your paces while providing different options and modifications to suit all levels. You will leave her classes feeling totally relaxed, rejuvenated and with a smile on your face.
Fiona Barrett
Fiona is a Respiratory Physiotherapist and was first introduced to yoga four years ago following the birth of her son. She now has two young boys and has totally fallen in love with yoga, maintaining a daily yoga practice. Fiona enjoys creativity and adventure in her practice and has a passion to help students discover their inner potential. Fiona brings her physiotherapy experience to classes with a keen awareness of different individuals' body shapes, movements and previous injuries. She encourages her students to explore the breath and its powerful impact on the mind and body.
Liyen Mathew
Ex-synchronised swimmer Liyen had always enjoyed being fit and active, but after trying yoga for the first time in 2019, it changed her outlook entirely. It prompted a career change from a stressful senior management position to becoming a full time fitness coach and yoga teacher. "I stumbled upon Hotpod Yoga almost by accident but soon I was hooked. I met some of the team and got chatting to one of the owners at a local festival and immediately booked myself on to the next available intensive teaching training and franchisee training. I could not wait to share this incredible experience with others. Getting up in the morning and being able to have a positive impact on someone else's life is the best motivation for doing a job. I'm discovering daily that mindful fitness and taking care of yourself is essential for a healthy body and sound mind.
the founder
Liyen Mathew
Having worked in the health and fitness industry since the age of 16, but always for large organisations, Liyen longed for the independence of running her own business. Her background in teaching group fitness classes combined with years in operational facility management has meant that owning a HotPod Yoga studio is the perfect combination. She joined 2019 HotPod Yoga Teacher Training and applied to be a Franchisee after. She is extremely excited to be launching in August 2022 in the stunning historic surroundings of the Weedon Bec Depot near Daventry. The timetable promises to offer a variety of dynamic and nurturing classes accessible for all abilities.