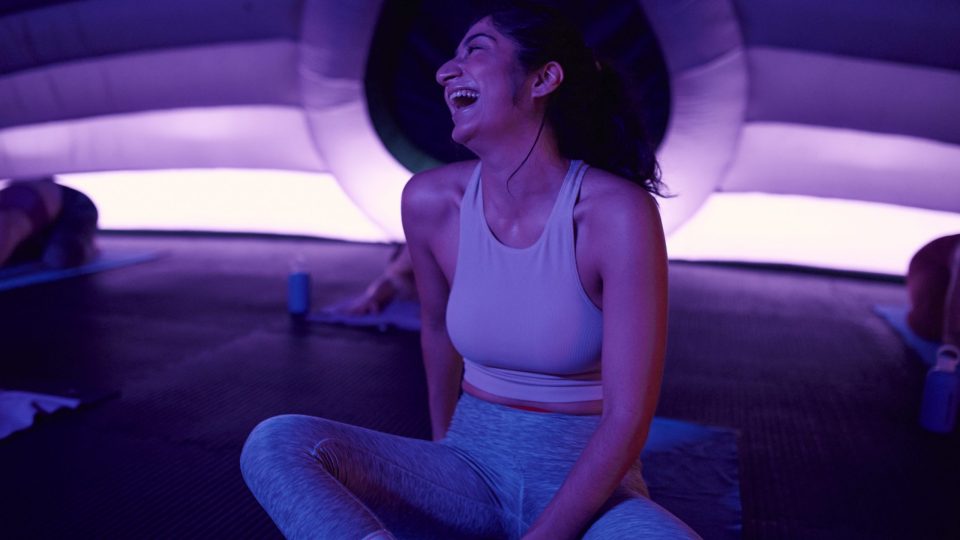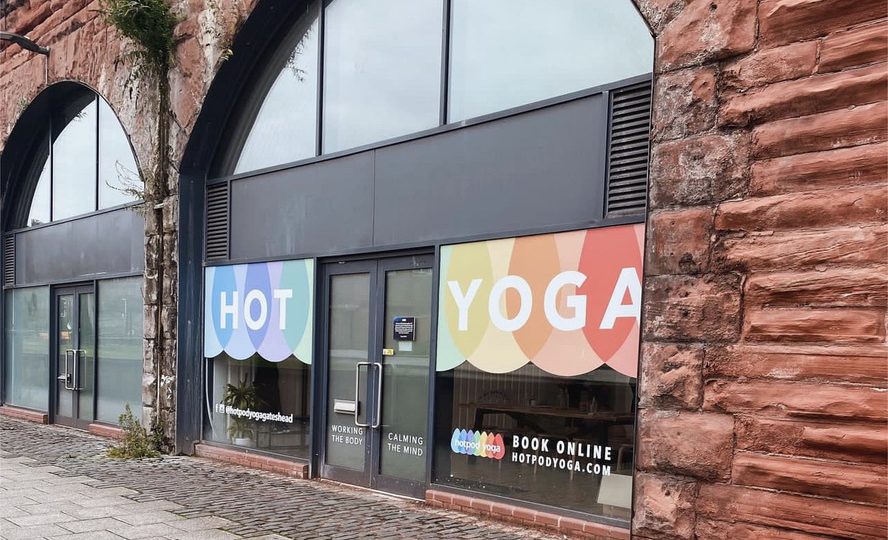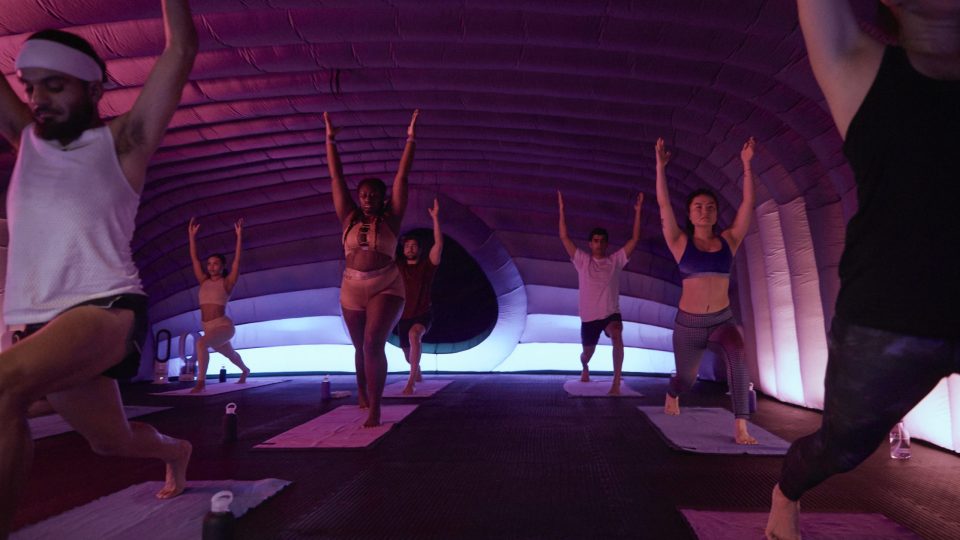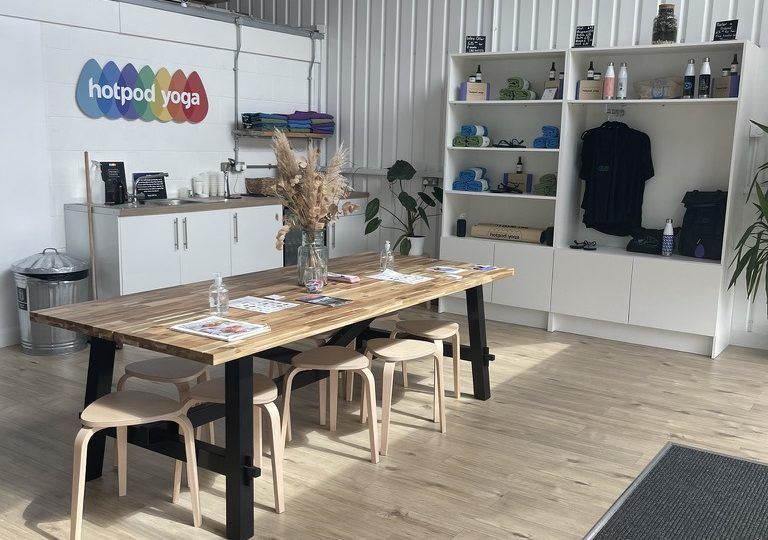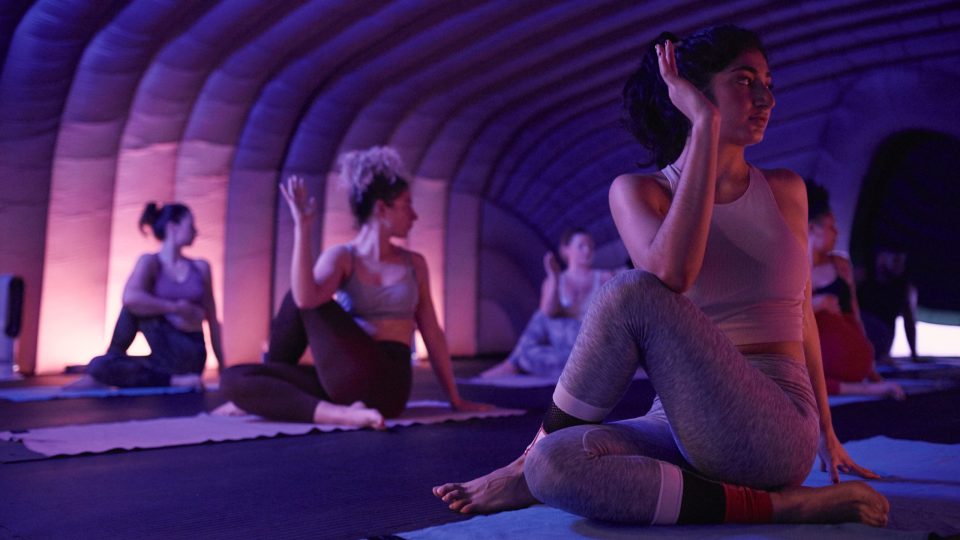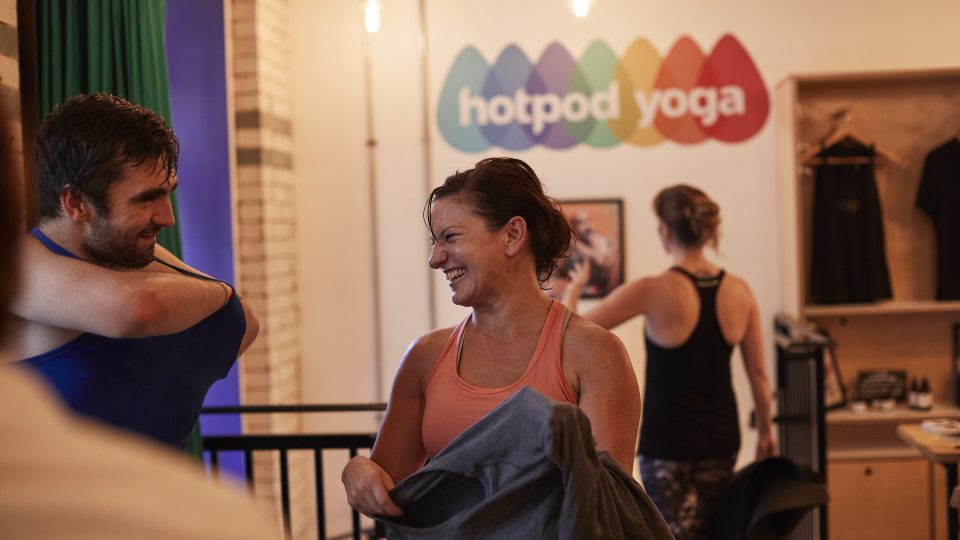 We're Europe's largest yoga business. Since 2013, over 100,000 people have immersed themselves in a Hotpod class at one of our 50+ locations around the world. You'll stretch further, breathe deeper, sweat harder and melt fully into the Hotpod experience – a balanced flow of active and passive postures, working the body and calming the mind in equal measure. For class times and more, take a look at the schedule above, then book your spot.
google
reviews
Read what a few of our happy customers have to say! We'd love it if you could support our studio by leaving a review of your own. Simply click below to share your thoughts with us.
step into our immersive pod
hot yoga in 37 degree heat
move to relaxing beats
filled with calming scents
suitable for all levels
find

us

Hotpod Yoga Gateshead, Arch 8 Hymers Court, Brandling Street, Gateshead, United Kingdom, NE8 2BA, GB
Flo Gould
I began my yoga journey in 2013 when my partner injured his spine & I went to class to provide him with moral support in his rehab journey. Little did I know that yoga would soon change my life, and in 2020, I decided to complete my YTT in both Vinyasa and Yin styles. In my classes, I like to keep things fun by focusing on sequences that provide just the right amount of challenge, so you leave class feeling both happy & accomplished! I firmly believe that what you practice on your mat stays in your life, and I try to incorporate little bits of wisdom into every single session.
James Powles
James is an accredited sound therapist and conscious connected breathwork teacher, who has long been interested in tapping into naturally altered states of consciousness for therapeutic benefit. His aim: To calm the mind and quieten the inner self-critic by delivering experiences that hack the body and brain to then receive personal insights.
This has been an underlying motivation in his practise for many years, though his urge to share these techniques with others came about during lockdown when he first discovered cold water immersion. Facing this challenge consistently led him to strive for greater emotional resilience, which he knew was lacking from as far back as his formative years. Now he is driven to share his knowledge and techniques with others, helping them navigate their own transformative journeys with support and encouragement
Nicola Lynch
Having little prior yoga experience, Nicola attended her first Hotpod class in 2015 not quite knowing what to expect. She quickly began to develop a love of fluid movement in addition to the physical challenge of practicing in the heat.
Completing her teacher training in 2022, Nicola is keen to share the positive mental and physical benefits that she believes yoga can offer for anyone open to spending time on the mat.
"My approach is inclusive and light-hearted, encouraging an element of physical challenge and exploration to support students in building strength, developing flexibility and creating a balance of body and mind"
Rachael Robson Jones
After practising yoga for over 15 years, Rachael qualified as a yoga teacher in 2020 with a 200YTT in Vinyasa and Rocket yoga. Whilst excited to share all the beautiful benefits she gets from yoga, she was still keen for more knowledge and experience. So, she decided to further her studies by completing a 300YTT in Rishikesh India in 2023.
The environment and heat of hotpod yoga is a unique experience that feeds into Rachaels goals as a teacher- from encouraging everyone to take a step away from the outside world, to work on their body and mind, and observe the wonders it can do for the spirit.
Vera Powles
Vera has been working in the healthcare and wellness industry for over 12 years and a yoga student for as long. After years working on DNA repair Vera came to understand that a full state of health requires a holistic approach and, in 2018, became a health coach. In 2022 she completed her 200hr vinyasa yoga training since yoga philosophy was very ingrained in her life as well as a driving force during her health journey. Yoga is one of the most life-changing practices for our body and soul and its teachings the backbone of sustainable, lasting, wholesome, wellbeing change. Her teaching is grounded in the knowledge that our health goes beyond how we eat, move and sleep. She's passionate about empowering her students to discover physical and mental wellbeing and finding personal growth by taking yoga off the mat and into their lives.
Susan Urwin
Working as a PT in the fitness industry for years, Sue began practicing yoga as a way to balance her time in the gym. She quickly came to realise the multifaceted nature of yoga, finding there is a practice to suit every mood.
After moving into a stressful corporate job, the true benefits of yoga shone through: the connection between breath, body and mind. Sue found that after every session, whether challenging or restorative, she felt calm and centered. It changed her mindset and life in so many ways. From then on she decided she wanted to share this and help others see the benefits yoga can have on their everyday lives.
Francina Connolly
I first found yoga at my local gym in 2002, I practiced weekly and felt great then in 2009 a friend recommended hot yoga and my life changed forever. I practiced daily and became part of a wonderful and supportive community, my practice and the people around me gave me more strength (physically and mentally) than I could ever have imagined.
In 2014 I took my 200hr teacher training in London. I LOVE teaching yoga. My mission is to spread the love, to support and encourage my students to have the confidence to do the things they never thought possible.
Joanne
My first yoga experience was with Hotpod, when I visited the studio in 2018. I loved being cocooned in the pod with no distractions, the mood lighting, aromas, working with the heat, and how I felt when I finished a class.
In 2021 I travelled to Mexico where I completed my 200 hour teacher training. I continued to travel, experiencing many styles of yoga classes and teachers. Once I returned to the UK, I decided to start an advanced 300 hour mixed styles teacher training.
I am very interested in Nutrition, Holistic therapies and Ayurveda. I love to travel, exploring different cultures, being in nature and the outdoors.
Gary Walker
Spiritually a White Tiger is renowned for its strength and majestic fierceness. It traditionally symbolizes strength, courage, willpower and vision.
After first finding yoga in 2009, Gary Walker, the man behind White Tiger experienced a life changing event which led to the spiritual awakening of his yogic practice.
From India to Cape Town learning the practice of Hatha, Ashtanga and Vinyasa his down to earth approach will guide and relax you into the practice no matter what your level.
Kim Wells
Kim has been involved in the fitness industry for over 30 years, both as an instructor and as a lecturer for fitness qualifications. She holds an L4 Diploma in Teaching Yoga as well as qualifications in Pilates, Low Back Pain Management and Pregnancy. She believes everyone can benefit from yoga and aims to provide thoughtful modifications, adaptations and progressions in every class.
Becky Mendoza
Despite my growing curiosity it was eventually shin splints that actually got me through the door of a yoga session way back when. I can understand the difficulties we can face in booking that session. I therefore think it's important to create a welcoming environment, and like to think my classes are pretty down to earth.
Plus, yoga REALLY is for every body. Part of the appeal is that in yoga there is no competition, the mat asks nothing of us, we just need to turn up and move a little, breathe a lot and hopefully leave a bit lighter.
I've absolutely loved my journey to teaching and developing my knowledge. I continue to seek ways to expand what I can offer people. I've trained in various styles of yoga and love a vigorous flow as much as I enjoy something calmer. I like to thread balance throughout my sessions and encourage us to work with what our body brings us that day. I have delved deeper into working with injury, yin, breathwork and yoga nidra since qualifying in 2018.
Grace Johnson
Grace first began practising Yoga in 2013, as a way to ease injuries & stress she was beginning to struggle with day to day. Whilst originally the practice started out as simply a physical challenge, it wasn't long before the overall benefits of the practice began to impact on not only her physical wellbeing, but also her mental health for the better, and is something that she really believes can benefit everyone, in some way.
After completing her first 200Hr teacher training in 2017, 300Hr in 2019, plus a Fitness Instructing qualification in 2021, Grace's classes are constructed to connect strength and softness, improve mobility & flexibility, all the while making sense to our bodies on a anatomical & cellular level. You will be encouraged to release expectation, explore new movement patterns, in an accessible environment.
Natalie Lyon
Natalie's background is based in fitness and dance, loving physicality and movement as a way to express and release. "Yoga has so many physical, mental and spiritual benefits, balancing both the mind and the body." After completing her 200 hr YTT in India, Natalie is excited to share her love of Yoga with as many people as she can reach!
Emily Harkness
Emily's love of yoga began in 2007, when she first stepped on the mat in her university gym. As a teacher, she brings a playful energy to her classes, helping students develop their practice while not taking themselves too seriously. In her spare time, she loves going to gigs, staying active, reading, and eating Korean food (she lived there for 3 years).
"As a Canadian who hates the cold, hot yoga has always been a personal favourite and I can't wait to welcome you to Hot Pod Gateshead!"
Ania
Having a background in contemporary dance, I've always been attracted to various forms of movement. I dabbled with different styles of yoga in studios and online, but it wasn't until I found Hotpod Yoga that I started seeing yoga as my favourite form of exercise and self-care. I'm a 200 hrs certified vinyasa teacher who loves surprising her students with creative transitions and introducing them to new poses. My classes are challenging, yet inclusive, aiming to create a space where you can feel supported as you explore the limits of your practice. I hope everyone can leave my classes feeling energised and accomplished. When not on my mat, you can find me hiking up the hills of the Lake District or exploring coastal walks in the North East—almost always in the company of my dog!
Zoe Moorton
In 2016, Zoe trained in the foot of the Himalayas, India and has been teaching in a variety of styles since.
"My favourite thing about yoga is the warm buzz at the end of the class when everyone has messy hair, big smiles and are feeling more human."
Zoe liked to match my style and sequences to the energy of the room and always encourage students to listen to how they feel both mentally and within their bodies. She teaches in an inclusive, friendly and relaxed manner.
"It's always my goal to make people laugh and feel at home."
Greta Heath
Whilst studying for a degree in Contemporary Dance, Greta discovered the restorative, physical and mental benefits of exercise and yoga. Having completed the 200hrs yoga teacher training Greta began exploring opportunities to teach and realised that she had a great passion for working with people and helping them to discover the benefits of yoga. It also helped her in understanding how her own body operates and how best to work with students therapeutically. To further complement her dance and yoga training Greta has also completed further qualifications in The Alexander Technique, Yin Yoga, Personal Training and Exercise referral.
Greta's classes focus on relieving stress and promoting wellbeing through movement. Her classes are always designed around individual needs and are aimed at improving concentration and restoring balance as well as increasing physical fitness. With her background in yoga and dance Greta always places great emphasis on the fluidity of movement and the importance of breath in movement. She teaches a range of styles including Vinyasa flow, Hatha and Yin Yoga. She also teaches dance and exercise classes in a variety of settings around the North East.
Bethany Demelza
Bethany completed her Yoga teacher training in 2020 where she has been trained in Hatha and Ashtanga based Yoga. "I began practicing Yoga 6 years ago, at a time in my life that was particularly challenging. It changed my life completely, leading me onto a new path, and sharing its benefits was a top priority."
the founder
Stacey Olson
There's a Canadian yoga fanatic in toon. Stacey has trained and taught yoga all over the world including India, Bali and Thailand. Moving from Canada, to London, to the Northeast as a primary school teacher, Stacey quickly realised that she was ready to swap literacy for leggings; maths for the mat. Having trained in and taught many different yoga styles, Stacey is excited to bring the multi-sensory Hotpod experience to the Gateshead Quayside!