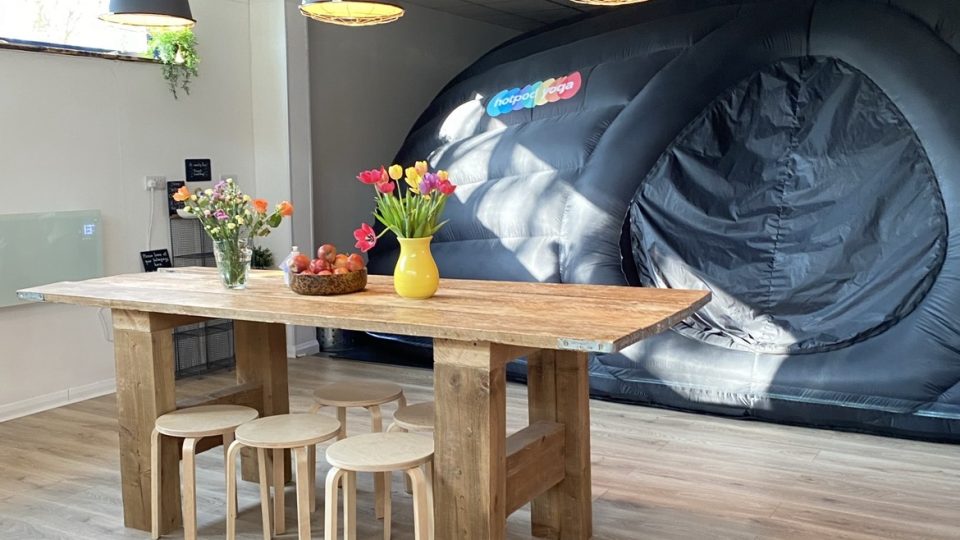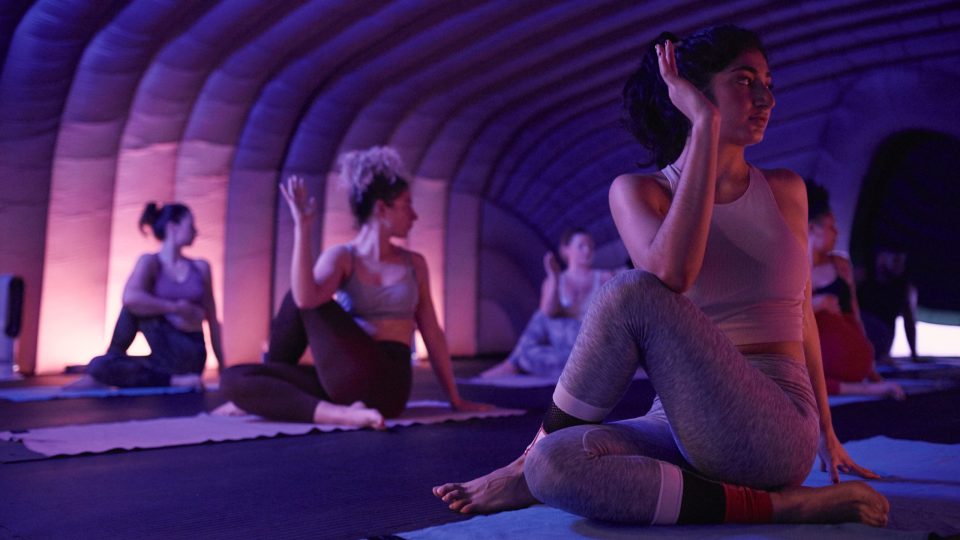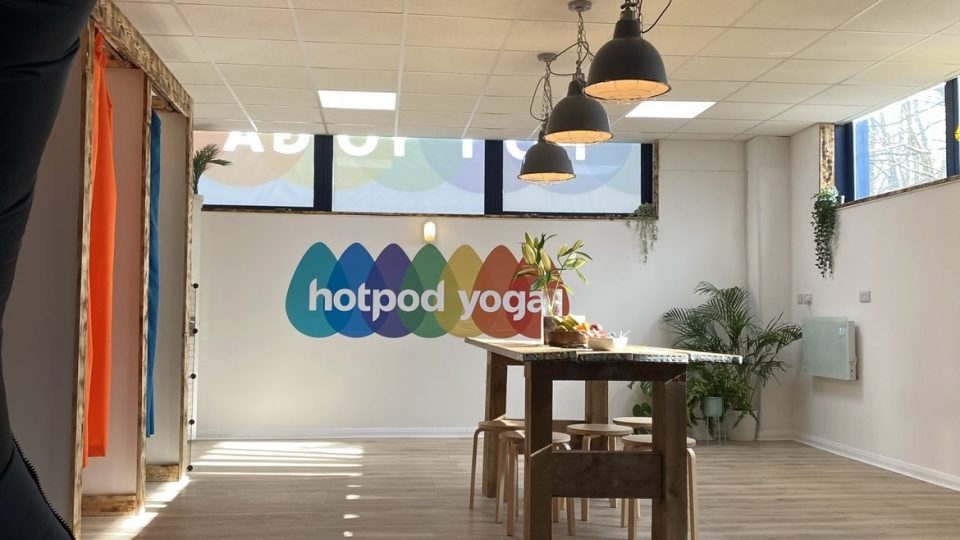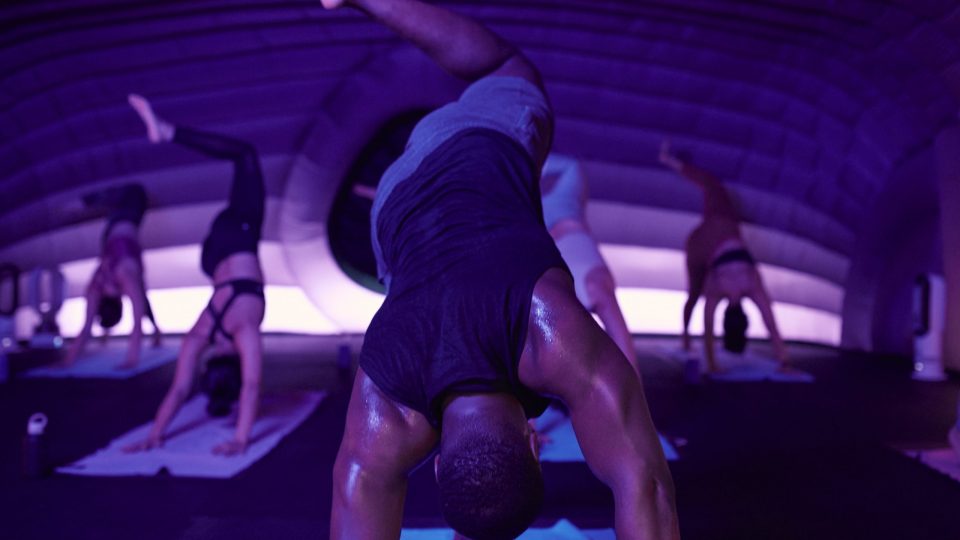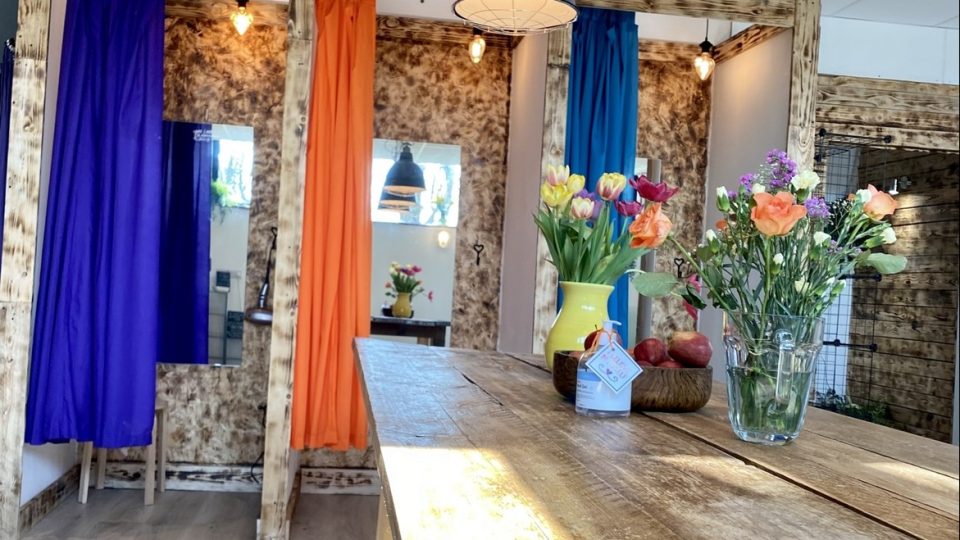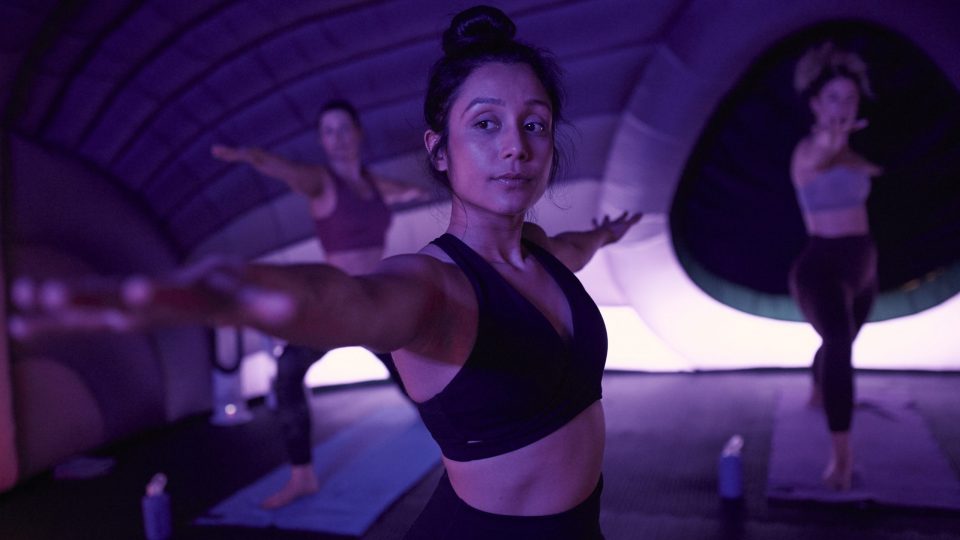 We're Europe's largest yoga business. Since 2013, over 100,000 people have immersed themselves in a Hotpod class at one of our 50+ locations around the world. You'll stretch further, breathe deeper, sweat harder and melt fully into the Hotpod experience – a balanced flow of active and passive postures, working the body and calming the mind in equal measure. For class times and more, take a look at the schedule above, then book your spot.
Showers

Mats

Changing

Parking
step into our immersive pod
hot yoga in 37 degree heat
move to relaxing beats
filled with calming scents
suitable for all levels
find

us

Hotpod Yoga Redditch, 2a Broad Ground Road, Redditch, West Midlands, B98 8YP, GB
Esther
I found yoga in 2011 as a way to minimise the injuries I had been sustaining through exercise. I didnt expect to become so instantly hooked and quickly experienced many benefits both physically and mentally. In 2016 I took the plunge to become a teacher and trained in Vinyasa/Hatha styles.
After attending my first Hotpod class I never looked back. For me its the perfect balance of everything I need from a yoga class: the flow, the music, the light and the ambience. The teachers continue to push you physically whilst still allowing you to quieten your mind from the outside world. As a teacher my main aim is for to my classes to be accessible to all, playful and fun.
Outside of the pod I love weight training, listening to great music, travelling, spending time in nature and eating everything in sight.
See you on the mat soon!
Anna
Anna is a qualified Level 3 Personal Trainer, Yoga Teacher and Functional Range Conditioning Coach with a wealth of knowledge across a wide range of movement disciplines from her career as a gymnast, acrobat, dancer and aerialist. Anna has taken all of her prior training and knowledge to develop her own system of training and coaching with a passion for helping people learn new skills, move with confidence and get both strong and mobile.
Emma
Since Emma became a fully qualified Yoga teacher back in 2017 her experience, knowledge, and passion just
keep's growing. She is also qualified in children's yoga, mindfulness, meditation, yoga nidra and her
Anatomy yoga training.
She describes her yoga classes to be creative, energetic, fun, and inspirational, which help nurture the mind,
body and soul, leaving you feeling relaxed and well balanced. Her passion and love as a dedicated yoga
teacher always shines through.
Her main aim is to send Kindness through Yoga and to help people let go of stress, anxiety, and tension. She
has always called Yoga 'magic' from the first day she stepped on her mat, as it really has transformed her life
in so many ways and still does help every day, she just can't wait to share the 'magic' with everyone else.
Abi
Abi's love for Yoga began in 2019 when she first stepped into Hotpod Bromsgrove and was instantly immersed. The experience of her very first class left her feeling calm yet energised, relaxed as well as stronger. This inspired her to want to learn more about the practice and went on to become a qualified 200hr Yoga Teacher and in addition completed her Hotpod training.
Abi is passionate to share the mental and physical benefits Yoga has to offer as well as teaching us to slow down in our fast paced daily environments.
Connecting the breath with movement, the uplifting aromas, heat and fluid flows you will leave Abi's classes feeling brighter, relaxed and uplifted
Maria
I was first introduced Into HPY back in 2015 as a full time mum looking for some 'me time'. I loved it. From going back into the industry after a career break a few years earlier my journey into yoga progressed from Yoga, Tai Chi & pilates to wanting to complete my YTT and delve into the world of Hotpod. I can't wait to share my experience of Hotpod with everyone.
Shannon Baggott
I've always been passionate about fitness and exercise since a young age. A dancer through my childhood, enjoying weightlifting, moving and keeping healthy is something I've always loved to do.
Yoga has the element of dance and fitness to it which is what first intrigued me; the aesthetics, flexibility and all the physical benefits.
As well as the physical benefits to yoga there are so many mental benefits. The way you can control, calm your body and mind down through practice whether it be with mediation or flowing through postures energising the body and stilling the mind. Yoga is the perfect way to give something back to yourself and feel restored and uplifted.
I was instantly hooked when I found the pod and knew this is something I wanted to share with everyone. This led me to take the step to do my RYS200 hour Teacher training with Hotpod Yoga.
Teaching classes which are accessible to anyone, flowy, energetic and uplifting is my favourite thing to do.
Hope to see you soon!
Kaz
Kaz is a qualified Vinyasa yoga teacher, a Les Mills Body Balance Instructor. She
has a passion for ensuring her participants get the maximum effort from their
yoga practice – whether they are seasoned or not!
Every day is a school day
there is nothing that cannot be learnt or experienced from her class. Everyone
will feel a sense of achievement from the yoga practice as well as strength
calm.
Kaz has been practicing yoga for the past 15 years along with a busy day job
family life. Taking time out for her own practice and qualifying as a yoga teacher
is a true testament to her commitment in creating a calmer & fitter planet.
Harriet Elizabeth
Harriet is a local yoga teacher who loves helping students connect to their body and breath. She encourages mindful movement and likes each class to be an experience. She is friendly and welcoming for new students and regulars alike. Outside of yoga she has two cats, a husband and a lot of books to read!
Jenna Shortall
Jenna immediately fell in love with the detoxifying and uplifting affects that Hotpod yoga classes create. She loves the combination of heat and flow movement. She discovered the huge benefits of the practice not only in building strength but also in calming the busy mind. Inspired to become a yoga teacher, Jenna completed her 200hr vinyasa flow training with Hotpod Yoga. Jenna's classes are strong and energising and are suitable for all levels.
Kate Sexton
Kates yoga journey started in 2011 like most people she needed an outlet for modern day stress and anxiety. Already being in to fitness one yoga class a week fitted her lifestyle and training. But the curiosity and passion became so strong after furthering her own practice over the years that in 2017 she obtained her yoga teacher training.
After coming across HotPod she fell in love with the concept. The environment, music and teaching style resonated with her so much she went on to do her Hotpod training. Kate's main goal is to educate others to use yoga to compliment an array of sports and fitness lifestyles along with slowing things down and taking some much needed time out for oneself.
Yvonne Cridland
After years of practising yoga intermittently, Yvonne started a regular practice of Ashtanga. From this the true mental and physical benefits of yoga became clear to her and this inspired her to try many different types of yoga including Hatha, Yin and Vinyasa. Yvonne then began to attend Hotpod and straight away became hooked! Being a primary school teacher, Yvonne has a real passion for teaching so then decided to combine this passion with her love of yoga! In 2019 she went on to undertake her Level 3 Diploma in Yoga followed by her Hotpod training in London.
Yvonne's classes will leave you feeling energised and uplifted whilst also leaving you with a more calm and focused mindset.
Helen Hunt
Helen has been practicing yoga since 2002 and has explored the many different styles of yoga before completing her first TT in early 2017. A Physio for the last 15 years she loves how much yoga can benefit both mind and body and be adapted to suit every individual.
From the moment of stepping into the pod on the opening day of Hotpod Bromsgrove Helen was hooked and went on to complete her Hotpod teacher immersion training at Hotpod HQ in 2019. Helen's classes will be high energy, focusing on great form so you leave a class feeling uplifted with a deeper understanding and belief in your own unique and amazing body.
Sumita Williams
Sumita had her first experiences with yoga from her father, as a child, on their many travels to India. She found yoga personally beneficial, whilst studying for her degree, as a way of relieving stress and loves the feeling of complete relaxation it can bring. Sumita also loves the wonderful physical benefits yoga can offer, increased flexibility, strength, and toning, rehabilitation from injury, surgery or illness.
Sumita completed her teacher training over 2 years with FRYOG, Friends of Yoga, in 2017 in Hatha yoga and teaches in the Birmingham area and joined the Hotpod team that same year. Her approach is friendly, fun and all encompassing and she hopes that you will leave feeling physically challenged, mentally relaxed and refreshed at the end of class. She looks forward to seeing you in the Pod!
Kelly-Anne
My yoga journey began in 2014 at Hotpod where I took my first ever yoga class! I was immediately hooked and knew straight away that I needed more of it in my life. I've been guiding yoga for 2.5 years now after training with Strala Yoga. Whether I am guiding classes or taking classes, it gives me the balance I need in my busy life! I guide a mixture of people, from dancers to footballers and everyone inbetween!
Janice Kelly
Jan began her yoga journey in 2014 when she joined Hotpod Yoga Solihull to complement her running and immediately became addicted to the challenging classes in the unique heated environment and atmosphere created in the pod! The natural step for Jan was to complete her Yoga Teacher Training with Hotpod Yoga which she achieved in 2018. Jan's classes will be strong and fluid leaving you invigorated and uplifted.
Liberty Selvester-Webb
Liberty's yoga journey began in 2014 at Hotpod Yoga Solihull. After trying one class she was completely hooked by the immersive beauty of the pod as well as the high energy classes. Having worked in the fitness industry for many years Hotpod Yoga brought a completely different dimension to her perception of fitness so in 2018 Liberty completed her Yoga teacher training with Hotpod Yoga. Liberty's classes will be high on energy and will leave you feeling lifted and refreshed.
the founder
Liberty Selvester-Webb
Liberty was born and brought up in Birmingham. She found Hotpod Yoga several years ago and it changed her perception of yoga, she left her first class feeling energised, wanting more. After attending Hotpod regularly, she made the decision to do her teacher training with Hotpod Yoga at the Brixton HQ. She felt so passionate about Hotpod, she knew this was something she had to share with as many people as possible. So she decided to take the leap and bring her very own Hotpod to Redditch, where she could share the benefits with her local community and make it accessible to as many people as possible.