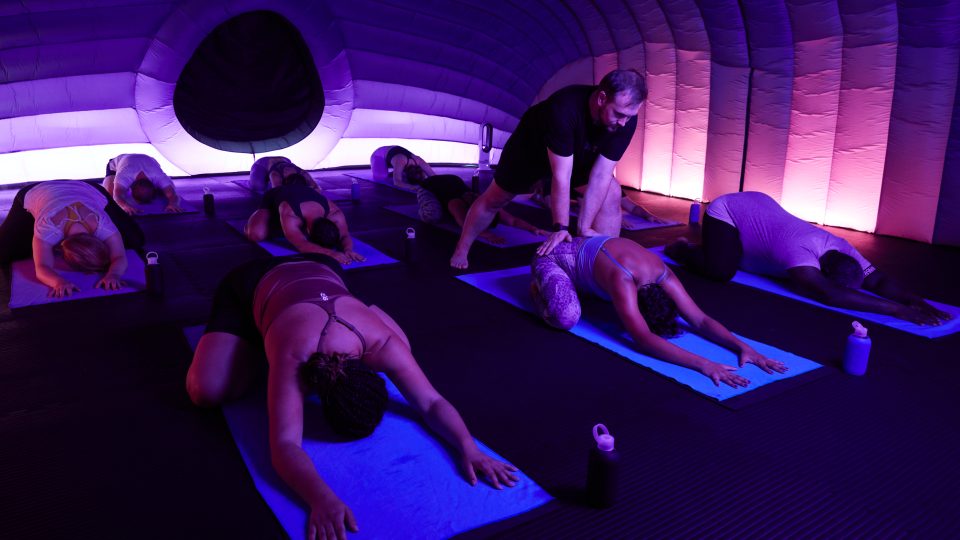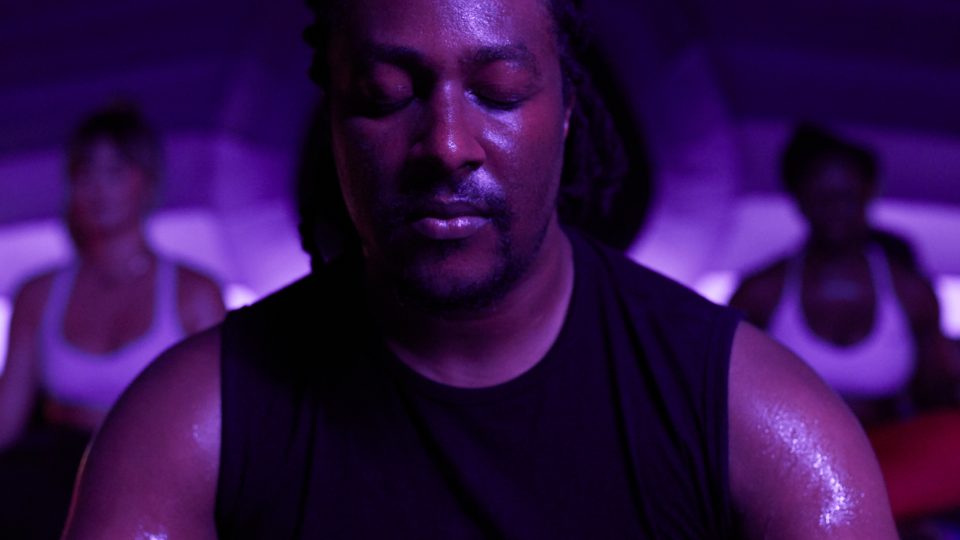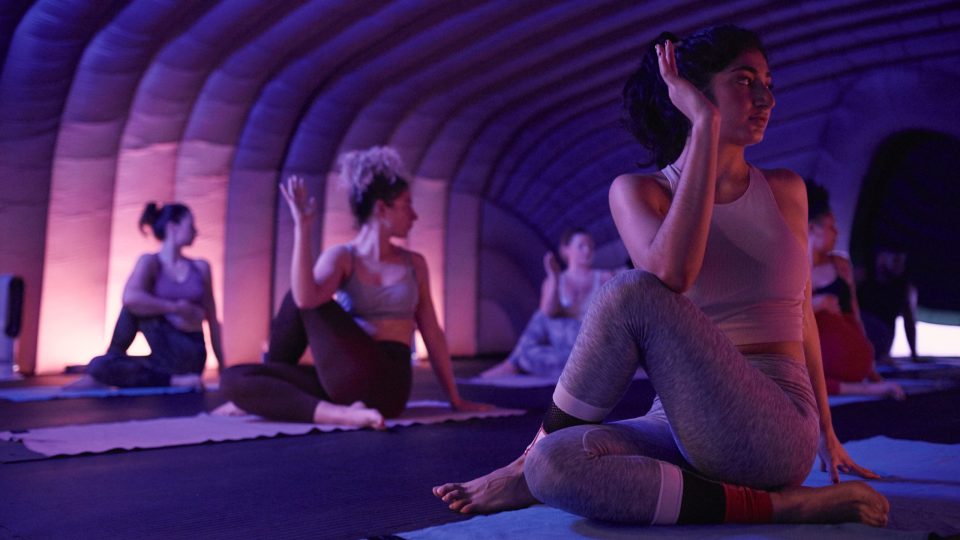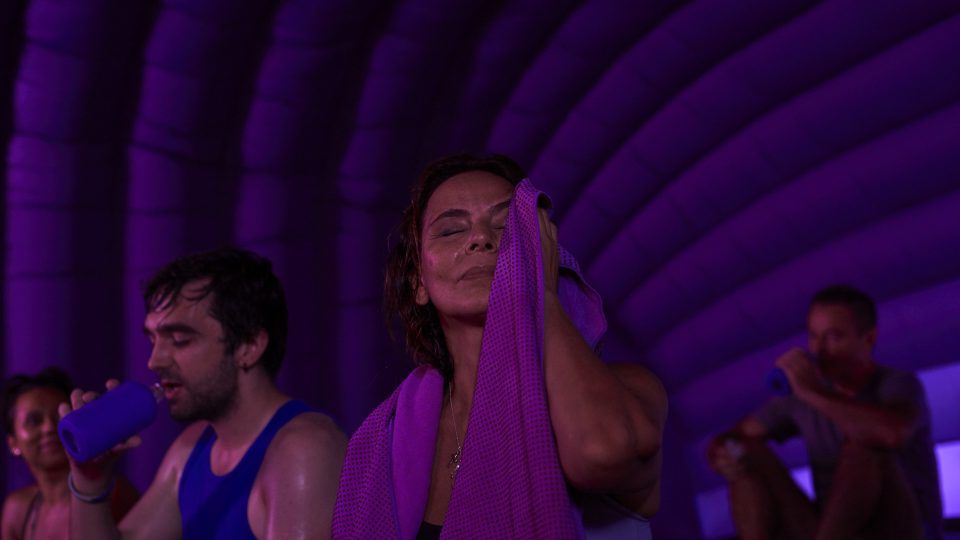 We're Europe's largest yoga business. Since 2013, over 100,000 people have immersed themselves in a Hotpod class at one of our 50+ locations around the world. You'll stretch further, breathe deeper, sweat harder and melt fully into the Hotpod experience – a balanced flow of active and passive postures, working the body and calming the mind in equal measure. For class times and more, take a look at the schedule above, then book your spot.
google
reviews
Read what a few of our happy customers have to say! We'd love it if you could support our studio by leaving a review of your own. Simply click below to share your thoughts with us.
step into our immersive pod
hot yoga in 37 degree heat
move to relaxing beats
filled with calming scents
suitable for all levels
find

us

8 Morden Road, London, London, SW19 3BH, GB
Alexandra
Alex has always had a passion for movement, from ballet to finding a love of yoga which she has been practicing for over 10 years.
She believes the key to a happier life is enhancing the mind-body connection, creating moments of inner peace and focusing on strengthening and lengthening the body.
Her classes are mindful and dynamic and she also teaches pre & post natal yoga.
Gemma B
A psychotherapist for the NHS, Gemma is a big advocate for finding that much needed moment of stillness amongst our hectic schedules and believes there is no better place than on your mat in the pod.
She loves the focus yoga brings; moving the body whilst calming the mind. Gemma wants to share these benefits with others, by bringing energy, warmth and most importantly a smile to her dynamic classes.
Akash
Akash stumbled upon yoga during his job working in Investment Banking in London. Soon after, answering an inner call, he left behind his corporate job, diving into a yoga teacher training in India, where he delved deep into the mind-body-spirit connection.
From the golden beaches of Bali to the untamed jungles of Ecuador, Akash's curiosity led him to explore various healing modalities – movement, breathwork, tantra, art, bioenergetics, martial arts, shamanism etc. As he completed his second 200-hr training – he was teaching (Hatha, Ashtanga, Tantra yoga) in various countries travelling across the Americas.
Akash is passionate about holding spaces that facilitate healing and transformation. Through a blend of playful exploration & deep reverence, he guides others to understand their body, breath, mind & energy. You can expect his classes to have a balance of strength & flexibility, bodyfulness & mindfulness, and end up feeling relaxed and energised.
Alice M
Alice's yoga journey started when she took her first yoga class over 7years ago. It started off as a way to stretch and lengthen her muscles being a professional dancer but after realising the incredible impact yoga was having her daily life, Alice never looked back. She loves to guide her students to find the benefits of using their breath, slow down and reconnect to themselves, mind, body and soul. Having trained in Vinyasa, Yin, Pranayama and Meditation expect her classes to focus on becoming present whilst energising through the body, building strength and stability within. Her main goal is to help build a safe space to move your body with no judgement or preconceived ideas on what your practise should look or feel like. Building tools that you can take off the mat when life gets a bit much.
Megs
Megs found her love for yoga when craving an escape from her stressful city job. Her classes focus on physically strengthening the body whilst calming the mind from everyday stresses. Megs' classes are beginner friendly, yet with plenty of options for more advanced practitioners to add in. Doing her teacher training with Hotpod Yoga has allowed her to gain a deeper understanding about the benefits of the heat on the body whilst practicing yoga which is intertwined into her classes. Megs also has a keen interest in breathwork and uses this within her classes to create a sense of moving meditation, giving the class a mental break from both everyday and deeper stresses whilst strengthening the body.
Maud Eeckman
Maud believes that we need to live less in our heads and more connected with our bodies. She infused her class with modern-day philosophy to help you get out of your busy mind and into your body. You will leave your mat calmer to respond to the daily demands of life, lighter overall and more alive than ever. She also spent 12 years in Investment Banking so knows how to make the practice accessible to whoever needs to reset from the busy-ness of modern life. Come and join her on the mat to feel better and become better at feeling.
Nigel
Growing up with a family member suffering from debilitating depression led Nigel on a search for wellbeing. He gained a strong interest in personal development and spent time diving into various physical practices including Weight Lifting, Calisthenics, and Boxing, and teaching them as a qualified personal trainer. He also developed a passion for philosophy, positive psychology & mindfulness. Nigel started practicing Yoga whilst looking for a more holistic approach to fitness and quickly fell in love with it. He empowers his students to move with strength, calm, and control to reach a flow state of mind. He likes to keep things fun and aims to help break down yoga stereotypes.
Dalma
Dalma has always been an active person and she loves to mix up movements and adventures week after week. Her varied interests include cycling, swimming, climbing and hiking. These have complemented her recent passion for all things Yoga and especially Hotpod Yoga which she started to practice with avid determination. After completing the 200h Teacher Training, the HPY course was, in her words:
"An amazing, eye-opening experience. The training really allowed me to dig deep into the 'self' and I was mesmerised by the teachings of Yoga Philosophy."
Her intention is to create a calm and nurturing atmosphere where students feel completely comfortable to turn their focus inward while practising Yoga. She truly wishes that during your practice you will feel physical and mental benefits and develop expressions of heartfelt emotions that HPY can bring.
"I am looking forward to sharing this wonderful journey with you." – Dalma
Chade
I discovered yoga when I was 15 years old, and I instantly fell in love with everything about it. The practice of yoga became a part of me and allowed me to find myself in ways that I never knew existed.
In 2018, I completed my first 200hr teacher training so that I could not only deepen my own connection to yoga, but so that I could share this holistic practice with others too. I teach a dynamic vinyasa class that embodies the union of the mind, body and breath. My classes allow for individual discovery and creativity as we move through strong and playful asanas while integrating mindfulness of the breath and the self.
My intention is to share as much of my light, love and knowledge with you, so that you can continue expanding into the most authentic version of yourself. I can't wait to share your Yoga Journey with you.
Carla
Carla is Welsh but has lived in London for over a decade and finds it hard to consider being anywhere else. She originally trained as an actress, started teaching yoga in 2013 and hasn't looked back. Her classes are steady, strong and mindful. She has over 600 hours of training, likes to keep things fun, and wants everyone to enjoy the benefits of this amazing practice.
Colly
As a passionate long distance runner & regular five-a-side footy player, Colly found yoga as a means of recovery for a busy sporting schedule. Having trained with Hot Pod Yoga in 2018, he's now also trained specifically in teaching yoga for sports and to athletes with Manchester United's Sarah Ramsden, as well as developing a strong interest in the role of the breath with his Oxygen Advantage breathwork training. He enjoys challenging, mindful movement to get you out of the head & into the body
Alex G
Alex started dancing before she could walk. Her fascination with the arts became her career as an adult and she went on to perform in numerous musicals and other theatrical productions. After being out of the theatre industry for a year Alex Needing something new to sink her teeth into and found the fitness industry. She now specialised in teaching Hot and Power Yoga, Pole Fitness, Barre and anything else that uses dance based techniques. She is excited to share her passion and energy with you.
Becca
Having been exposed to an active and outdoor lifestyle from a young age, Becca has always been up for trying new sporting challenges. Initially getting into yoga to compliment running & exercise, she soon became hooked and qualified as a yoga teacher in 2016. She has since been teaching dynamic vinyasa flow classes, and expanded her knowledge into yin yoga and basic Pilates. Her teaching aims to link steady breath with every movement, offering an experiential practice that gives variations in order to welcome and empower students of all levels and experiences.
Orly
Orly qualified as a yoga teacher in India in 2016, and started teaching for Hotpod Newcastle in early 2017. Since then she's never looked back, and has recently had the good fortune of seeing her Hotpod family expand following her move to London in 2020. Orly loves having the opportunity to meet so many wonderful people with shared passion through her work and is so grateful for her place within the Hotpod community.
Miztli
Miztli Rose is a London based yoga teacher of British and Mexican heritage. She first discovered the joy of yoga whilst training as an actor at The Royal Academy of Dramatic Art. After practicing for 5 years, Miztli decided to undertake her 200 hour teacher training with Hotpod. Since then she has taken further training in Pregnancy, Yin and Restorative practices. As a teacher, Miztli is particularly interested in the power of yoga to help enhance creativity, and is passionate about helping students nurture themselves through movement. When she is not teaching, Miztli continues to work as a performer and comedian.
Lindsey
Lindsey hails from Canada and when she's not flowing with you in the Pod, she can be found at the theatre or wrapped around a cuppa.
Sarah B
Sarah started out as a ballet dancer, dancing was her life and she loved everything about it. After graduating from dance college she worked as a dancer onboard P&O and costa cruise ships and explored the world. Once this chapter in her life came to an end she was looking for a way to stay fit and strong, having trained her whole life so rigorously. She discovered hot yoga first, she remembers laying on her mat at the end of a horrendous hour of crazy yoga poses and sweat and she thought…..this feels like dancing, the technique, the power, the grace. From there she tried out different styles of yoga, Ashtanga, Hatha, Forrest, Vinyasa. She fell in love with the vinyasa style instantly. She trained at Hot Power Yoga studio in Clapham, London in October 2015 and has been teaching ever since. She started teaching at gyms-Anytime fitness, Fitness first and later progressed on to yoga studios- Blok, AM Power yoga studio, HPY studio, Hot Pod yoga studios. She has taught students of all abilities and experience throughout her teaching career and also those with injuries. She teaches pre/post natal yoga, restorative yoga and vinyasa yoga.
She is best known for teaching a powerful, dynamic, energetic vinyasa class. With many modifications to suit every student from beginners to the advanced yogi. You will become strong, flexible, grounded, toned and very fit if you train with Sarah. She knows how to make you sweat so if you are willing to put in the work and push yourself to your limits, Sarah is the teacher/trainer for you. She also likes to make you laugh while you're flowing/training so prepare yourself for endless dad jokes!
Olivia
Olivia is a yoga instructor with over 10 years' experience of personal yoga practice and a background in competitive sports and ballet. Outside of the pod, Olivia works in financial marketing and events so understands the pressures of corporate life but loves to unwind and refocus through hot yoga.
Olivia brings mindfulness and a physical practice influenced by functional training and movement to the Hotpod community.
Ildiko
Ildiko was born in Hungary and moved to London at the age of 18. She discovered yoga when she was going through a difficult phase in her life. During this time she realised that her true passion is about helping others and pushing them to achieve their goals. She loves motivating and inspiring people on their journey and seeing others succeed in making their life more fulfilled.
Georgie Baba
Georgie immediately fell in love with yoga after discovering all its beautiful forms. His classes are tailored for every ability, body and walk of life, feeling that yoga is in every way it is expressed, good for everyone. He is also an aromatherapist and body worker, has a love of plants, natural health and is passionate about the subtle body, the great Yogi's and enjoying life with a smile.
the founder
Georgie Baba
Georgie met yoga through physical pain & a longing for something fulfilling. Six years later & he is in love with teaching and specifically the Hotpod Yoga South Wimbledon studio. After class he loves the feeling of connection & clarity yoga gives him. His teaching offers fun achievable structure & moves beyond "just poses". He aims to leave you with the great question in yogic philosophy... you've practiced, what next?