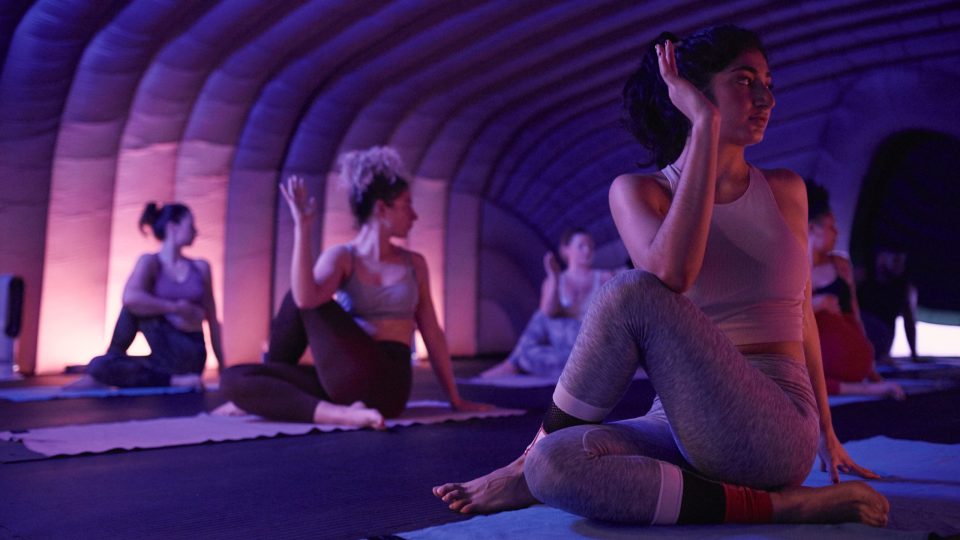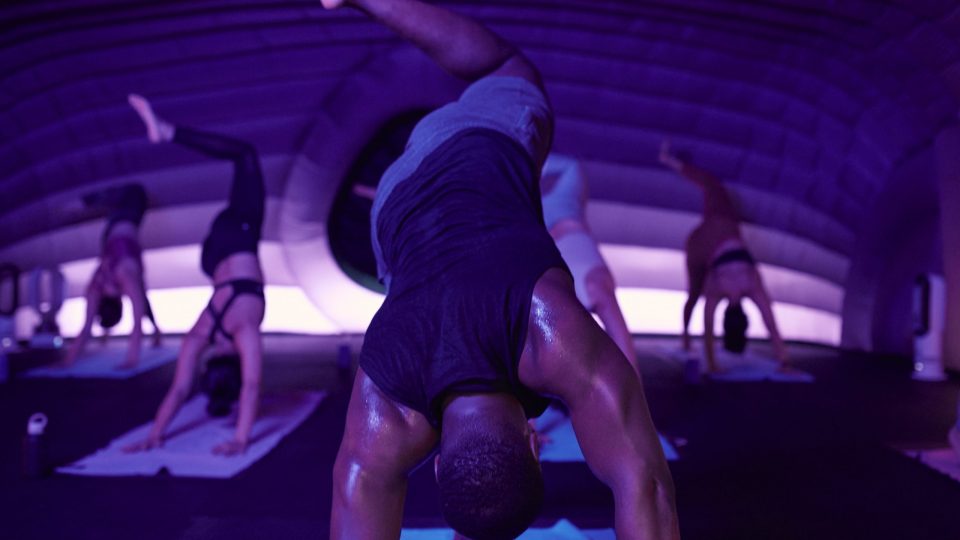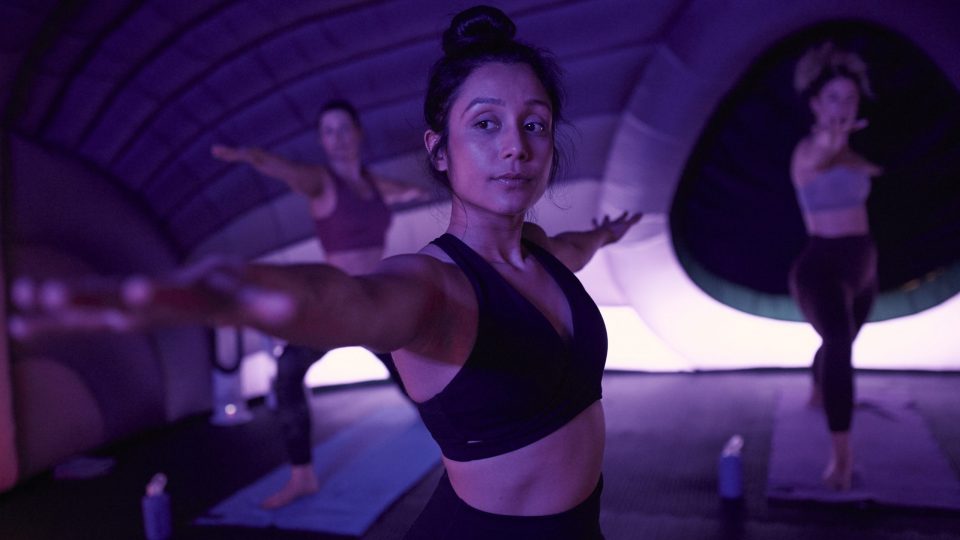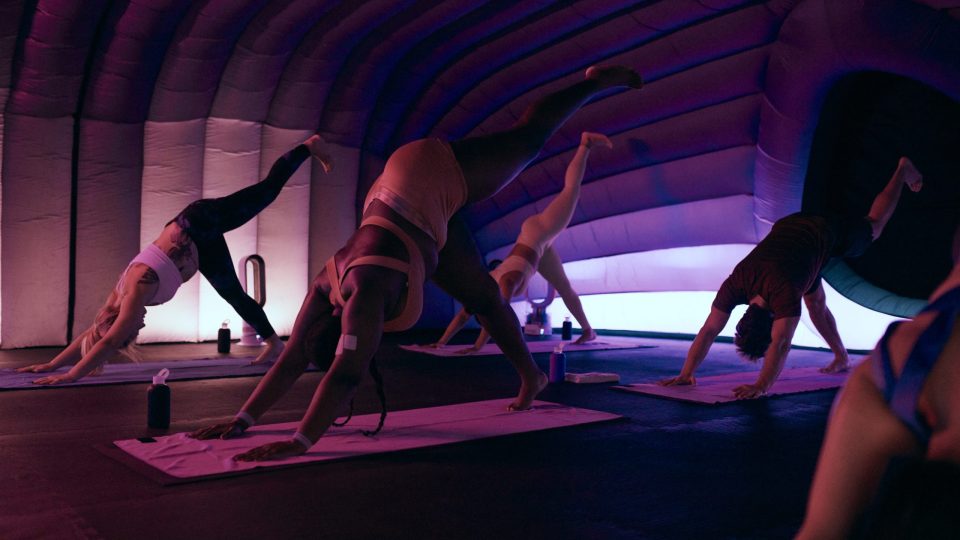 We're Europe's largest yoga business. Since 2013, over 100,000 people have immersed themselves in a Hotpod class at one of our 50+ locations around the world. Join us at our  studio for yoga in its most potent form. You'll stretch further, breathe deeper, sweat harder and melt fully into the Hotpod experience – a balanced flow of active and passive postures, working the body and calming the mind in equal measure. For class times and more, take a look at the schedule above, then book your spot.
step into our immersive pod
hot yoga in 37 degree heat
move to relaxing beats
filled with calming scents
suitable for all levels
find

us

47 Marlands Shopping Centre, Civic Centre Road, Southampton, SO147SJ, GB
Paul
Over the past 20 years, Paul has practised yoga all over the world. In 2022, he travelled to Rishikesh, the birthplace of yoga, to train in the classical Hatha yoga tradition and yoga philosophy. His teaching is grounded in Ashtanga vinyasa. He is fascinated by the science of yoga and brings his study of physiology and neuroscience underpinning yoga to fellow yogis.
He first discovered Hot Pod Yoga in Berlin and fell in love with how heat deepens the practice and makes you feel amazing. Meditation, breath work and cold water immersion are important parts of his personal practice.
In his professional life, he teaches English at Winchester College, where he is also the yoga instructor and swimming coach. Paul believes that yoga is for everyone and he is passionate about how yoga heals, transforms and enriches lives.
Becca
For the past six years, Becca has practiced yoga as a means of achieving inner peace and self-help. She qualified as a yoga instructor in Nepal in 2020.
She is passionate about yoga philosophy and the Eight Limbs of Yoga, which offer guidance for leading a peaceful life and encouraging us to achieve our full potential. As an avid advocate of staying connected to the inner child, she teaches laughter yoga and yoga for children!
"Yoga is a never-ending journey, and there is nothing I enjoy more than watching my own and other peoples' lives unfold." – Becca
Hayley
With a specialization in Ashtanga and Vinyasa yoga, Hayley completed her Yoga Teacher Training in India in 2018. Since she was 16, she has been practicing yoga. One of her proudest accomplishments is being a mother in 2022. She is an avid mountain biker who uses yoga to improve strength and flexibility, which complement cycling, as well as finding mindfulness. In addition to providing physical exercise, the classes she will be teaching will allow participants to experience the mental benefits of yoga.
Gaynor
Gaynor has practiced yoga for over 10 years, but her real passion for it, kicked in 4 years back. Having 3 children, she loves the strength, flexibility and relaxation that a regular practice brings and is passionate about sharing these benefits with others. She has always loved fitness and sport and holds a personal training qualification. Gaynor is certified as a Vinyasa and Rocket yoga Instructor.
Vee
Since 2001, Vee has been practicing yoga as a huge part of her fitness and wellbeing routine.
Yoga teacher and certified personal trainer, she is passionate about sharing how yoga & physical activity can positively impact both physical and mental wellbeing.
She enjoys keeping in touch with nature by taking her dogs for long walks and runs in the forest.
Kasey
Yoga has taught Kasey how to truly love herself, be more present and how to live more consciously. In 2019, she received teacher's training certification in Rishikesh so she could share this incredible gift with others.
Kasey's love of people and cultures led her to earn a degree in Anthropology and start her own Travel Agency where she create routes for people with different interests. Including Yoga routes!
Aloysia
Taking the plunge and becoming a yoga teacher was one of the best decisions of her life! A yoga practice has greatly enriched her life, and she is passionate about sharing it with others.
Aloysia was in her early twenties when she first began practicing yoga. A good stretch followed by deep sleep made her fall in love with the warm, fuzzy feeling. She loves yoga for more reasons than just keeping her body strong and flexible. Connecting with ourselves on a deeper level enables us to better contend with life's challenges.
As you embark on your own personal yoga journey, she will be there to guide you into the positions that are right for you and your body, so you feel the benefits long after the mat has been rolled up. Your everyday life will be infused with that blissful feeling of tranquility after attending a class.
Tash
Natasha began practicing yoga at university, mostly for its physical benefits, she gradually found that yoga had a whole lot more to offer than just stretching! As she wanted to gain a deeper understanding of yoga and find a way to share her passion for it, she completed her teacher training with Hotpod in 2020 and is very excited to be back teaching in the pod.
The way yoga (especially Vinyasa flows) cultivates strength and flexibility physically, mentally, and spiritually in Tash, making her completely at ease in her own body and mind. She hopes to inspire others to experience similar fulfilment in their own bodies and minds.
Sarah
Sarah has been practising yoga for thirty years and teaching full time since 2011. Over this time she has developed a warm and compassionate style of teaching incorporating the therapeutic benefits of asana along with mindfulness practice. Her teachers are many and varied which is evident in her style. Originally training to teach vinyasa flow she has since qualified to teach yoga for people with cancer; adults and children with disabilities; pregnancy and post natal; yin and mindfulness. Expect to be gently challenged and have a lot of fun with yogic philosophy woven throughout. Classes are welcoming for all levels.
Kat
Kat discovered the magic of yoga at a very early age through her mum who has been practicing yoga for many years. Right from that first sun salutation as a kid (pretending to be a hissing cobra – how exciting!) she was hooked. Practicing regularly through her teens and early 20s, Kat wanted to spread this magical practice to anyone who would listen and qualified as a yoga instructor so she could do just that.
Kat believes that yoga is for everybody and has been a regular at Hotpod Yoga Southampton ever since it opened. She is very excited to be able to welcome people into this space as a teacher!
Nora (Ellie)
Nora began her yoga journey during her exchange program in India in 2011. After practicing Hatha yoga for a number of years she came across vinyasa after moving to the UK, in 2018. She's a certified hot dynamic vinyasa yoga teacher, and firmly believes in the life changing power of yoga.
From trusting yourself, to challenging your mental and physical limits, coming out the other side empowered, her personal experience taught her that any practice is a journey that begins with believing in yourself.
That is the foundation of every class, along with a strong desire to respect the culture Yoga comes from in all its aspects.
Carly
Yoga has been an integral part of Carly's life since 2009, and she has been teaching full time since 2018. Carly's practice has helped her stay physically fit, mentally focused, and energetically balanced. Her teaching style is fun, but always focused on breath, alignment, and awareness, bringing in my philosophy-based interpretation when necessary. Carly is teacher-trained in the Living Yoga Method, authentic Hatha/Hatha Vinyasa yoga, Pregnancy Yoga, Postnatal Yoga and Mum & Baby Yoga.
Shennon
Her expertise in Ashtanga and Vinyasa Yoga is enhanced by her years of practice in both the UK and Singapore, where she lived and worked. Shennon's dynamic personality and passion for the subject leave students entertained and filled with humour during classes.
A strong advocate of Yoga as a physical and mental discipline, she believes yoga offers us the tools necessary for lasting transformation.
the founder
Shennon Slade
As a child, Shennon followed her mother to yoga classes at the community centre where she lived. Her practice has remained consistent since, she trained to become an Ashtanga teacher in 2010 and finally achieved her dream when she opened her studio in October 2020. Her expertise in Ashtanga and Vinyasa Yoga is enhanced by her years of practice in both the UK and Singapore, where she lived and worked. Shennon's dynamic personality and passion for the subject leave students entertained and filled with humour during classes. A strong advocate of Yoga as a physical and mental discipline, she believes yoga offers us the tools necessary for lasting transformation.