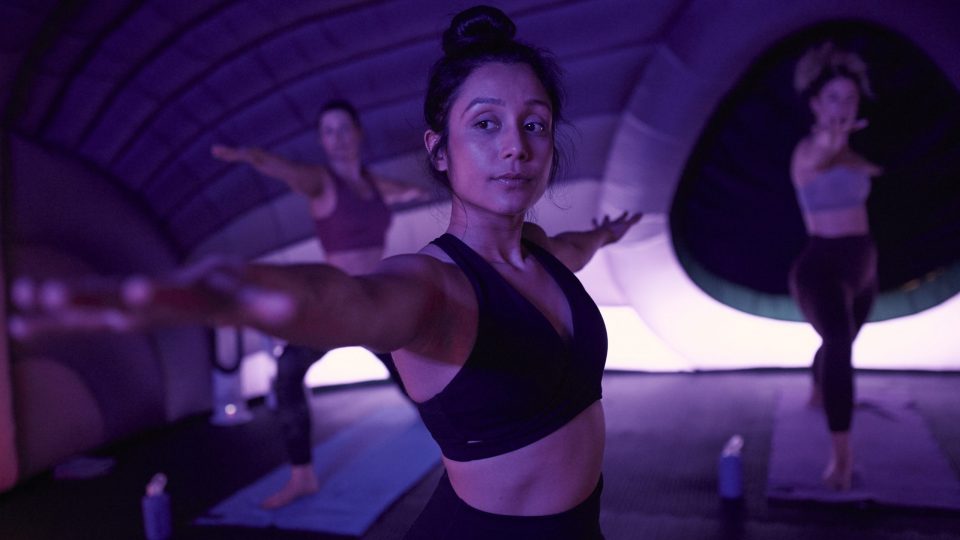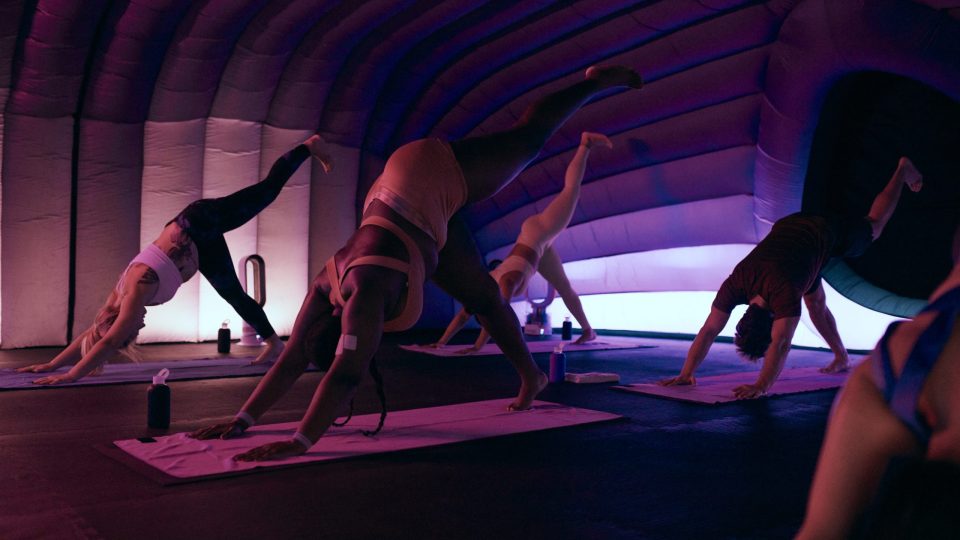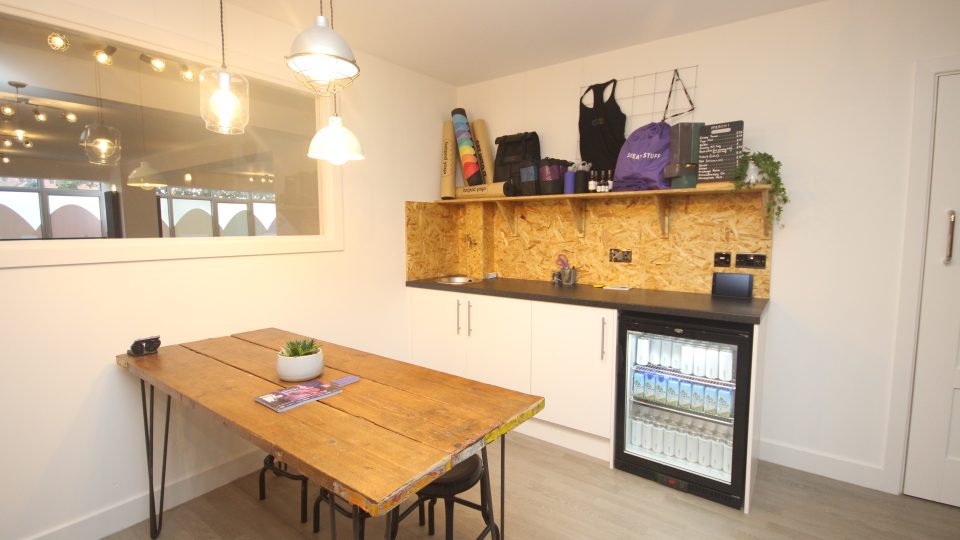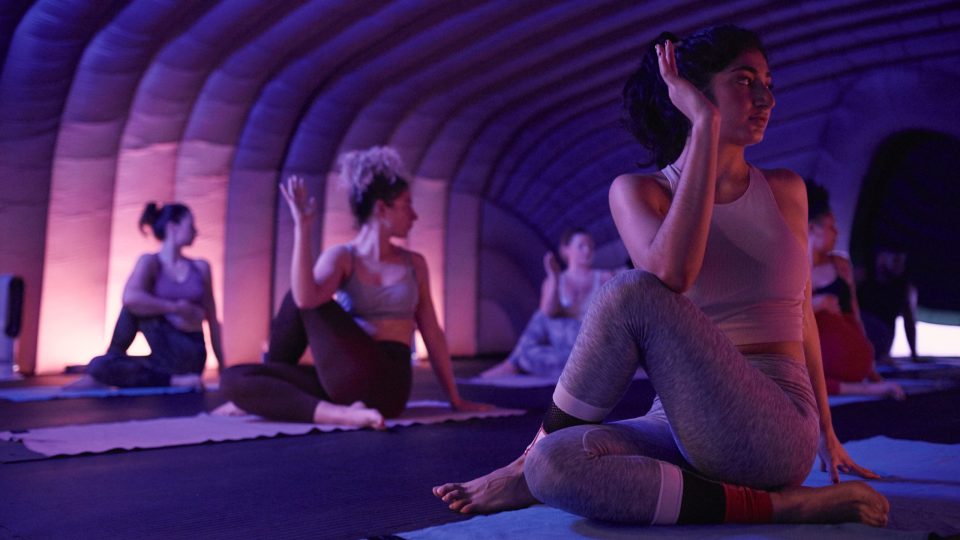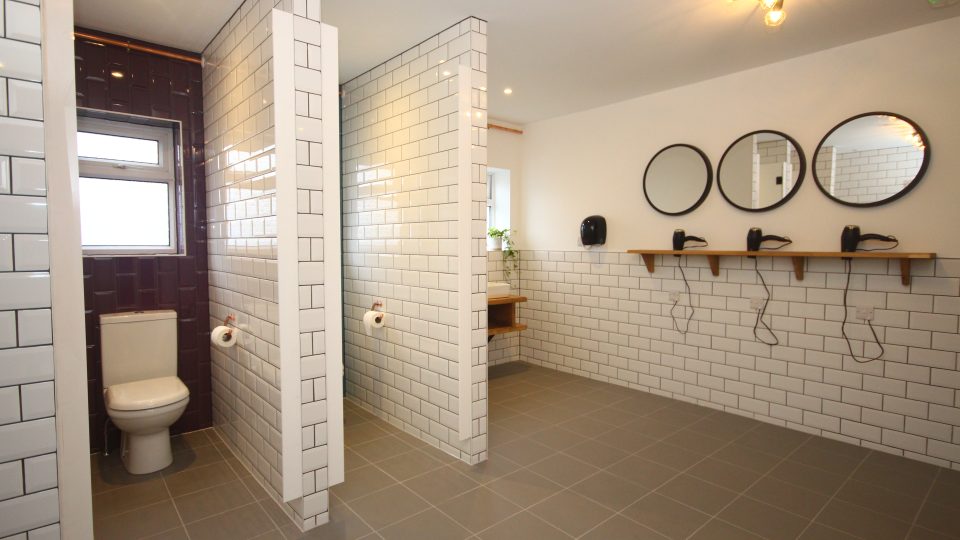 Our wonderful coastal studio is home to the only hot Yoga studio in the area. There is free parking behind WB Stoves and West Monkseaton Metro within 300 yards. The Hotpod Whitley Bay community are such an incredible bunch with newbies come regulars. We welcome all to the studio regardless of Yoga experience. Combined with our unique environment, signature scents and Hotpod Soundscapes makes a visit to the studio an experience like no other.
We're Europe's largest yoga business. Since 2013, over 100,000 people have immersed themselves in a Hotpod class at one of our 50+ locations around the world. You'll stretch further, breathe deeper, sweat harder and melt fully into the Hotpod experience – a balanced flow of active and passive postures, working the body and calming the mind in equal measure. For class times and more, take a look at the schedule above, then book your spot.
google
reviews
Read what a few of our happy customers have to say! We'd love it if you could support our studio by leaving a review of your own. Simply click below to share your thoughts with us.
Showers

Mats

Changing

Parking
step into our immersive pod
hot yoga in 37 degree heat
move to relaxing beats
filled with calming scents
suitable for all levels
find

us

5 Earsdon Road, Whitley Bay, Tyne and Wear, NE25 9SX, GB
Jodie
Having trained in Leeds under various internationally renowned teachers, Jodie has recently moved to Tynemouth after falling in love with the welcoming community, love of the outdoors and the ocean. Her classes exude uplifting energy, combining encouragement and enthusiasm to empower you to explore your full potential, even if that means finding empowerment in a simple Child's Pose. She cherishes the sense of community and connection in yoga and will always greet you with a warm smile.
Flo
I began my yoga journey in 2013 when my partner injured his spine & I went to class to provide him with moral support in his rehab journey. Little did I know that yoga would soon change my life, and in 2020, I decided to complete my YTT in both Vinyasa and Yin styles. In my classes, I like to keep things fun by focusing on sequences that provide just the right amount of challenge, so you leave class feeling both happy & accomplished! I firmly believe that what you practice on your mat stays in your life, and I try to incorporate little bits of wisdom into every single session.
Marianne
Marianne got hooked on Yoga around 2009, and has been teaching since 2014. She loves hotpod for its immersive environment, down-to-earth vibe, and of course that soothing heat! She'll guide you through movement and breath with a focus on building self-awareness.
Yoga teaching balances Marianne's career in Tech, so she's often found tap-tapping on a laptop in a Whitley Bay cafe, or solving important problems (aka day dreaming) on the beach.
Paige
Paige began exploring holistic wellbeing over 10 years ago, travelling the world delving into the philosophies of yoga and ayurveda. Undertaking her yoga training in India, she came back to the UK to create, Flore and Folk; an infusion of yoga and ayurvedic guidance, for those seeking to connect and flourish in life.
Paige's classes are light-hearted, fun and energetic, creating balance and wellbeing on and off the mat. You can catch Paige in Whitley Bay studio.
Sophie
Sophie found yoga in her teens as a way to de-stress from the pressures of life and it continued to be a grounding presence throughout adulthood. In 2021 Sophie recognised young people could benefit from yoga too, so trained in Teen Yoga. This expanded into all walks of life after further training in Trauma informed Yoga and Adult Vinyasa Yoga. Sophie is 300hr accredited by Yoga Alliance and is passionate about mind / body awareness.
Sarah C
Sarah found Yoga in 2019 and it made such a positive impact on her life both physically and mentally. "Stepping onto my mat gives me an instant sense of well-being, I love how makes you feel calm yet energised, supple yet strong"
Sarah completed her 200hr Vinyasa teacher training in 2018 with the aim to help invoke those feelings in others. "I hope to see you in the pod soon!"
Sarah teaches lots of local classes around the coast and you'll find her at our Whitley Bay studio throughout the week.
Amy F
I'm the Hotpod Newcastle teacher with the mild Scottish accent. I dedicate my energy in my classes to reading the room, and tailoring how I deliver my instructions for each pose to either match or shift the energy in the pod. My aim is to leave you feeling completely different when you step out of the pod – no matter how you feel at the start of the session. Throughout pregnancy, my regular yoga practice transformed how I felt each day – and continues to do so now as I value that hour within the Hotpod more than ever before as a new mum!
Sue
I started on my yoga journey whilst working as a personal trainer. Initially using yoga as a restorative practice I quickly came to learn the multifaceted nature of yoga, the variety and diversity of practices and over time yoga became my main focus and passion. Embarking on this journey through yoga has changed my life in so many ways. The benefits that yoga can have physically, mentally and spiritually are limitless and I love teaching, guiding and helping others embark upon their own yoga journey. I truly believe that yoga is for everyone and aim to make my classes both accessible yet challenging, in a light hearted, down to earth way to ensure everyone feels welcome and able to find space to practice as they need.
Lianna
I started practising yoga about five years ago. I was really struggling with my mental health at the time. Yoga has taught me to slow down, take notice of how I'm feeling both physically and mentally and practice self-care. I trained to be a yoga teacher because I want to share this with others.
My classes are fun and energising. I create a supportive environment where people can relax and also challenge themselves. Embracing the wobbles and having a laugh along the way.
I have really enjoyed practising Hotpod since joining classes in 2019, I love working with the heat, the immersive and welcoming environment of the pod. I always learn something new when I attend a class, I love it!
Amber
Coming from a dance background Yoga just felt right for me, I first got into Yoga for mainly the physicality, flexibility and strength elements and it wasn't until I started practising more I realised how much it helped me mentally. I completed my Yoga Training in the Amazon Jungle of Peru in September 2022 and have been taking weekly classes across Newcastle since qualifying.
I enjoy both dynamic flowing classes linking breath to movement but also find the benefits in slowing down the practice and taking more of a Yin/Nurturing approach. Throughout my classes I hope to create a welcoming and non-judgemental environment where each person can arrive on their mat feeling comfortable and are able to be honest with themselves, letting go of the stresses of daily life and show up for themselves even if its just for an hour.
Ciaran
When I first started practicing yoga almost 10 years ago I experienced such immediate and profound relief in both body and mind that I have wanted to help spread this practice to as many other people as I can. So of course doing my 200 hour teacher training was a natural progression to this and I qualified in 2015.
Being a yoga teacher and also a Gym Instructor and PT enables me to teach with a diverse range of perspectives and skills and I am always honoured to be able to help people with their individual set of needs. I absolutely love the feeling of nurturing heat that the Hotpod provides. My classes are explorative, playful and light hearted.
Lexy
Whilst living in remote Siberia, working in offshore engineering I discovered Yoga as a tool for relaxation. With limited access to online classes only my preferred style was the smooth transitions of vinyasa, I enjoyed moving through asana sequences and breath work to relax my body and still my mind.
I discovered Hotpod Yoga in 2017, everyone is so welcoming; the teachers and other students, a brilliant gathering of like minded individuals that all elevate one another. The heat added an extra element to my practice, ultimately developing my strength, breath awareness and the ability to slow my mind.
Growing up on a farm allowed me to utilise nature to nurture both my mind and body and highlighted the benefit of continuing this anyway you can as you move through life, which is why I look forward to holding a nurturing space in my classes; one where students can flow through their own practice with a conscious focus on thoughts, breath and gentle but strong movement that allows you to reset, relax and reconnect amidst the business of everyday life.
Sarah S
My own healing journey led me to practice yoga many years ago as well as train to be a yoga teacher and psychotherapist. As a counsellor and yoga teacher for anxiety, I work creatively and therapeutically – combining mindful movement, breath-work, self-reflection, meditation and psycho-education. I consider yoga to be a holistic lifestyle medicine; and I am passionate about creating a safe space for people to experience individual connection and transformation.
I also consider yoga a form of social activism and think this work needs to be done on a personal and interpersonal level within a supportive community.
Ceitlan
"I came to yoga in 2017, drawn in at first by the physical asana of a Vinyasa practice and the calm I felt following a yoga class. Since then I've found a spark and a passion for all aspects of yoga, moving beyond just the physical postures. The breath, mind and body connection found in a yoga practice is something that continues to fascinate me, and I love sharing that experience with others.
When I'm not on my mat you can find me swimming in the sea or hiking in Northumberland!"
Rosie
To me yoga is embodiment. A practice to explore the skin we are in. To express. To discover. To find ways to move and breathe, that feel individual to you. Yoga has no limitations. It is not a look nor a specific goal, but a full experience of the feelings that arise within your body. As a teacher, I hope to guide you towards finding your own intuitive practice, to hold space for you to drop deeper in to your being. Hotpod is a safe place for you to delve in to the possibilities a yoga practice has to offer, with a beautiful community of people for you to experience this alongside.
Lauren B
I began my yoga journey whilst I was at university studying English Literature to help manage stress and fill up my cup and what a journey it's been since then!
After overcoming some climbing injuries, I completed my 200hours of Yoga Training, Vinyasa and Yoga Therapeutics, in Newcastle. I began teaching in 2019 and have since undergone training in restorative and women's yoga which I'm continuing to explore. In between that and the monthly events and sharing circles I run, I'm currently studying towards becoming a qualified counsellor.
Overall, yoga has continuously been so enriching when applying its lessons and philosophies off the mat. I'm quite the busy bee and practicing yoga is such a lovely way for me to connect back to my body and has helped me build resilience, develop honesty with myself and a better understanding of my body and its cycles. It provides me with so much nourishment and an opportunity to improve the connection to others as well.
In Hotpod Yoga, the heat honestly warms my soul and I feel as though I'm getting a much needed relaxing holiday when in savasana!
Teaching is such a gift as I love supporting people and helping to provide a space for people to feel re-connected in a soulful, yet down-to-earth way. No matter your ability or how many classes you've attended, I hope you all feel welcomed and rejuvenated.
Joanne
The first yoga experience was with Hotpod, when I visited the studio in 2018. I loved being cocooned in the pod with no distractions, the mood lighting, aromas, working with the heat, and how I felt when I finished a class.
In early 2021, I spent 5 weeks in a yoga school in Mexico, diving deep in to philosophy, Ayurvedic meals, learning Hatha Yoga, Meditation, and pranayama breathing. I decided to stay in Mexico and completed my 200 hour teacher training in Ashtanga. I continued to travel, experiencing many styles of yoga classes and teachers. After returning to the UK at the end of 2021, I decided to start an advanced 300 hour mixed styles teacher training.
Before I found the love for yoga, I have always been very active and enjoyed strong exercise. My I first love was the Barre method which I was introduced to in 2009, I became very dedicated to the practice for 12 years, loving the precision and concentration it requires. This has crossed over well in to my yoga practice.
I love that yoga helps to balance the mind, body, soul.
I am very interested in Nutrition, Holistic therapies and Ayurveda. I love to travel, exploring different cultures, being in nature and the outdoors.
Amy L
I started practising yoga in 2012 when living in Canada, and instantly fell in love with it and have been practising ever since. However, it took me until 2019, when I moved to Newcastle, to undergo my 200 hour teacher training.
My classes are accessible, yet challenging, with just a sprinkle of silliness. I want everyone to feel at home and comfortable in my classes. I love using props to assist in poses, it can help with alignment, build strength and also change the challenge of the posture.
I started attending the Pod in 2020 and haven't looked back. I adore practising in the heat – it relaxes my mind and my muscles, which is almost always needed after a day of teaching in a primary school.
You'll find Amy teaching at Whitley Bay studio on weekends and embracing a challenge at our dynamic flow class.
Mario
Mario begun his yoga journey as a means to recover from reoccurring injuries, what unfolded became so much more than just physical benefits. Mario believes that movement is medicine and it will not only melt away your muscle aches and pains but also improve your overall mental wellbeing.
Mario likes to approach classes with a light hearted playful manner, embracing the fact that everybody is at a different stage of their own personal journey and encourages you to enjoy every step along the way. With a background in ashtanga yoga and calisthenics Mario has a true passion for exploring our bodies capabilities and changing the impossible to possible.
Celeste
Celeste spent the majority of her years as a dancer before finding Yoga which has since transformed both her inner and outer worlds. Celeste's love for the relationship between our physical, mental, emotional and spiritual aspects led her to delve deeper in her own practice of Ashtanga and Vinyasa before deciding to complete her teacher training so she could share the gifts she found with others. Celeste is passionate about how Yoga becomes the gateway to so much potential for each individual.
Celeste's classes are energetic with a focus on exploring your physicality as well as creating balance and understanding of your mental and emotional states.
Louise D
My life is a balance of a busy NHS job, long distance running, sea swimming, weight training and any other form of movement I can squeeze in, but yoga will always be my first and biggest love.
I love attending a class that works you hard but leaves you feeling good at the end, and that's also what I gravitate towards teaching. I usually teach dynamic flow which is a step up from regular hotpod flow. However, dynamic isn't a demand for a certain level, it's an invitation to challenge yourself. As long are familiar with yoga practice and are aware of any adaptations you need to take for your body, you'd be very welcome. Give it a try, we often surprise ourselves and are stronger than we think
Ella
Ella has been practicing Yoga for over 20 years and has cultivated a daily at home practice over the past 5 years. A desire to deepen her practice led her to take her 500hr Teacher Training with Practice Yoga Austin where she discovered a passion for alignment. She has most recently qualified as a C-IAYT certified Yoga Therapist…..never not learning! For Ella, Yoga, nature, food, mindfulness and meditation are integral to mental health and wellbeing.
You'll find a smiley Ella on the weekends in Whitley Bay studio.
Kerry S
In 2018 I travelled to Rishikesh in India where I completed my Yoga Teacher Training. I've practiced Yoga for many years and having experienced the benefits both mentally and physically, I wished so much to share this practice with others.
It has been amazing sharing Yoga with others, especially people who have never tried it before. Witnessing the benefits it has brought into their lives too is wonderful and I am looking forward to continue to do this with the Hotpod Newcastle team.
Rachel
Rachel starting practising yoga a few years ago when a friend recommended Hotpod Yoga. After just one class, she was addicted.
Having trying many types of yoga, she realised her love of heat and yoga combined and knew she had to pursue this passion and become a yoga teacher.
"After that first yoga class, the heat, the feeling – both physically and mentally – was amazing. I want to teach other people how to experience the huge benefits that practising yoga can bring to your life."
Fun loving Rachel brings you the Saturday morning treble in Jesmond.
Natalie
Nat's background is based in fitness and dance, she loves physicality and movement as a way to express and release. Yoga gives so many physical, mental and spiritual benefits it balances both mind and body. It challenges and it provides freedom. After completing her 200hr YTTC in India Nat joined us at HPY Newcastle and teachers across both studios.
Terri-anne
Yoga is amazing and has changed my life in so many ways, challenging my body whilst creating space in my mind. I'm so passionate about sharing the physical, mental and spiritual benefits of Yoga with as many people as I can through teaching.
Terri-anne is another familiar smile in Jesmond, she was a Complete member before deciding to complete her training and we were thrilled to have her join the team.
Chris
Chris started practising yoga 10 years ago as an addition to her running training. She completed her 200 hours TT in India in 2016 and have recently returned to India to complete 500 hours TT.
"Nothing makes me happier than seeing those I teach, enjoy their practice, feel good physically and mentally and challenge themselves".
Becky
Having had the pleasure of studying with some inspirational teachers in northern India I returned to Newcastle qualified to share the benefits of a regular yoga practice, I love helping others find space in both the body and the mind.
Alex
Alex always enjoys a physical challenge and when his wife Jules told him about Hotpod, he knew he had to try it! He got straight on the train to London and was hooked, he knew then that this was something to take back to the people of Newcastle. Although born in the south, Alex considers himself a born-again Northerner and loves nothing more than explore the coast with this family. Alex especially enjoys teaching a super chilled Nurturing Flow class, where you'll struggle to stay awake and when he is not in the pod, you'll find him practicing Ju Jitsu or playing chess.
Jules
As a physiotherapist and keen sports person, Jules always believed that 'Movement is Medicine' and found yoga as a child through watching her mum practice and then later as part of her martial arts training. Although it wasn't until at university that Jules found essential headspace and calmness on the mat. Jules loves to share her passion for yoga, especially to those new to practice or recovering from injury. Jules' favourite thing about Hotpod is walking in and experiencing that instant sense of calm and comfort from the immersive warmth and glow of the pod. When not in the pod, or physio-ing, Jules is at the beach with her 3 children and furbabe, either in the sea or on the sea.
the founders
Alex and Jules Hurley
Jules and Alex are both physios turned yoga teachers and after looking for more work-life balance, discovered Hotpod Yoga. They love how Hotpod Yoga is so inclusive and enjoy seeing first-hand the benefits from a regular attendance, often from the most unlikely yogi as well as hearing the positive impact on mental wellbeing. Alex enjoys teaching a very relaxing Nurturing Flow class, whilst Jules prefers the power and strength in a challenging Dynamic Flow. They launched in Newcastle in 2017, surrounding themselves with a wonderful group of teachers and a fantastically supportive yoga community and haven't looked back.