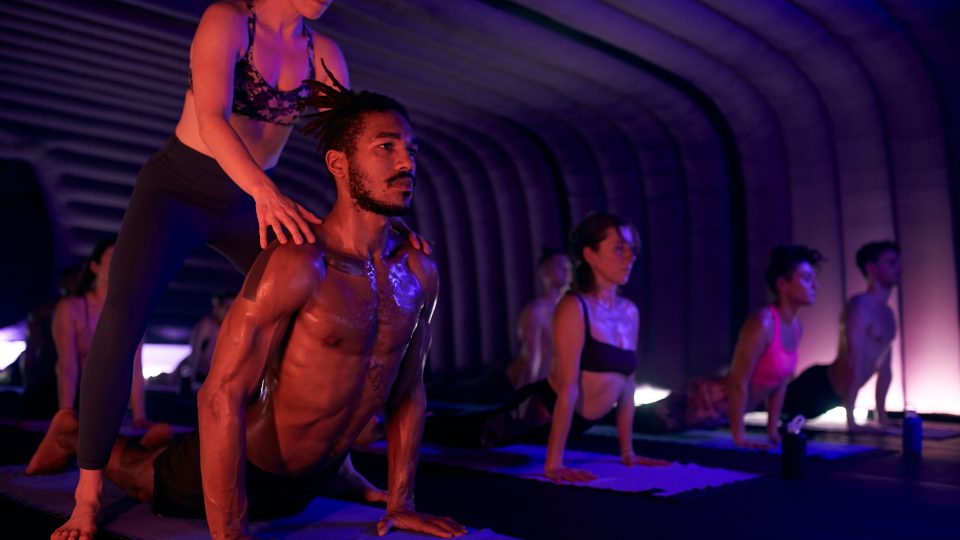 We're Europe's largest yoga business. Since 2013, over 100,000 people have immersed themselves in a Hotpod class at one of our 50+ locations around the world. You'll stretch further, breathe deeper, sweat harder and melt fully into the Hotpod experience – a balanced flow of active and passive postures, working the body and calming the mind in equal measure. For class times and more, take a look at the schedule above, then book your spot.
Signature Inflatable Studio
Vinyasa flow
37 degrees
All levels welcome
find

us

Unit 6, John Davies Workshops, Main Street, Huthwaite, Mansfield, NG17 2LQ, GB
Vicki Goncalves
I started my yoga journey around 15 years ago falling in love with the way it made me feel. As my practise deepened so did the benefits to my mind and body. After training with the Sun Power Yoga school my passion is helping others along this incredible journey towards physical and mental strength. I enjoy the way the hot pod method adds an extra dimension to my practise and leaves me feeling deeply relaxed and am keen to share this with others!
Gemma Skilton
I have been working as a Primary School teacher and nursery teacher for the past 10+ years but have always had my yoga practice to keep me going during the most stressful times. The feeling of arriving into the yoga class after a busy day (or even before the day gets started) to the warm welcome and smile from the teacher and fellow yogis all ready to move our bodies, to the feeling of leaving the class feeling nourished and refreshed is indescribable. That is the feeling that I want to bring to you.
Sian Rowe
I fell in love with the practice of yoga 7 years ago and decided to join HPY classes in 2018 where I was hooked on the HPY experience.
Having worked in dog rescue for 6 years where I rehabilitated and cared for dogs in need, yoga was the safety net that always caught me on the emotional rollercoaster of rescue work. It helped me stay centred, energised and full of passion. For this reason, I decided to take my YTT with an Indian Himalayan Yoga School so I could return and share the adventurous journey and the magic of yoga with others.
Amanda Kiani
Having worked in pharmaceutical sales It was during a year out in Australia that I was first introduced to yoga. Having always felt fitness was all about high impact, I began to love the feeling yoga gave me. My body began to feel the benefits of the stretches and my mind the benefits of connecting with the breath. After returning to the UK I continued my yoga journey with relaxing Hatha classes. A friend then introduced me to Hotpod and I was hooked. The heat helped my body release deeper into postures and the Vinyasa style energised me.
Katy Flower
Katy has been practising yoga for over 15 years, Initially taking classes at the gym after a tough workout. Yoga became her 'go to' and loved the way it made her body and mind feel. Strength, mobility and flexibility improved dramatically and most importantly she was pain free! Pair that with the incredible positive impact yoga had on her mind set, Katy was hooked and the rest is history!
Eszter Mate
Eszter has been a yoga student since 2013 and her love for yoga and thirst for more knowledge took her to India to complete a 200 hour teacher training in 2016. In 2017 she qualified as a pregnancy and postnatal yoga teacher. Nowadays she's proud mum of a happy and very active little boy. She enjoys teaching both gentle and dynamic classes combining the elements of Ashtanga, Vinyasa and Hatha styles.
Laura Mercer
It was whilst away travelling that Laura found her love for yoga and she hasn't looked back since! She soon realised that not only did she feel better the more she practiced but that she really wanted to share that feeling with others. Laura is passionate about the way yoga can compliment our modern lifestyles, whether that be counteracting hours spent at a desk, building extra strength to improve athletic performance or maybe just clearing some space in your head to help you prioritise what's important. Expect a strong class with a focus on building good form and having some fun!
Steph Smallwood
With a background in dance and fitness and a keen interest in mindfulness Steph fell in love with yoga as it fuses the two together perfectly – After deciding to leave her job in estate agency to undertake her teacher training in 2017 Steph has never looked back, returning to the pod after having her little girl Steph is passionate in helping others to achieve a sense of wellbeing and balance.
Mikala Tozer
Mikala found Yoga around 6 years ago, first following Youtube videos to gain flexibility for Pole as she is also a qualified Pole Fitness instructor. After noticing the progression in her body, she started to notice the differences Yoga was having on her mind. Finding some stillness after a Yoga class was new for Mikala, and the love for Yoga and meditation grew from there.
Louise Barr
Originally from Newcastle where Louise is from a dance and gymnastics background, however fell in love with yoga a few years ago. As a psychology masters student she is very passionate about the mental health benefits of yoga. Her lighthearted approach combined with her love for the practice, ensures a fun and dynamic class for all abilities.
Jessica Haskey
Jessica turned to yoga 5 years ago and trained in Bali. Purely at first for fitness reasons, it was a way of getting another workout into the week without being in the gym. With lots of dance & fitness history growing up, she came to realise that yoga and meditation was what was missing from her life. Jessica is eager to give back, to let others gain the power of yoga for themselves after never feeling more balanced and in tune with her own mind and body.
the founder
Leah McLaren
Leah first discovered Hotpod Yoga while living in London and working as a picture editor on national newspapers. She visited the Nottingham pod when home for a weekend in Derby. She quickly realised that there was a need to bring hot yoga to her home and start bringing a healthier and happier lifestyle to herself and those around her. Leah also took over the Mansfield pod in 2018.