Hotpod Yoga
London | Brixton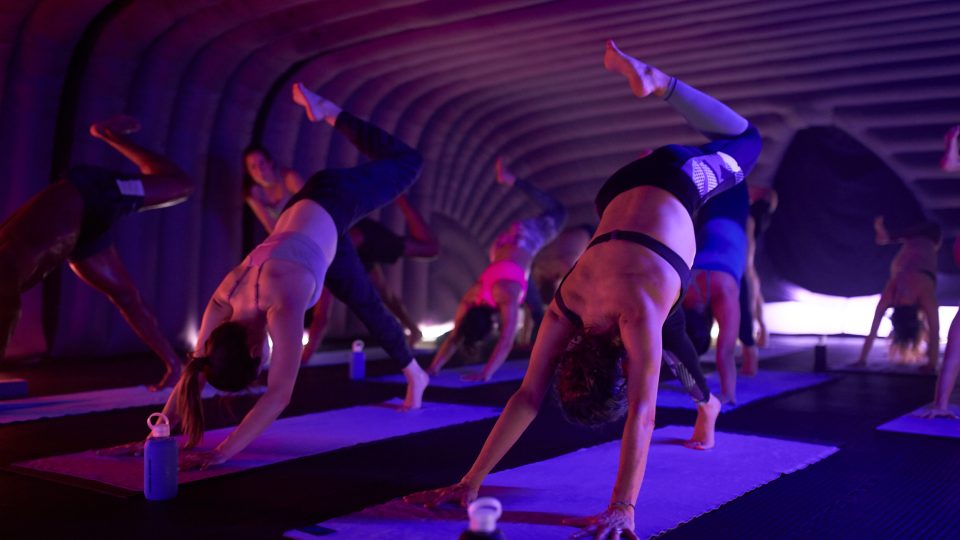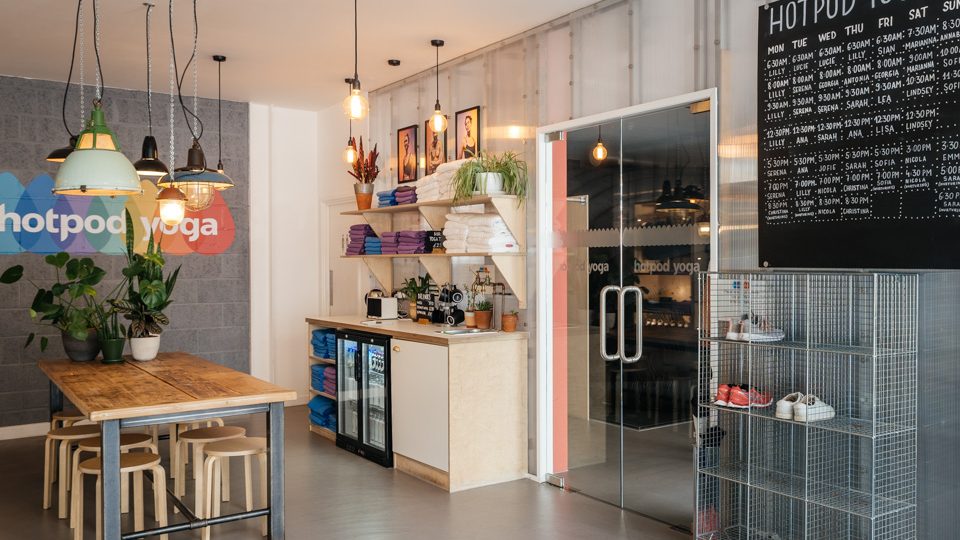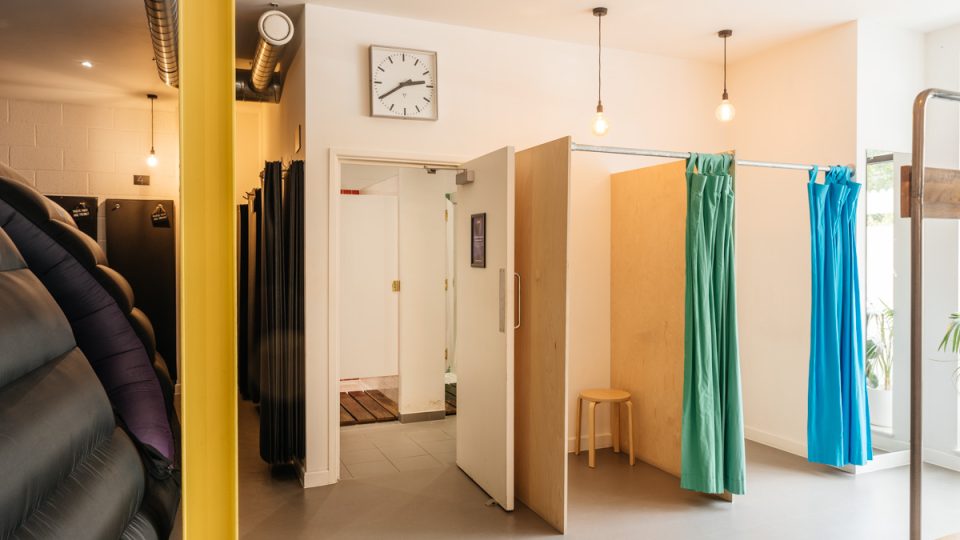 We're Europe's largest yoga business. Since 2013, over 100,000 people have immersed themselves in a Hotpod class at one of our 50+ locations around the world.
You'll stretch further, breathe deeper, sweat harder and melt fully into the Hotpod experience – a balanced flow of active and passive postures, working the body and calming the mind in equal measure. You'll immediately find yourself a million miles away from the every day. Bring water and a towel to enjoy the unique immersion that is a Hotpod Yoga class. To understand it, you've got to experience it.
Signature Inflatable Studio
Vinyasa flow
37 degrees
All levels welcome
find

us

40 St Matthews Road, Brixton, London, SW2 1NL, GB
Geri K
Geri has always loved moving her body and started at a young age with gymnastics.This love for moving has never stopped and has led her to teaching yoga today. She has been practicing yoga for over 8 years and wanted to take her yoga practice to the next level. She decided to do RYT 200 hours Vinyasa Flow Teacher Training with HotPod Yoga. This training was a drop in the ocean of possibilities for further training and exploration into different types of yoga. She then took a RYT 22 hour assisting and adjusting training, a RYT 25 hours fundamentals training in Anusara Yoga and Prana Vinyasa, a RYT 30 hours Mandala Vinyasa, a RYT 30 hours in Yin Yoga and the Elements with The Yoga People. She brings playfulness to my classes that allows adults to relax and enjoy yoga. Her yoga practice is light hearted, whilst also teaching people to deepen their own experience in developing a connection with their own body and mind.
Colly
As a passionate long distance runner & regular five-a-side footy player, Colly found yoga as a means of recovery for a busy sporting schedule. Having trained with Hot Pod Yoga in 2018, he's now also trained specifically in teaching yoga for sports and to athletes with Manchester United's Sarah Ramsden, as well as developing a strong interest in the role of the breath with his Oxygen Advantage breathwork training. He enjoys challenging, mindful movement to get you out of the head & into the body.
Matt H
The last few years have been transformative for Matt; physically, mentally and spiritually. Yoga is the constant golden thread through this and an important part of daily life. The journey inspired Matt to attend yoga teaching with Hot Pod early in 2019. As a massage therapist and yoga teacher, he loves helping people to reconnect their body and mind whilst building resilience to the ups and downs of life. Expect vibrant flows and a chance to lush out.
Ana C
Ana Maria, originally from the wild windswept West coast of Ireland, is a yogi, traveler, barefoot runner, and clinical massage therapist.
She has a background in fine art, but came to find a true home in the practice of yoga, mindfulness and wellbeing. In 2013 she began teaching yoga while living in her mothers homeland of Guatemala.
Her approach is rooted in a functional movement perspective. Anatomical variations mean that everyone's yoga practice will be as unique as them. She offers options and variations to allow you to find the practice that best suits you each day you show up on your mat.
In this way she invites you to be truly present with your body, in order to strengthen the mind body connection and to build a practice that is nourishing, strengthening and calming for your body, mind and spirit.
She has trained extensively with world renowned teachers Simon Borg-Olivier, Bianca Machliss, Cindy Lee, Anna Ashby and Jo Phee. Ana Maria is so grateful to all of her incredibly knowledgeable teachers.
Chloé D
Chloé has been practising yoga for several years and completed her 200-hour Teacher Training with Hotpod in 2019. She is passionate about introducing yoga to beginners and making her classes as enjoyable and accessible as possible to people of all abilities. She also loves teaching children and exploring new, creative ways to bring yoga and mindfulness into daily life.
Jamie
Through all of life's chaos and challenges, yoga is a place Jamie finds he can always come to when in need of grounding and stillness of the mind. He has been practicing for nearly a decade now and has found a new love in assisting others in discovering their personal path to this accent discipline. He specialises in vinyasa flow yoga with a strong emphasis on the breath and often talks about breathing techniques that can help reduce our levels of stress and anxiety. It doesn't matter if you can't touch your toes, Yoga is so much more than that and is for absolutely everyone. Jamie particularly likes working with beginners and will use language and instruction that is simple to follow making you feel very comfortable and in safe hands.
Alex G
Alex started dancing before she could walk. Her fascination with the arts became her career as an adult and she went on to perform in numerous musicals and other theatrical productions. After being out of the theatre industry for a year Alex Needing something new to sink her teeth into and found the fitness industry. She now specialised in teaching Hot and Power Yoga, Pole Fitness, Barre and anything else that uses dance based techniques. She is excited to share her passion and energy with you.
Lindsey H
Lindsey hails from Canada and when she's not flowing with you in the Pod, she can be found at the theatre or wrapped around a cuppa. As a new teacher to HPY, Lindsey cannot wait to be part of this beautiful community.
Miztli
Miztli Rose is a London based yoga teacher of British and Mexican heritage. She first discovered the joy of yoga whilst training as an actor at The Royal Academy of Dramatic Art. After practicing for 5 years, Miztli decided to undertake her 200 hour teacher training with Hotpod. Since then she has taken further training in Pregnancy, Yin and Restorative practices. As a teacher, Miztli is particularly interested in the power of yoga to help enhance creativity, and is passionate about helping students nurture themselves through movement. When she is not teaching, Miztli continues to work as a performer and comedian.
Lucie H
Lucie initially came to yoga when suffering with mental health issues. Having worked in the fashion industry for six years, she left due to having no work-life balance and feeling exhausted. Yoga helped her to escape the stressful working environment, allowing her to feel balanced and present. She hopes her classes help students to get out of their heads and bring awareness to their bodies thus enabling them to move intuitively, whether it's challenging themselves to push through or taking a step back and moving more slowly and gently.
Hannah J
Following her training as a professional dancer, Hannah completed her Yoga Teacher Training in 2012 after falling in love with the diversity of the practise. Hannah encourages her students to explore both the physical and mental benefits of the practise, to work in the way which feels right for them.
Lauren Alford
Lauren's main love and passion has always been martial arts but unfortunately with contact sports can come a lot of injuries. After sustaining some damage to her neck she was recommended yoga as part of her recovery and she has never looked back.
Since becoming a yoga teacher in 2017, Lauren's passion for good, healthy movement has grown. She likes to teach strong yet reflective practices that allow space for acknowledgement of how our bodies feel and are reacting in a posture. Lauren is also a holistic therapist, specialising in chakra and aura healing, and part of the head office team at Hotpod Yoga London.
Christina M
Christina started her yoga journey 4 years ago. Always having a passion for the health and fitness industry Christina was instantly hooked by the practice and amazed by the therapeutic benefits that it had on both her body and mind. As an ex dancer Christina had developed a spinal and hip injury which cleared up as a result of her newly emerging passion for yoga.
Fast forward 4 years and Christina is now a Vinyasa yoga teacher who values the internal and external health benefits of the practice designed for optimal health. Christina promotes balance throughout her classes and sees yoga as a way to not only align, lengthen and strengthen the body but also to calm, restore and relax the mind.
Christina has a wonderful sense of rhythm which she has taken from her dancing background and natural movement ability. Christina draws on her knowledge of anatomy and alignment as well as mindfulness and breath work throughout her classes. Christina puts these elements into practice within the HotPod flows, allowing students to enter a therapeutic and meditative state.
Orly A
Orly qualified as a yoga teacher in India in 2016, and started teaching for Hotpod Newcastle in early 2017. Since then she's never looked back, and has recently had the good fortune of seeing her Hotpod family expand following her move to London in 2020. Orly loves having the opportunity to meet so many wonderful people with shared passion through her work and is so grateful for her place within the Hotpod community.
Jessica
Jessica Marie found yoga in 2011 and was immediately deemed 'all flexibility and no strength.' Since then, she has been fascinated by the mind body spirit connection, and how improving your relationship and understanding of your body can improve your relationship with your self.
She has trained in a range of styles, from dynamic vinyasa, rocket, aerial yoga, and also in the slower and softer yin. She also has an unwavering love of handstands! Her classes are light hearted, supportive, breath-centric and technically focused. Jessica believes that although yoga might start off as a way to build physical strength and flexibility – as it did for her – as the journey continues, the combination of breath, intention and movement can transform your experience of yourself, becoming an essential grounding practice to clear the mind and honour the soul.
Madelaine
Madelaine hails from Melbourne but now lives in London and came to yoga during her first pregnancy. Madelaine's background is dance and her classes focus on creative and flowing sequences that are guided by your breath and your own self awareness. Through mindful movement and safe and precise alignment cues, she endeavours to adapt the class to whatever you need that day. Sometimes strong and dynamic, sometimes restful and calm, perhaps working with injury or illness. Whatever your level and experience, my classes are open to everyone and are really just an opportunity to give yourself space and time and open your mind to new possibilities.
Gigi
Born and raised in Italy, Gigi decided to move to London at the age of 19 seeking exciting experiences. She realised how much she loves the city and everything is has to offer so she never left! Gigi discovered Yoga in her early 20's and has not stopped practising since.
She soon realised that Yoga for her, was finding space to discover herself, emotionally and physically. A safe, uplifting space that helped her to find self love, acceptance, strength and much more. Gigi always looks to support, lift and empower people in their unique journeys.
Her classes bring an unique approach to teaching and healing — one that is focused on self-inspiration and which embodies the physical, spiritual, and emotional aspects of wellbeing.
Sara
Sara works professionally as a contemporary dancer, dance teacher and yoga instructor. She completed her teacher training with Hotpod Yoga which inspired her in ways to communicate and enjoy movement with people who approach it from different physical ability, intention or experience. In class, she aims to create a space for exploration and discovery by playing with images and different movement qualities. Sara brings her passion and joy for movement to share the physical and emotional benefits of yoga, making it a practice for all.
the founders
Nick Higgins and Max Henderson
A former Schoolteacher and Management Consultant, founded Hotpod Yoga in 2013. They were not part of the 1% who regularly practiced yoga; they were of the other 99% who simply needed to clear their over-stimulated minds, work off their hangovers and open up their bodies after a hard day at work. Max and Nick started Hotpod Yoga to supercharge the yoga experience and take that experience out to the masses.