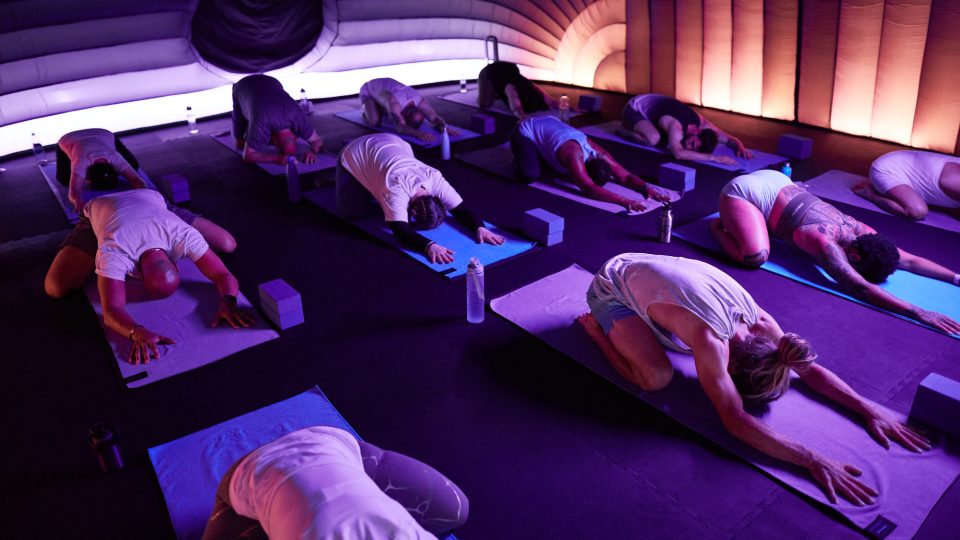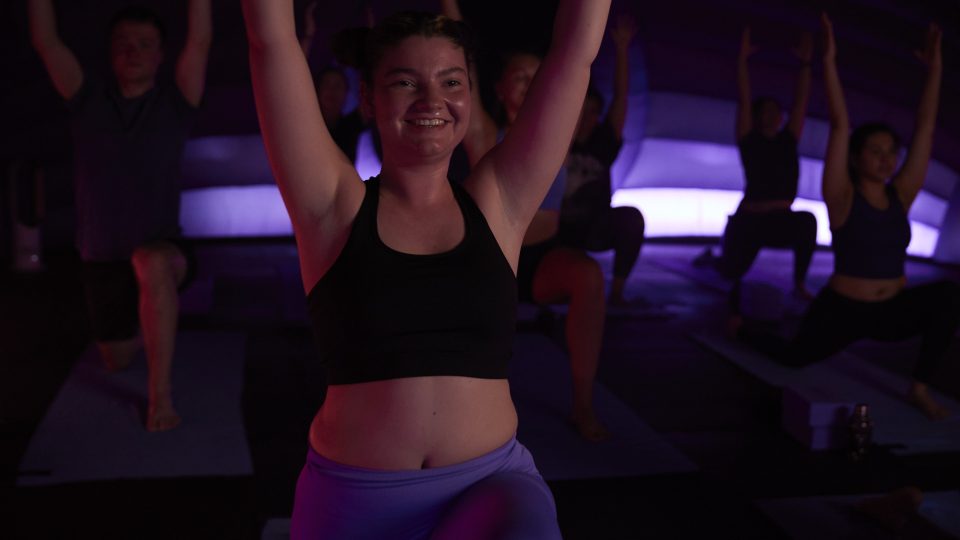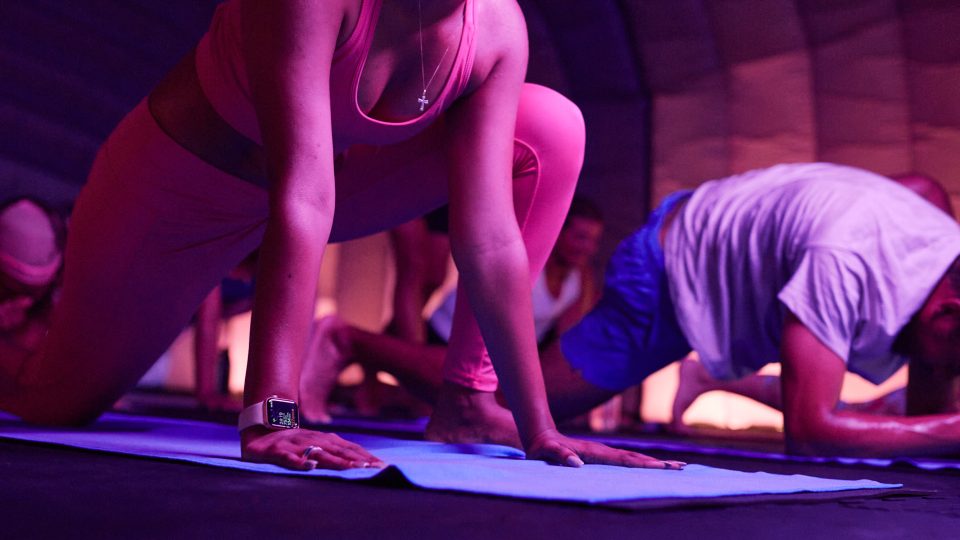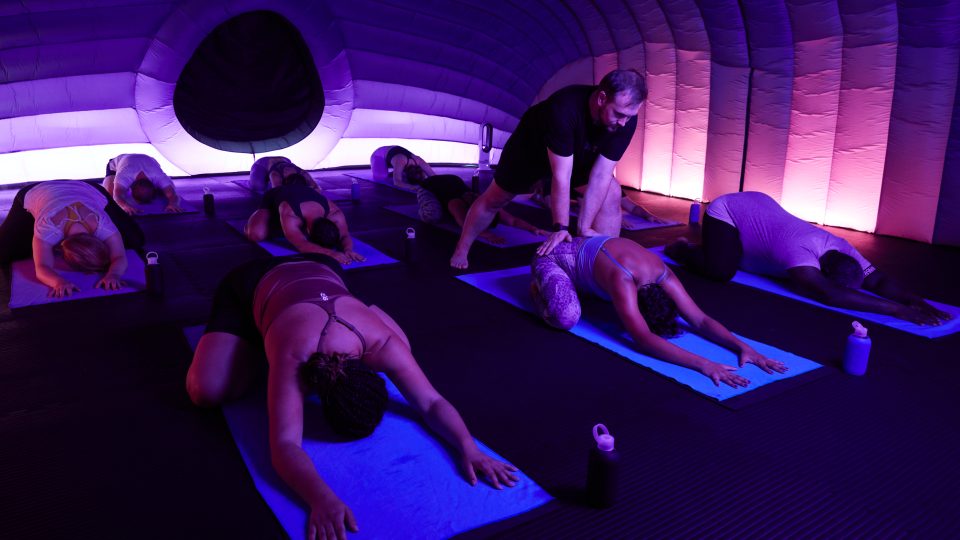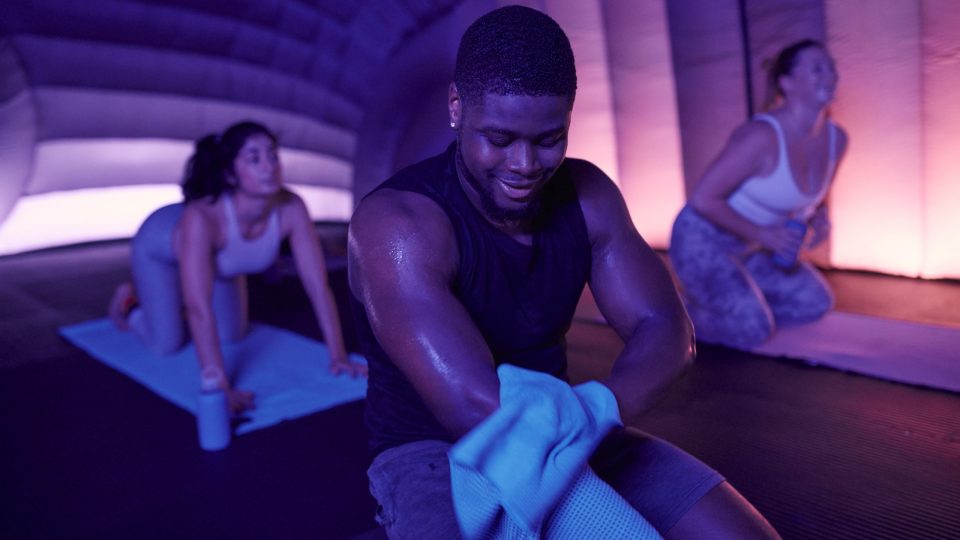 You'll find us at Unit 4c on The Bramery Business Park next to the gorgeous Botanica Coffee Kitchen. Free parking is available in different locations on the business park or there are some spaces just outside. Also a studio bike rack is available too, if you're feeling extra fit!
step into our immersive pod
hot yoga in 37 degree heat
move to relaxing beats
filled with calming scents
suitable for all levels
find

us

The Bramery, Unit 4C Alstone Ln, Cheltenham, Cheltenham, GL51 8HE, GB
Abbi Carter
I started practicing yoga as a teenager (thanks Mum!), which massively benefitted my mental health and kicked off a lifelong passion.
I am 200hr RYS Yoga Alliance qualified, along with being a qualified Pre and Post Natal Yoga teacher. My classes are strong and dynamic, with a focus on alignment and engagement whilst flowing through energising asanas.
Expect to improve strength, mobility and mindfulness – you will leave the pod feeling lighter!
Nikki Timney
I have a strong passion for movement and mindfulness. Teaching yoga since 2019, my classes are centred around encouraging people to develop strength and space in their bodies through their yoga practice. I combine ancient yogic wisdom with modern scientific developments to help individuals learn more about their minds and bodies, and live in a healthier and more fulfilling way both on and off the mat.
Kat Scott
I became a fully qualified yoga teacher in 2021 after discovering the physical and mental benefits from unrolling my mat and moving my body. I regularly teach a range of yoga around Cheltenham including vinyasa, yin and ashtanga, and my mantra is about making yoga more inclusive.
My classes are creative, fun, and challenging, aiming to rebalance the mind and body through conscious movement. My classes are always open to everyone. My yin background has given me in-depth knowledge of adjustments and props, so there are always alternatives for poses in my class.
In my free time I play hockey and weightlift so strength and mobility have found their way into my teaching as they are key components in ensuring that we look after our bodies.
Ellouise Wilkie
I started practising yoga back in 2016 when I noticed how much yoga benefited my mental and physical wellbeing. I came across Hotpod yoga in 2018 and completely fell in love with hot yoga and the concept of the pod. I completed my 200hr yin yoga training in Ubud, Bali in Summer of 2021 and now I teach beginners to advanced both Vinyasa flow and nourishing yin yoga with integrated breath-work exercises.
"I enjoy an advanced hot vinyasa flow to really get the body moving and feeling good"
Ren Collier-Smith
My yoga journey started at 12 years old when I followed my mother into a Vinyasa yoga class. Upon leaving this class, I noticed how quiet my mind was, and this led to me exploring yoga's benefits to mental health. I developed my own practice alongside attending classes and eventually started my 200hr teacher training at 19 years old, with Ian Davis. I'm now qualified to teach Vinyasa, Hatha, Ashtanga, Restorative, Yoga Nidra, Meditation, Children's, and Baby yoga and due to finish my 500hr teacher training this autumn.
My classes are accessible for all abilities, whether you are new to yoga or an experienced yogi. I lead my classes with a heavy focus on Santosha- which is the sanskrit word for contentment, being okay with things the way they are. I believe only when we truly accept ourselves and our ability, can we practice yoga to our full capabilities.
Outside of yoga, I have a degree in Fine Art. I love painting and going out into nature with my camera. I love everything sporty, as an ex-county rower I love to try new things- most recently bouldering! I was captain of the university netball team, leading them across the UK in BUCS (British Universities and Colleges Sport) matches. I am a foodie who loves to bake and cook for friends.
Jodie Molyneux
I have worked in Health and Wellbeing for almost 15 years now. I truly believe taking care your mind and body is beautiful and utterly essential. In this fast-paced world, we need to carve out gorgeous moments of time, just for us.
I am a mum to 3 young girls, and I also run my own Wellness Mentoring business. I trained as a yoga teacher at Orange Yoga in Cheltenham and enjoy teaching Hatha, Yin and gentle yoga where we practice how to take care of ourselves on and off the mat. I love a little Yin to our 'Yangy' lives and here at Hot Pod yoga we will do just that.
Cath Fair
I started practicing yoga after having my daughter in 2000 enjoying the calm it brought to my crazy life. Over the last 25yrs I've practiced and taught many different styles of yoga from intense Vinyasa to chilled Yin… I'm also very partial to a sound bath!
I've had the privilege to train with many inspirational teachers over the years including Doug Swenson, Esther Ekhart and Kathy Ran.
A friend invited me along to my first Hot Yoga class in 2014 and I was immediately hooked and completed my 200hr teacher training the following year.
I love to share joy and positivity and I'm a committed fashionista and environmental advocate.
Fiona Deyes
I've practiced Yoga my entire adult life – it's been a while!
Yoga is an amazing way of creating a healthy body and mind, helping become flexible and resilient. The combination of breath and movement is simple and yet powerful. Yoga, as a moving meditation nurtures and enhances,
allowing self-development and acceptance.
I've explored all forms of Yoga, from Yin to Iyengar, but love the creativity and freedom of Vinyasa Flow,
linking poses together to create energy and dynamism. My career has been focused on education, sport
and exercise (in schools and gyms) and when I'm not teaching yoga, I work as a gymnastics coach.
I hope my classes will allow you to explore the strength and suppleness of your body, whilst creating a
peaceful and joyous mind. I look forward to meeting you!
Flo Thacker
My yoga journey began when I was 16 years old, going to classes with my mum in the school gym. I fell in love with the way it made me feel and the powerful effect it had. Not only did I feel stronger but also more connected to myself.
After years of practice, I have since completed my 200hr Yoga Alliance Registered teacher training, specialising in Vinyasa Flow. I'm inspired by the fluidity of the movement in Vinyasa and Mandala and how marrying this movement with the breath settles the mind.
I teach dynamic but accessible classes, balancing the physical practice with the more subtle elements of breathwork and awareness. I strive to support others to connect with themselves through body, breath, and mind.
I love movement in so many forms and my ultimate favourite thing is taking my dog for a walk.
the founder
Sophie Jayne Taylor
Sophie fell in love with Hotpod Yoga many years ago and quickly knew she had to open her own studio one day. The amazing benefits she found from her practice both mentally and physically were life changing and she wanted to share this with as many people as possible. She recently relocated back home to Cheltenham Spa where she knew Hotpod would be the greatest gift to the community, her friends and family! Travelling and living all over the country for the last 15 years, Sophie has never truly felt settled living anywhere until now, with her own pod for her own people, she finally feels home.