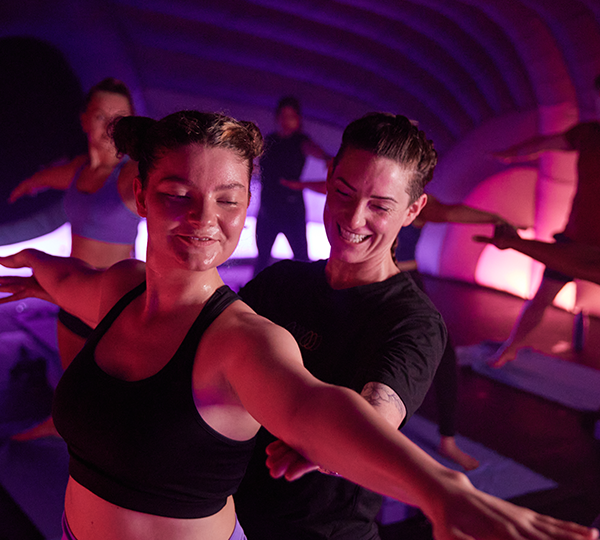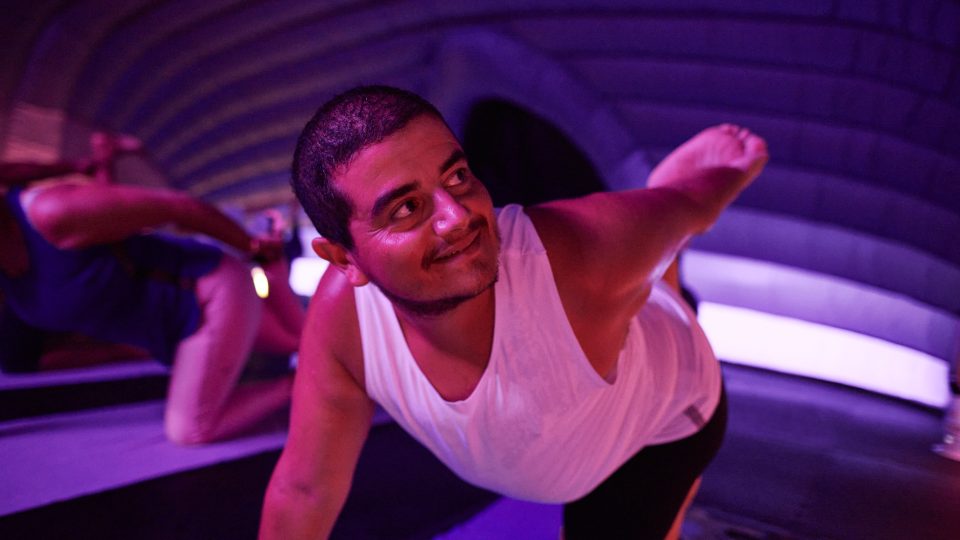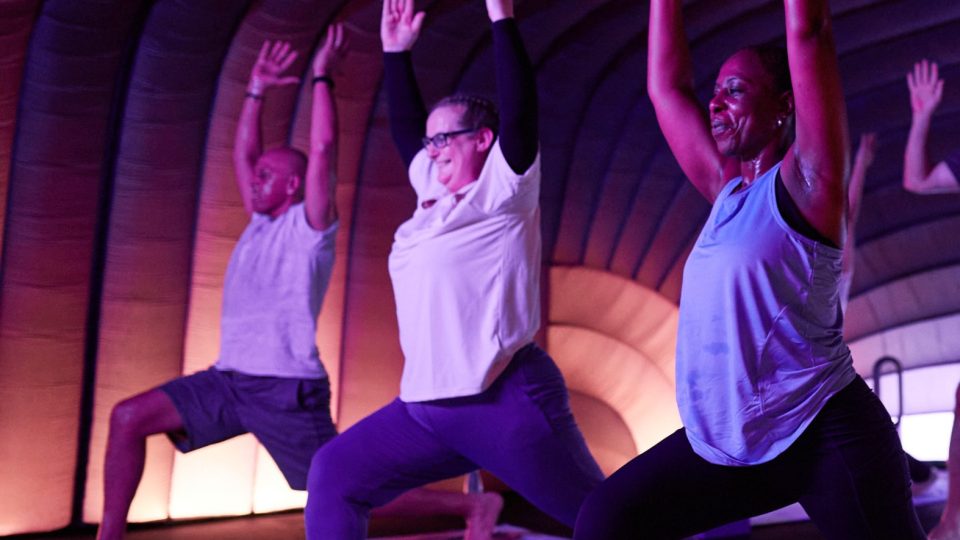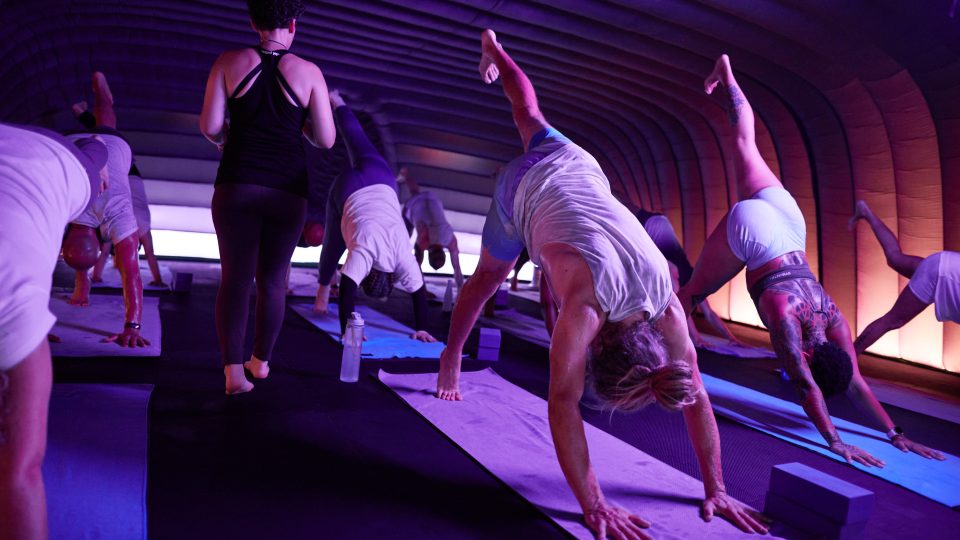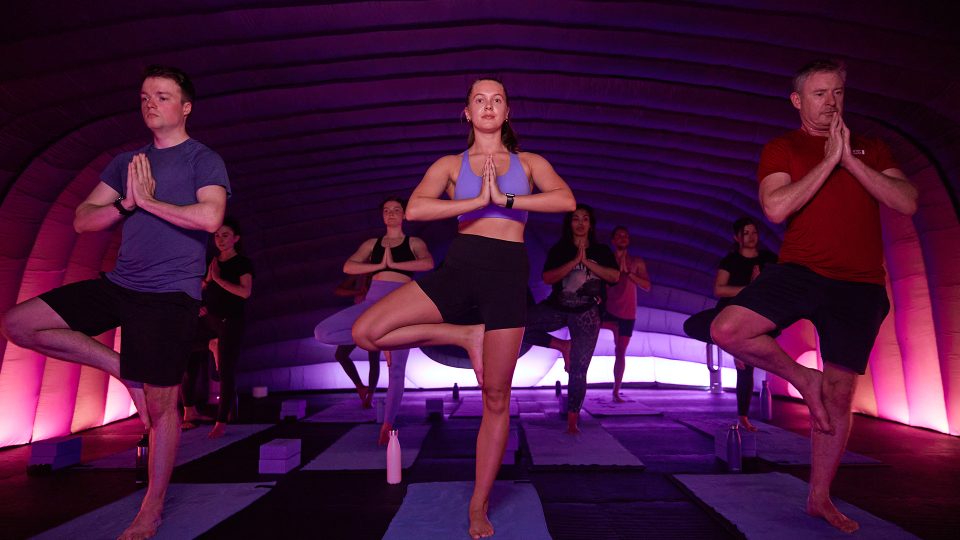 Hotpod Yoga Horsham is a bright and airy modern space on the first floor of a recently renovated building. The pod is set in a large open studio with high ceilings and an industrial look. There are private changing room, toilets and a shower available for customers to use. We have a range of classes 7 days a week to suit all abilities from our relaxed nuturing flow to our fast paced dynamic flow. Our central location means there is plenty of parking, great restaurants, shopping and independent cafes.
You'll find us on the High Street, in the heart of Horsham. Situated on the first floor of number 16 West Street above T.H Baker and next to Pret A Manger. You'll find our entrance at the back of the building through a busy walkway linking the large carparks and the town. A studio bike rack is available inside if youre feeling extra fit.
Changing

Parking

Showers

Mats
step into our immersive pod
hot yoga in 37 degree heat
move to relaxing beats
filled with calming scents
suitable for all levels
find

us

16 West Street, First Floor, Horsham, West Sussex, RH12 1PB, GB
Luke Valley
Luke is a Yoga teacher with his roots deep in the practice of presence, having read and practiced Eckart Tolles "The Power of Now" he is using his yoga teaching as a vehicle to help students move deeply in to the present moment & to reconnect with the body! He originally trained as a Vinyasa flow & Yin Teacher & now has been a Hotpod qualified instructor for a number of years! He is excited to share this amazing practice with the beautiful students of Hot Pod Horsham!
Helen Mercercox
Helen is passionate about sharing the amazing power of yoga! She has personally practiced yoga for many years and following redundancy in 2020 followed her passion and retrained as a Yoga Teacher, Reiki Practitioner & ecoNidra Guide. She believes yoga is for everyone and her warm and welcoming approach eases you into your flow as you begin your challenging yet extremely calming and nurturing practice. Her classes are influenced by the changing seasons which she combines with the magic of essential oils bringing harmony into your life as you stretch your body and relax your mind.
Gemma Melville
Gemma's yoga journey began around 15 years ago when she started practicing Bikram yoga (hot 26/2) She loves the intensity and consistency of this particular type of class.
Gemma realised that yoga was not only helping her physically but it was also positively impacting all aspects of her life and created a great balance with her fast paced and pressurised job role.
Gemma completed the 200hr Teacher Training in Morocco January 2018 and went straight onto teach Vinyasa in a hot studio in Brighton. Gemma currently teaches at a number of local gyms and another yoga studio in Horsham.
Gemma likes to create a light hearted and dynamic class. Her focus is for students to develop strength, challenge themselves, gain a deeper knowledge of correct alignment and, of course, have fun!
Miztli Rose
Miztli is a performer, writer and yoga teacher hailing from Mexico and Brighton. She first discovered yoga whilst at drama school, finding it a wonderful practice to help her strengthen, challenge and reset her mind, body and spirit. In 2015 she came across Hotpod Yoga at her local sports hall in Brixton, and she was hooked. She has since gone on to complete her 200 hours yoga training with Hotpod and has been teaching at their London studios since 2021. As a teacher, she is passionate about helping students nurture themselves through movement, and loves exploring the holistic and philosophical aspects of the practice during her classes. She has completed further training in Yin, Mandala, Pregnancy and Kids yoga.
Loren Williams
Loren has been a qualified Yoga teacher since 2015. Her dynamic vinyasa classes aim to develop strength and flexibility in both body and mind alongside a sense of playfulness. Her sequencing allows students to invite in a sense of awareness with the chance to explore in a supportive environment to get the very most out of class. With her own yoga practice providing her with the tools to live more intuitively this is something she is passionate about passing onto students.
Silvia Echeverria Talavera
Silvia discovered yoga's mental and physical benefits a decade ago. Trained in Rishikesh, India, she earned her 200-hour Yoga Alliance certification in 2018. Since then, Silvia teaches both in the UK and internationally, sharing her passion at Hotpod Yoga Horsham, Amari Yoga , and Bodywise Gym. She conducts retreats in the UK, Spain, Costa Rica, and Cambodia. She likes to say every yoga class is like a journey, it starts slow, gradually builds up into more complex, challenging asanas and gradually we come back to relaxation and breathing. Silvia promotes a connection between breathe, body, and mind, creating a welcoming, safe, and calm environment. Beyond yoga, she enjoys practicing aerial and acro-yoga in her free time.
Maisie Ross-Talbot
Maisie aims to share yoga as an invitation to reconnect back to the self. From a dance background she loves to create fluidity, strength, playfulness and intuitive movement within the flow, but also as a Reflexologist and Relaxation therapist believes there is an equal importance in the stillness and rest to allow ourselves time to just be. Her holistic approach in classes guides you inwards to empower self connection for the mind, body and soul by teaching the practice of yoga on & off the mat.
Ade De-Ath
Ade became a yoga teacher 2019 and is registered with the Yoga Alliance. He loves to mix things up and bring some excitement to vinyasa flow drawing on his experience in Power and Rocket styles. Ade's classes allow students to explore, adapt and be creative with their practice with plenty of freedom to push yourself at a pace that suits you.
Ade is passionate about helping people improve their physical and mental health through yoga, and believes that practice continues even after we step off the mat.
Ade is also a certified fitness instructor and teaches Spin in the Horsham area.
Kate Bachelor
Kate first discovered yoga almost 25 years ago, initially attracted to the physical practice, but soon experienced its transformative power in relation to her own mood, mind and overall wellbeing. Ten years ago she turned her passion into her career, certified by the British Wheel of Yoga (BWYQ Diploma – 500hrs), aiming to share those holistic benefits with others.
Drawing on her further training in Sports Yoga, Menopause Yoga & Restorative Yoga, Kate's teaching style is invitational and explorative, emphasising the felt experience and the opportunity for each student to meet themselves on the mat. Her classes combine mindful movement and breath awareness, blended with challenge, allowing individuals to feel empowered in their practice. Whether you are a novice or an experienced yogi, Kate warmly invites you to join her on the mat to explore the profound benefits of yoga and discover inner peace and well-being.
Ingrid Palmer
I was introduced to yoga as a teenager and from the first moment I stepped onto my mat I was hooked. I completed my training following two years of study and several years as a class assistant before I taught solo for the first time. I have continued to study, learn and adapt my teachings over the years.
After moving to Horsham back in 1990's I began teaching here and still love it as much as I did back then. I have taught in schools, colleges and studio's teaching all ages and abilities and I still get a thrill out of seeing people gain confidence and growth through their practise as well as the joy when people experience yoga for the first time. I am have also been lucky enough to guide pregnant ladies safely through their pregnancy and post natal journeys.
Following a total hip replacement back in 2019 I have a greater understanding and appreciation for how our practice changes through time.
Vinyasa classes are a real joy as they allow me the freedom to experiment with different flows that suit different themes, times of the year and I can really cater for all my class members.
I also love to teach yin yoga, as this is floor based, slow, nourishing and meditative and balances out the physicality of my vinyasa practice.
Hayley Ball
Hayley has been practicing yoga for over 10 years, originally starting the practice for the physical benefits and quickly acknowledging how much more yoga brings you on and off the mat. She trained as a yoga teacher for her own personal development and discovered the joy of sharing her passion and has now been teaching for over 2 years. She enjoys teaching an accessible class with a gentle approach so that all levels can find their own practice.
Alix Coleman
Alix takes great care when planning her classes to make them accessible to all levels. She believes yoga is for everyone and once you start moving the body, the connection with the mind & spirit becomes united. She is a compassionate teacher who understands that yoga is a journey to the Self and cannot be rushed. Alix offers guidance & support through her teaching whilst mindfully observing each student during the practice.
Alongside yoga, Alix offers Reiki healing to relax, ease tension & stress and help with well-being. She also holds ceremonies at Full Moon where women can align with the Moon cycles and with each other.
Saara Vance
Saara is a 300hr+ Yoga Alliance Teacher and has been practicing yoga for over 17 years and teaching since 2017. Saara first encountered yoga in 2006 and it was love at first asana (posture)! This set in motion a journey that has inspired, nurtured and challenged her physically, mentally and energetically, and continues to benefit her whole being. Yoga has become a strong and integral part of Saara's life ever since she first stepped on the mat, and her love for learning more as a teacher and a student only continues to grow.
Through her teaching, Saara enjoys enabling others to experience the incredibly liberating gift that is yoga. Saara teaches from the heart and enjoys making yoga accessible to every body regardless of where they are with their yoga practice. The yoga Saara shares balances elements of fun, lightheartedness, strength and serenity, whilst encouraging a deeper connection with the self.
the founders
Marina Mikus and Sarah Wyatt
Sarah and Marina met when dropping off their children at the school gate 5 years ago. They became friends through their love of fitness. Marina discovered Hotpod Yoga Worthing four years ago. She loved the immersive environment and left the pod feeling calm and restored. This quickly became part of Marina's weekly routine. Two years later Sarah attended her first Hotpod Yoga class and was hooked. The amazing benefits they both found from their practice were mentally and physically life changing and they wanted to share this with others. Both living on the south coast they looked at surounding comunities and realised that Horsham would be a perfect place to offer the benifits of the Hotpod experience.
Get pod-prepared, check out the Hotpod Yoga store