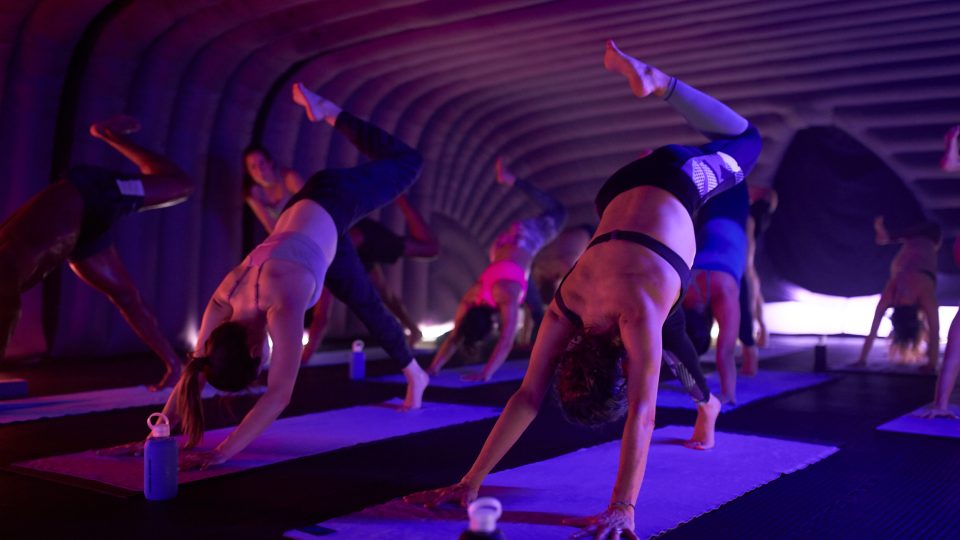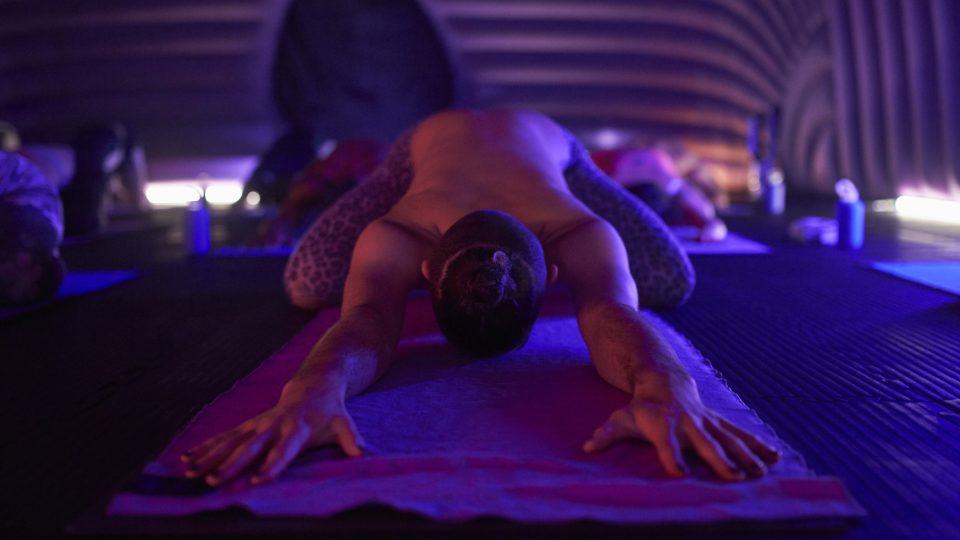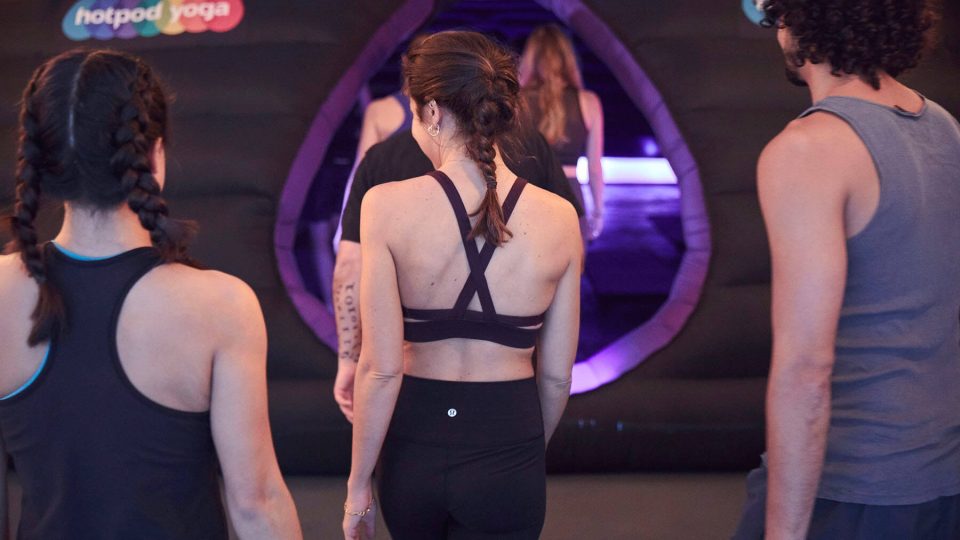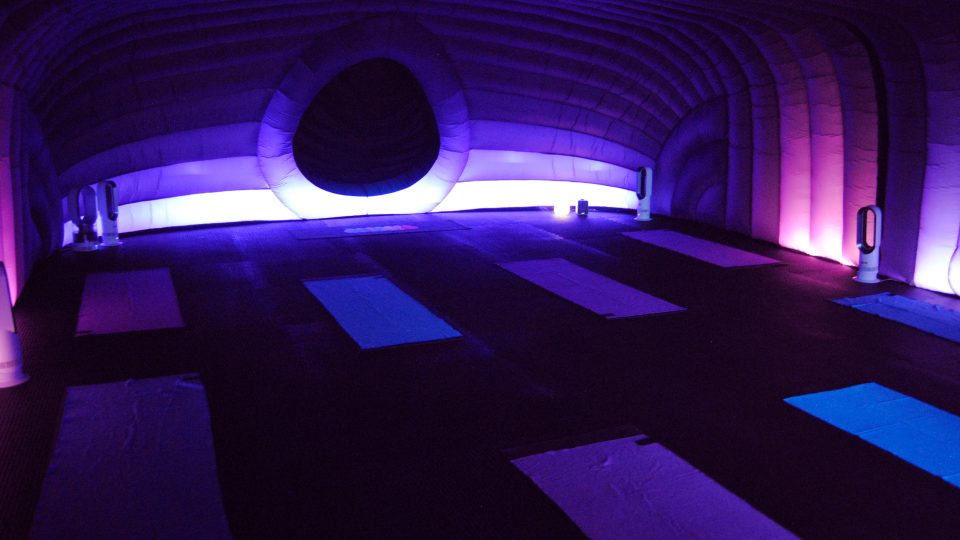 While our studio is temporarily closed as a result of COVID-19 restrictions, we're coming to you with live online classes for you to stream at home. For class times and more, take a look at the studio schedule above, then book your spot.
We are monitoring the latest government advice and will reopen as soon as possible to do so. Keep an eye on our social media pages for further updates, and don't hesitate to get in touch if you have any questions or concerns.
Signature Inflatable Studio
Vinyasa flow
37 degrees
All levels welcome
find

us

17 Forest Road, Loughborough, Leicestershire, LE11 3NW, GB
Amanda Mason
Amanda is a Sports Therapist and runs a private sports injury clinic as well that she also runs a Sports Therapy degree here in Loughborough which she set up two years ago. She completed my RYT200 hour training with the Yoga and Aryuveda Centre then went onto do her Hot Yoga CDP in London. Amanda grew up on the beautiful sunny south coast of England and is passionate about Vinyasa flow and hot yoga!
Jodi Ryan
Jodi first discovered hot yoga in 2011 in Los Angeles when she was on a layover with the airline she worked for as cabin crew. From that class she was hooked, she loved how it worked my body and how amazing it made me feel. Jodi went onto train in Power Vinyasa in London in 2017 and since then has added more to her teaching style by training in Forrest Yoga and Yin Yoga. You'll find that Jodi's classes are fun, engaging and accessible, she loves bringing together the balance of a strong practice with moments of stillness to work deeper into the body and calm the mind.
Lucy Moore
Lucy completely and utterly fell in love with yoga when she lived in Manchester. She was surrounded by all types and styles and she went completely in. Her heart has always been in hot yoga. Just something about the release you get from sweating it out. She qualified to teach only to deepen her understanding however fell further for the science behind the methods.
Cathy Burnside
Cathy trained with Yogahaven in 2015 with the singular notion of teaching Hotpod Yoga having discovered its magical powers in Nottingham and fallen completely in love! The yoga for-real-life concept, accessibility for all, the post-pod glow and the smells (not forgetting the smells) make the pod somewhere she will always want to be, either as a teacher or enthusiastic student. Always hope to make classes welcoming and relaxed with plenty of opportunities to take things a little deeper if you're feeling full of beans – or dial it back a notch or two if you're not.
Laura Tindle
Laura grew up in Loughborough and fell in love with yoga and meditation in 2016. With a background in Dance she craved something that would allow her to regain flexibility whilst building strength and Vinyasa yoga was it! In 2018 she travelled to Rishikesh, India to complete her teacher training in Ashtanga and Hatha Yoga and was lucky enough to teach in Sri Lanka. Her training combined with a degree in Human Biology and personal practice allowed her to gain a deeper understanding of the physical benefits yoga brings to the body and the emotional benefits it brings to the mind. Laura loves early morning classes which gently wake up and energise the body and mind, setting you up for the day.
Sarah Hateley
Sarah first discovered Yoga after attending a class in a local village hall, and instantly loved how it made her feel, both physically and mentally. She tried her first Hotpod class back in 2016 and was hooked, and has been a regular ever since. She loves the warmth and atmosphere of being in the pod, and how you leave feeling relaxed but also energised. She believes yoga should be suitable for every body, and should always be adaptable for all needs. She has two horses, both ex-racehorses, who manage to keep her busy, as well as four cats!
Sarah Carter
Creativity, adventure and movement have always been a part of Sarah's life. She has a diverse background having lived in different countries and had various businesses jobs in an effort to find what matters to her. Her own healing process led her to become a qualified psychotherapist, yoga teacher and yoga therapist for PTSD and anxiety. Originally trained in SunPower, Sarah's teaching has evolved to be dynamic and therapeutic (grounding, restorative, educational). She believes yoga is a way of life and hopes for it to become a recognised lifestyle medicine.
Rachael Voss
Rachael has lived her whole life in the Loughborough area, coming from a neighbouring village. She began practicing yoga 15 years ago, when one of her best friends trained to be a teacher. She has since spent many years following her to retreats and classes far and wide and finally decided to take the next step herself in 2018.
Rachael was diagnosed with Multiple Sclerosis in May 2016. Yoga has always played a very important part in her self-care routine. Rachael believes that regular exercise and creating space both physically and mentally is key to keeping a positive outlook on life. This also means that having a somewhat 'invisible illness' she understands that everyone has their own personal struggles and their own reason for coming to yoga.
Tom Bodsworth
Tom trained with Sivananda for Hatha Yoga in India, followed by Ashtanga Yoga in Rishikesh the same year. He then completed his 300 hour with Trimurti in Goa multi discipline with Yin Yoga.
Tom likes to push people with a Dynamic Flow, but also believes in the gentle calming effects of yoga, by starting slow and winding people back down into a soothing relaxation.
He is also a gardener and grew up in the Leicestershire area. He is passionate about movement, fitness, and bringing people together onto the mat.
Isabel Gondar
Isabel is from Portugal, she trained as a yoga teacher in February 2019 with Dylan Ayloo, in Sri Lanka. Her training was based in vinyasa power yoga with elements of Forrest yoga. She enjoys teaching vinyasa yoga classes mainly to beginners or people who wants to improve their yoga practice. Personally, she likes to practice intense power yoga although, there are times she really enjoys a less intense flow or restorative yoga.
Donna Navarro
Donna, a North Yorkshire lass, moved to Nottinghamshire nine years ago. She came to yoga after a number of back surgeries resulting from degenerative disc disease and a curvature of the lumbar spine. A stressful career in public sector offender management and continued back trouble found her seeking strength, flexibility and balance on the Yoga mat. She has found yoga to be life-changing in terms of improving the health of her spine and in bringing a sense of calmness and grounding to her life. With metal rods and plates in her lumbar spine, she firmly believes that Yoga is for everyone and really looks forward to welcoming you to the mat, whatever your ability.
the founder
Lucy Walton
Lucy grew up in Northamptonshire before relocating to the East Midlands with her boyfriend Ally. Lucy got hooked on hot yoga a number of years ago and knew then she needed to share this with as many people as possible so trained to become a Yoga teacher and the rest is history as they say!