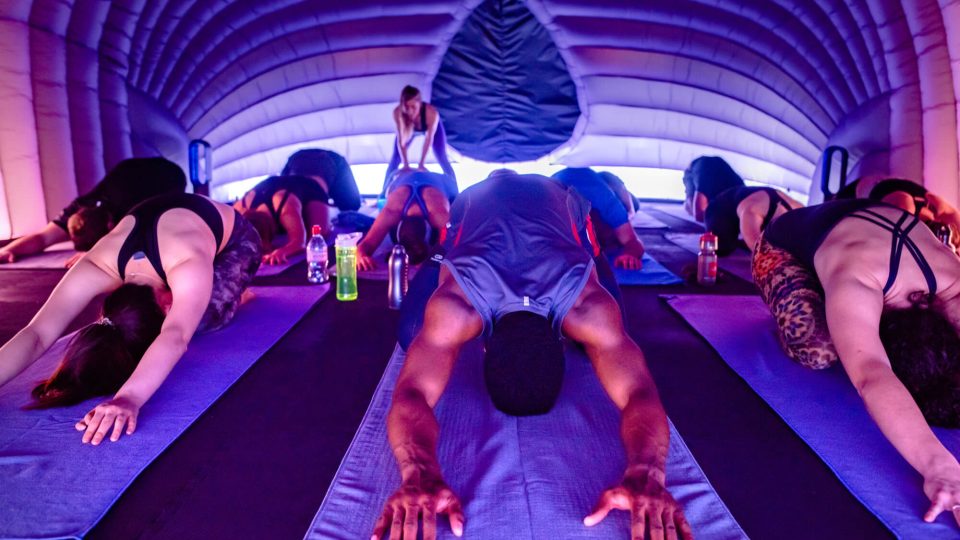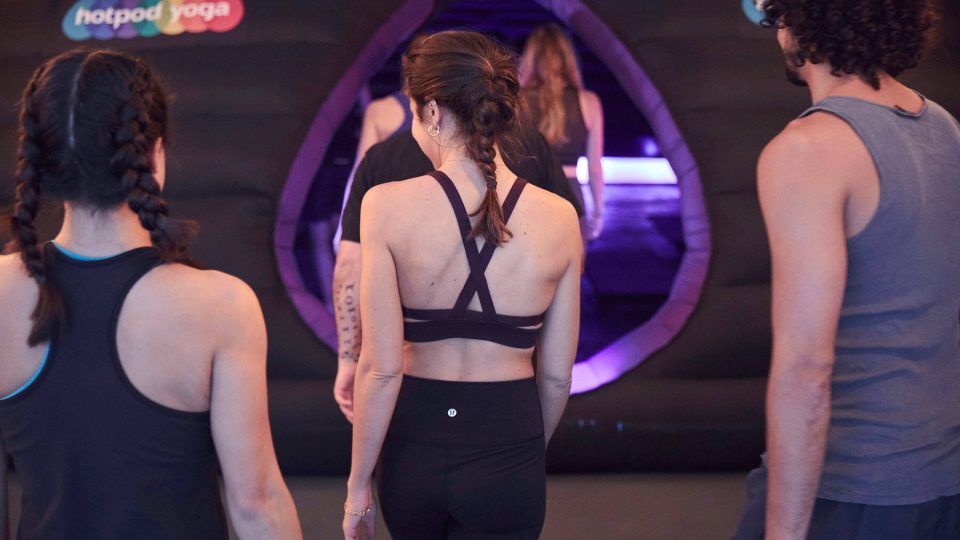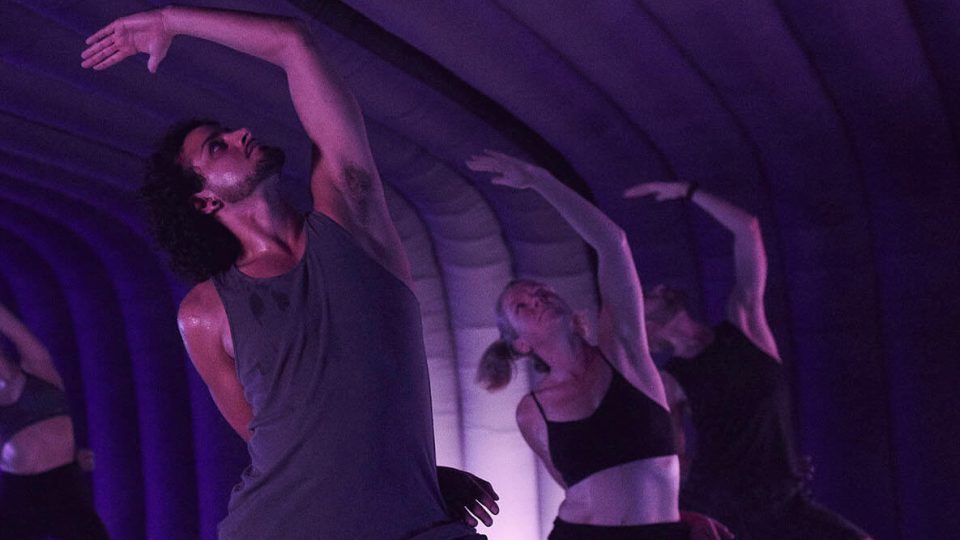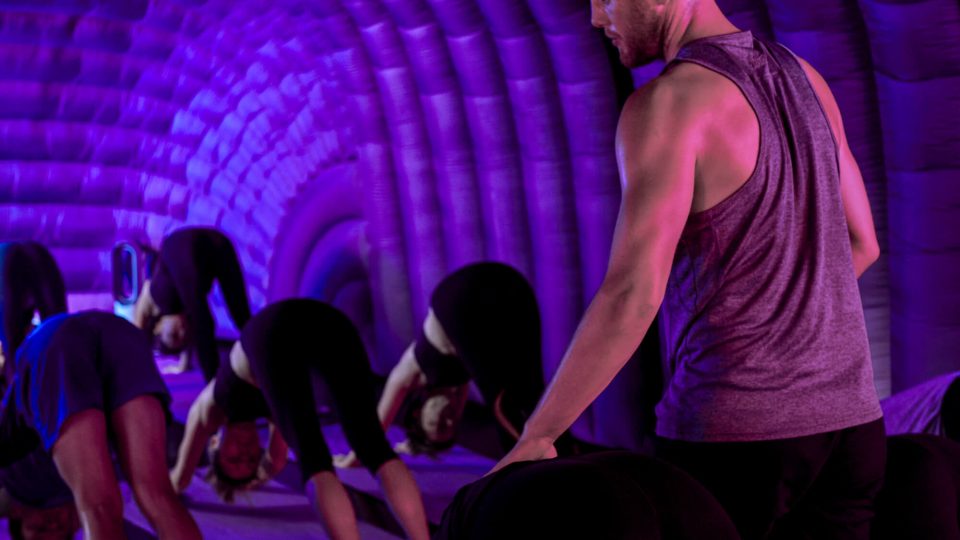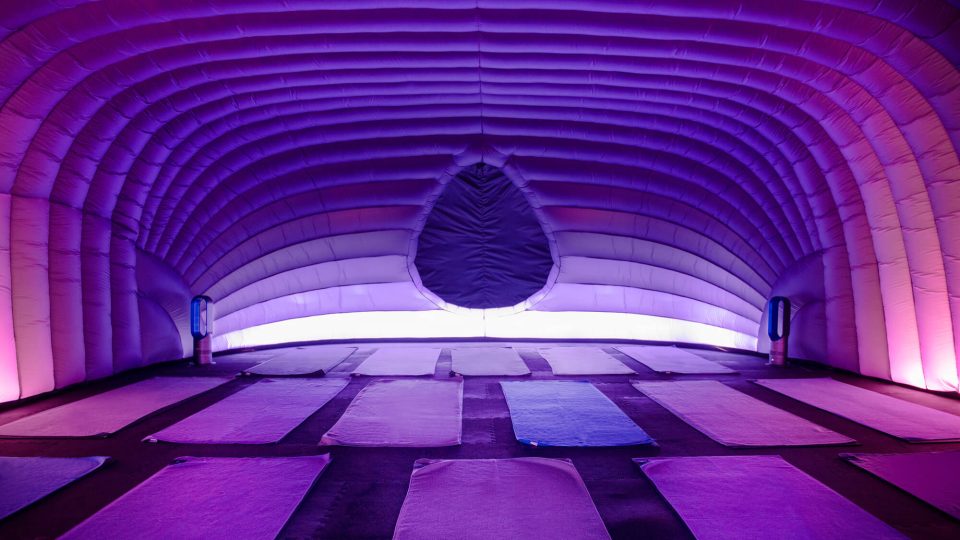 We're Europe's largest yoga business. Since 2013, over 100,000 people have immersed themselves in a Hotpod class at one of our 50+ locations around the world. We first landed in Margate in 2017.
Join us at our  studio for yoga in its most potent form. You'll stretch further, breathe deeper, sweat harder and melt fully into the Hotpod experience – a balanced flow of active and passive postures, working the body and calming the mind in equal measure. You'll step into our 20 person pod and immediately find yourself a million miles away from the every day. Bring water and a towel to enjoy the unique immersion that is a Hotpod Yoga class. To understand it, you've got to experience it
Signature Inflatable Studio
Vinyasa flow
37 degrees
All levels welcome
find

us

39-41 High Street, First Floor, Margate, Kent, CT9 1DX, GB
Find Us
We'll be limiting the numbers of customers per class
At the moment, the showers are closed.
There is space for you to get changed, but if you can, try and arrive dressed and ready to go!
Our staff will be wearing masks in the studio, except while teaching. Feel free to wear one too if you'd like.
We won't be providing blocks or straps (but you're welcome to bring your own)
We'll be practicing with the pod door open for extra ventilation
The pod and mats will be deep cleaned and aired out between each class
Towels will be required in all classes (you can bring your own, or hire one from us)
Please help us by not coming to class if you're not feeling well or showing any symptoms of coronavirus. Try and arrive 15 minutes before the class starts so that we have time to get you set up. For security reasons, we really can't let anyone in if late, so expect a locked door once the class starts. We have a 4 hour cancellation policy on all classes, cancellations within that timeframe will not be refunded. Any questions? Ping us an email.
Beth Cookson
Beth is a qualified children's yoga teacher, and has been practising for almost 20 years.
She wanted to bring the therapeutic benefits she enjoys from yoga, including a sense of peace, to her three children, which is why she recently trained under the tuition of Caroline Garland and Yogamoves4kids.
"Yoga is a wonderful way to connect with my children. They love the postures and the opportunity to have fun and be creative with it.
"Yoga not only supports children's physical health but it's so important in developing their mental and emotional wellbeing too."
Shelley Brathwaite
I started practicing yoga during my 20's alongside the Gym & Pilates but it never really clicked, I guess it just wasn't the right time. I spent most of my 30's neglecting myself, by placing both motherhood & my career ahead of my own health & wellbeing. After hitting my 40's it suddenly dawned on me that I needed to make some significant changes in my life. Cue yoga, it was now the right time and I was addicted. I rapidly went from practicing at home a couple of times a week, to immersing myself in the wonders of HotPod. Swiftly followed by the life altering benefits of having a daily practice to travelling to India & completing my 200hr YTT training. I've finally found my purpose.
Robbie Redway
Robbie is a musician and yoga teacher – finishing his teacher training in January 2019 after practicing for many years previously. He believes yoga can and should be for absolutely anyone. The main reasons he loves Hotpod so much are it's energy and inclusiveness, things he always aims to always bring to his classes.
Kimberley Holladay
Kimberley began practising yoga in London 12 years ago, time and circumstances with long hours consumed behind a desk in post production lead her away from practise and the idea of T.T …until moving to Margate…
The Pod landed like a spaceship (like flight of the navigator) and she was consumed by the purple glow "take me to your leader", no small talk was required to get her jumping head first into classes and to Yoga London for her 200hr T.T.
Kariss Boyle
Kariss began to practice yoga alongside her regular gym routine, initially thinking it would just help her get a good stretch. What she found was so much more, she fell in love with the practice and the benefits it offered, finding for the first time she was able to connect to herself and begin to find a self-acceptance that she'd never felt before. She loved it so much, she enrolled on her teacher training so that she could share her passion with others.
Jessica Jordan-Wrench
Jess first tried Yoga as a student, dipping in and out of classes throughout her 20s and early 30s. Practising more regularly helped her to nurture her body as she recovered from a caesarean, whilst also giving her the tools to stay present and focussed, in a time when she felt increasingly distracted! Jess' classes are friendly, fun and accessible.
Luis Crawford
Luis has been with Hotpod Yoga for over 3 years now. First as a yoga student and now as a yoga teacher. Luis' approach to teaching epitomises what Hotpod's all about – a down-to-earth accessibility, high on impact (both mental and physical) and a good bit of fun.
Stacey Osborne
Stacey is an easy going, life loving Aussie living residing in Margate. With a background in ballet and dance, she has loved the physical side of yoga for years. She is a friendly and open hearted gal, who loves a chat and an adventure.
Hannah Rzysko
Hannah has been practicing yoga for over a decade, since her first of many trips to India. Yoga has weaved itself into every part of her life – being committed to ongoing practice and study so she can support & invite more people on the mat no matter what their condition, health and challenges. She believes Yoga is for absolutely everyone, so Hannah's classes are welcoming, fun, and celebrate the perfection in our wobbles, differences and diversity 🙂
Megan Bradley
Megan stumbled across Hotpod Yoga in early 2015 whilst on a mission to get fit and it completely changed her life. She feels that Hotpod Yoga has helped her realise and be comfortable with her true self, and can't wait to pass on this experience to other people she meets in her classes in Margate.
Ally Johnstone
Having travelled to the Himalayas in India to train as a yoga teacher, Ally began teaching in the Spring of 2014.
Her style encourages students to achieve their own levels of confidence in their practice, recognising each student as individual and working with them to achieve whatever it is that they may be looking to gain from yoga. Ally is a keen yogi, vegetarian, world traveller, animal lover, mum and classic rock enthusiast.
the founder
Megan Bradley
Megan stumbled upon Hotpod Yoga Hackney back in January 2015 whilst on a mission to get fit. The combination of challenge, fun and positive faces had her coming back again and again. Deciding to make the big move from London to the seas of Margate, Megan could not envisage the future without the pod. A few friendly franchise meetings with Hotpod Yoga founders led Megan to begin training as a yoga teacher, buying her first Hotpod Home, and making Hotpod Margate a reality in January 2017!