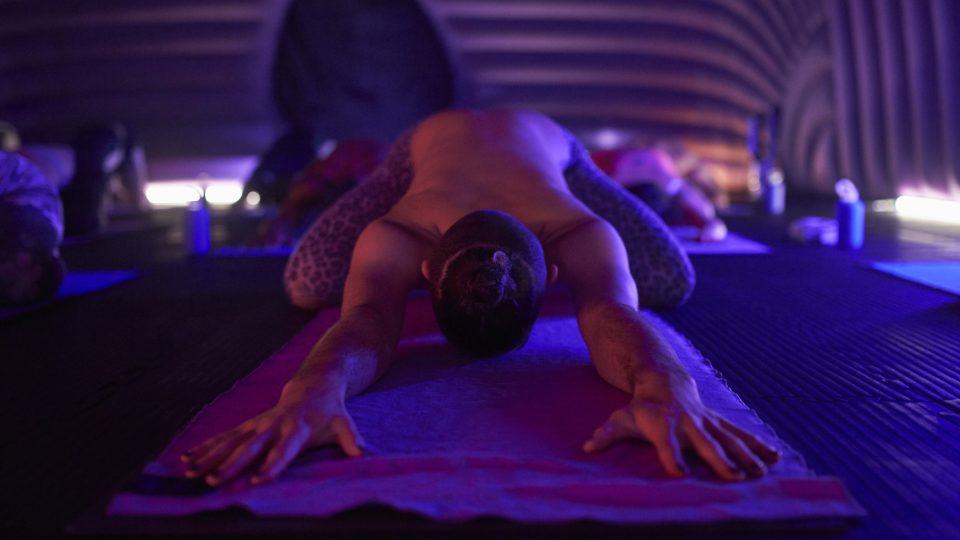 We're Europe's largest yoga business. Since 2013, over 100,000 people have immersed themselves in a Hotpod class at one of our 50+ locations around the world. You'll stretch further, breathe deeper, sweat harder and melt fully into the Hotpod experience – a balanced flow of active and passive postures, working the body and calming the mind in equal measure. For class times and more, take a look at the schedule above, then book your spot.
Signature Inflatable Studio
Vinyasa flow
37 degrees
All levels welcome
find

us

50B Windmill Hill, Ruislip, Middlesex, HA4 8PT, GB
Find Us
• We'll be limiting the numbers of customers per class
• At the moment, the showers are closed.
• Please arrive dressed for class and ready to go!
• Our staff will be wearing masks in the studio, except while teaching. Please also wear a mask in the communal spaces outside the pod.
• We won't be providing blocks or straps (but you're welcome to bring your own).
• We'll be practicing with the pod doors open for extra ventilation.
• The pod will be deep cleaned and aired out between each class.
• We request that you bring your own mat to class (there will be a small number for hire should you need one from us).
• Towels will be required in all classes (you can bring your own, or hire one from us).
Please help us by not coming to class if you're not feeling well or showing any symptoms of coronavirus. Try and arrive 15 minutes before the class starts so that we have time to get you set up. For security reasons, we can't let anyone in if late, so expect a locked door once the class starts. We have a 12 hour cancellation policy on all classes, cancellations within that timeframe will not be refunded. Any questions? Ping us an email. Team HPY xx
Craig Clark
Having followed a holistic approach to life for many years Craig was drawn to Yoga for its transforming benefits. This progressed from a wellness routine into a lifestyle soon after.
Craig's love of yoga has led him on a journey of self-discovery and personal growth. Through sharing his knowledge and ensuring all round balance in his classes, he incorporates traditional Hatha yoga sequencing to offer a fully restorative physical and mental practice. Now grounded in his teaching Craig has continued his path by becoming an Ayurvedic Yoga massage therapist.
Sara Augieras
Sara works professionally as a contemporary dancer, dance teacher and yoga instructor. She completed her teacher training with Hotpod Yoga which inspired her in ways to communicate and enjoy movement with people who approach it from different physical ability, intention or experience. In class, she aims to create a space for exploration and discovery by playing with imageries and different movement qualities. Sara brings her passion and joy for movement to share the physical and emotional benefits of yoga, making it a practice for all.
Shiraz Haq
Shiraz came across yoga as a result of drama school, it was a solace he found amongst the frantic world of film and now in ways he finds his theatre through it. He has worked extensively training headteachers in redefining school structures and continues to work with mentoring children. After the yoga charm was sparked for some years, Shiraz found himself embarking upon teacher training as it eventually felt like the next natural step.
As he continues to embody his practice he is loving the diversity of students he is coming across in the pod.
Shiraz loves the ambience of the pod and the space has given him a new found love for Ruislip.
Sofia Panas O'Brien
For Sofia yoga has always been a place to reconnect and find some calm in a frantic world. Having originally started the practice at university, Sofia then continued to practice on her travels, studying in India and teaching in Colombia before returning to London to share her practice. She endeavours to provide a safe, nurturing and welcoming space for all to explore their body-mind connection and to feel yoga's incredible benefits.
Emma Garson
Emma has taught more than 10,000 classes in her 18 year career in the fitness industry. She has a very motivational style and will not let you give up even when it gets hard. Her approach is modern and energetic. In her classes you will learn to work with good alignment and be given adaptations to suit your bodies needs, relax and breathe.
Bhavisha Pankhania
Bhavisha is a teacher of yoga, meditation and other forms of healing. She was first drawn to yoga due to the influence it had on the lives of her family members, with several instructors in the fold, the attraction was always there, but the discipline was lacking. Bhavisha needed to discover the art and lifestyle for herself, and once she did, her life changed forever.
Its been 15 years now since Bhavisha started walking this path of healing. The more she learnt about and integrated these beautiful practices into her daily life, the clearer it was that she'd found her purpose. To share her knowlege and experience to all those who seek it. Bhavisha believes yoga and meditation is that tool.
Through body awareness, mindfulness, self introspection and consistent practice we can find freedom from constraints and become who we are truly meant to be.
Anna Nuttall
Anna's yoga journey started many years ago, as her practised deepened she became curious as to how and why yoga could make her feel so good.
She embarked on a trip to India where she lived and studied the anatomy, philosophy and the science behind yoga, which led her to complete her teacher training whilst living there.
Anna's classes are fun and challenging, but will make you feel comfortable on the mat whether you're a beginning or a regular yogi. Most importantly, she encourages her students to trust themselves and their body's abilities, so that they will leave feeling motivated, invigorated and proud of what they have achieved!
Claire Miller
Claire is a trained fitness instructor and has 590hr training as a yoga teacher. Claire teaches classes from a dynamic approach, through to a gentle, nurturing pace. Claire feels passionate about people and teaching, and that yoga is for everyone. Claire is self motivated and believes in embracing the best in people.
Vicky Day
Vicky had been teaching various fitness classes for 10 years when in 2014 she finally decided to advance her own yoga practice and do her yoga teacher training. Vicky teaches various styles of yoga such as hatha, power and vinyasa flow, constantly developing her own practice ensuring every person gets the best out of each class and spreading the word that yoga is for everyone!
Sara Chabane
After years of self practice at home, a hot yoga studio opening nearby enticed me into the world of Bikram & my passion for hot yoga was awakened. Spending the next year practicing every style of yoga, I made the decision to take my passion even further and delve into the teacher training. After studying Ashtanga Vinyasa Yoga within Kagyu Samye Dzong, a beautiful Tibetan Buddhist Centre in London, I had the tools I needed to share with others everything I had learnt to leave students feeling at peace in body & mind.
Naomi Barber
Naomi has explored various forms of yoga over the years, as an antidote to the office, its benefits through pregnancy and in bonding with a newborn. A career break in India gave her a wonderful opportunity to explore yoga more and a chance to re-evaluate her career in research. Naomi now teaches with HP, saying she loves the warmth of the pod; the dimmed lights and music that make it such a calm, accessible place for everyone to enjoy yoga – whether it's a stretch, a workout or some headspace you're after. She hopes you'll leave the pod feeling refreshed, rejuvenated and sweaty!
Manish Ramji
Being cabin crew for an international airline for over 20 years, as well as a keen CrossFit athlete, takes its toll on both your body and mind. To find a balance, an equilibrium and to feel good again Manish found yoga 8 years ago. After reaping the tremendous benefits, both physically and emotionally, he decided to share this gift and has been teaching since 2016. Constantly learning & exploring as well as keeping a very open mind is something that is second nature to him.
Sarah Murdoch
Sarah worked in Musical Theatre for 7 years before several slipped discs forced her to rethink her career and find a safer way to stay healthy and injury free. She fell in love with yoga in 2015 and took the leap of faith to became a teacher in 2016, immersing herself completely in its healing power. Sarah's classes are powerful yet accessible; aligning with her mission to dispel the myth that yoga is "only for flexible people!"
Natalie Burton
Natalie is a busy mum of 3, who has a long standing love of all things fitness and nutrition. She stumbled across Vinyasa Flow whilst living in Asia and was hooked. It was at this point that Natalie made the big decision to leave her 18 year career in corporate finance to follow her dream to become a yoga teacher …the best decision she ever made!
the founder
Natalie Burton
Natalie is a busy mum of 3 children who has a long standing love of all things fitness and nutrition. She stumbled across Vinyasa Flow whilst living in Asia 4 years ago and was hooked. On returning to the UK in 2017, Natalie and her husband Daniel discovered Hotpod Yoga and immediately fell in love! It was at this point that Natalie made the big decision to leave her 15 year career in Corporate Finance to follow her dream to become a yoga teacher and open her own Hotpod Yoga studio!