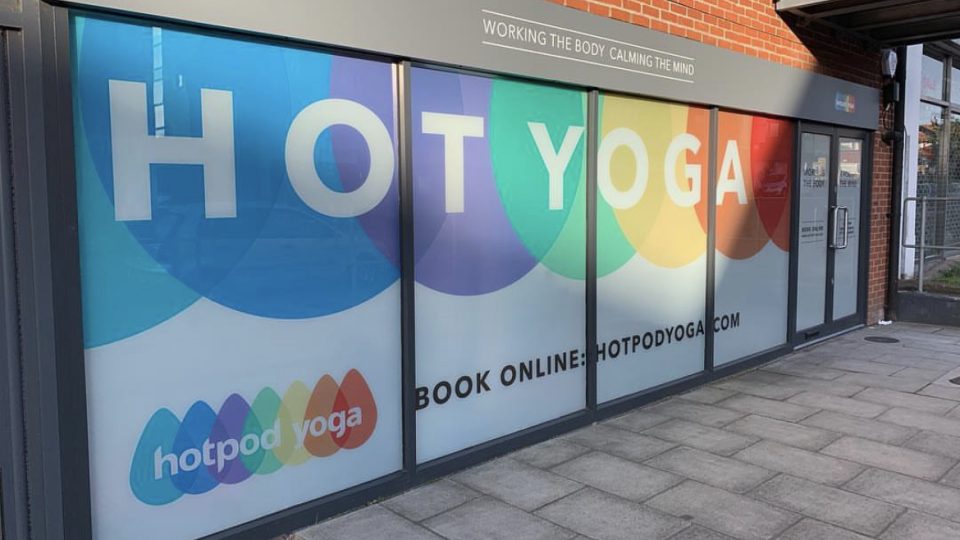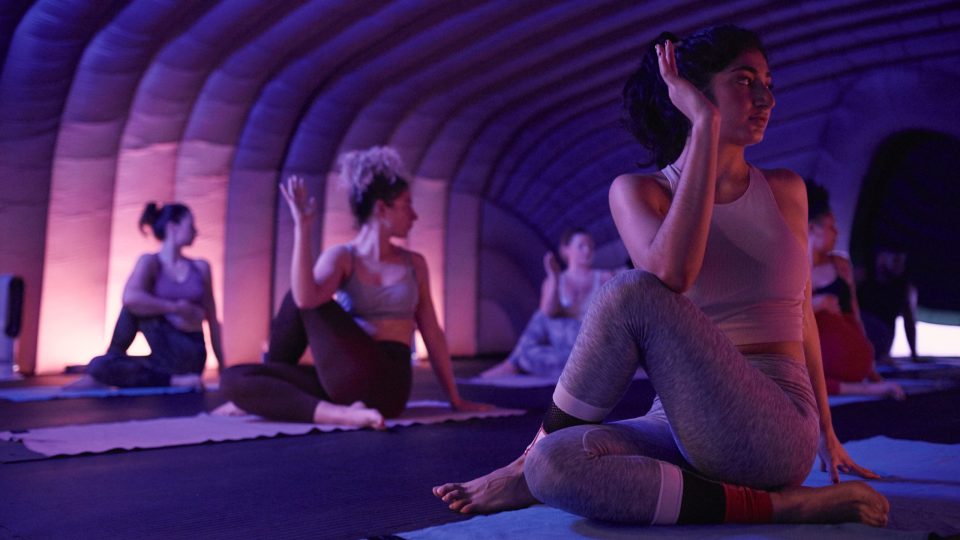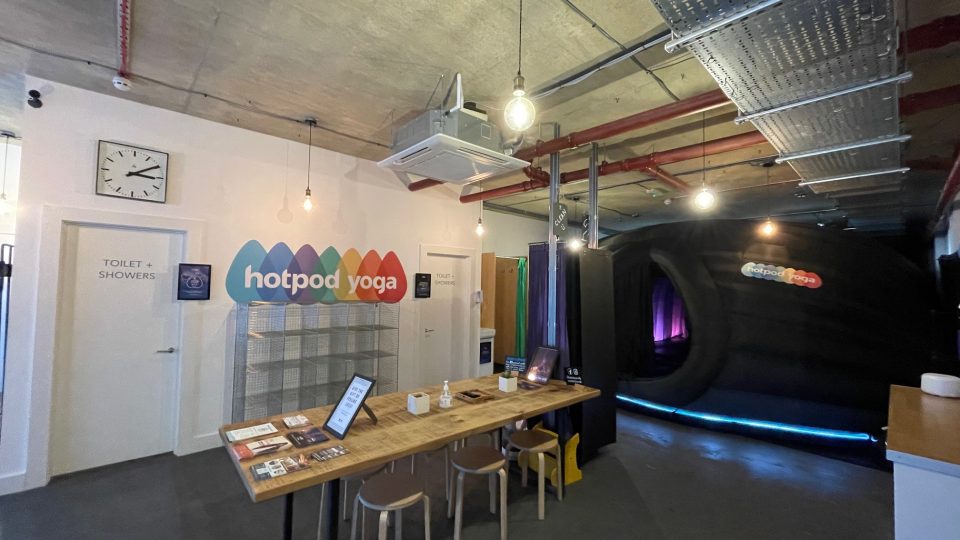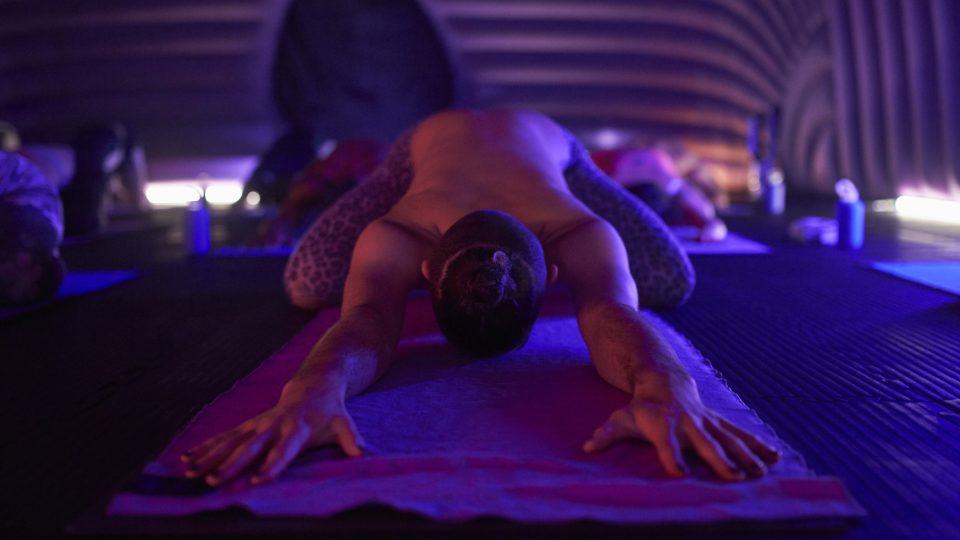 We're Europe's largest yoga business. Since 2013, over 100,000 people have immersed themselves in a Hotpod class at one of our 50+ locations around the world. You'll stretch further, breathe deeper, sweat harder and melt fully into the Hotpod experience – a balanced flow of active and passive postures, working the body and calming the mind in equal measure. For class times and more, take a look at the schedule above, then book your spot.
google
reviews
Read what a few of our happy customers have to say! We'd love it if you could support our studio by leaving a review of your own. Simply click below to share your thoughts with us.
step into our immersive pod
hot yoga in 37 degree heat
move to relaxing beats
filled with calming scents
suitable for all levels
find

us

50B Windmill Hill, Ruislip, Middlesex, HA4 8PT, GB
Ellie Perillo
Ellie Perillo, completed her 200-hour yoga teacher training journey in Greece over the summer of 2023. With a strong background as a Level 2 gymnastics coach, Ellie brings a unique blend of strength, flexibility, and mindfulness to her yoga practice. Her enthusiasm is infectious and inspiring.
Jema Pitale
Jema began practicing yoga at 16, but her commitment to her practice increased during the COVID period when she began running, to aid recovery. She joined Hotpod as a member in 2022 and loved how the heat helped her practice by pushing her limits and allowing her to reset after each flow. Jema then completed her Yoga Teacher Training in Bali, qualifying her to teach Vinyasa and Hatha, but she also likes to add elements of Power and Restorative yoga into her flows. Jema uses her own practice to energise herself for the day ahead or wind down in the evening, mentally and physically.
Gemini Gohil-Al-Sheikh
Gemini is an A Level Economics teacher, qualified pole instructor and Vinyasa flow yoga teacher specialising in helping people overcome fears of being upside down and balancing on their hands. Gemini's asana classes are interwoven with playtime, strength and sass; students can expect to have fun whilst practising. Aiming to ensure that students are able to explore yoga both on and off the mat and see how overcoming the fear of falling (through for example an arm balance or inversion) can help us to succeed beyond our own expectations.
JP
JP started practising yoga after being introduced to it as part of his Calisthenics training as he was seeking to improve his flexibility. He currently practices Vinyasa yoga, along with Kundalini and has a keen interest in the history and philosophy of yoga.
JP loves the escape he gets when stepping onto his mat and aims to offer that same experience whilst teaching. He likes to focus on the breath and giving detailed instructions and transitions, starting with some of the more foundational postures before offering options for progression.
JP trained as a yoga teacher with Hotpod Yoga and currently teaches yoga in HMP for a charity organisation called Live Karma Yoga. Being a Male teacher, brought up in Camden, who has worked in Construction for the majority of his career, he believes that he is a good ambassador for Yoga, representing that it truly is a practice for everybody.
Sarah Cadili-Osborne
Sarah has been practicing multiple varieties of yoga for 15 years after being initially drawn to the relaxation and later the self awareness and deep connection to self cultivated on the Mat. To deepen her practice and attune to the knowledge from yoga philosophy, she pursued 500 hours Yoga Alliance teacher training in Crete and Nepal qualifying her to teach Hatha, Ashtanga, Vinyasa and Restorative styles.
Sarah Murdoch
Sarah worked in Musical Theatre for 7 years before several slipped discs forced her to rethink her career and find a safer way to stay healthy and injury free. She fell in love with yoga in 2015 and took the leap of faith to became a teacher in 2016, immersing herself completely in its healing power. Sarah's classes are powerful yet accessible; aligning with her mission to dispel the myth that yoga is "only for flexible people!"
Bhavisha Patel
Bhavisha has been practising yoga since the age of 13, but her practice fully deepened in 2016 as a way to help work though her struggles with anxiety and mental health. After experiencing the physical, emotional and mental benefits of yoga, Bhavisha found her calling in life and trained to become a Yoga Teacher. She specialises in Vinyasa Flow, but enjoys introducing other aspects like Power, Restorative and Yin Yoga into her practice too. Bhavisha's practice is more than just physical, as she tries to incorporate the philosophy of yoga, and mindfulness, into each practice.
Bhavisha is a firm believer that Yoga is for Everybody, and Every Body, and encourages her students to trust and challenge themselves to unleash their inner strength and power. Yoga helped Bhavisha to build self esteem, as well as find happiness and confidence within herself. She strives to help others feel the same way through her teaching, so they can be the best version of themselves.
Vicky Day
Vicky had been teaching various fitness classes for 10 years when in 2014 she finally decided to advance her own yoga practice and do her yoga teacher training. Vicky teaches various styles of yoga such as hatha, power and vinyasa flow, constantly developing her own practice ensuring every person gets the best out of each class and spreading the word that yoga is for everyone!
Sara Augieras
Sara works professionally as a contemporary dancer, dance teacher and yoga instructor. She completed her teacher training with Hotpod Yoga which inspired her in ways to communicate and enjoy movement with people who approach it from different physical ability, intention or experience. In class, she aims to create a space for exploration and discovery by playing with imageries and different movement qualities. Sara brings her passion and joy for movement to share the physical and emotional benefits of yoga, making it a practice for all.
Vivian Kemp
Originally from Hong Kong, Vivian is a law graduate turned online marketing executive turned full-time mum, part-time yoga teacher. She first came to yoga in her twenties through classes at the corporate workplace, eventually turning a casual practice into a more mindful pursuit after the demands of full-time motherhood led to greater self-care, coming to yoga to literally take a breather, to recalibrate, to regain equilibrium.
Vivian has a penchant for Vinyasa for its fluidity and variability. Her classes are energising and light-hearted, though slow and deep at times, with a strong focus on careful alignment and controlled yet exploratory movement, welcoming each and every one to seek their own balance between effort and ease, to experience their own yoga. Her intention is to help students appreciate that there is no such thing as being "good" or "bad" at yoga, and that all the strength we need is already within us.
Chessie Hutchings
Over the years Chessie has experienced first hand the benefits of how the practice of yoga can help heal you from emotional stress and trauma. From a young age she fought kidney failure leaving her feeling stressed and emotionally exhausted. It wasn't until Chessie discovered yoga that her perspective on life change and taught her the joys of living in the moment.
Chessie believes that we all need to make peace with who we are and learn to love ourselves for who we truly are today. She encourages all students to find balance in the body to achieve peace in the mind.
Adam Cristol
Adam began his journey with yoga 10 years ago under the advice of his physio. At the time he was working in a corporate environment and playing competitive rugby which was taking a toll on his body both physically and mentally and yoga was a great method to help him reduce these stressful impacts.
He is a qualified yoga teacher, master personal trainer and Pilate's instructor and combines his knowledge and experience in supporting you in your yoga practice. Personable and caring he has a passion for helping others live extraordinary lives through moving and feeling better.
Like his personality, the style and combination of teaching is unique, personal and relaxed. Adam is a keen sportsman, traveller and adventurer with an ever growing list of countries visited, Ironman's, adventure races and extreme sports both under his belt and upcoming.
Danni Cochrane
Danielle has always enjoyed being active and pushing the body beyond limitations by competing in swimming, horse riding and other sports throughout life. It wasn't until her yoga journey began around 6 years ago that a new found love of movement and expression began. Yoga has gifted Danielle a knowledge of self, enhanced physical ability and comfort aswell as providing a safe space for the mind to find peace, as it can for you too. Danielle believes yoga is for everyone, regardless of your ability, as an opportunity to celebrate and love our bodies
Ella Coates
Having grown up Highland Dancing and enjoying high impact workouts, Ella started practising yoga regularly after having her first child and found it to be an accessible way of building up core strength and balance after pregnancy and a restorative space to take time out for herself after becoming a mum, with the pod providing the ideal atmosphere for this. Now she enjoys dynamic flows with options to challenge herself during her practice.
Ella completed her yoga teacher training in 2019 and loves to see people surprise themselves with what their bodies can achieve through yoga.
Craig Clark
Having followed a holistic approach to life for many years Craig was drawn to Yoga for its transforming benefits. This progressed from a wellness routine into a lifestyle soon after.
Craig's love of yoga has led him on a journey of self-discovery and personal growth. Through sharing his knowledge and ensuring all round balance in his classes, he incorporates traditional Hatha yoga sequencing to offer a fully restorative physical and mental practice. Now grounded in his teaching Craig has continued his path by becoming an Ayurvedic Yoga massage therapist.
Sofia Panas O'Brien
For Sofia yoga has always been a place to reconnect and find some calm in a frantic world. Having originally started the practice at university, Sofia then continued to practice on her travels, studying in India and teaching in Colombia before returning to London to share her practice. She endeavours to provide a safe, nurturing and welcoming space for all to explore their body-mind connection and to feel yoga's incredible benefits.
Emma Garson
Emma has taught more than 10,000 classes in her 18 year career in the fitness industry. She has a very motivational style and will not let you give up even when it gets hard. Her approach is modern and energetic. In her classes you will learn to work with good alignment and be given adaptations to suit your bodies needs, relax and breathe.
Bhavisha Pankhania
Bhavisha is a teacher of yoga, meditation and other forms of healing. She was first drawn to yoga due to the influence it had on the lives of her family members, with several instructors in the fold, the attraction was always there, but the discipline was lacking. Bhavisha needed to discover the art and lifestyle for herself, and once she did, her life changed forever.
Its been 15 years now since Bhavisha started walking this path of healing. The more she learnt about and integrated these beautiful practices into her daily life, the clearer it was that she'd found her purpose. To share her knowlege and experience to all those who seek it. Bhavisha believes yoga and meditation is that tool.
Through body awareness, mindfulness, self introspection and consistent practice we can find freedom from constraints and become who we are truly meant to be.
Anna Nuttall
Anna's yoga journey started many years ago, as her practised deepened she became curious as to how and why yoga could make her feel so good.
She embarked on a trip to India where she lived and studied the anatomy, philosophy and the science behind yoga, which led her to complete her teacher training whilst living there.
Anna's classes are fun and challenging, but will make you feel comfortable on the mat whether you're a beginning or a regular yogi. Most importantly, she encourages her students to trust themselves and their body's abilities, so that they will leave feeling motivated, invigorated and proud of what they have achieved!
Claire Miller
Claire is a trained fitness instructor and has 590hr training as a yoga teacher. Claire teaches classes from a dynamic approach, through to a gentle, nurturing pace. Claire feels passionate about people and teaching, and that yoga is for everyone. Claire is self motivated and believes in embracing the best in people.
Sara Chabane
After years of self practice at home, a hot yoga studio opening nearby enticed me into the world of Bikram & my passion for hot yoga was awakened. Spending the next year practicing every style of yoga, I made the decision to take my passion even further and delve into the teacher training. After studying Ashtanga Vinyasa Yoga within Kagyu Samye Dzong, a beautiful Tibetan Buddhist Centre in London, I had the tools I needed to share with others everything I had learnt to leave students feeling at peace in body & mind.
Naomi Barber
Naomi has explored various forms of yoga over the years, as an antidote to the office, its benefits through pregnancy and in bonding with a newborn. A career break in India gave her a wonderful opportunity to explore yoga more and a chance to re-evaluate her career in research. Naomi now teaches with HP, saying she loves the warmth of the pod; the dimmed lights and music that make it such a calm, accessible place for everyone to enjoy yoga – whether it's a stretch, a workout or some headspace you're after. She hopes you'll leave the pod feeling refreshed, rejuvenated and sweaty!
Manish Ramji
Being Cabin Crew for an international airline for over 24 years, as well as a keen gym goer takes its toll on both the body as well as the mind. To find a balance, an equilibrium and to feel grounded again Manish started yoga over 10 years ago. Noticing how his relationship was benefiting through practicing yoga – not just with others but with himself and after reaping the benefits both physically and emotionally, he decided to share this gift and has been teaching since 2016. Constantly learning and exploring as well as keeping a very open mind is something that is second nature to him. His style is power and dynamic but most importantly with his great sense of humour he wants everyone to have fun and feel amazing because it's an individual journey after all.
Natalie Burton
Natalie is a busy mum of 3, who has a long standing love of all things fitness and nutrition. She stumbled across Vinyasa Flow whilst living in Asia and was hooked. It was at this point that Natalie made the big decision to leave her 18 year career in corporate finance to follow her dream to become a yoga teacher … the best decision she ever made!
the founder
Karly Booker
Karly has worked full time for a vehicle manufacturer for the past 20 years, but it's been a dream of hers to work in an industry that she's truly interested in. Fitness and sport have always been a big part of Karly's life from a really young age and over the past 11 years has been a fitness instructor in her spare time. Karly found yoga around 15 years ago with friends and finds it's a wonderful compliment to any fitness or sport. Yoga also aided Karly's recovery after a back operation and truly believes that yoga can be both preventative of injury as well as aid injury recovery. Karly has enjoyed her journey so far as a customer of Hotpod Yoga and is now excited and grateful to have this opportunity to own her own Hotpod Yoga studio.