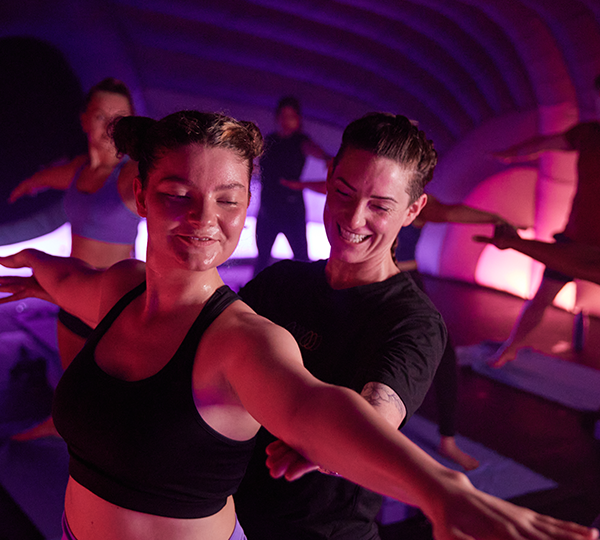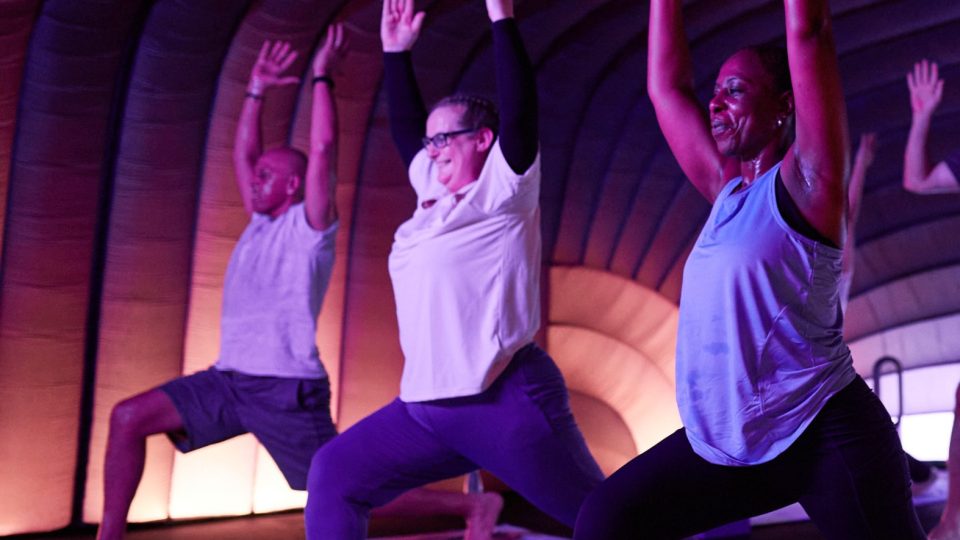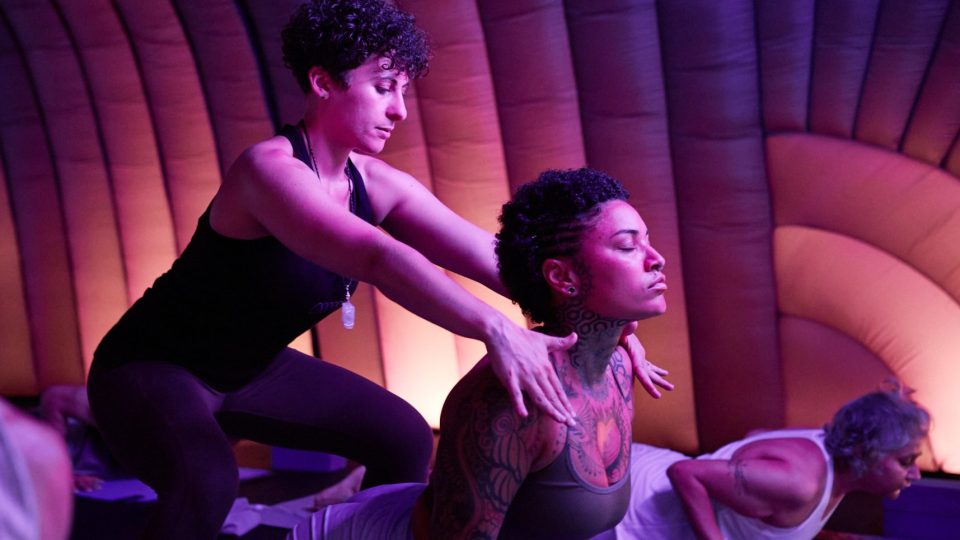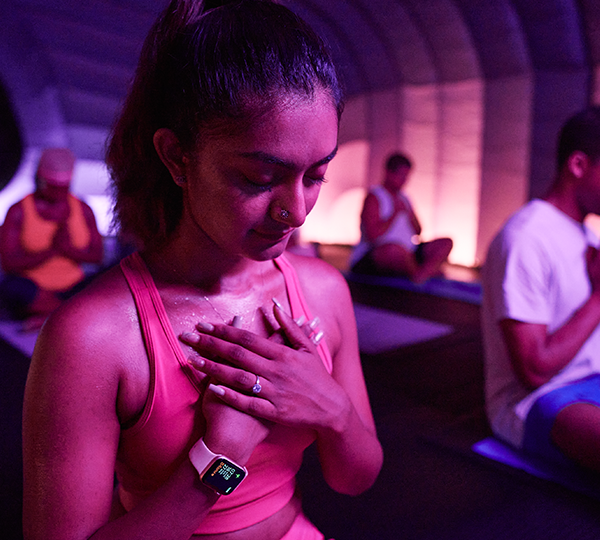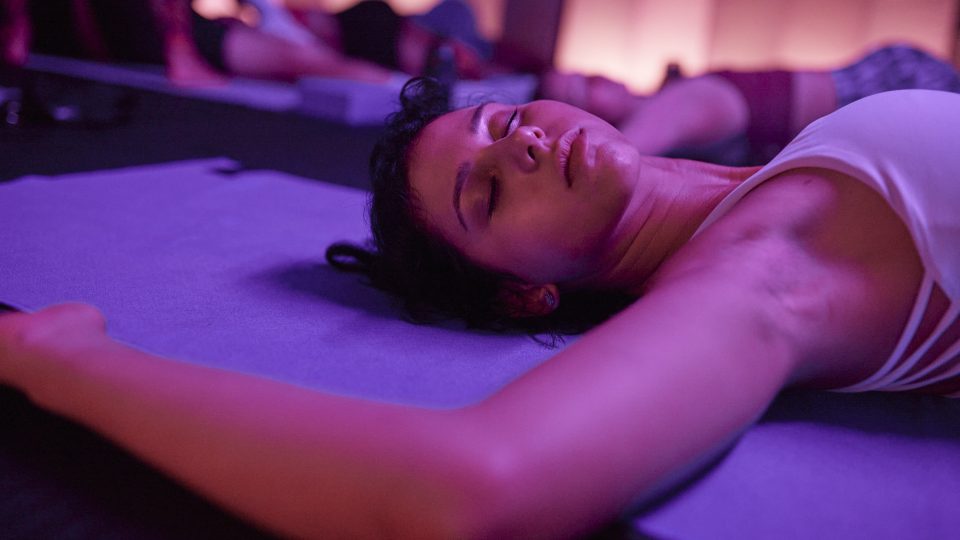 You can find us on First Floor, Suite 102 -105 Viney Court, Viney Street, Taunton, Somerset TA1 3TB. We're about 5 minutes drive from Taunton Town Centre. The studio offers changing rooms, showers, hairdryers and toilets.  The nearest car park is Victoria Gate Car Park, which is approximately a 4-minute walk away. It's advisable to plan ahead and leave plenty of time to find parking and make your way to the studio.
Remember to check the specific class schedule and book your session in advance if required. Enjoy your hot yoga practice at Hotpod Yoga Taunton!
Changing

Parking

Showers

Mats
step into our immersive pod
hot yoga in 37 degree heat
move to relaxing beats
filled with calming scents
suitable for all levels
find

us

First Floor, Suite 102 -105, Viney Court, Viney St, Taunton, Somerset, TA1 3FB, GB
Claire
I discovered yoga as a student in 2006 with my first ever class beginning day 1 of a Bikram 30 day challenge when I lived in New Zealand. 90 minutes a day, 42 degree temperature for 30 days straight, that was it, I was hooked!! The heat, the intensity, the pain, the mental and physical challenge opened up a new world of building myself back up and re discovering my connection with self (still working on improving this)
At 46 and only just this year, I've finally achieved a 12 year dream to complete my 200 ytt in India and with it brings a deep love for my personal practice of Ashtanga yoga.
What I hope to bring to this wonderful studio, epic team and students is a little sunshine. Yoga is a daily way of life for me and Id love to be able to share the benefits with as many as I can to enable you the joy of being set up energetically for your day ahead and to connect back into self through the practice.
My biggest personal challenges through my journey of yoga have been to calm my ego, allowing my vulnerability to be seen (among the most uncomfortable of experiences) and patience with myself and my happy healthy body which can't quite do what it once used to
Yoga is truly an individual journey. I would like my space to be genuinely comfortable for however you show up on the day, however that looks and to leave with just a little more sunshine inside you"
Bex
I'm Bex, your yoga teacher with a passion for creating a deeper connection on and off the mat. My yoga journey began in 2012 when I stepped onto a yoga mat in my local gym. Little did I know, it would be so much more than just physical movement. Yoga opened up a whole new world of self-discovery, deepening the relationship to myself and others. In 2021, I decided to take my love for yoga to the next level by diving into training at Bristol School of Yoga (BSY) specialising in Hatha and Restorative Yoga. I love the holistic benefits to the body and mind, and the healing effects yoga can bring. To me, yoga is a safe space away from the busyness of modern life, a place where you can truly unwind and find peace.
As your instructor, I strive to create a welcoming and soothing environment in every class. I understand that each individual is unique, bringing their own body and abilities to the practice and that's why I encourage everyone to explore movements that feel good for them, embracing all of our unique differences on the mat. So, whether you're a seasoned yogi or completely new to the practice, I am here to guide you on your yoga journey. Get ready to let the stresses of the day melt away during this calm and nourishing evening flow.
Tilly
What matters most to me is creating a safe space for students, equipping them with the tools to embark on their own journey of acceptance, love, and stability. My personal yoga journey began during my battle with anorexia nervosa, where yoga became my sanctuary and catalyst for self-acceptance. It taught me the art of letting go and embracing growth and love.
Teaching yoga was life changing for me. Initially pursued as a hobby but I see it as a way healing and a guiding light, to discover the mu true path and embraced resilience, confidence and patience and navigating life obstacle.
Expect a warm and fun energy in my classes. A moment dedicated to you
Sharla
After discovering yoga during my time at my local gym, I had the pleasure of practicing with the incredible Lucy, who also happened to be a Hotpod Yoga teacher, who inspired me to pursue my own yoga journey. Yoga, for me, is a sanctuary where I can connect with my mind and body, leaving behind the chaos of daily life. We all know how hectic things can get! In 2020, I embarked on my Level 3 Yoga Diploma, and shortly after that, I attained my 200hr teacher training qualification.
My mission is to create a safe and welcoming space for all students. I want everyone to feel comfortable and know that I relate to their unique experiences. I firmly believe that yoga is for everyone, regardless of flexibility. Each time you step onto the mat, there's something special waiting for you, and it may look different every time. Join me on my mat and and together, let's explore the boundless possibilities that yoga offers!
Carrie
I was initially drawn to yoga as a way to keep my body physically healthy, fit and strong. I enjoyed the way it challenged me to move in different ways and seeing the changes to my flexibility over time. However, it soon became apparent to me that yoga was so much more than a physical workout. Yoga to me is a way to relax and restore after a busy day, to find a sense of grounding through times of anxiety and to connect with exactly how we are feeling every time we unroll our mats. Yoga has become an integral part of my life and something I love to share with everyone I meet.
I have been practicing yoga regularly since 2020. I initially found my love of yoga in Hatha practices before going on to study under the Sivananda Yoga Tradition with a local tutor. Following this, I completed my 200 Hour Yoga Teacher Training with Bristol School of Yoga in 2023 studying Hatha and Restorative. My home practice today consists of a combination of Vinyasa, Hatha and Restorative depending on what I need at the time!
Through my classes, I hope to show that yoga is for everybody irrespective of size, age or gender. We will work and sweat together, but through my teaching I also hope to help students to gain a deeper internal connection, aligning to be the best possible versions of themselves!
Cristine
I'm Cristine, and from an early age, I've been captivated by the power of the body in motion. As a fitness and wellness enthusiast, I always sought strength and vitality, but there was a missing piece in my journey – Yoga!
Discovering the harmonious blend of physical practice, mindfulness, and the art of breath transformed my personal well-being and athletic performance. In 2018, I embarked on a transformative yoga training, and since then, there's been no looking back. What truly fuels my passion is witnessing the progress and growth of my students. Guiding and supporting individuals on their unique paths fills me with an indescribable joy. Teaching, for me, is an incredible privilege and an opportunity to make a positive impact on the lives of others.
In my classes, you can expect a vibrant and invigorating experience. I aim to infuse a sense of fun and energy into our practice, while also creating a grounded and centered space. With a gentle touch of softness and encouragement, I strive to cultivate an environment where you can explore, grow, and connect with your inner self. So, whether you're a seasoned yogi or new to the practice, I invite you to join me on this transformative journey. Let's embark on a path of self-discovery, strength, and vitality together.
Becky
I'm Becky, and my journey into teaching started with my passion for group exercise classes. I've always been into fitness, but it was my love for Yoga that truly captured my heart. I had been practicing on and off, but when Hotpod Yoga Taunton opened its doors, I dove headfirst into a more consistent practice. Let me tell you, I fell head over heels for Yoga!
Initially, I saw Yoga as a way to improve my flexibility and get moving, but it didn't take long for me to realize that it's so much more than that. Whenever I feel anxious or stressed, Yoga is my go-to remedy. The way it connects my breath and mind-body is truly magical.
The more I experienced these incredible benefits, the more I wanted to learn. So, I took the plunge and completed my 200-hour Yoga Teacher Training in Cheltenham back in September 2020. But I didn't stop there! I went on to complete an additional 300 hours of training, including Yin, Ashtanga, and mindfulness, totaling my training hours to an impressive 500!
When it comes to teaching, my style revolves around a fluid and flowing Vinyasa practice. I love emphasizing the breath as the bridge between body and mind, creating a space where we can find strength and softness in our asanas. It's this unique approach that I bring to my teaching in the cozy pod.
So, whether you're a seasoned yogi or just starting out on your journey, I can't wait to share the joy and transformative power of Yoga with you. Join me in the pod, and let's create magic on the mat together!
Whitley
I stumbled upon the transformative magic of yoga during my spontaneous travels in 2018. It was in Australia, where fitness and well-being were celebrated as an integral part of life, that I discovered the perfect blend of fun and grounding. With the breathtaking backdrop of beautiful beaches and the glorious weather, daily movement became an absolute delight!
Yoga has infused my life with a sense of slowness and tranquility. It has gifted me with inner and outer strength, nurturing my self-confidence every single day. Since my serendipitous encounter, my personal practice has flourished and evolved. And in 2021, I proudly completed my Hatha 200HYTT certification online.
In my classes, you can expect a vibrant atmosphere filled with smiles, dedication, and laughter. I believe in celebrating our bodies and the incredible things they do for us each day. Together, we'll embark on a journey of self-discovery, embracing every moment with pride and gratitude.
So, whether you're a seasoned yogi or a curious beginner, I invite you to join me on the mat. Let's create a space where fun and grounding intertwine, where you can unlock your true potential and bask in the beauty of your own strength.
the founder
Cristine Vasquez-Tan
In 2018, Cristine stumbled upon Hotpod Yoga while searching for a solution to aid an injury. Little did she know that this serendipitous encounter would forever change her life! From the moment she stepped onto the mat, she fell head over heels in love with the immersive experience that Hotpod Yoga offered. With a background in personal training and weightlifting, Cristine had always led an active lifestyle. However, it was through Yoga that she discovered a whole new world of physical and mental well-being. The practice not only healed her shoulder but also took her on a profound journey inward, reconnecting her with her body. Cristine's approach to teaching is a testament to her own journey of self-discovery. She knows firsthand the incredible benefits that yoga can bring to our lives, and she is dedicated to making those benefits accessible to all. Her warm and inclusive nature creates an environment where beginners and experienced yogis alike can thrive, fostering a sense of community and connection.