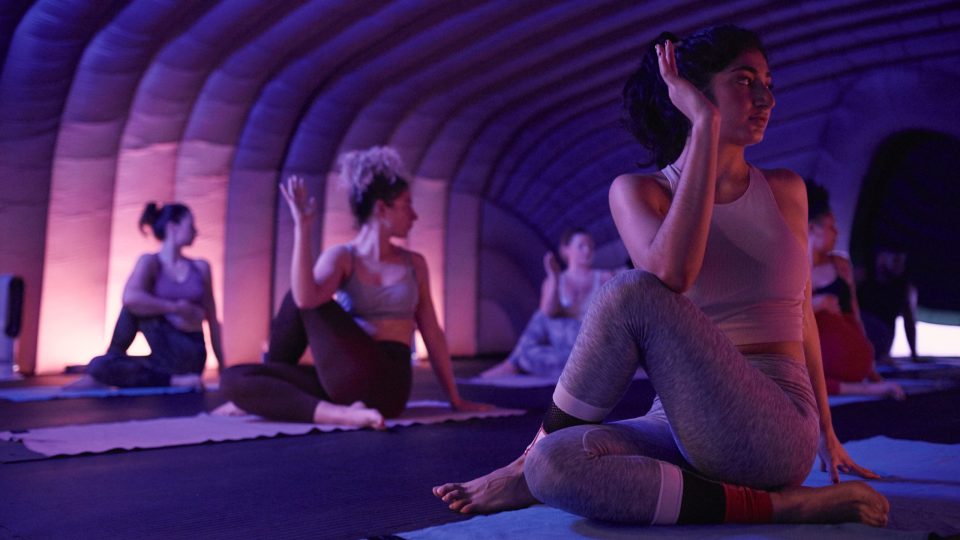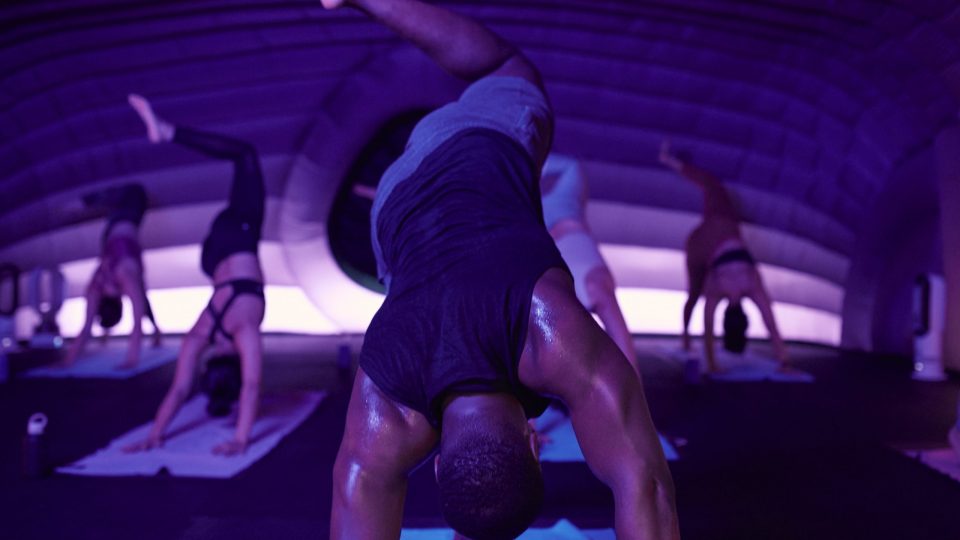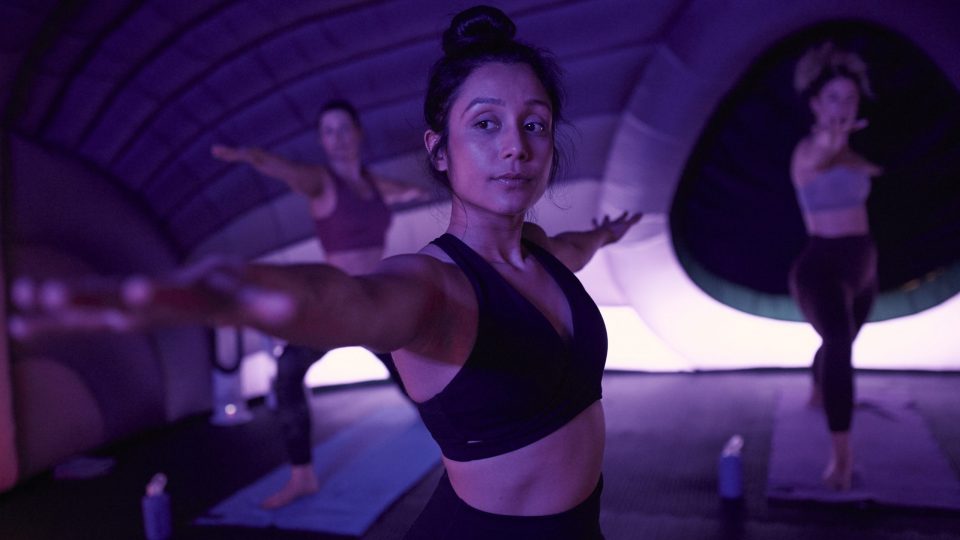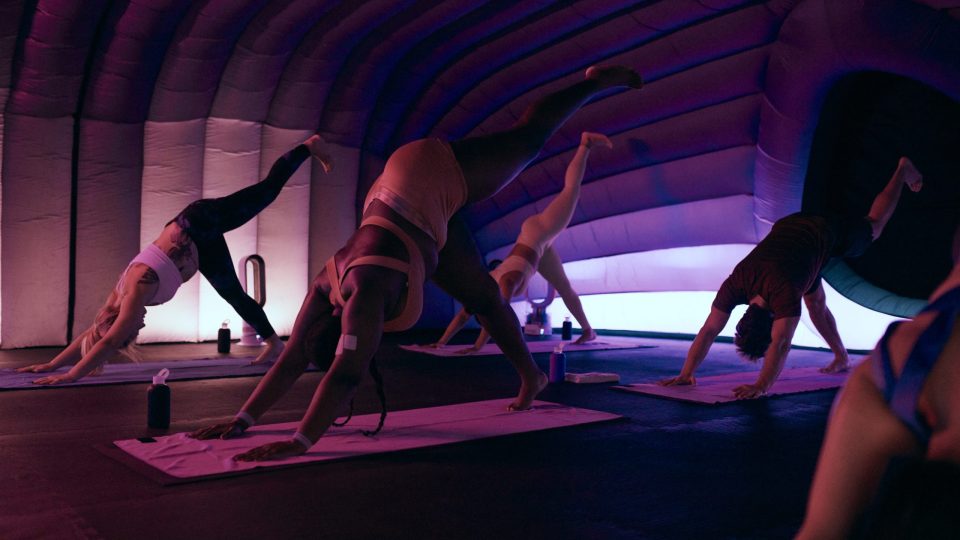 We're Europe's largest yoga business. Since 2013, over 100,000 people have immersed themselves in a Hotpod class at one of our 50+ locations around the world. You'll stretch further, breathe deeper, sweat harder and melt fully into the Hotpod experience – a balanced flow of active and passive postures, working the body and calming the mind in equal measure. For class times and more, take a look at the schedule above, then book your spot.
step into our immersive pod
hot yoga in 37 degree heat
move to relaxing beats
filled with calming scents
suitable for all levels
find

us

29 High Street, Northwich, Cheshire, CW9 5BY, GB
Leena
Tree Hugger, Earth Lover, Dancing her way to Moksha-Liberation, Leena believes that yoga is much much more than just poses – 'we reach into our hearts, not just for our toes!'

Leena's training with many amazing teachers from all over the world has given her a wide understanding of the various styles of yoga;
'I teach from my heart. I believe that everybody is different, and this reflects in our practice. Our individual essence – the Sanskrit word Svarupa; Embrace our true self and we can shine.'
Laura
Laura, is a trained professional dancer originally from Leeds. I've had the privilege of dancing on stages across the globe, from cruise ship theatres out at sea to the most magical place on earth… Disneyland! My career in dance has enriched my life and shaped me into the dedicated and creative individual I am today.
After practicing yoga since I was at dance college , my love for movement led me to pursue a 200HR yoga teacher training program on the breathtaking island of Amorgos, Greece. This transformative journey immersed me in the profound world of yoga, where I gained a deeper understanding of mind-body connection. I'm thrilled to share my passion for yoga and fitness by embarking on a new journey joining the team at HotPod Northwich??‍♀️
Grace
Grace initially found yoga when recovering from a knee injury. Her mum suggested she try a class to support her recovery, and she found the benefits not only improved her physical wellbeing, but her mental health as well.
Grace has been teaching yoga for four years now, and has been practicing for 10. Grace enjoys teaching energising and challenging vinyasa flow classes, but also loves to slow it down, teaching and attending restorative and yin classes.
Grace works as an assistant psychologist with children and young people, and has a specific interest in sharing the benefits of yoga to support social emotional learning and mental health.
Sylvie
Sylvie first started practicing yoga in her twenties and was amazed by its health giving and restorative qualities. She attended yoga classes on a casual basis for years for her own practice. After a bout of illness, she turned to yoga in a more meaningful way, to help rebuild her health and bring balance and harmony to her life. As Sylvie recovered, she felt compelled to learn more and enrolled in teacher training. She qualified with the British Wheel of Yoga and trained with Strala. Sylvie has had experience working with children, teens and adults; people from all walks of life and different backgrounds. Her passion is to make yoga accessible to as many people as possible, and help them bring the benefits of yoga into their lives, both on and off the mat.
Steffy
Steffy has practiced yoga for 15 years alongside meditation and she turned to her practise more seriously after a couple of accidents in 2014 and she completed her Yoga Teacher Training 200hrs in 2018.
Hyper mobility brings her many challenges in her personal yoga practice and she hopes to help others with hyper mobility to gain more from their practice.
Steffy is very laid back, doesn't get easily wound up, loves to laugh and play and fills her life with yoga, music, dancing and good healthy natural foods.
Charlotte
I've been a Sport/muscular therapist for over 15years. And my style of teaching has this in mind.
Yoga for me, has the right balance to restore me physically and mentally. While aiding injuries from skiing and having a baby
I now can offer, pregnancy, postnatal and menopause yoga too ?
Rebecca
Becci is one of our teachers with an energetic and dynamic approach. She totally loves what yoga can bring to ones life and been practising yoga for over 13years and teaching since 2014. In her classes she likes to inject a bit humour to the classes whilst making sure all the postures are done in a correct and safe way so expect plenty of adjustments and advice on how to get the most potentiality out of your class.
Minna
Minna Scaife is the owner of the Hotpod Yoga Northwich studio. After falling in love with Hotpod Yoga she first decided to open her very own pod and then recently qualified as a Yoga Teacher herself. Minna has two young children has found Hotpod Yoga the best thing to finally tone and condition her body after having children. Since starting her yoga journey Minna has found first hand how yoga can really benefit you in more ways than one from better posture, improved sleep, increased energy levels and being able to relax easier and she is very keen to help all the customers to get the best out of their Hotpod Yoga journey.
Minna not only runs a small number of Hotpod Yoga classes herself but also runs practical workshops that are full of tips on how to improve your yoga practise and how to make sure you do all the postures with correctly. She is also available to provide private sessions in the Pod and can run exclusive workshops for local companies or any special interest groups who would like to learn more about yoga.
the founder
Minna Scaife
Minna was born in Finland and first came to UK for a summer language course in 1996 which soon turned into 3-year Marketing University degree. After her studies, she worked in a variety of marketing roles from Formula 1, corporate events to jewellery marketing as well as starting her own business in children's clothing. She was introduced to Hotpod Yoga in March 2018 by a friend. The feeling she got after doing her first class was incredible, she loved the feeling of relaxation mixed with knowing you have had a hard and good workout. When she then found out that Hotpod Yoga was actually a franchise business she just knew she wanted to be involved. A mere two months later she was the proud owner of the Hotpod Yoga Northwich.