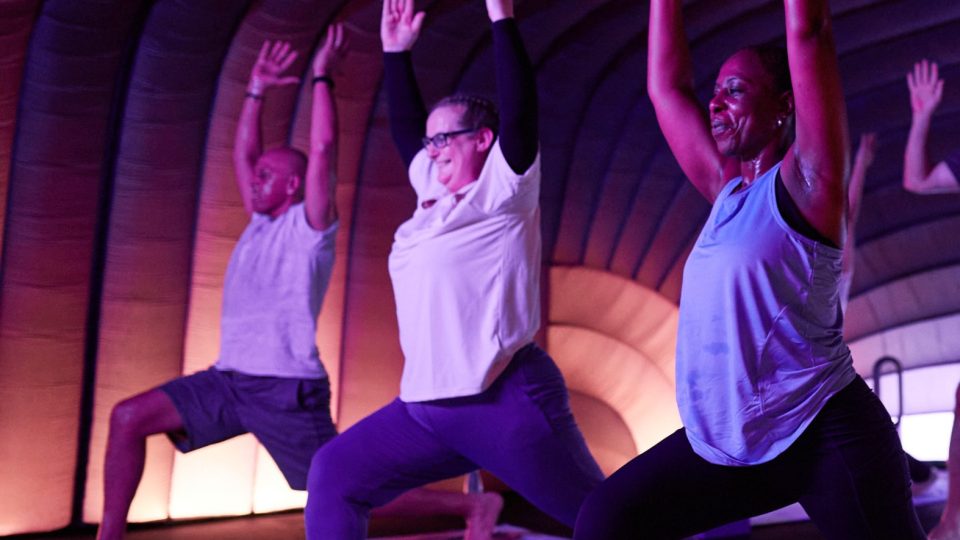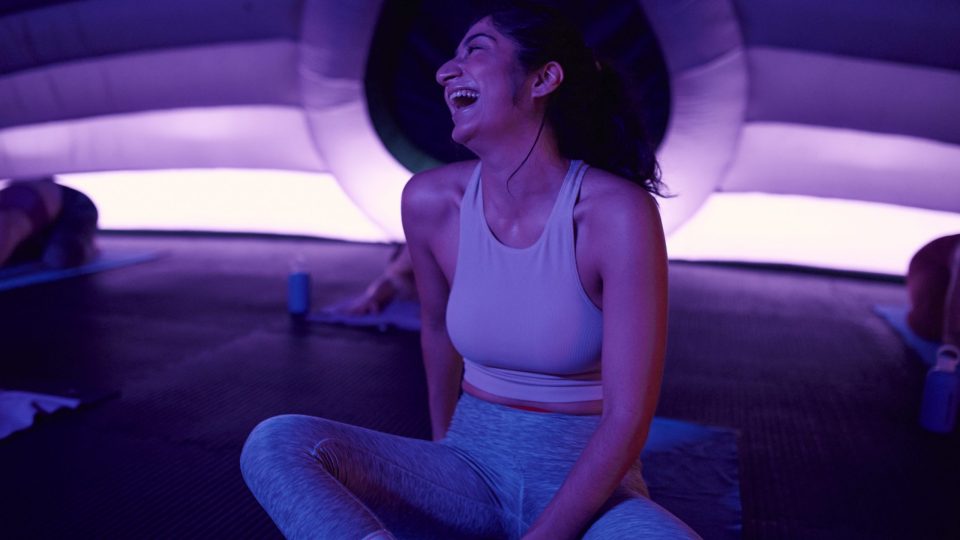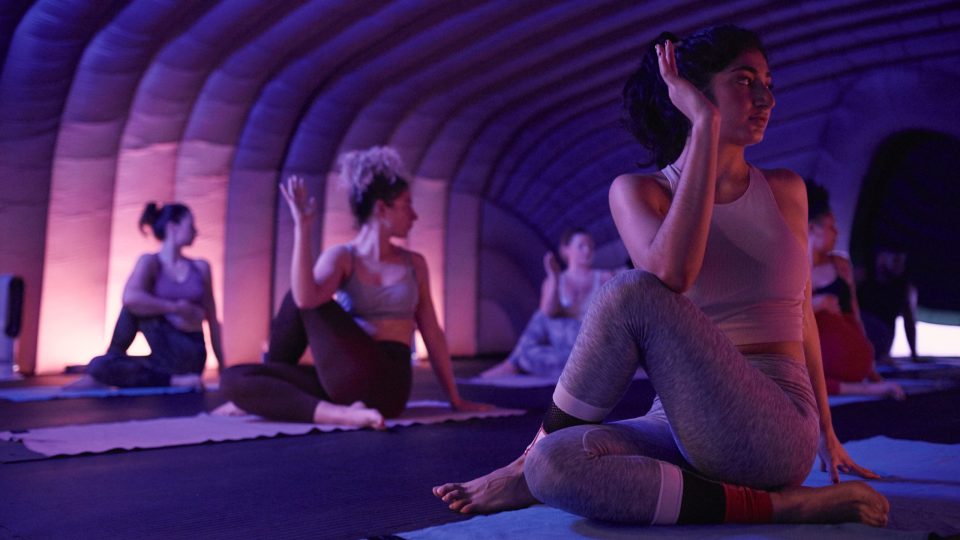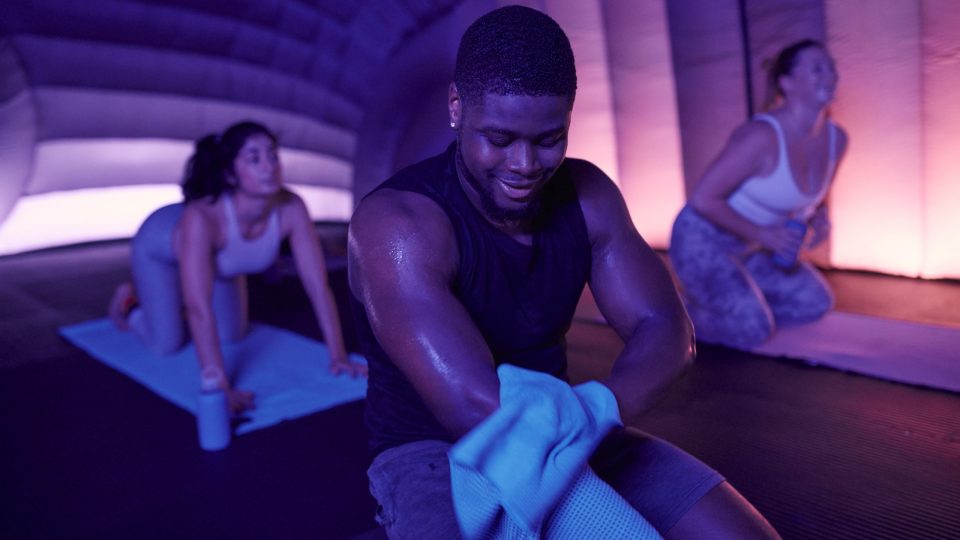 Hotpod Yoga Putney is spacious and modern, with changing rooms, showers, hair dryers and toilets available for use. Choose from dynamic flow classes or relaxed, nurturing flow classes, available 7 days per week at a variety of times.
google
reviews
Read what a few of our happy customers have to say! We'd love it if you could support our studio by leaving a review of your own. Simply click below to share your thoughts with us.
Changing

Parking

Showers

Mats
step into our immersive pod
hot yoga in 37 degree heat
move to relaxing beats
filled with calming scents
suitable for all levels
find

us

Hotpod Yoga Putney, Putney Exchange, Putney High St, London, United Kingdom, SW15 1TW, GB
Zaz
Zaz's classes are strong vinyasa flows with options for all. Blending creative sequencing with traditional postures and mobility inspired movement to bring you fully into the present moment, these classes will help you to explore what you are capable of – whether it is more rest, or more intensity, so that you feel connected inwardly as well as physically stronger and recharged. Options are given to break down the poses, make them more accessible, or even to challenge and level up your practice. Create strength and flexibility in both body and mind, with a strong focus on breath always.
Megs
Megs found her love for yoga when craving an escape from her stressful city job. Her classes focus on physically strengthening the body whilst calming the mind from everyday stresses. Megs' classes are beginner friendly, yet with plenty of options for more advanced practitioners to add in. Doing her teacher training with Hotpod Yoga has allowed her to gain a deeper understanding about the benefits of the heat on the body whilst practicing yoga which is intertwined into her classes. Megs also has a keen interest in breathwork and uses this within her classes to create a sense of moving meditation, giving the class a mental break from everyday and deeper stresses whilst strengthening the body.
Orly
Orly qualified as a yoga teacher in India in 2016, and started teaching for Hotpod Newcastle in early 2017. Since then she's never looked back, and has recently had the good fortune of seeing her Hotpod family expand following her move to London in 2020. Orly loves having the opportunity to meet so many wonderful people with shared passion through her work and is so grateful for her place within the Hotpod community.
Kylie
Kylie is an experienced yoga teacher having completed her training in 2011 with Baptiste Power Yoga teachers. Since then Kylie has taught vinyasa, restorative, nidra and yin yoga across the world and is a well known teacher to hundreds of people – amongst those high performers, elite athletes, corporate executives, those in rehabilitation from an injury, pregnant and post natal women. She creates an environment in her classes where people experience the benefits of a dynamic and strong physical yoga practice alongside a deeply restorative rebalance of emotions and clarity of thought. Whether you are new to yoga or experienced, you will find yourself returning to Kylie's classes. Her classes are inclusive all levels and she artfully incorporates life's learnings into the practice alongside sharing knowledge that will support how you move and nourish your body, mind and soul.
Off her yoga mat, Kylie is a business owner, a pioneer in executive coaching in the corporate world with more than 20 years of coaching. She is a trainer of neurolinguistic programming and an avid explorer of the mind body connection. She is a putney local and has an active family life including two young boys who remind her to be playful and fun.
Maud
Maud believes that we need to live less in our heads and more connected with our bodies. She infuses her classes with modern-day philosophy to help you get out of your busy mind and into your body. You will leave your mat calmer to respond to the daily demands of life, lighter overall and more alive than ever. She also spent 12 years in Investment Banking so knows how to make the practice accessible to whoever needs to reset from the busyness of modern life. Come and join her on the mat to feel better and become better at feeling 🙂
Nigel
Growing up with a family member suffering from debilitating depression led Nigel on a search for wellbeing. He gained a strong interest in personal development and spent time diving into various physical practices including Weight Lifting, Calisthenics, and Boxing and teaching them as a qualified personal trainer. He also developed a passion for philosophy and psychology.
Nigel started practicing Yoga whilst looking for a more holistic approach to fitness and quickly fell in love with it. He empowers his students to move with strength, calm, and control to reach a flow state of mind. He likes to keep things fun and aims to help break down yoga stereotypes.
Lauren
Lauren began her yoga journey in 2018 when she completed her 200 Hatha YTT in Edinburgh. Lauren practiced yoga regularly alongside her dance career and during lockdown, expanded her yoga knowledge with an online yin course and children's yoga course. Lauren still works as a professional dancer as well as teaching at boutique yoga studios around London and hosts half day retreats throughout Scotland.
Gemma
A psychotherapist for the NHS, Gemma is a big advocate for finding that much needed moment of stillness amongst our hectic schedules and believes there is no better place than on your mat in the pod.
She loves the focus yoga brings; moving the body whilst calming the mind. Gemma wants to share these benefits with others, by bringing energy, warmth and most importantly a smile to her dynamic classes.
Alice
Alice's yoga journey started when she took her first yoga class over 6years ago. It started off as a way to stretch and lengthen her muscles being a professional dancer but after realising the incredible impact yoga was having her daily life, Alice never looked back. She loves to guide her students to focus on their breath, slow down and reconnect to themselves and to the present moment through the practice. Having trained in Vinyasa, Yin, Pranayama and Meditation expect classes to focus on the connection to the breath and becoming present whilst energising through the body, building strength and stability within. Her main goal is to help build a safe space to move your body with no judgement or preconceived ideas on what your practise should look feel or look like. Building tools that you can take off the mat when life gets a bit much.
Becca
Having been exposed to an active and outdoor lifestyle from a young age, Becca has always been up for trying new sporting challenges. Initially getting into yoga to compliment running & exercise, she soon became hooked and qualified as a yoga teacher in 2016. She has since been teaching dynamic vinyasa flow, and expanded her knowledge into yin yoga, prenatal yoga and Pilates. Her teaching aims to link steady breath with every movement, offering an experiential practice that gives variations in order to welcome and empower students of all levels and experiences.
Jess
Jess found yoga as a safe haven and way of staying happy, healthy and balanced when work and life got busy. When she realised the positive impact yoga was having on all areas of her life, she wanted to share this joy with others. Jess therefore took a leap of faith, waved goodbye to the corporate world and completed her 200hr Teacher Training with Hotpod – a journey that went full circle when she became a teacher here!
Jess's classes are uplifting and full of energy, whilst also encouraging students to delve deeper physically and mentally. Students can expect to build resilience, find a sense of calm and gain some much needed perspective! Most importantly, her smiley, welcoming teaching style makes her classes feel fun and inclusive to all. Jess can't wait to see you in the pod!
Marta
Marta found yoga following years of ski racing, which included several injuries and a hectic lifestyle. Her desire to slow down and reconnect with herself drew her to the practice, and after trying different styles, she fell in love with Vinyasa and Power Yoga. Marta has completed her Vinyasa training and continues deepening her practice through further courses and self study. Marta invites her students to practice at their own pace, feeling guided by their own breath and choosing variations that suit the individual. Her aim is to offer inclusive classes for every body type and level of experience, with a joyful touch that will leave you feeling energised and empowered.
Bex
Bex found herself on the mat for the first time over 5 years ago after suffering from a severe riding accident, which left her in great deal of pain. Yoga happened to be the only exercise to relieve this, and she ended up feeling transformed in every way. Yoga has been the ultimate tool in positively affecting her mental and physical well-being, completing her 200 hour training in the city of Rishikesh, India. She submersed herself in the culture and learnt from some of the most insightful yogis in the world. She recently completed her 50 hour Yin Training and wants to encourage and help others to flourish in new ways and get out of their heads. Like a perfect storm, every experience in her life has been leading up to this and now she wants to share this knowledge with you all through providing a practice suitable for everyone.
Holly
Holly started her journey as a professional dancer and has always loved movement. She found the industry focused a lot on the physical being and struggled with an eating disorder in her early teens due to thinking her worth was solely the physical but when she turned to yoga, she loved that there was a deeper connection to the inner self and ever since then has been obsessed with the practice and the way it makes her and other people feel. Holly loves a challenging physical practice but her main focus is to make sure that you go on a journey within yourself to find a sense of peace and acceptance. Her favourite pose is the finishing pose, savasana. Laying there on the mat after creating some heat within a practise and a warm fuzzy feeling pumping through the body is like no other!
Dalma
Dalma has always been an active person and she loves to mix up movements and adventures week after week. Her varied interests include cycling, swimming, climbing and hiking. These have complemented her recent passion for all things Yoga and especially Hotpod Yoga which she started to practice with avid determination. After completing the 200h Teacher Training, the HPY course was, in her words: "An amazing, eye-opening experience. The training really allowed me to dig deep into the 'self' and I was mesmerised by the teachings of Yoga Philosophy."
Her intention is to create a calm and nurturing atmosphere where students feel completely comfortable to turn their focus inward while practising Yoga. She truly wishes that during your practice you will feel physical, mental and emotional benefits.
"I am looking forward to sharing this wonderful journey with you." – Dalma
Dominique
Dominique grew up in Tanzania and South Africa and moved to the UK for her undergraduate & postgraduate degrees. Adventure, movement and sports have always been a huge part of her life. On completion of her studies, Dominique travelled to India to complete her Yoga Teacher Training where she trained in Ashtanga; anatomy; pranayama; meditation; philosophy and Ayurveda. Learning that yoga has so much more to offer than the physical benefits, she found her passion in helping individuals slow down finding calmness in our fast-paced lives; using the mat as a place of self-discovery and taking what we learn on the mat into our everyday lives. You will leave Dominique's classes feeling calm and strong.
Sarah
Sarah started out as a ballet dancer, dancing was her life and she loved everything about it. After graduating from dance college she worked as a dancer onboard P&O and costa cruise ships and explored the world. Once this chapter in her life came to an end she was looking for a way to stay fit and strong, having trained her whole life so rigorously. She discovered hot yoga first, she remembers laying on her mat at the end of a horrendous hour of crazy yoga poses and sweat and she thought…..this feels like dancing, the technique, the power, the grace. From there she tried out different styles of yoga, Ashtanga, Hatha, Forrest, Vinyasa. She fell in love with the vinyasa style instantly. She trained at Hot Power Yoga studio in Clapham, London in October 2015 and has been teaching ever since. She started teaching at gyms-Anytime fitness, Fitness first and later progressed on to yoga studios- Blok, AM Power yoga studio, HPY studio, Hot Pod yoga studios. She has taught students of all abilities and experience throughout her teaching career and also those with injuries. She teaches pre/post natal yoga, restorative yoga and vinyasa yoga.
She is best known for teaching a powerful, dynamic, energetic vinyasa class, with many modifications to suit every student.
Ildiko
Ildiko was born in Hungary and moved to London at the age of 18. She discovered yoga when she was going through a difficult phase in her life. During this time she realised that her true passion is about helping others and pushing them to achieve their goals. She loves motivating and inspiring people on their journey and seeing others succeed in making their life more fulfilled.
the founder
Megan Hawes
Megs went to her first ever Hotpod Yoga class in Newcastle back in 2018 whilst she was a student at Newcastle university. Encouraged by a friend to join with her, she was worried about being inflexible and not sure what to expect. The outcome was a new obsession with the peaceful yet challenging movements in the heated pod, ultimately, helping her to feel stronger both physically and mentally. Now a very regular Hotpod Yoga attendee, she made the nerve-wracking decision to quit her big city job and build her own business in the thing she loved the most. A few friendly franchise meetings with Hotpod Yoga founders led her to begin training as a business owner, acquiring her first Hotpod home, and making Hotpod Putney a reality! Megs hopes to inspire and convert as many people as possible, creating a momentary escape from the bustling London life.